How Texas's Attorney General Won by Losing Big
A specious lawsuit against four swing states that was batted down by the Supreme Court was a victory for the man who filed it.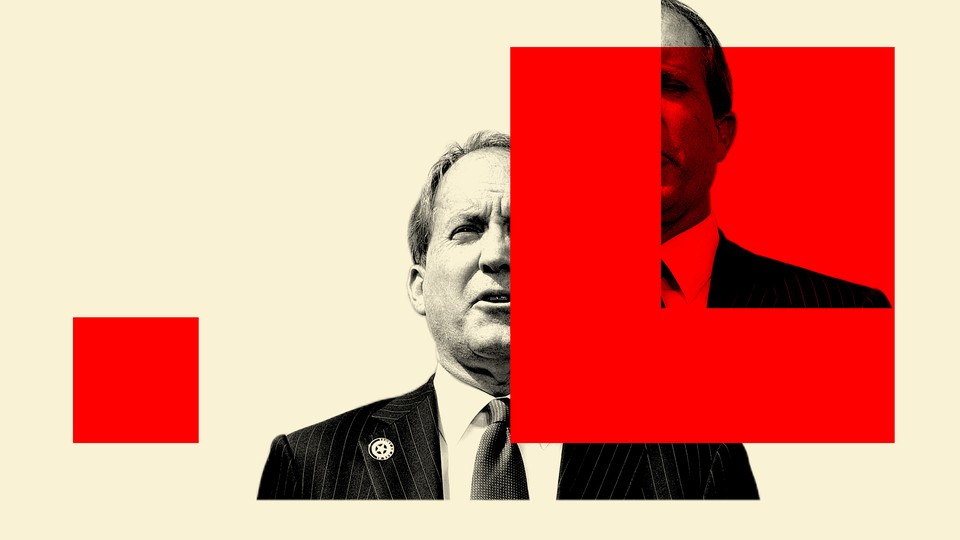 Last week, Texas Attorney General Ken Paxton filed a brilliantly cynical lawsuit seeking to overturn the presidential election in four swing states—Georgia, Pennsylvania, Michigan, and Wisconsin. The lawsuit used a provision of the U.S. Constitution that makes the Supreme Court the arbiter in state conflicts. President Donald Trump quickly jumped on board. Republican attorneys general in 17 other states, as well as 126 of the 196 House Republicans, filed briefs expressing support for Paxton's suit.
The justices lost little time in turning away the suit on Friday night. But even as he lost in court, Paxton had already won. The Texas politician has built his career on using such defeats to rally support. And losing this lawsuit—his highest-profile setback to date—might have been just what he needed as his own legal problems continue to mount.
Paxton was sworn in as Texas's attorney general in January 2015—and then indicted by a state grand jury for securities fraud that July. He has successfully tied up the criminal complaint in court ever since, and he managed to win reelection in 2018, even as the indictment still hung over him. Paxton faces three felony counts related to his persuading investors to buy stock in a technology company, Servergy, allegedly without disclosing that he was receiving a commission, as well as without registering as a securities dealer. He faced similar civil charges from the Securities and Exchange Commission, although that case came to an end after being dismissed by a federal judge for the second time.
The attorney general has consistently maintained his innocence, arguing that the stock he received from the company was merely a gift, and that the prosecution is politically motivated. Because the case involves his private law practice, he is forbidden from using state funds or even his campaign account for legal expenses. Instead, he's raised hundreds of thousands of dollars for a separate legal-defense fund.
In a 2016 article in Texas Monthly, the reporter R. G. Ratcliffe wrote that, following Paxton's indictment, the attorney general virtually disappeared from the day-to-day operations of his office and made few media appearances. It was the low point of his tenure in terms of public support. Only after he hired two crisis-management firms did his strategy—and political fortunes—begin to change. Instead of avoiding reporters, Paxton began to seek out the spotlight.
In many respects, Ratcliffe argued, it was a return to the formula Paxton had used during his dozen years in the Texas Legislature. Paxton's signature achievement as a lawmaker was passing legislation that changed the signs welcoming travelers to Texas so that they included the words "Proud to be the home of President George W. Bush."
Much of the other legislation Paxton sponsored may have failed, Ratcliffe recounted, but he used those failures to build a loyal political following. He sponsored bills that would have prevented school districts from getting sex-education material from Planned Parenthood, and that promised to protect religious freedom, endearing him to Christian conservatives. That approach propelled him to one of the most important statewide offices, as he succeeded Greg Abbott as attorney general.
In this office, since emerging from hiding, Paxton has injected himself into major media events whenever the public hungers for any morsel of information. For example, he conducted back-to-back interviews when a 2016 Black Lives Matter march in Dallas erupted into gunfire and a sniper shot and killed five police officers and wounded nine others. Paxton was never directly involved in the investigation, and his answers typically took the form of "I don't know" or that investigators "are continuing to try to get that information." He did a repeat performance in 2018, when someone started planting bombs throughout the city of Austin. The more often he appeared on television, the less he was identified as the attorney general who was under indictment.
Paxton also began making a name for himself by routinely suing the Obama administration. Some of those suits went nowhere, but they still garnered attention. The attorney general also led a group of 26 states that stopped Barack Obama's policy Deferred Action for Parents of Americans and Lawful Permanent Residents (DAPA), with a 4–4 Supreme Court vote leaving a lower-court ruling against the program intact.
Initially praised for hiring experienced senior-level staffers as attorney general, Paxton also began cleaning house—including by forcing out Chip Roy, the highly regarded first assistant attorney general—to make room for a senior staff with evangelical ties. Roy was later elected to Congress, and was one of the few Republicans in that body to criticize Paxton's lawsuit against the swing states.
When the Supreme Court ruled that same-sex couples had a right to marry in 2015, Paxton urged county officials to defy the high court in the name of religious liberty.
Trump's election gave Paxton new opportunities. In Texas, where land rights usually reign supreme, he has expressed support for the president's actions to seize private land along the Mexican border to build a wall. He also sued the Trump administration over the Deferred Action for Childhood Arrivals policy (DACA), giving the president an excuse to stop that program. His lockstep support for the president's agenda won him new fans.
In 2018, his wife, Angela Paxton, a math teacher at a Christian academy in Frisco, in the northern exurbs of Dallas, was elected to the Texas state Senate, making the Paxtons one of the ultimate power couples in that conservative region of north Texas. Before her election, she had gained minor fame for a tune she sang to delighted Republicans when introducing her husband at speaking events. It went, in part, "I'm a pistol-packin' mama and my husband sues Obama."
In her first legislative session, last year, she filed a bill relating to "the creation of a regulatory sandbox program administered by the attorney general for certain financial products and services." As dull as that may sound, the bill would have given her husband the authority to rewrite the very financial rules that he was indicted for violating in 2015. While the bill was not retroactive, legal experts said it would have bolstered Ken Paxton's legal defense by allowing him to argue that the law he is charged with violating was so specious that it was later changed. The bill went nowhere, and, as one veteran lawmaker told me at the time, it backfired by highlighting the attorney general's legal troubles instead of mitigating them.
Then, in October, seven top aides in the attorney general's office signed a letter asking federal officials to investigate allegations of improper influence, bribery, abuse of office, and other crimes. A month later, it was revealed that Paxton had appointed a special prosecutor to look into whether the FBI had improperly raided the home and office of the Austin real-estate developer Nate Paul, a search Paul insisted was improper. In a deposition, Paul said that Paxton had recommended a woman for a job at his real-estate company and he hired her; multiple media outlets reported that Paxton had previously had an extramarital affair with the woman. Earlier this month, the FBI subpoenaed the attorney general's office as part of what the Associated Press said is a criminal probe. Paxton has remained defiant throughout. But as his legal problems multiply, presumably his legal expenses do too.
Time for another conspicuous failure. Paxton captured national attention with his futile lawsuit challenging this year's election, raising his profile as a defender of Trump. He can now appeal to a base that has already donated $170 million to Trump's defense fund since Election Day—perhaps some will give to Paxton's defense fund too. And should the FBI find enough evidence to file additional charges against Paxton, it would likely happen during a Joe Biden presidency, allowing Paxton to double down on his claim of political persecution.
Trump might have lost at the Supreme Court on Friday. But Ken Paxton? He won, big.