Bill Barr's Departure Reveals the Hollowness of Trumpism
Like Jeff Sessions before him, the attorney general discovered that all that matters to Trump is personal loyalty, not ideology.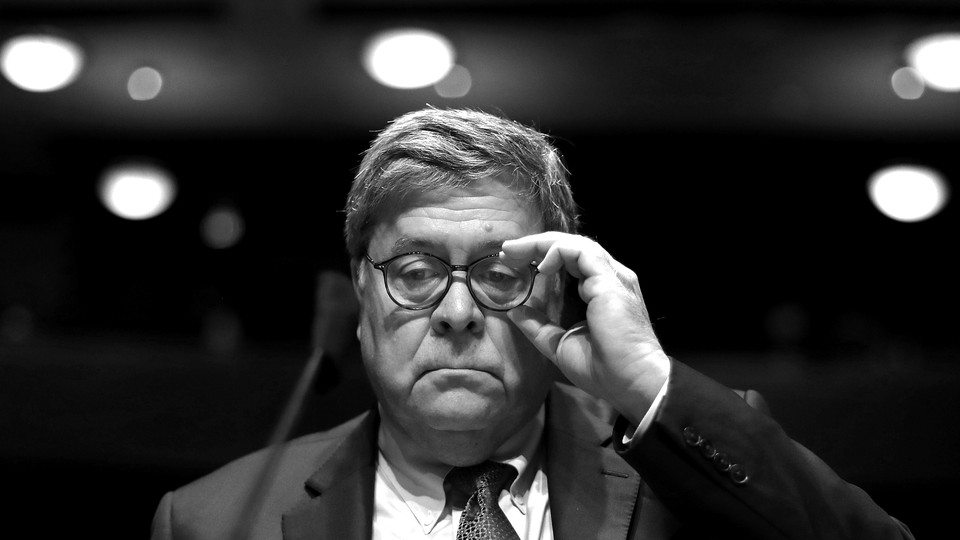 In most ways, it would be hard to find two men much more different than Jeff Sessions and Bill Barr: One is a slow-drawling anti-immigration fanatic from Alabama; the other is a dry, intellectually engaged bagpiper from New York. One spent his career on the fringes of conservatism before a sudden late-career elevation to the Cabinet; the other is a consummate establishment figure who led the Justice Department twice, three decades apart.
But both men ended up serving as attorney general to President Donald Trump. They were perhaps the two most effective implementers of Trump's agenda, driven by their own ideological sympathies with the president. And yet, both departed their jobs abruptly after clashing with him.
Trump announced via tweet tonight that Barr would be stepping down effective December 23. The details of Barr's exit remain hazy. The president then tweeted a warm resignation letter from Barr, light-years from the terse missive that Defense Secretary James Mattis sent two Decembers ago when he resigned (only for Trump to insist he'd been fired). The president also praised Barr: "Our relationship has been a very good one, he has done an outstanding job!"
This is far from what Trump has been saying about the attorney general recently, and the timing of the departure is strange, given that the administration will end (despite what Trump says) in barely more than a month.
Before Election Day, Barr warned about possibilities of voter fraud, making claims that experts described as outlandish, and after the election he authorized federal prosecutors to investigate fraud claims. But on December 1, Barr said that the Justice Department had not turned up any evidence of fraud "on a scale that could have effected a different outcome in the election," placing him at odds with his boss. Trump fulminated publicly against his attorney general's decision not to get involved in any of the postelection lawsuits that Trump and his allies pursued in an attempt to overturn the will of voters, calling Barr a "big disappointment."
Trump was also furious that a much-hyped investigation into the origins of the FBI's probe of Russian interference in the 2016 election, led by U.S. Attorney John Durham, did not produce any findings before the 2020 election. The president's ire grew when The Wall Street Journal reported that Barr had overseen a probe into Hunter Biden, son of President-elect Joe Biden, but had taken pains to ensure that it was not made public prior to the election, to avoid the appearance of tampering. (Hunter Biden has not been charged with any crimes, but the probe is ongoing.) The problem was that tampering with the election was exactly what Trump had wanted Barr to be doing.
As the president raged publicly, The New York Times reported first that Barr might leave early, and then more recently that he would not. Given this backstory, the mutual warm words from Barr and Trump are hard to take at face value, but they also make it tough to know what actually happened. Did Trump push Barr out? Was Barr annoyed by Trump's meddling? The enigma makes it even harder to know what to expect from the next few weeks. Was Barr's departure a disagreement over things that had already happened, or is Trump hoping that new Acting Attorney General Jeff Rosen, the current deputy attorney general, will be easier to railroad into fresh mischief?
Nonetheless, Trump's split with Barr echoes his falling-out with Sessions before his first attorney general's departure two years ago. Neither man deserves much praise for doing the bare minimum of resisting some of Trump's abuses, but their departures are interesting because no Cabinet secretaries have been as effective at carrying out Trump's agenda as Sessions and Barr. In an executive branch filled with third-rate government apparatchiks and incompetent private-sector imports, Sessions and Barr were experienced in Washington and knew what to do. Beyond that, they were closely aligned with Trump ideologically, yet both left more or less unceremoniously.
Sessions was the first U.S. senator to endorse Trump, and he was a mentor to Stephen Miller, who has become one of the president's closest advisers. Sessions had been a zealous advocate for restricting immigration long before Trump entered politics. They also agreed about matters like civil-rights-law enforcement (preferably lax) and restrictions on police conduct (ditto). This meant that Sessions didn't blanch at separating migrant children from their parents at the border and locking them up, though he did try to blame the Department of Homeland Security.
Barr replaced Sessions (after a brief interim appointment) at a time when Trump and his friends were facing scrutiny from the law, including Special Counsel Robert Mueller. Barr's de facto job application was an unsolicited memo to the Justice Department about presidential obstruction of justice. Barr had long espoused a broad view of presidential power, and he was more than happy to kneecap the Mueller probe, push the DOJ to let off Trump friends like Michael Flynn and Roger Stone, and intervene on the president's behalf with government lawyers.
The conflicts came when Trump wanted his attorneys general to do things that suited him but weren't related to their own ideological projects, and in fact threatened to undermine those projects by dragging them into unrelated morasses. Sessions recused himself from overseeing the Russia probe and refused to un-recuse himself. Barr was happy to let Trump demand investigations into pretty much anything and anyone he wanted, but as of now he seems to have drawn the line at letting Trump determine the outcomes of those investigations, or letting him rush them.
Even though they had done so much to advance the president's cause, they were ultimately loyal to their own politics and not, as he demanded, to him personally. It is tempting to say that Sessions and Barr were both Trumpists avant la lettre, but their eventual conflicts with him show there was no such thing: Trumpism is a cult of personality, and policy is always an afterthought.