Why You Don't Mess Around With Presidential Transitions
Being president is a tremendously difficult job. Starting the first day without preparation could set up a presidency to fail.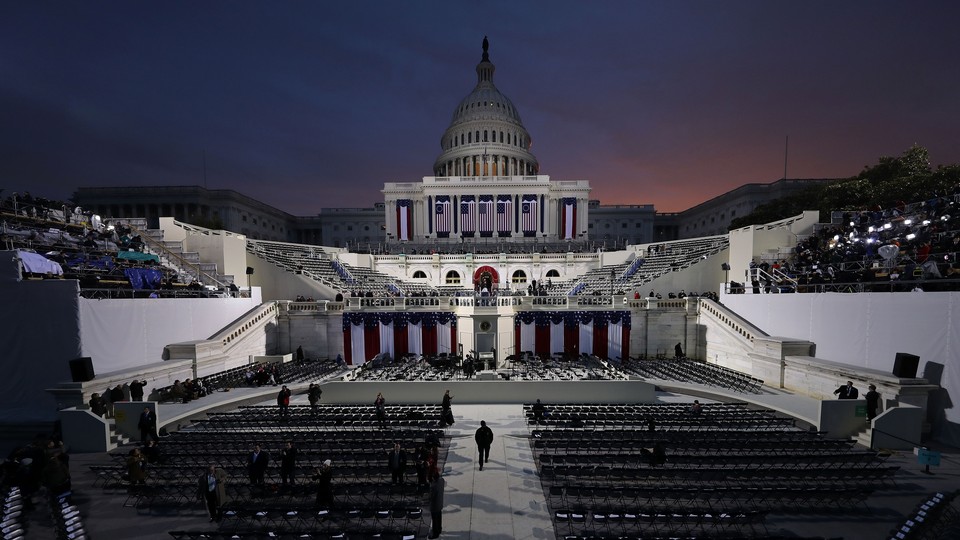 In his new memoir, Barack Obama reveals that there was a terrorist threat on his Inauguration Day. As he addressed the nation, he was prepared to interrupt himself to read evacuation instructions for the millions gathered on the National Mall. Obama had been in the job just seconds, and he was experiencing his first stomach drop—the possibility of a mass-casualty event.
The presidency comes at you fast; it helps if you prepare. This would seem to be axiomatic. If there were any doubts, the devastating consequences of the Trump administration's botched response to COVID-19, with its improvisation and management-by-chaos, should have dispelled them. Nevertheless, Donald Trump is blocking President-elect Joe Biden's ability to prepare for the presidency, departing from a bipartisan tradition of smoothing the way for successors. This is dangerous and burdensome. Trump's tenure is set to end in a way that highlights his critics' central claim: that his impulses make him incapable of carrying out the obligations of the presidency.
Transitions are hard for newly elected presidents, even under normal circumstances. "Almost all of them have foreign-policy ideas they come with," former Secretary of State Condoleezza Rice told me when I interviewed her for my book on the presidency. "On day one, 'I will,' and on day one, they don't, because it's so complicated. They're almost all frustrated because the world doesn't accord with the world that they thought they were going to be able to shape. And you really can't see that from the outside. Then you get in there and the stuff starts flowing."
In addition to the surprises and tonnage of incoming challenges, simply starting the job is a gargantuan undertaking. It may help to imagine a presidential transition as a private-sector company going through a merger. With only two months of preparation, the new CEO must take over a $2 trillion enterprise with 4 million employees and hire 4,000 managers, 1,500 of whom have to be vetted by a hostile board of directors. Then, on his first day in the corner office, the new top man must be ready to face the most difficult challenges of running the business while simultaneously launching a brand refresh and implementing an entirely new strategic plan. Oh, and he'll have to do all of his prep work through Zoom, during a pandemic spike that he's supposed to manage between meetings about how to revive a crumpled economy. "Every day matters in a transition, and every day that is lost is more important than the previous day," David Marchick, the director of the Center for Presidential Transition, told me. "You can't make it up."
"I spent so much time getting to know people who could help me get elected president," John Kennedy lamented, "that I didn't have any time to get to know people who could help me, after I was elected, to be a good president." To fix this imbalance, experts, do-gooders, and others who care about the right way of doing things have pushed to improve presidential onboarding. In 2015, Congress passed legislation to start the transition process six months before the election. After the vote, the General Services Administration is supposed to give the president-elect access to office space, the intelligence services are supposed to brief the new team, and the FBI is supposed to start the security-clearance process so that new hires will be able to start work right away.
This is not just a legal requirement. Ensuring a smooth transition is another one of those patterns of doing things that line up with the basic ideas of the public good. George W. Bush and his chief of staff, Josh Bolten, set the modern standard for the handoff, welcoming in Obama's team. In the same spirit, Obama asked his advisers to work with incoming Trump staffers. In the disappearing atoll of bipartisanship, transition cooperation was one bit of dry land that remained above the waves. Such cooperation would be especially helpful this year. The COVID-19 vaccination program, which will begin under Trump but deliver the overwhelming majority of doses under Biden, will require careful coordination. Yet the conversations necessary for a trouble-free changeover are not yet allowed to happen.
The Biden team is perhaps better able to handle transition delays than some of its predecessors. It's rich in experience. The president-elect moves to the other side of the Resolute desk after a long career sitting in front of it. His team will include a lot of executive-branch veterans who have muscle memory and believe in the systems and orderly procession of ideas backed by reason and evidence that often make organizations work well.
But experience gets you only so far in a transition. Every White House designs its own organizational chart and deals with growing pains, as Mona Sutphen, who served on the National Security Council in the Clinton White House and as deputy chief of staff for policy under Obama, explained last year. "Nobody knows what their job actually is," she said, "unless you have been in government and are at the same agency you were in before. [But] most people don't go back into their old job. You get a bunch of really Type A, super-successful people in a room and give them lots of power and no job description and that's what the West Wing looks like. People are jostling around going, 'I don't even really know—is this my territory? How do we have a meeting?'"
Even if Trump eventually allows White House valets to pack his bags for a January 20 checkout, or if the General Services Administration takes the next steps in a formal transition, there won't be the spirit that governed the transitions of the past two administrations. Instead, the spirit is likely to be akin to the one that prevailed during Trump's transition four years ago. Candidate Trump told his transition director, former New Jersey Governor Chris Christie, that he didn't want to talk about the process, because he believed it was "bad karma" to do so before the vote. Christie did the work and prepared binders full of transition material. According to Obama officials and outsiders who participated, it was a serious effort. But Christie didn't mesh with Trump's senior adviser Steve Bannon or with Trump's son-in-law Jared Kushner. Shortly after Trump was elected, Christie was fired, and the work of his team was thrown out, a foreshadowing of the chaotic Trump approach to the office. That mindset helps explain why the lessons of the day-long Obama-Trump transition exercise on how to respond to a global pandemic out of Asia didn't stick.
More than two weeks after Biden won, Trump is still preventing a proper transition while he works to overthrow the election results. Though his legal avenues are closing down, the president is moving to extralegal routes. Leaders of his party are encouraging him, though a few have recently conceded that Biden should get access to the staffing, money, and cooperation he needs to prepare him for the job for which the voters have selected him. So far, the president isn't listening. Before the transition can begin, Trump must go through his own personal transition, which hopefully will be complete before the start of Biden's inaugural address.