Why California Rejected Racial Preferences, Again
A majority voted against repealing the state's ban on affirmative action.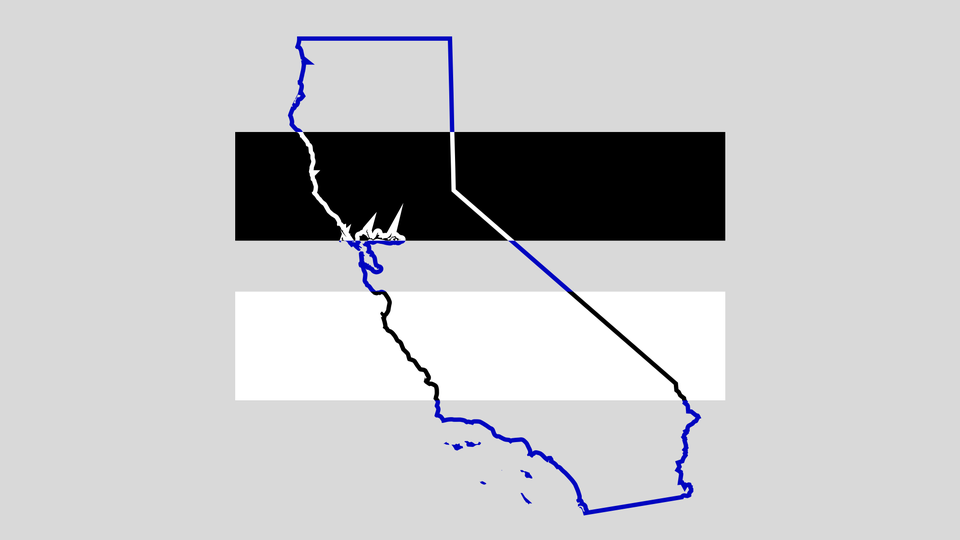 For at least 50 years, Californians have been fighting about whether their state government should be race neutral, treating all individuals equally under the law regardless of the color of their skin, or race conscious, granting preferential treatment to certain groups while discriminating against others to remedy past discrimination or increase diversity.
These various disputes over racial quotas and affirmative action have tended to anticipate national controversies. And last week, a majority of voters in this Democratic stronghold, where no single ethnic group constitutes a majority, reaffirmed their long-standing preference for neutrality: California voters defeated Proposition 16, an attempt by progressives to remove the provision in the state constitution that prohibits discrimination on the basis of race or gender in public employment, education, and contracting. The margin of defeat, 56 to 44 percent, was striking to students of political history, because it suggests that race neutrality is more popular now than when it was initially mandated by a 1996 ballot initiative that passed by a slightly smaller margin.
Disappointed progressives fear that Prop 16's defeat will stymie their efforts to reduce racial inequality. But California voters looking to the future of their wildly diverse state were correct to conclude that permitting its officials to treat racial groups differently would be dangerous.
The California battle over racial preferences first emerged at the UC Davis medical school. Founded in 1966, its earliest classes were almost all white. Intent on diversifying its student body in the 1970s, administrators increased its class size to 100 students each year, with 16 spots reserved for minority applicants. That upset Allan Bakke, a white Vietnam War veteran twice denied admission despite a GPA and test scores that exceeded those of all the minority students admitted in both years he applied. He sued, alleging that he had been excluded solely on the basis of his race, violating his rights under the Fourteenth Amendment to the Constitution and the Civil Rights Act of 1964.
The Supreme Court agreed, in part. In the 1978 case Regents of the University of California v. Bakke, it ruled that racial quotas were unconstitutional––that "no applicant may be rejected because of his race, in favor of another who is less qualified, as measured by standards applied without regard to race." But it also approved affirmative action to promote diversity so long as race was only one factor among many that came under consideration in admissions. The case shaped a generation of affirmative-action regimes in higher education.
In the early 1990s, Ward Connerly, the most prominent proponent of ending racial preferences in his generation, rattled the uneasy peace. Born in 1939 into a segregated African American community in Leesville, Louisiana, Connerly was raised by his aunt and uncle, who moved to California during the Great Migration. "Most people call me a black man," he wrote in an article adapted from his memoir. "My enemies deny that I am. For them, I'm an 'Oreo'—black on the outside and white within. In fact, I'm black in the same way that Tiger Woods and so many other Americans are black—by the 'one-drop' rule used by yesterday's segregationists and today's racial ideologues. In my case, the formula has more or less equal elements of French Canadian, Choctaw, African, and Irish American."
Connerly attended Sacramento State, where he worked on a campaign to ban housing discrimination in state law. Later, while employed in state government, he befriended a young legislator named Pete Wilson, who later became governor and appointed Connerly a UC regent. The year was 1993. California was still reeling from the deadly riots of 1992, the AIDS and crack epidemics, ongoing street wars among Latino and Black gangs, a high murder rate, and a populist and often racist backlash against undocumented immigrants that divided the state. In that milieu, Connerly began to study how racial preferences worked in the UC system. After reviewing admissions statistics, he was convinced that white and Asian applicants were being discriminated against in an effort to admit more Black and Latino applicants.
Around the same time, two white academics, the Cal State Hayward anthropology professor Glynn Custred and the philosopher Thomas Wood, drafted what they called the California Civil Rights Initiative, a proposed amendment to California's constitution. It stated, "The state shall not discriminate against, or grant preferential treatment to, any individual or group on the basis of race, sex, color, ethnicity, or national origin in the operation of public employment, public education, or public contracting." The state legislature considered and rejected the proposal in 1994.
In 1995, Connerly became the chairman of an effort to put the matter to voters. Soon enough, signatures were gathered to qualify what became Proposition 209 for the 1996 ballot. Prior to the vote, The Daily Californian, UC Berkeley's student newspaper, endorsed the effort to end racial preferences in the state. "Race-based affirmative action is wrong because it discriminates on the basis of race," it declared. "The goal of affirmative action, to redress centuries of shameful discrimination against blacks, Latinos, other minorities, and women is praiseworthy and urgent. But the ends of social policies do not justify the means."
Opposing Prop 209 were California Senators Barbara Boxer and Dianne Feinstein; Jesse Jackson; Rosa Parks; Dolores Huerta, co-founder of the United Farm Workers; the ACLU; the NAACP; and the California Teachers Association, among others. Ultimately, 54.5 percent of voters supported the constitutional amendment. In a victory speech, Connerly called Prop 209 a link in a civil-rights chain extending back to Martin Luther King Jr. and the Declaration of Independence.
Proposition 209's critics declared that the amendment was racist. In their telling, its backers had misappropriated the language of the civil rights movement and owed their margin of victory to confused voters who favored affirmative action and did not realize their votes would help end many guises of it. Progressives in the state have wanted to overturn Prop 209 ever since. In 2011, Governor Jerry Brown vetoed a bill to weaken it.
In 2020, in the heat of the George Floyd protests, the California legislature finally succeeded in putting a new affirmative-action proposition on the ballot, one that would overturn Prop 209. Proposition 16 would test whether California voters had changed enough to change their minds. Compared to 1996, the state is much more Democratic. The governor is a progressive Democrat rather than a centrist Republican. Latinos rather than whites are its largest ethnic group. The ascendant populist movement is in favor of criminal-justice reform rather than against illegal immigration. And its youngest voters are Millennials and Gen Zers rather than Gen Xers. "The Daily Cal's editorial board once endorsed Prop. 209 to ban affirmative action," Berkeley's student newspaper declared this year. "We seek to rectify that harm … Californians must right a long-standing wrong by opening employment and state educational opportunities to women and BIPOC … Let's work toward a more equitable society through race- and sex-conscious legislation."
California political and media elites overwhelmingly favored ending race neutrality by passing Prop 16. It was endorsed by Senators Kamala Harris and Dianne Feinstein; former Senator Barbara Boxer; at least 30 Democratic members of the U.S. House, including Nancy Pelosi; and Governor Gavin Newsom, Lieutenant Governor Eleni Kounalakis, Secretary of State Alex Padilla, State Controller Betty Yee, State Treasurer Fiona Ma, State Superintendent of Public Instruction Tony Thurmond, Speaker of the Assembly Anthony Rendon, Los Angeles Mayor Eric Garcetti, San Francisco Mayor London Breed, and hundreds of other local officials. It was also supported by many of the state's newspapers, including the Los Angeles Times, The Mercury News, the San Francisco Chronicle, The San Diego Union-Tribune, La Opinión, the East Bay Times, The Sacramento Bee, The Fresno Bee, and The Modesto Bee. And proponents of Prop 16 raised nearly 20 times more money than its opponents.
Nevertheless, California voters rejected Proposition 16. Indeed, as of Monday, 56 percent of voters had rejected the measure, defeating it by a slightly bigger margin than Proposition 209 was passed in 1996. Why did California voters diverge so sharply from the position of the officials they elected, reaffirming race neutrality as the only democratically legitimate way forward in the state?
Many Californians believe that treating people differently on the basis of their race, ethnicity, or national origin is wrong. Others have concerns about the validity or adequacy of existing racial and ethnic categories and the attendant complications of shaping decisions on their basis. If Proposition 16 had passed, California officials would have been forced to decide, for example, whether African American descendants of slaves should be treated the same as Nigerian immigrants, whether Hmong, Chinese, and Indian Americans, or Spaniards, Argentines, Peruvians, and Salvadorans, were in the same category, or whether Latinos, the state's largest identity group, should benefit from preferences historically reserved for minorities.
Even if those problems were ultimately resolvable, California today does not resemble the state where an all-white class at the UC Davis medical school prompted calls for an urgent remedy. Last year, with the state's ban on racial preferences in place, the flagship UC system admitted the most diverse class in the state's history. "First-generation students made up 44% of those admitted and low-income students 40%," the Los Angeles Times reported. "Asian Americans remained the largest ethnic group at 35%, followed by Latinos at 34%, whites at 22%, African Americans at 5% and American Indians at 0.5%." While California's K–12 education system fails too many students of all races, with Latino and Black students suffering disproportionately in ways that warrant urgent and sweeping reforms, white supremacy has been vanquished in California's higher education system, which remains free to factor class into admissions.
My own vote against Proposition 16 was most heavily influenced by trepidation about the conflicts between racial groups that I anticipate if state officials are empowered to evaluate applicants on the basis of race rather than being compelled by law to treat every individual equally. As I understand the state's history, the country's history, and the world's history, government officials cannot be trusted to factor race into decision making without treating people unjustly, and intergroup stigmas and resentments tend to increase when any group is given preferential treatment.
In my lifetime in California, I have watched a white majority target undocumented immigrants in a xenophobic ballot initiative that passed before courts struck it down. I've seen violence break out between Black, Latino, and Asian immigrant communities. I've seen administrators in the UC system apologize for engaging in racist discrimination against Asian Americans. Supporters of racial preferences may imagine competent technocrats dispassionately factoring in race to correct for adversity suffered by marginalized groups, but I believe most humans tend to be irrational and corrupted when empowered to racially discriminate––a risk that is too fraught to tolerate. California has always owed its exceptional success to its ability to attract people from all over the world. It was as wildly diverse as anywhere on Earth way back in 1860. Today it is one of the world's most successful experiments in people of all sorts living together in peace and prosperity. Nothing would threaten its success more than political balkanization along racial or ethnic lines by identity groups engaging in a zero-sum competition.
On November 3, the people wisely headed off such conflict: In public employment, public education, and public contracting, state officials are still compelled to treat every Californian equally regardless of their race. Will political elites obey those prudential constraints, given their overwhelming opposition to them? I expect not. But state and federal courts will serve as a check on the most flagrant violations of the law––and, in the long run, the people's reaffirmation of Proposition 209 may portend victories for race-neutral policies elsewhere in the American political system. The prudence of that course will only increase along with the diversity of the nation.