For a Vaccine to Save Lives, Society Has to Make Some Decisions
In distributing a coronavirus vaccine, the U.S. needs to learn from past mistakes.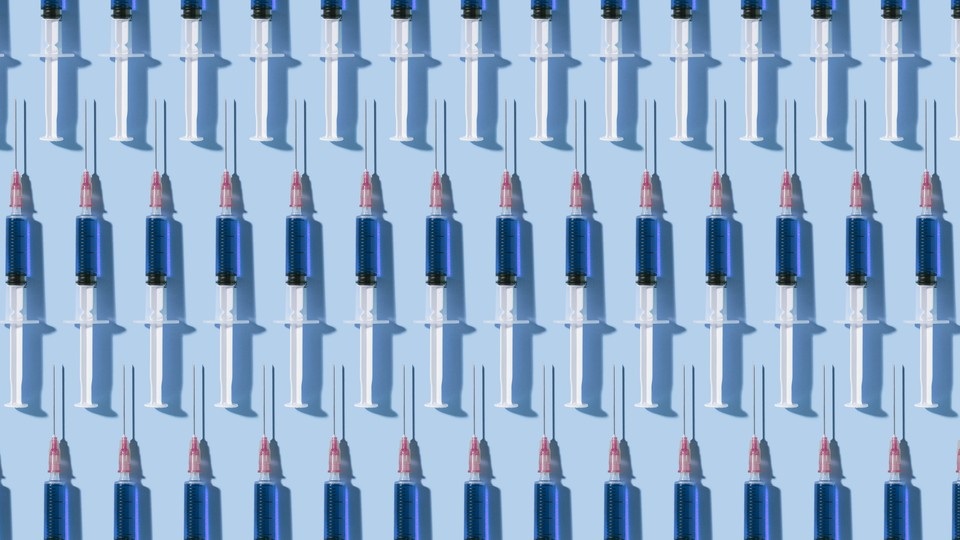 In about 25 days, if all goes according to schedule, the FDA's vaccine advisory committee will recommend expanding the public use of the first vaccine against the coronavirus.
Preliminary results from clinical trials suggest that the vaccine, a product of a collaboration between Pfizer and BioNTech, might be 90 percent effective at preventing COVID-19 symptoms—a level that would place the new discovery among the world's most reliable vaccines. More information and a thorough, independent review are still needed, but the trial for this vaccine enrolled a large, ethnically and racially diverse pool of subjects and has so far turned up no serious safety concerns. If the Food and Drug Administration authorizes expanded use of the vaccine in December, it would occur 11 months after the coronavirus was first identified—three years faster than any other vaccine has ever been developed.
In short, researchers appear to have delivered remarkably well. But getting safe doses into the arms of the vulnerable and disadvantaged people who stand to benefit most from that innovation depends on reversing a trend that has come to define this pandemic—to quote Isaac Asimov, "that science gathers knowledge faster than society gathers wisdom." The fruits of science can help defeat this pandemic only if society is working well enough to distribute them quickly and equitably. But the U.S. experience with COVID-19 so far—and with other diseases before it—suggests a variety of political, economic, and practical obstacles that Americans must work urgently to surmount.
U.S. hospitalizations and deaths from COVID-19 are surging, and projections indicate a dark winter, in which an additional 160,000 Americans will lose their lives to the virus before February. A vaccine could still help shift that trajectory, but only if policy makers apply the hard lessons from past U.S. failures in distributing vaccines to adults. They will need to do so amid a contentious presidential transition and with the same decentralized and resource-starved U.S. state, local, and tribal public-health systems that have administered H1N1 and seasonal-flu vaccines.
According to a recent analysis, three out of every four Americans would need to receive a vaccine that prevents at least 80 percent of infections for that vaccine to extinguish this coronavirus pandemic on its own. In the past decade, the United States has never managed to vaccinate more than half of adults for seasonal influenza in any single year; in most years, coverage hovers around 40 percent. The flu vaccination rates among Black people, Latinos, and high-risk adults aged 18 to 49 are generally even lower. During the last pandemic for which we had a vaccine—the 2009 H1N1 pandemic—fewer than a quarter of American adults were vaccinated, even though Medicaid covered the cost and the Centers for Disease Control and Prevention managed the distribution to state, local, and tribal authorities.
Seeing the devastation to the economy and the deadly threat to their loved ones, more people might feel an urgency to be vaccinated against the coronavirus than against the flu, and the availability of a highly effective vaccine for the new disease could help too. Yet on both scores, caution is warranted. The Pfizer-BioNTech vaccine might inspire more public opposition than the H1N1 vaccine, which was a modification of an already-proven influenza vaccine. In contrast, the first coronavirus vaccines will involve technology—messenger RNA, or mRNA—that the FDA has never before approved, which may make some patients wary. Furthermore, compliance with even the soundest public-health measures will not be universal. Masks are harmless to their wearer, and yet 40 percent of Americans refuse to use them on a daily basis, according to the Institute for Health Metrics and Evaluation. In North Dakota, which has more COVID-19 infections per capita than any other state, more than half of residents are still not wearing masks. Foreign and domestic social-media disinformation campaigns around vaccine safety have increased over the past decade and are growing in intensity now.
In this situation, the U.S. government's priorities must be to prepare state and local infrastructure and communication strategies to boost vaccine coverage among high-risk and high-priority populations, and then to convince the rest of the country that a highly effective vaccine provides future hope—rather than an immediate promise—of life returning to normal. Well into next year, the best way to protect Americans will still be to convince them to stick with proven non-pharmaceutical measures, such as wearing masks and avoiding indoor gatherings, a few months longer.
Public-health agencies should also set realistic expectations about how quickly the supply of vaccines will scale up, who will receive them first, and when the average American can expect to be vaccinated. Here is a bit of vaccine math: Pfizer and BioNTech expect to be able to produce 50 million doses of its vaccine by the end of this year and 1.3 billion doses by the end of 2021. The companies will deliver half of this year's doses—25 million—to the United States. To be effective, the vaccine requires two doses per person, administered three weeks apart. This means that up to 12.5 million Americans could be vaccinated within about two months and an additional 650 million people could receive this vaccine next year. If a second, similarly effective vaccine is approved, such as a promising one from the firm Moderna, the total supply of early doses will be still larger.
The United States is likely to have sufficient access to the vaccine doses it needs. The U.S. is one of eight nations, plus the European Union, that have entered into advance-purchase agreements with Pfizer and BioNTech, with the Trump administration spending nearly $2 billion to purchase 100 million doses, with an option to buy 500 million more. The U.S. is also one of several nations to make large advance purchases of the potential Moderna vaccine. (Whether countries outside the early-buying nations will have access to these vaccines is entirely a different matter. If the United States exercises its purchase option, a handful of rich nations will have reserved roughly 85 percent of the Pfizer-BioNTech vaccine doses available through the end of 2021, leaving the rest of the world with enough for only 100 million people.)
As the first doses become available, the CDC is expected to recommend that health workers who have direct contact with patients be vaccinated first. Current estimates are that approximately 20 million Americans fall into this category. Most of these health-care workers can be identified and vaccinated at work, although rural and long-term-care facilities, small clinics, and part-time home-health aides might be difficult to reach. With a robust communication campaign, coverage among health-care workers could outstrip annual vaccine coverage rates for the seasonal flu—likely higher than 80 percent. In other words, this group will use up most, if not all, of the 2020 vaccine supplies.
The CDC intends to wait until the FDA authorizes a vaccine before issuing authoritative guidelines on who should receive the early supply of doses. Outside advisory groups differ on these priorities. Some recommend vaccinating people over 65 first (roughly 50 million people), while others prioritize the nation's 40 million to 60 million essential workers—including police officers and firefighters, delivery and warehouse workers, and employees of businesses that states require to continue physical operations during the pandemic. Other advisory plans give higher priority to the 80 million to 100 million people with conditions, including cancer, hypertension, and obesity, that put them at higher risk of mortality from COVID-19.
State governors have been asking for guidance from the federal government, which should not expect them to make all the tough decisions on their own. During the 2009 H1N1 pandemic, the CDC and its contractors distributed the vaccine to U.S. states and localities according to their population size, leaving those states to allocate doses. The result was that vaccine distribution favored politically powerful local groups, including public employees. Ironically, vaccination rates among health-care workers were low, and Black and Latino residents were less likely than white residents to be vaccinated.
In the absence of federal leadership in the current pandemic, states have adopted divergent strategies about mask mandates, restrictions on bars and restaurants, and many other matters. Many of the consequences have been disastrous. To ensure that vaccine distribution is smooth and equitable, Americans should seek answers from their public officials now about what their state plans to do. Each state and major municipality is now producing vaccine-distribution plans, and the CDC should monitor them to make sure early vaccines reach essential workers and Black and Latino Americans, who have suffered disproportionately from COVID-19.
State and local officials desperately need federal money for these plans to work. States and localities will need at least $6 billion, according to the CDC's conservative estimate, to prepare for what will be the largest vaccination campaign in U.S. history. But so far the agency has distributed just $200 million to governors and mayors for that purpose. President-elect Joe Biden has promised to seek $25 billion to "guarantee [the vaccine] gets to every American, cost-free" once he's in office. Yet that money, even if Congress cooperates, might come too late to repair any damage from a botched rollout. Without careful planning, early vaccine doses will go wherever it is politically and logistically expedient, rather than where they can save the most lives.
Science has given the United States an opportunity: a potential vaccine that works unexpectedly well. Americans can seize that opportunity—but only by working fast and gathering wisdom from our past mistakes.