The Nightmare Is Here
Even as the election remained unresolved, President Trump declared victory and denounced efforts to count the remaining votes as "a fraud."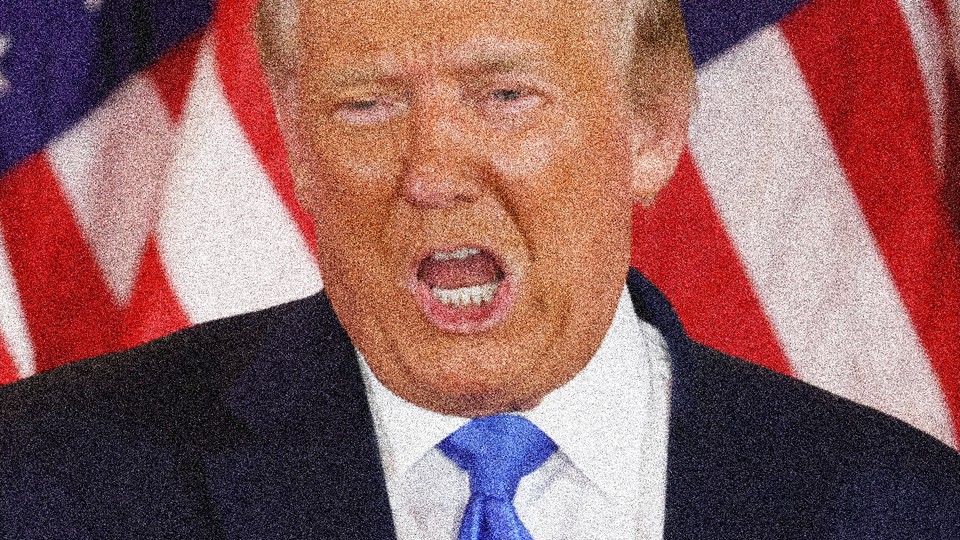 Updated at 2:36 a.m. ET on November 4, 2020.
The 2020 election has been the most anticipated in generations—and for now the result of the contest between President Donald Trump and former Vice President Joe Biden will have to go on being anticipated a little longer.
With most polls closed around the nation, it is clear that Democratic dreams of a quick and decisive Biden victory were just as much an illusion as the president's hope for a clear-cut win. The winner of the election remains unclear, with the result appearing likely to come down to Wisconsin, Michigan, and Pennsylvania—upper-Midwest states that swung from Democrats to Trump four years ago, and where clear results are not expected tonight.
Speaking at the White House around 2:25 a.m. on Wednesday, Trump declared victory and falsely claimed that the results were pending because of misconduct.
"This is a fraud on the American people," Trump said, baselessly. "This is an embarrassment to our country. We were getting ready to win this election. Frankly, we did win this election."
Trump promised to go to the U.S. Supreme Court to demand an end to vote-counting, which has still not concluded. "We want all voting to stop," he said. "We don't want them to find any ballots at 4 o'clock in the morning and add them to the list. It's a very sad moment."
It was a chilling appearance by a president who has tried for months to undermine faith in the election and has not committed to accepting its result. His demand to stop counting valid votes stands against election law and would disenfranchise millions of voters.
Biden did not claim victory, but he did project optimism in brief remarks in Delaware around 12:45 a.m.
"We feel good about where we are," he said. "We really do. I'm here to tell you tonight, we believe we're on track to win this election." He added: "It's going to take time to count the votes, but we're going to win Pennsylvania."
Even without the results, there are some lessons to draw from the race already. State-level polls suggesting a rosy outlook for Biden seem to have been badly off. (Biden is still likely to win the national popular vote.) The most glaring example is Florida, which appears to be headed into Trump's column despite Biden consistently but narrowly leading in polls there.
Florida is also a good example of one of the most important trends in the results so far: Trump is outperforming expectations, many polls, and his 2016 results among minority voters. In Miami-Dade County, for example, where more than two-thirds of the population is Hispanic, Biden was leading Trump by just 7.3 percent with 95 percent reporting—in a county Hillary Clinton won by nearly 30 points four years ago.
Biden does seem to be making gains over Clinton's performance and cutting into Trump's edge with white voters. If the Democrat can still win, it will be because he is able to use that to his advantage to at least partially rebuild the "blue wall" in the upper Midwest, a bloc that includes not only Pennsylvania, Michigan, and Wisconsin, but also Ohio. He will, however, have to avoid the losses among minority voters in those states that he's seen elsewhere.
Results from those states will stream in slowly. Officials in Pennsylvania, Michigan, and Wisconsin say that they do not expect to declare winners tonight, and counting could stretch later into the week. Trump is comfortably ahead in Ohio; Biden polled well in Nevada, where results were slow to arrive. Although Biden is seeing positive signs in Arizona, most of the reach states that he had dreamed of snatching from Trump aren't breaking his way. Texas is likely to remain Republican. North Carolina is on a knife's edge. In Georgia, many votes remain outstanding from the Atlanta area, which is expected to tilt heavily Democratic, but Trump currently leads in the state.
This means that the final outcome may not become clear for days. Maine and Nebraska, which award some electoral votes by congressional district, could find themselves in the spotlight. There is even a chance of a 269–269 Electoral College tie, a once-in-a-blue-moon scenario that would send the race to the U.S. House.
All in all, it is enough to create a sense of déjà vu—but to what? For Republicans and anxious Democrats, tonight might feel like a flashback to 2016, when Trump shocked pundits to win the election. More optimistic Democrats hope that the better analogy is to 2018, when an expected wave of wins for the party seemed to have crested too soon on Election Night, only to swell as more votes were counted, in a phenomenon known as the "blue shift."
The uncertainty will test the strength of the country's democratic institutions. Americans are accustomed to news outlets projecting the winner of the presidential race on Election Night. Official election results don't exist until states certify them, which will be weeks from now, but ever more sophisticated numerical analyses have produced an expectation of quick and decisive answers.
"From a legal perspective, there are no results on Election Night, and there never have been," Edward Foley, a law professor at Ohio State University, told me in August. "The only thing that has ever existed on Election Night are projected results that the media has helpfully provided to its audiences."
None of these developments is unprecedented, but the combination of a closely divided country and changes to voting procedures forced by the coronavirus pandemic means they have taken on new importance, and could determine the outcome in the tipping-point states and, thus, the presidency. Officials in some states were not permitted to begin counting ballots returned by mail until Election Day. Some states will continue to accept ballots for several days, as long as they are postmarked by Election Day or the day before. And surging voter enthusiasm this year means there are likely to be more provisional ballots cast than normal.
The coming hours and days, and potentially weeks, will see a flurry of lawsuits and countersuits as the candidates seek any advantage they can get—and election officials try to figure out who actually won.
The most important state to watch now might be Pennsylvania. Election experts have long viewed the Keystone State as the most likely to cause a nightmare this year, both because it is highly contested and because it has been the subject of intense litigation.
"Pennsylvania worries me for a combination of reasons," Rick Hasen, a law professor at UC Irvine, wrote in an email. "It has a history of poor election administration, including about a quarter of its administrators leaving in the last few months; it is facing a surge of absentee ballots like nothing it has ever handled before, and the state legislature has blocked legislation to allow the processing of votes earlier; we have a Democratic-dominated state supreme court expanding voting rights that the state legislature does not want and that could incur a backlash from the conservatives on the U.S. Supreme Court."
Officials in the state were barred from counting the onslaught of mailed-in votes until Tuesday, which will delay the final count. That will take time, and there's likely to be more litigation over the state's decision to accept ballots that didn't arrive by Election Day and over individual ballots. All of these factors mean that a complete tally is probably still days away at best.
"I'm less worried about the process playing out," Dan Mallison, an assistant professor at Penn State at Harrisburg, told me. "I'm more worried about the rhetoric, particularly the president's rhetoric casting delays as a product of fraud or funny business. It's important to think of this as we're probably going to have an Election Week, not an Election Day."
This is not the first time in recent history that the result of a presidential election has remained in doubt. In 2000, the presidential race hinged on contested results in Florida, which were resolved by the Supreme Court just three days before the Electoral College met in December; the race was ultimately decided by a difference of 537 votes. It was one of the more precarious moments in modern American elections, and it came at a time of relative good feeling, with both candidates professing an eagerness to protect democratic institutions.
This year's contest occurs in a much more fractured America, with many voters on both sides viewing the presidential election as an existential choice. Trump has spent months trying to undermine faith in the process and (baselessly) portray the election as marred by widespread fraud. He has insisted, with no legal authority or basis, that results be final on Election Night. It's not clear that the president would accept an election result that goes against him, though what power he has to resist it is unclear.
Although it is too early to say for sure, and there will still be bitter fights over counting remaining votes, Election Day appears to have passed without major voting problems in most of the country. The glaring exceptions are in Georgia, including a counting delay in the Atlanta-area Fulton County, reportedly thanks to a broken water pipe, and machine problems in Spalding County.
Millions of Americans cast their ballot before Election Day, using either in-person early voting or absentee ballots. In some swing states, including Arizona, Florida, North Carolina, and Ohio, election officials began counting those votes ahead of time, meaning that the tallies in those states should be reasonably complete. But in Georgia, Michigan, Pennsylvania, and Wisconsin, officials are not allowed to begin counting them until Election Day.
Absentee ballots tend to lean Democratic, producing the blue shift: Initial results often look more favorable to Republicans, but as more mailed-in ballots are counted, Democrats make gains. This is a well-known phenomenon, but significantly more Americans opted to vote by mail this year, because of COVID-19 fears, so predicting the size of the blue shift is impossible. Polling suggests that Democrats were far more likely to vote by mail and more likely to return their ballot earlier in the voting window. This means that one of the key factors to watch in outstanding states is whether late-counted votes shift races toward Democrats.
In some states, votes that are valid and will be counted haven't even arrived at election boards yet. In North Carolina, absentee ballots postmarked by Election Day will be accepted until November 12. In Ohio, ballots postmarked by Monday will be accepted until November 13.
Then there are provisional ballots, which are counted last. Under a 2002 federal law, any voter whose registration is in question, who doesn't have required documentation, or who has other problems must be allowed to cast a provisional vote, which is reviewed later to determine whether it will count.
Although the turnout surge and growth in absentee voting are particular to this election, none of these factors is new. It's not uncommon for some races to stretch well into November before their outcome is clear. Several New York Democratic-primary elections this spring took weeks to resolve, thanks to chaos in the Empire State's election system; in 2000, the winner of the presidential election in New Mexico was not clear for 10 days. Usually, however, the presidential race is not so close.
The White House is not the only high-stakes prize up for grabs in this election. Although Democrats have captured a Senate seat in Colorado and lead in Arizona, their chances of capturing the Senate are fading, with many of their candidates trailing, including Cal Cunningham in North Carolina. Senator Doug Jones has also lost his reelection race to Republican Tommy Tuberville. Democrats are on pace to hold the House, though, although their margin of control remains unclear.
While vote-counting continues, much of the focus now will turn to the courts, as both parties seek to either make sure the rules are enforced in the way that most benefits them, or change the rules in their favor. This represents a continuation of widespread litigation ahead of Election Day, but if that was like an aerial bombardment, this will be hand-to-hand combat. Both the Trump and Biden campaigns have been preparing for months for the prospect of an election that will be contested, and potentially decided, in the courts. Trump has gone so far as to suggest that the confirmation of Justice Amy Coney Barrett to the Supreme Court will give him an edge.
The details of these fights will be arcane and often incomprehensible to everyone but the lawyers involved—and probably even to many of them. But one way for lay observers to assess this litigation is to determine whether a suit seeks to include valid ballots, and thus guarantee that Americans' votes are counted, or to exclude them, and keep people from exercising their rights.
The hours and days ahead will be a delicate moment for democracy. Election experts warn that faith in elections is a fragile thing that is hard to repair once undermined, and, as my colleague Yoni Appelbaum has written, democracy depends on the consent of the defeated—but they also have to believe that the process by which their side lost was free and fair.
In September, Biden assured Americans that there would be a smooth transfer of power after voting.
"I will accept it, and he will too. You know why?" Biden said. "Because once the winner is declared, once all the ballots are counted, that'll be the end of it."
We'll soon learn whether he was right—though perhaps not as soon as many people would like.