There's a Reason the Election Went So Smoothly
Local officials are the unsung heroes of 2020.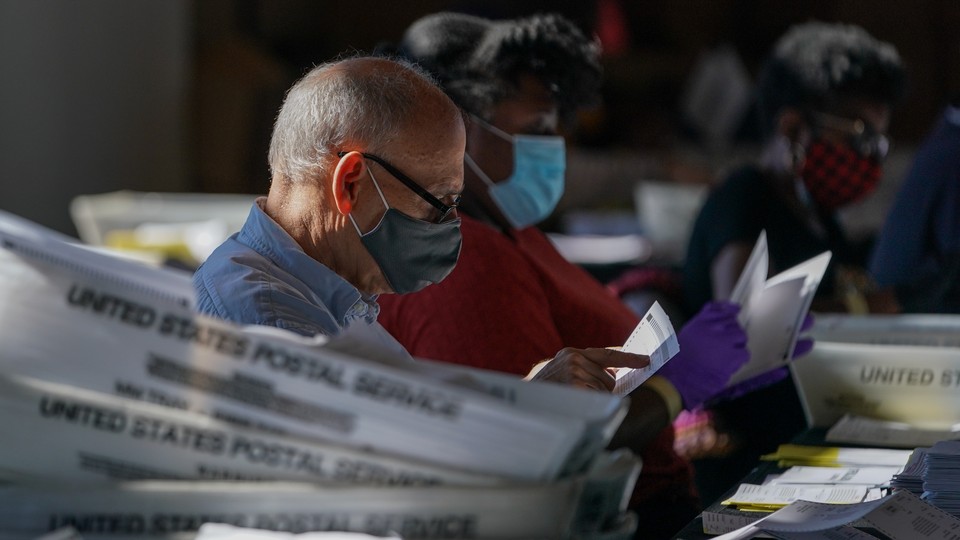 As the late Trump fan Charlie Daniels noted, Georgians are accustomed to repulsing visitors offering Mephistophelian bargains. So when Senator Lindsey Graham of South Carolina called Georgia Secretary of State Brad Raffensperger, a fellow Republican, to talk about the state's signature-matching law, Raffensperger didn't flinch.
In an interview with The Washington Post, Raffensperger, who is Georgia's top elections official, said that Graham asked whether he could discard all mail ballots in counties with higher rates of signature mismatch. Raffensperger believed Graham, a close ally of President Donald Trump, wanted him to throw out legal ballots, which Raffensperger can't do, but which stunned him anyway. (Graham denied that he wanted to toss legal ballots, but acknowledged discussing the law. As to why he was nosing into a matter over which he has no jurisdiction, the senator said that the future of the country hangs in the balance, which makes no sense; even if Trump won Georgia, which he won't, he'd lose the election.)
Raffensperger is no liberal hero for ballot access. In his approach to the job, he has largely followed the model of his predecessor, current Governor Brian Kemp, whom progressives accuse of tilting the system to aid his victory over Democrat Stacey Abrams in 2018. Georgia Democrats have accused him of botching the 2020 primary and said that his investigations into absentee-ballot fraud, which is exceedingly rare, constitute "state-sponsored voter intimidation."
Yet Raffensperger is one of the many elections officials around the country who have performed admirably in the face of great challenges—both logistical, from the pandemic, and political, from the president and his supporters—to produce an election that was surprisingly smooth and effective. Trump's complaints about a rigged election are baseless and dangerous, because they undermine the legitimacy of democracy, but they are especially ironic because the American electoral system outperformed expectations despite the most challenging circumstances in recent memory.
For months, jittery election experts, pundits, and party officials fretted over the many ways that the election could go wrong. The pandemic meant not only that a record number of voters would cast ballots by mail, but also that officials couldn't predict in-person turnout. Recruiting poll workers would be challenging. Many ballots might be lost because of signature problems or delays in the United States Postal Service. Foreign powers or other malign actors could try to meddle with the process. Supporters of candidates might try to intimidate voters from going to the polls, and there could be widespread civil unrest once the results were in.
The people offering the warnings had good reasons to be worried, especially after serious problems during the primaries. But in most of these cases, the problems either didn't materialize or were less grave than they could have been. Although any valid vote that isn't counted is an affront to democracy, the overall result was remarkably good.
"While every election has a misstep or two—a door to a polling location not opened on time, a printing error, equipment that malfunctions—this election has been a testament to the dedication and fortitude of election officials and the American voter," Tammy Patrick, a senior adviser at the Democracy Fund and a member of the National Task Force on Election Crises, told me. "Hundreds of thousands who had never worked before worked the polls. Millions who had never voted before registered and voted in this election cycle."
The positive outcome was not an accident. It was the product of officials from the federal judiciary and executive branch down to precinct-level poll workers scrambling to patch together fixes for the system. Private donors cut big checks to assist them, a practice that would be horrifying if the system became dependent on it, but helped in this unusual circumstance. Most important, voters found ways to cast their ballots, producing the highest turnout in American history.
A good place to start is with mail ballots. Officials in states around the country rebuilt election systems on the fly, looking for ways to ensure that voters could cast ballots despite the threat of COVID-19. Although election experts applauded that, they also worried that voters unfamiliar with the process might inadvertently make errors that resulted in their ballots being rejected. In 2016, 1 percent of absentee votes were rejected, thanks to technicalities such as signature mismatching, the security method about which Graham inquired.
Final numbers will not be available for some time, but early indications are that some states (though not all) were rejecting a smaller percentage of absentee ballots than they have in the past. Other states also enacted new rules for "curing," or correcting ballots; here, too, numbers on how many votes were saved are not yet available.
A second concern was that the high volume of ballots might crash into obstruction by the Postal Service. New Postmaster General Louis DeJoy, a longtime Republican donor, instituted a series of procedural changes that seemed to endanger prompt delivery of ballots. Overall delivery times were down. The USPS was no longer allowing ballots to be sent via the cheaper bulk mail rate. It also sent voters information about when to send ballots that election officials said was misleading.
But outcry from the public, Congress, and federal judges seems to have gotten the USPS mostly in line. As early as mid-September, my colleague Russell Berman reported that the danger of mail problems affecting the election was much reduced. Federal district court Judge Emmet Sullivan ordered the USPS to sweep election centers for lingering ballots on Election Day, and he was furious when his order wasn't followed everywhere, but postal officials said the sweep turned up only 13 ballots. A much larger number of ballots, 300,000, were reported as unscanned, but postal officials said that figure was misleading. Given the tight margins in some states, a small number of votes can make a big difference, and better numbers may emerge later, but for now, the impact seems relatively minor.
In part because so many voters cast their ballots via mail or early in-person voting—about 100 million of an estimated 160 million total—there were fewer reports of long lines and interminable waits, familiar from past general elections and the spring's primary fiascos, or of major attempts to threaten or intimidate voters.
"No doubt, voters faced challenges on Election Day, including long lines in some communities, robocalls, and voter-intimidation complaints," says Kristen Clarke, the president and executive director of the Lawyers' Committee for Civil Rights Under Law. "But the fact that over 100 million voters cast their ballots in advance of Election Day made the gravity of Tuesday's problems and breadth of challenges lower in intensity."
It is more difficult to measure the effects of voter suppression of all kinds, including laws that make it hard to vote and campaigns that seek to simply depress voter enthusiasm. Many of these laws are built into the election system and create suppression problems in each cycle. States that declined to make it easier to vote absentee, enacted strict limitations related to witnesses, or banned practices such as curbside voting that make it easier to vote, added to the toll. The Lawyers' Committee alone was involved in almost 40 suits over voting access.
Given high partisan tensions in the country, instances of violence at demonstrations over the summer, and threats from various heavily armed groups, fears of widespread violence ran high in the days and weeks before the election. Businesses in many major cities boarded up windows in anticipation of riots. But despite a few unruly mobs of Trump supporters that menaced vote-counting locations, major unrest didn't happen. This may have something to do with polarized geography: Urban centers were strongly Democratic, while Republicans were concentrated elsewhere. The peace may also owe something to the slow announcement of election results. Networks didn't declare Joe Biden the winner until the Saturday after Election Day (and Trump still hasn't accepted it), which helped to release tension slowly and turn the result into an anticlimax rather than a violent spark.
As state and local election officials worked to keep systems functioning on the ground, information-security officials at all levels were also working to defend the system. There is evidence, though shadowy, of some efforts to hack election systems in 2016 and 2018. This election seems not to have been marred by those problems, as a statement by a federal council overseeing security said.
"The November 3rd election was the most secure in American history. Right now, across the country, election officials are reviewing and double checking the entire election process prior to finalizing the result," the statement read. "There is no evidence that any voting system deleted or lost votes, changed votes, or was in any way compromised."
There are many reasons that the Trump campaign's effort to fight the results in court has flopped (even as it convinces a disturbing number of GOP voters). There is no evidence for the president's fraud claims; the president's team has also been extremely sloppy in its lawyering. But another problem has been that Trump's claims keep crashing into local Republican officials such as Raffensperger or Philadelphia City Commissioner Al Schmidt or any number of less prominent figures. Most of them probably voted for the president, and many of them support more restrictive laws for voting. But no one enjoys being accused of being negligent on the job by allowing fraud, especially when no evidence exists.
Raffensperger's rejection of Graham's meddling is yet another example of how America's electoral system has basically worked this year. With the glaring exceptions of the outgoing president and his inner circle, officials have performed well.
"I am particularly proud of the states and leaders that listened to their election officials on what they needed to service their voters well in a global pandemic," Patrick told me. "My hope is that the lessons learned in this election cycle will lead to long-term changes like these in the future."
If they do, the combination of refined practices and a post-COVID-19 world could mean a real improvement in American elections—potentially at the same time that voter confidence in them gets shaky.