Denial Isn't Working Out for College Football
The coronavirus keeps infecting players and disrupting game schedules, but schools are acting as if the pandemic isn't happening.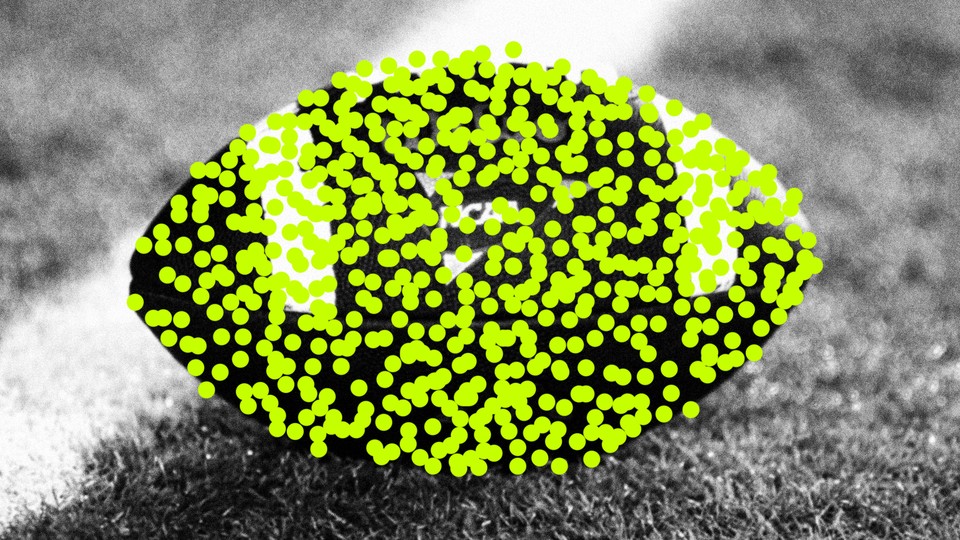 College football is now the epitome of the way dysfunction becomes normalized in America. Fans of the sport woke up to the news Saturday morning that the Clemson–Florida State game was postponed because a Clemson offensive lineman had tested positive for the coronavirus the day before. The matchup was one of 18 games that had to be canceled or postponed last week because of COVID-19.
Appallingly—though not surprisingly—Clemson officials still wanted to play the game, even though, in the preceding week, the Tigers had practiced and then traveled to Tallahassee, Florida, with a player who turned out to have the coronavirus. The Florida State team, which had not had a positive test since mid-September, wasn't comfortable going forward, so the game was called.
But as in so many other conversations during the pandemic, the people adamant about their right to behave recklessly criticized others for paying attention to public health. The Clemson coach, Dabo Swinney, unloaded on the Seminoles, accusing them of ducking his team. "This game was not canceled because of COVID," Swinney said to reporters on Sunday. "COVID was just an excuse to cancel the game. I have no doubt their players wanted to play and would have played. And same with the coaches. To me, the Florida State administration forfeited the game."
Even before Swinney made those comments, former South Carolina Governor Nikki Haley—a Republican who once served as President Donald Trump's ambassador to the United Nations, and a potential 2024 presidential candidate—was already mocking the Seminoles on Twitter. "Florida State, whether you lose today or a few days from now won't matter," Haley wrote. "Get it over with already. Stop stalling."
Immature sniping aside, college football is in the midst of a coronavirus crisis, and the sport's prevailing attitude seems to be the shrug emoji.
For the third straight week, the number of games postponed or canceled this past weekend was in the double digits. The pandemic has compromised even some games that were played as scheduled. On Friday night, 20 of Minnesota's players were unavailable to play against Purdue. Exactly how many of those players were out due to the coronavirus is unclear, but the university did report that staff members and players had tested positive for the virus. Since college football teams aren't required to provide information as to why players miss games, the secrecy allows colleges and universities to hide just how pervasive the problem really is. On Saturday, when Mississippi State played against 11th-ranked Georgia with fewer than the minimum 53 scholarship players, the game arguably marked an improvement over the week before, when Mississippi State didn't play at all because of a COVID-19 outbreak. Kentucky was short 10 players Saturday in a game against No. 1 Alabama. Among those missing were the Wildcats' leading rusher, leading tackler, and starting punter.
As the United States sets new records for coronavirus infections day after day, college football might not be able to finish its season. More than 100 games have been called off so far this season, and several of this weekend's games will be disrupted. Houston won't play Tulsa this weekend, which marks the second straight week the Cougars have been unable to play because of coronavirus issues and the sixth time this season a game of theirs has been either canceled or moved. The Apple Cup—one of college football's best rivalries—between Washington and Washington State was canceled because Washington State doesn't have enough players available to face the University of Washington. And Minnesota was forced to cancel Saturday's game against Wisconsin after nine players and six staff members tested positive for COVID-19.
Before the season began, those who championed the return of college football argued that having players return to their team was a safer option than having them sit at home. Back in August, the Alabama coach Nick Saban told ESPN, "I want [our team] to play, but I want to play for the players' sake, the value they can create for themselves. I know I'll be criticized no matter what I say, that I don't care about player safety. Look, players are a lot safer with us than they are running around at home." Saban maintained that his team's test-positivity rate—an indicator of whether the virus is spreading undetected within a community—was lower than that of society at large. "We act like these guys can't get this unless they play football. They can get it anywhere, whether they're in a bar or just hanging out." Since then, Saban himself has twice tested positive for the coronavirus. The first time was likely a false alarm, but yesterday Alabama announced that he is showing mild symptoms and will isolate at home.
A serious question: As the virus spreads wildly on campuses and throughout society, and as the list of called-off games grows longer than Clemson quarterback Trevor Lawrence's hair, does college football feel safe right now? Despite missing some games this season after testing positive for COVID-19, Lawrence remains a Heisman Trophy candidate and Clemson's national-championship-title hopes are still intact. But no one should take his perseverance through a pandemic, or Clemson's ability to remain a championship contender, as validation that college football's higher-ups were right to plunge ahead this year. Even if the season is somehow completed, their willingness to just ignore reality is an indictment of the sport's priorities.
Just as the federal government left the coronavirus response up to individual states, the NCAA never instituted a broad, comprehensive plan for playing football safely. The governing body for college sports merely offered suggestions and left individual conferences on their own.
While the NCAA could have done far more, university presidents ultimately decide which chances their teams will and will not take. Athletic departments and schools more generally have become dependent on the income generated by college football. For the leading powers in the sport, going without millions of dollars in television money was never likely.
In May, Notre Dame's president, Reverend John Jenkins, wrote a passionate op-ed for The New York Times explaining why he wanted his university to return to on-campus classes and athletic competition. Jenkins wrote:
We are in our society regularly willing to take on ourselves or impose on others risks—even lethal risks—for the good of society. We send off young men and women to war to defend the security of our nation knowing that many will not return. We applaud medical professionals who risk their health to provide care to the sick and suffering. We each accept the risk of a fatal traffic accident when we get in our car. The pivotal question for us individually and as a society is not whether we should take risks, but what risks are acceptable and why.
What Jenkins didn't mention in this philosophical rumination is that, according to Forbes, Notre Dame is the eighth most valuable college football team in the country. The program has averaged about $120 million in revenue in the past three years.
For all of his moralizing, Jenkins tested positive for the coronavirus after attending the White House reception for eventual Supreme Court Justice Amy Coney Barrett—who studied and later taught law at Notre Dame. Jenkins's presence, without a mask, at what turned out to be a super-spreader event understandably infuriated Notre Dame students and faculty. Jenkins then attempted to lecture the student body for rushing the football field after Notre Dame beat Clemson earlier this month. To the extent that his complaint about their violation of health protocols had any effect at all, it was to underscore how colleges as a whole aren't taking the pandemic seriously enough.
Football isn't the only college sport facing major disruptions. College basketball season is starting this week and has already experienced significant upheaval. In the past month, coronavirus concerns have forced more than 30 teams to stop basketball-related activities. The University of Florida won't be able to start the season until December 2, because of positive tests and contact tracing. Proving that they can come up with a plan when they want to, NCAA administrators are already discussing holding March Madness in a single tournament location, much as the NBA finished its season in a bubble in Orlando, Florida.
Despite what the authorities in college football may think, history will not look back on this season and give them points for trudging through a pandemic and unnecessarily jeopardizing the safety of unpaid players who are unable to fight against a system that specializes in exploiting them. History will wonder whether this messy, muddled, and repeatedly interrupted season was worth all the risk.