The Disastrous Idea That Won't Go Away
Trump might be tempted to order a military attack on Iran, because his "maximum pressure" campaign failed to thwart that country's nuclear program.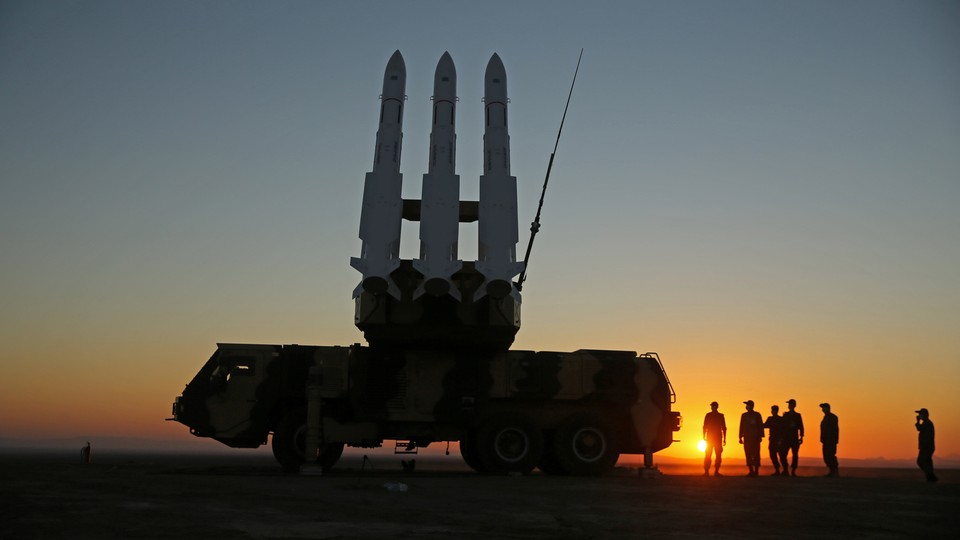 When President Donald Trump convened his national-security team last week to discuss whether to attack Iran's nuclear facilities, his top advisers dissuaded him from launching missile strikes, The New York Times reported. This comes as a relief, but that such a move was even under consideration is cause for alarm.
The scorn now being heaped upon the president's Iran policy—which has manifestly failed to stop that country's nuclear-weapons program—may animate the president's interest in taking dramatic action before his term expires. Trump's critics have even speculated that when the president recently bounced his top Pentagon officials, it was out of a desire to attack Iran. I still doubt the connection, but, regardless, this commander in chief has the authority to do a lot of damage in his remaining days in office—no matter who else is in the room with him. And attacking Iran's nuclear facilities would be disastrous.
Four years ago, President Trump campaigned on withdrawing the U.S. from Barack Obama's antiproliferation agreement with Iran—officially known as the Joint Comprehensive Plan of Action—under which Iranians received relief from economic sanctions in exchange for stopping a variety of nuclear-development activities for up to 15 years. Although American intelligence agencies were unanimous that Iran was in compliance with the agreement, Trump argued that it was "a horrible one-sided deal that should have never, ever been made … the Iran deal is defective at its core." The U.S. pulled out in 2018. The other parties to the agreement—China, Russia, France, Germany, the United Kingdom, and the European Union, in addition to Iran—denounced Trump's move, while Iran's rivals Saudi Arabia and Israel praised it. Iran continued to abide by the agreement's terms, Russia and China provided Iran with its benefits, and Europe created a payment system that allowed companies investing in Iran to skirt continuing restrictions on transactions conducted in dollars.
The Trump administration initiated a "maximum pressure" campaign that aimed to suffocate Iran's economy until the country's leaders submitted to an agreement without sunset clauses. This campaign has not succeeded. None of the 12 demands that Secretary of State Mike Pompeo outlined as preconditions for new negotiations with Iran have been met. By reneging on the JCPOA, America discredited the Iranians who'd advocated for it, strengthening the hand of Tehran's most anti-Western elements. The administration's basic theory—that while withdrawing from the agreement, the U.S. could build allied support for a more restrictive approach—has proved false. When the administration attempted to engineer the resumption of multilateral sanctions against Iran, it garnered only a single vote from other countries on the UN Security Council.
Nor has "maximum pressure" constricted Iran's ability to mobilize militia in Iraq, Syria, and Lebanon; impeded its support for terrorism; restrained its human-rights abuses; or prevented it from destabilizing regional governments. In fact, Iran has become more brazen, attacking shipping in the Gulf, conducting drone and missile strikes against an oil facility in Saudi Arabia, and—after the U.S. killed the Islamic Revolutionary Guard Corps commander Qassem Soleimani—resuming attacks on U.S. troops stationed in Iraq. The Trump administration has failed at reestablishing deterrence.
Given its fixation on Iran, the Trump administration might seek to use as pretext for a military attack on Iran the International Atomic Energy Agency's recent announcement that the country has now succeeded in reprocessing 12 times the amount of low-enriched uranium that would have been permitted under the JCPOA. When nuclear material turned up at a location that Iranian officials had not declared to be a nuclear site, the IAEA described their explanation of it as "not technically credible."
Pompeo is currently traveling to Europe and the Middle East, and while the trip is billed as a series of consultations over his initiative to promote religious freedom worldwide (Turkish officials have bristled at that pretext and, by some accounts, refused to meet with him), it could also be an attempt to wring agreement out of allies whose territory, airspace, or bases would be needed in an attack on Iran. Some credence should be given to the possibility that such discussions are under way, because of a call General Mark Milley, the chair of the Joint Chiefs of Staff, had with his Israeli counterpart late last week, which an official readout described only as a discussion about "the current security environment throughout the Middle East." But an attack on Iran is a terrible idea for three reasons—which should also be sufficient to make such an attack unlikely even from an administration as reckless as Trump's.
First, Iran's nuclear-weapons program is geographically distributed, its key equipment is buried deep underground, and U.S. intelligence agencies have imperfect information about its location. Which means that fully destroying Iran's nuclear program would require a sustained military campaign that could take several weeks. It would also require the participation of countries in Europe or the Persian Gulf region that are unlikely to give their consent. Recall that after Iran's attack on Saudi Arabia in 2019, the Gulf countries opposed U.S. military retaliation. Iranian Foreign Minister Mohammad Javad Zarif recently reminded his country's neighbors, "Trump is gone in 70 days, but we'll remain here forever."
Second, although the U.S. has ways of punishing Iran militarily without destroying its nuclear infrastructure, those alternatives are even less attractive. The U.S. could launch a naval campaign of submarine- or air-launched missiles against Iranian military targets without utilizing allied bases or airspace. But these attacks would be largely symbolic. And the problem with symbolic uses of force is that they invite meaningful retaliation. Attacking Iran while banking on its restraint would be strategic malpractice. If Iran does have a clandestine nuclear-weapons program, the country's leaders might consider actually using it if attacked. Iran could also resume conventional missile launches or terrorist attacks on U.S. bases in Iraq, use its precision munitions against U.S. Central Command facilities in Bahrain, or launch attacks elsewhere. The government of Iraq could well demand the removal of U.S. troops in protest, as could the governments of Qatar and Bahrain, decimating the future of U.S. power projection in the Middle East and the security relationships underpinning it. Iran retaliated modestly for the killing of Soleimani near an airport in Iraq; the country's leaders would retaliate more fulsomely for an attack on their territory.
Third, a military strike without the need to preempt an imminent attack and with no attempt to gain approval from the UN or even a coalition of American allies would be incredibly damaging both to the United States and, more specifically, to Trump and his top aides. Trump would become an international pariah, shunned at Davos, unwelcome in and perhaps even prosecuted by foreign capitals, denied the foreign money that would otherwise boost his future prospects and ease his current debts. Even Saudi Arabia might not be willing to associate with him. President-elect Joe Biden surely would not support an unprovoked attack on Iran if he were consulted, so Trump would further sully the tradition of bipartisan foreign policy during a presidential transition. The incoming president would denounce any attack by Trump and repudiate its underlying policy—so Iran could end up in an even more favorable position than the Trump administration's policies will currently leave it.
Having failed in four years to craft a successful strategy for constraining Iran's nuclear-weapons program, the Trump administration can only make things worse by conducting a military attack on the country in the waning days of this president's tenure. Trump and the advocates of maximum pressure have learned the hard way that their theory of success was mistaken. They've managed to isolate the U.S., not Iran. Diplomacy is more than making demands and administering punishment; it also requires winning support from those countries essential to your policy's success.