Forget the Exit Polls, Watch Florida, Ignore Pennsylvania
An hour-by-hour guide to remaining patient, prepared, and epistemically humble throughout tonight (and tomorrow morning)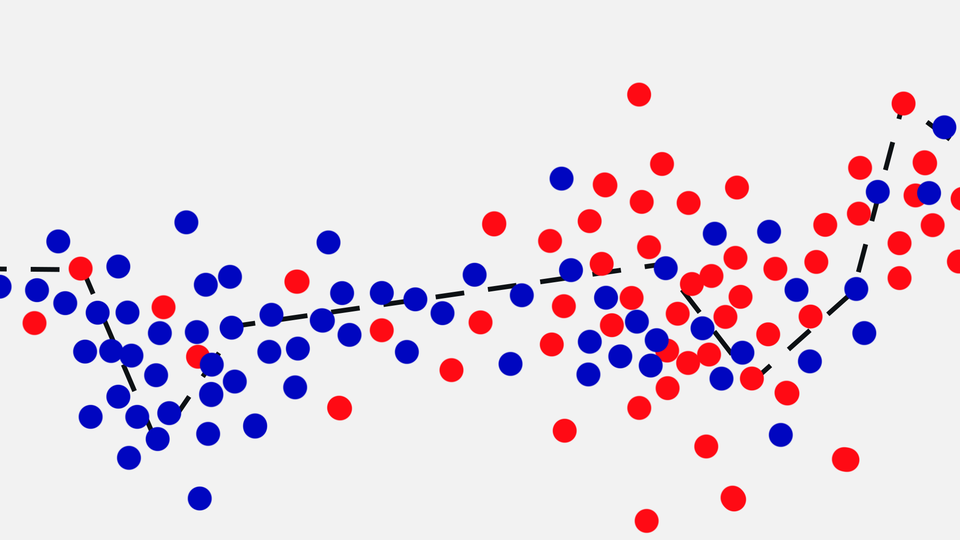 Updated at 6:13 p.m. ET on November 3, 2020.
The election will be weird, no matter what. If the polls are right, and Joe Biden wins the states where he's favored, tonight could bring the most resounding defeat of an incumbent president since Herbert Hoover lost to Franklin D. Roosevelt in 1932. If the polls are wrong, and Biden concedes to President Donald Trump early tomorrow morning, it would mark the most catastrophic polling disaster in modern history. If the race is close, and no clear winner emerges by midday tomorrow, it might trigger a protracted legal battle and constitutional crisis that could send the national election to the Supreme Court for the second time in as many decades.
Hovering above these probabilistic outcomes are the wraith of a once-in-a-century pandemic and the miasmic threat that Trump will go full American Tito by prematurely crowning himself the winner and announcing the mass invalidation of votes. (Which, to be clear, is something he does not have the legal authority to do.)
To navigate the evening, people need to be prepared for some normal confusion and some unique pandemic-year oddness. As always, we should be reflexively skeptical of surprising exit polls. This year in particular, we should be cautious about drawing overconfident conclusions from early results.
The more educated voters are about the mechanics of this election, the harder it will be for bad actors to poison the democratic process with conspiracy theories and disinformation. (For more, please see the excellent state-by-state election guides at FiveThirtyEight and The New York Times.) With that in mind, here's a road map for the evening:
7 p.m. ET
Where polls close: Georgia, Indiana, Kentucky, South Carolina, Vermont, and Virginia
What was happening around this time four years ago: Indiana and Kentucky were called almost immediately for Trump. Vermont was called almost immediately for Hillary Clinton.
What I'll be focusing on: Georgia
In 2016, Trump won the state by five points. But as I've written, the Atlanta suburbs have been surging for Democrats in the past decade. Both FiveThirtyEight and The Economist project that Biden will eke out a narrow victory in Georgia this year. That small estimated margin makes a quick call unlikely in Georgia. But we should get "relatively fast results compared to other states," according to the Georgia Public Broadcasting political reporter Stephen Fowler.
The state's two Senate showdowns should both be close. In one race, incumbent Republican Senator David Perdue is expected to defeat the Democratic challenger, Jon Ossoff, who has nonetheless surged in the polls in the past month. In the chaotic special election for the second Georgia Senate seat, currently held by Republican Senator Kelly Loeffler, the Democrat Raphael Warnock is projected to win the plurality of votes. If no candidate receives a majority, that will trigger a January runoff.
What else to watch for: In South Carolina, look out for a possible upset in the Senate race between Republican Senator Lindsey Graham and the challenger, Jaime Harrison. Graham is projected to win by five or six points, but a surprise there could be indicative of broader trends that extend to neighbors North Carolina and Georgia, which are toss-ups in the presidential race. South Carolina has fewer mail-in ballots, which means that its returns are less likely to suffer from the batching issues facing other states.
What to ignore: Buzzy exit polls, "blue mirages," and the urge to be a hyperconfident Election Night detective
In a normal year, friends don't let friends overinterpret surprising individual exit polls. In a pandemic, many of this year's exit polls will be no more useful than preelection voter surveys. Both Democrats and Republicans should be wary of a likely early "blue surge" in Georgia, as the first batch of (disproportionately Democratic-leaning) mail-in ballots are counted before the (disproportionately Republican-leaning) Election Day ballots. Finally, just be patient. No matter how clever you think you are at teasing out broader narratives from initial data dribbles, this is way, way, way too early to have any certainty about what's happening.
7:30 p.m. ET
Where polls close: North Carolina, Ohio, and West Virginia
What was happening around this time four years ago: West Virginia, Indiana, and South Carolina were called for Trump. Exit polls were making lots of mistakes at the local level, but some analysts were seeing trends, including a theme of the night: Clinton was underperforming among noncollege voters (like those in Indiana) but overperforming among high-education voters (like those in Virginia). She was still a strong favorite in betting markets.
What I'll be focusing on: North Carolina
Four years ago, Clinton was projected to win here. But with a five-point polling error—almost as large as the more famous errors in the upper Midwest—Trump took North Carolina by nearly four points. This year, both FiveThirtyEight and The Economist election forecasts give Biden a roughly two-in-three chance of winning the state. While North Carolina hasn't received the same attention as Florida or Arizona, its 15 Electoral College votes could make it a tipping-point state. Even if Biden loses Pennsylvania, Florida, Arizona, and Georgia, he'll likely win the election with North Carolina if he also flips Wisconsin and Michigan. Another thing to watch here is the Senate race, in which the Democratic challenger, Cal Cunningham, is projected to defeat the Republican incumbent, Senator Thom Tillis.
What else to watch for: Ohio
Trump took the state by eight points in 2016, but polls indicate that Biden has clawed back much of that deficit. On Sunday, Biden visited the state, suggesting that his campaign thinks he has a shot there. But several election watchers, such as Dave Wasserman, have said that, among all the likely swing states, Ohio is the 2016 Trump state least likely to turn blue. Similar to North Carolina, Ohio will probably report early voting and mail-in ballots quickly, potentially creating another blue mirage that will turn red over the course of the night.
What to ignore: Misleading early returns
North Carolina's projected ballot reporting is almost certainly going to confuse people. The North Carolina State Board of Elections says that 80 percent of all votes—including early in-person votes and mail-in ballots—will be counted by 7:30 p.m. That means we'll likely get a huge chunk of data very quickly. But these early returns could be Pollyannaish for Biden. The state might not start reporting Election Day returns, which will be better for Trump, until after 8 p.m. As a result, we'll likely see a blue mirage that reddens throughout the evening. Almost all North Carolina ballots cast should be reported by midnight, according to The New York Times. Early returns in Ohio will also likely lean blue. In general, avoid too much projecting of early statewide numbers.
8 p.m. ET
Where polls close: Alabama, Connecticut, Delaware, D.C., Florida, Illinois, Maine, Maryland, Massachusetts, Michigan, Mississippi, Missouri, New Hampshire, New Jersey, Oklahoma, Pennsylvania, Rhode Island, and Tennessee*
What was happening around this time four years ago: Between 8 and 9 p.m. ET, warning signs were flashing for Clinton in Florida and Ohio. Trump took a commanding lead in Florida's Panhandle region. By 8:45 p.m., betting markets and the Times' Upshot needle pointed to Trump as the favorite to win Florida. But Clinton was still projected to be the next president.
What I'll be focusing on: Florida
This year in Florida should be a bit like a brisk horror film: a relatively fast, white-knuckle ride that could end with a lot of people screaming. Florida has been counting mail-in ballots for weeks now. "We're in a generally better situation than some other states because we have the infrastructure in place to handle mail ballots," Michael McDonald, a political scientist at the University of Florida, told the South Florida Sun-Sentinel. Again, viewers should be prepared for a blue mirage followed by a red swing—but there is a good chance that, unless the margin is razor-thin, we'll get a call in Florida on Election Night.
Trump is still likely to win in the northern Panhandle region, but Biden is hoping to flip several crucial counties in the southern half of the state. For example: Pinellas County, which includes St. Petersburg, swung to Trump after Barack Obama won it twice, including by eight points in 2008. Biden is also looking to improve on Clinton's 63–34 margin in Miami-Dade County.
What else to watch for: I'll also be looking to the New England states New Hampshire and Maine.
In 2016, Clinton was expected to win New Hampshire comfortably, but instead she won by less than half a percent. Trump dominated rural New England places where Obama had won easily, which presaged his nationwide grip on the rural white vote. We could see a reversal this year: Biden is projected to win New Hampshire by about 10 points, and we're expected to see the full returns tonight, offering reliable data about Biden's strength among white voters. While Trump won noncollege white voters in 2016 by about 30 points, the last batch of 2020 polls show Biden narrowing that gap to 18 points.
Maine counts absentee votes alongside Election Day ballots, so there shouldn't be much of a red or blue shift. Keep your eye on Maine's second congressional district. One of the most rural districts in the country, it went twice for Obama before flipping to Trump in 2016. Biden is projected to eke out a narrow win there. Maine also has one of the closest Senate races, in which Democrats are narrowly favored to pick up a seat.
What to ignore: Pennsylvania and Michigan
I know that FiveThirtyEight is projecting it to be the tipping-point state. I know that a Trump upset here would massively improve his chances. But don't expect a clear picture of the state's outcome on Election Night. Although about half the state is expected to vote absentee, Pennsylvania could not begin processing ballots before today. Some counties don't believe they'll be finished until at least the end of the week. Since Election Day votes will be counted first, we are likely to see a "red mirage" in the state, as Trump goes up early on Election Day, only to have his lead eroded by Democratic-leaning mail-in ballots that are counted during the week.
As in Pennsylvania, a full count in Michigan could take several days or a full week, so you're not going to learn much in the first few hours. Early reports should be pretty strong for Trump, but the state has produced red mirages before. In 2016, Trump led Wayne County, which includes Detroit, by three points with 11 percent of precincts reporting just after 10 p.m., leading to widespread speculation that he could take Detroit. Clinton ultimately won Wayne County by 37 points.
9 p.m. ET
Where polls close: Arizona, Colorado, Kansas, Louisiana, Minnesota, Nebraska, New Mexico, New York, North Dakota, South Dakota, Texas, Wisconsin, and Wyoming
What was happening around this time four years ago: The Democratic freak-out was entering an advanced stage. Exit polls from Florida and Michigan indicated that Clinton was getting creamed in rural areas. Michigan and Pennsylvania looked like they might be toss-ups, a huge loss for a Clinton campaign that was relying on both to win.
What I'll be focusing on: Southwestern metros
Texas is expected to report most of its votes on Election Night. In the five counties representing Houston, Dallas–Fort Worth, San Antonio, and Austin, Democrats' advantage grew from 130,000 in the 2012 presidential election to nearly 800,000 in the 2018 Senate election. They will likely have to win by well more than 1 million votes to have a chance at the state. Democrats have not won Texas since 1976, but the state's record turnout numbers have some liberals dreaming about a Lone Star revolution.
Arizona won't have any votes for a bit—the first big batch of early and absentee ballots should start trickling out around 10 p.m.—but this is another close state to watch for the rest of the evening. Pay particularly close attention to turnout and margin in Maricopa County, which is basically the Phoenix metro. In 2012, Democrats lost Maricopa County by 150,000 votes. In the 2018 midterms, they won the county by 50,000. They'll likely have to win by a wider margin to guarantee the state and its 11 Electoral College votes. Democrats are slightly favored to win both the presidential and the Senate contests in the state.
In Colorado, Democratic former Governor John Hickenlooper is expected to defeat the incumbent Republican Senator Cory Gardner. Again, watch those metros: Hickenlooper will want to run up the score in Denver, where he served several terms as a popular mayor. Colorado has lots of experience with mail-in ballots and is expected to report the majority of its ballots—without much of a red or blue mirage—on Election Night.
What else to watch for: Minnesota
Clinton won the state by about 40,000 votes—or one and a half percentage points—in 2016. Biden is expected to win here by nearly 10 points. Rather than eat your fingers worrying about Michigan and Wisconsin, where the results won't be known for days, you should pay closer attention to their Great Lakes sibling, as Minnesota's secretary of state has said that he expects winners to be announced "on Election Night or shortly thereafter." As always, be prepared for the first tallies to skew Democratic, as the state has been counting mail-in ballots for several weeks.
What I'm ignoring: Wisconsin
Wisconsin's count might not be quite as delayed as Pennsylvania's, but the state doesn't start most of its ballot processing until today. Julietta Henry, the Milwaukee County elections director, told NPR she expects the county to finish reporting absentee ballots as late as 6 a.m. tomorrow.
10 p.m. ET
Where polls close: Iowa, Montana, Nevada, and Utah
What was happening around this time four years ago: Around 10 p.m., there were no surprising calls—Clinton took New Mexico; Trump won Missouri—but it was becoming clear that Clinton was in deep trouble in Michigan, Ohio, and Florida. Trump surged more than 50 percent in betting markets, and financial markets tanked.
What I'll be focusing on: The Senate and the South
Republicans are narrowly expected to win key Senate elections in Iowa and Montana. If Democrats snag either, they have an excellent chance of taking back the Senate. We should get relatively quick counts in both states.
From here through the end of the night and into the early morning, I'm mostly on the look-out for calls from the southern swing states, such as Florida, North Carolina, and Georgia. If any of these states is called before midnight for Biden, it makes him an overwhelming favorite to become the next president.
Late Night / Early Morning
What was happening around this time four years ago: Ohio and North Carolina were both declared for Trump between 10:30 and 11 p.m., making him the clear favorite. Florida was called around 11:30 p.m. Clinton phoned Trump to concede around 2:30 a.m.
What I'll be focusing on: These states' vote counts should be somewhat reliable on Election Night, or early tomorrow morning. They are listed roughly—very roughly—by the order in which they'll shed light on the outcome:
New Hampshire: Despite some vote-counting delays, this could be the first state called for Biden that shows off his strength among rural white voters in a state where Trump essentially tied Clinton in 2016.
Florida: The state counts votes quickly, but also somehow always comes down to the wire.
Georgia: This is a presidential swing-state with two Senate races.
North Carolina: The state is possibly Biden's best chance to win in the Southeast, even though it might count votes slower than Florida or Georgia.
Minnesota: Biden is hoping to prove upper-Midwest strength here that could carry over into states such as Wisconsin, Michigan, and Pennsylvania, which are very unlikely to declare a winner before tomorrow.
Texas: Democrats are hoping that record turnout here is a good omen for Biden.
Arizona: Democratic victories here on Election Night would significantly raise the odds of a Biden presidency and a Democratic-leaning Senate.
---
* This article previously stated that Michigan polls close at 9 p.m. ET. In fact, they close at 8 p.m. ET.