A Sexting Scandal Puts a Politician in the Hot Seat
Cal Cunningham's indiscretion will test whether voters still care about the character of their elected officials in the age of Trump.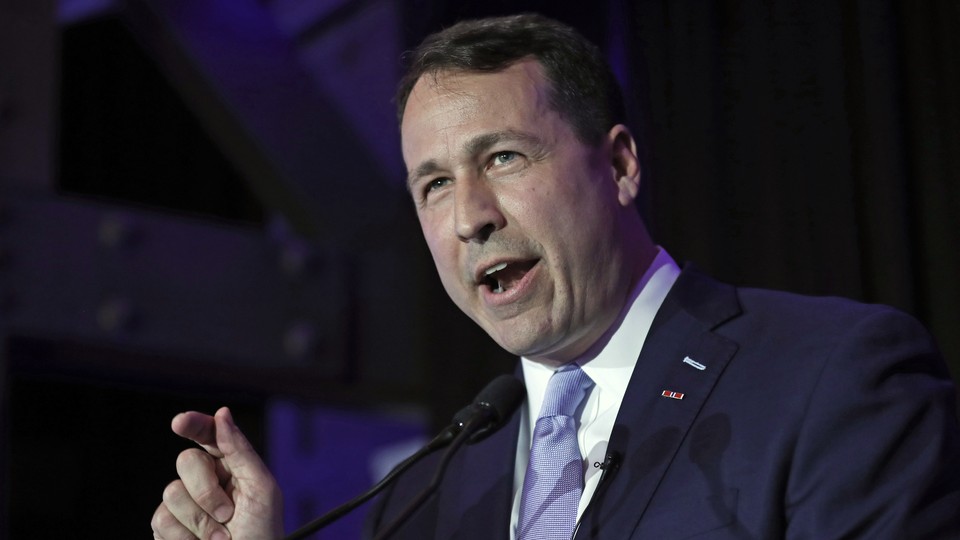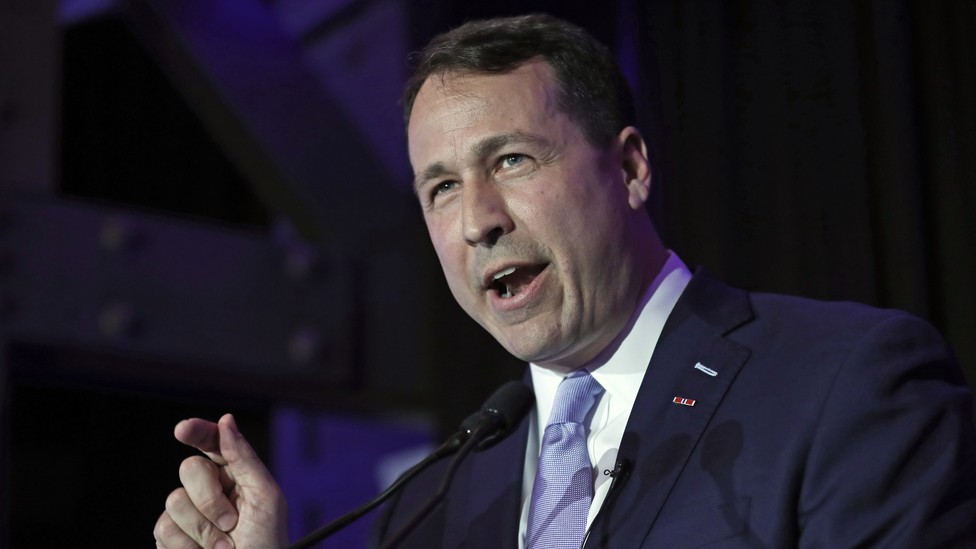 The whole point of Cal Cunningham was that he was supposed to be boring. The North Carolina Democrat is not the most dynamic campaigner, but polls have consistently given him a lead over the Republican incumbent, Thom Tillis, in the race for U.S. Senate.
Now that lead is up in the air. On Thursday, a report revealed texts between Cunningham, a married father of two, and a Democratic strategist. The texts are less racy than, say, joggy; true to form for Cunningham, they're rather dull. "Would make my day to roll over and kiss you about now," he wrote in one. Cunningham acknowledged that the texts were real, apologized, and asked for privacy.
In a race as close as this one, even a comparatively tame scandal could shake up public opinions. (Tillis, meanwhile, is quarantining after testing positive for the coronavirus.) And the stakes of the race are potentially much larger than who holds the Senate seat come January. North Carolina could be the tipping point that determines whether Republicans hold the Senate or Democrats take it over.
The scandal could also help clarify the American public's views on sexual peccadilloes. I noted in 2018 that voters have mostly shrugged at credible accusations of infidelity against President Donald Trump. That is the latest in a string of cases that raise the question of whether Americans actually care about sexual indiscretion. How North Carolina voters respond to the Cunningham texts could provide some hint of whether, in the Trump era, such a vanilla scandal makes any difference—or whether Trump simply sits outside the rules.
Cunningham, a former state senator and an Army veteran, wasn't national Democrats' first choice for the race. They courted higher-profile candidates, including former Transportation Secretary Anthony Foxx and state Attorney General Josh Stein, but were rebuffed. Two other candidates vied for the nod—state Senators Erica Smith and Jeff Jackson, both of them more progressive and less milquetoast than Cunningham. Jackson bowed out after the Democratic Senatorial Campaign Committee made clear that it would back Cunningham. Smith stayed in but lost the Democratic primary to Cunningham.
In a leaked recording, Jackson told a class at the University of North Carolina at Charlotte that he had imagined running an energetic barnstorming campaign, but that Senate Minority Leader Chuck Schumer told him, "Wrong answer—we want you to spend the next 16 months in a windowless basement raising money, and then we're going to spend 80 percent of it on negative ads about Tillis." That's mostly what Cunningham did, and it seemed, until last week, to have worked. He hauled in $28.3 million last quarter alone, on top of $14.8 million he had already raised so far.
Cunningham isn't an especially notable personality, and he hasn't taken any especially notable policy stands. But running against Tillis, who is not especially popular, especially well known, or especially charismatic himself, that seemed like it might be enough. Then came the sexting scandal.
Cunningham is not the first politician whose self-control has failed him at precisely the wrong moment. It is a condition common in male politicians, one that the columnist Dave Barry identified in 1996 as "Lust-Induced Brain Freeze." Prominent patients include former President Bill Clinton and fellow North Carolinian John Edwards, but Barry traced it back to the 1988 Democratic presidential primary, "starring Gary Hart, who everybody agreed had a Brilliant Political Mind, which at some point must have gone through the following analytical process: On the one hand, I have a very good opportunity here to become the Democratic nominee for president, and a reasonable chance to become president of the United States … On the other hand, I can have a hot babe sit in my lap."
Hart went with the latter—in a process that my colleague James Fallows reported in 2018 might have been a setup—and he became neither the Democratic nominee nor the president. In a 2014 book, Matt Bai argued that Hart's downfall was not merely a moment of weakness for a man, but the moment when an entire profession loosed its inhibitions too.
"If Nixon's resignation created the character culture in American politics, then Hart's undoing marked the moment when political reporters ceased to care about almost anything else," he wrote. "By the 1990s, the cardinal objective of all political journalism had shifted from a focus on agendas to a focus on narrow notions of character, from illuminating worldviews to exposing falsehoods."
There was indeed a brief moment when politics seemed consumed by a sort of neo-puritanical backlash against the permissiveness afforded earlier offenders such as John F. Kennedy. From 2020, that looks more like a blip than a sea change. Bill Clinton not only survived his impeachment but came out more popular, and if his reputation has suffered in recent years, it's because of the dawning realization that Clinton's behavior was abusive, not because it was adulterous. Politicians such as former Senator David Vitter and former South Carolina Governor Mark Sanford realized they could survive sex scandals by simply declining to leave office.
Trump marks the apotheosis of this trend, as a serial philanderer and self-proclaimed sexual assaulter who has depended on evangelical Christian support. In the Trump era, Cunningham's text messages seem quaint. It is difficult to extrapolate to one race, especially one as tight as the Senate race in North Carolina, but the overall trends, and the outrage fatigue of the past four years, point to a real possibility that the scandal won't make a huge difference.
The texts were Cunningham's second blowup of the week. Last Monday, he tweeted a picture of himself standing by a grill set with hot-dog buns, wearing an apron that read Ambassador for North Carolina BBQ. As any Old North Stater worth her vinegar knows, barbecue comes only from a pig and is smoked, never cooked over a flame. Pitched battles are fought over the narrow question of whether one should use pork shoulder and include tomato in the sauce, as they do around Cunningham's hometown of Lexington, or use the whole hog and no tomato, as eastern North Carolinians (correctly) maintain.
If it is true that voters have turned away from assessing politicians' character, and back toward an interest in their worldviews, Cunningham's grill gaffe could be the far more serious one.