There Is No Escapism From America's Current Crises
The NBA strikes are a fitting consequence of problems that touch everyone, everywhere.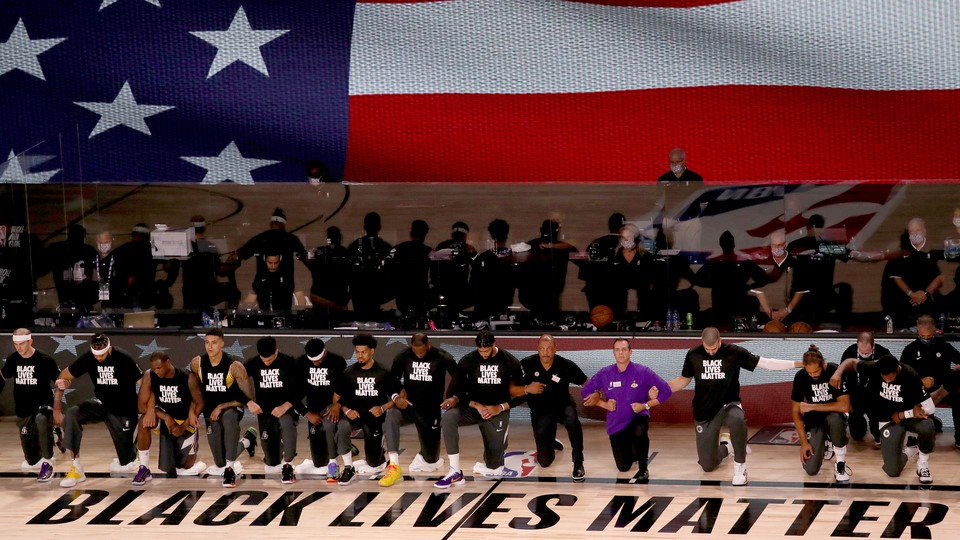 In an empty arena, the seats a ghost's playground, the floors shiny and robbed of traffic, everything is plain and naked and disturbingly honest. And in that absence is a lesson about what we think we should see.
If you had found yourself wanting to watch the NBA playoffs the night of August 26, live from the league's quarantine "bubble" in Florida, this was the reality you faced. Emptiness, confusion, and signs of corporate sponsorship.
We're now a week past the historic NBA players' strike that upended sports in this country, and even though the basketball playoffs have returned, the action continues to have a much deeper meaning for a country where nothing can truly exist in a bubble, whose crises are pervasive and persistent.
NBA players went on strike out of anguish and solidarity following the shooting of Jacob Blake by Kenosha, Wisconsin, police. But what began in the NBA and spread to almost every American sports league currently at play should be an alarm to a country stuck in its own delusion: Something is deeply and fundamentally wrong with America right now.
The Milwaukee Bucks hadn't planned on becoming activists. They brought basketball to a halt in a messy but honest way, recognizing the absurdity of playing sports in isolated luxury in the middle of a pandemic, all for a chance at bringing an NBA championship trophy home to a city 40 miles north of where Blake was shot as his children watched. Three of our biggest compounding catastrophes of 2020—widening economic disparity, the relentless spread of COVID-19, and renewed urgency in the fight for Black lives—collided in sports.
With so much else at stake, what sense does sports make? The Bucks guard George Hill summed up the situation well, speaking to reporters a day after Blake was shot: "First of all, we shouldn't have even come into this damn place, to be honest," Hill said. "I think coming here just took all the focal points off what the issues are, but we're here, so it is what it is."
Of all the corners of American life susceptible to the cries to reopen during the pandemic, sports was always going to be among the first to cave. Wealth protects wealth, and pro leagues and the owners whose teams populate them were looking at billions of dollars in lost revenue if the season did not resume.
There's also the popular myth that sports can give a sense of normalcy to buffer us from our lows, to act as a salve for an ailing nation. If you consider sports a sort of theater bound by rules that divide fair from foul, it provides order, a clear set of winners and losers. Because America hates not knowing winners from losers.
History tells us that sports offered glimmers of normalcy in difficult times. Athletes took the field in times of wars abroad; Yankees baseball helped America move out of the shadow of September 11. New Orleans Saints football signaled the devastated city's return from Hurricane Katrina.
During times of war, though, much of America was geographically removed from the point of crisis. And at other moments, sports have usually resumed after the immediate threat had passed. That is not where we are now. We are still very much a nation in chaos. There is a stark difference between sitting down for a Lakers game after a bad day at work, and trying to watch two teams compete in an empty arena, shut away from the rest of the world, because COVID-19, joblessness, and wildfires are devastating California. How can sports provide distraction from the world outside when that world has itself disrupted sports?
The NHL has been banished to play in Canadian isolation, college football is dissolving into a confederacy of escalating health risks for powerless—and unpaid—student athletes. Major League Baseball banned high fives and discouraged clubhouse showers, and the league is still canceling games weekly because of COVID-19 outbreaks in teams.
In creating a plan to salvage its season, the NBA spent an estimated $170 million to sequester teams and officials at Disney World and build a rapid-testing and health-care system that would be the envy of any American city. The league thought it could solve two issues in one bubble by providing a safe environment for play and a platform for players to advance social-justice causes, particularly in the aftermath of George Floyd's and Breonna Taylor's killings by police.
That translated into putting "Black Lives Matter" on courts, letting players put messages such as "I can't breathe," "Say her name," and "Enough" on the back of their jersey. But media exposure and the sometimes vague power of a "platform" didn't result in action.
No concessions in the name of racial justice or "NBA Cares" marketing could protect the bubble from being pierced. That police in America would continue to extinguish Black lives after Floyd and Taylor was inevitable. What could not have been predicted is the way the NBA players' isolation primed them to upend the league.
"I've had numerous nights and days when I've thought about leaving the bubble. I think everyone has," LeBron James told reporters. "I don't think there's not one person that has not had a mind that says, 'Oh, I got to get the hell out of here' ... It probably crosses my mind about once a day, for sure."
Consider that reality: separated from family and friends for almost two months, consuming constant images of Black lives being taken but having no real ability to join nationwide protests or become involved in political campaigns that will shape the future of the country. In a league whose players are predominantly Black, the weight of the bubble became too much. All these players have is time, the constant desire to be elsewhere, and their bodies—which they know would be forfeit without the benefit of a jersey. The NBA set the stage for its own strike.
"Guys are tired," the Oklahoma City guard Chris Paul said in an interview. "When I say tired, I don't mean physically tired. We're tired of seeing the same thing over and over again. It's emotional, especially when you're a Black man. We're all hurt. Everybody expects us to be okay because we get paid great money. We're humans. We have real feelings."
These players can't just "stick to sports." Not when their lives are on the line, when their communities are disproportionately dying of COVID-19 and police violence, or bearing the brunt of joblessness and evictions. WNBA players led the way in protesting injustice, and by bringing games to a halt, NBA players carried that further in their labor strike, threatening the continued wealth of owners whose personal and political interests don't align with their workers'.
We have seen this before in the NBA, but not at this magnitude. NBA games have been stopped because of racial injustice a number of times over the decades: Bill Russell led his Black Celtics teammates to boycott playing in segregationist Kentucky in 1961; games were called off following the death of Martin Luther King Jr., in 1968, and after the acquittal, in 1992, of the officers who beat Rodney King.
That the players' strike this year was short-lived is beside the point. They got owners to agree to convert arenas into polling locations in the fall election and use the broadcast and advertising clout of the league to promote voter turnout and other civic engagement. This was an exercise in power, a language America inherently understands, no matter what political banner you carry. The players have made their position clear: If owners and other powerful interests can't live up to their promises, they'll strike again.
As we hurtle toward one of the most consequential elections in American history, buffeted by two political parties with competing visions of reality—one based in fiction, the other in narrative nonfiction—athletes are the ones asking us to not look away from the truth.