Paris Is About to Change
The city was hit hard by the pandemic, but French leaders know transformation is necessary.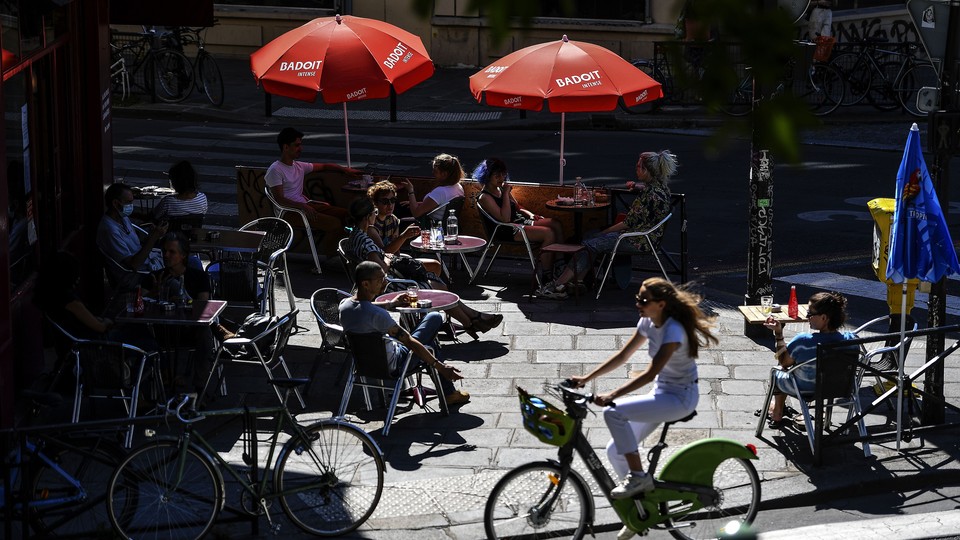 Updated at 12:29 p.m. ET on September 7, 2020.
The pandemic hit Paris hard. It hit poor Paris suburbs harder. Paris had already staked its future on merging with a wide ring of banlieue towns to form the new Metropolis of Grand Paris—an environmentally resilient 21st-century capital. But the coronavirus made clear how urgent that transformation really is.
Last year, more than 38 million people visited Paris. This summer, international travel bans sent hotel occupancy down 86 percent. The greater Paris metropolitan area has seen economic activity fall by more than 37 percent during the pandemic compared with the same period last year. In Île-de-France, the region that metropolitan Paris calls home, 100,000 jobs have been lost since mid-March.
The strict national lockdown from mid-March to mid-May did succeed in reducing infections, hospitalizations, and deaths. But after it was eased, the virus began to spread once more. Though current hospitalization rates remain manageable and death rates are relatively low, the number of new cases has risen alarmingly in recent weeks, with cases surging in the Paris metropolitan area. On August 27, Prime Minister Jean Castex declared 21 of France's 101 administrative departments, including Paris and its neighboring departments, COVID-19 "red zones."
As in the United States, the pain has not been felt equally. Compare the fate of Seine-Saint-Denis—France's poorest administrative department, with the second-highest proportion of immigrants—with that of Paris proper. Seine-Saint-Denis provides the highest number of essential workers in Île-de-France. Many residents continued to take public transportation to work during the two-month lockdown. The area also suffers from a scarcity of doctors. The result of all this was a mortality rate in Seine-Saint-Denis from March 1 to April 19 that was 134 percent higher than the same period last year. Within Paris city limits, the mortality rate was 99 percent higher.**
People in the banlieues are acutely aware of how much more they endured during the initial lockdown than their richer neighbors, and of how much harsher they were treated by police when they ventured into the public sphere than, say, joggers near the Arc de Triomphe. The result has been frustration and anger. George Floyd's death in the United States sent thousands of French Black Lives Matter protesters into the streets of Paris in June—in defiance of orders not to gather in large numbers—to demonstrate against racist police brutality in France.
For all this, no one is talking about the death of Paris the way some are talking about the death of New York. In its 2,000-year-long history, Paris has survived plenty of calamities. In recent years alone, Paris has been rocked by terrorist attacks, floods, violent street protests, and a fire that nearly destroyed Notre-Dame. The motto of the city is "Fluctuat nec mergitur," "Tossed by the waves but never sunk." Paris is the financial, cultural, and political capital of a highly centralized country, and so it will ever remain.
Still—and this may come as a shock to Americans—French leadership understands that it must not let the crisis go to waste. It is prepared to act. When Parisians emerged from their apartments and returned from their country homes after lockdown, they found that 50 kilometers of bright-yellow pop-up "corona lanes" for bicycles had been laid over crowded underground Métro lines. Café tables spilled out onto streets from which cars had been banned, taking over former parking spaces and enabling the city's restaurants to reopen with minimal risk of contagion.
Paris Mayor Anne Hidalgo has been on a mission to rid the city of cars for some time, and to reduce the air pollution that kills 6,600 people in the Paris metropolitan area, the majority of them in banlieues, every year. In June, she was handily reelected on a platform to accelerate the ecological transformation of Paris. She has vowed to make permanent some of the changes she enacted during the lockdown and to regreen Paris with urban forests. All diesel cars will be banned from the city by 2024. Hidalgo is also forging ahead with a plan to convert the Périphérique highway, the beltway that surrounds Paris, into a parkland with severely reduced, clean-vehicle traffic, easily crossed by pedestrians and bicyclists. The idea isn't only to eliminate an unsightly, polluting highway in a city that is aiming to go post-carbon; it's also to remove the most important physical and psychological barrier to the merging of Paris with its banlieues into the new Metropolis of Grand Paris. That barrier can't fall soon enough.
The metropolis concept was born of violent riots in 2005 following the accidental deaths by electrocution of two young people, both from minority communities, fleeing police in the Paris banlieue of Clichy-sous-Bois. In 2009, then-President Nicolas Sarkozy tasked a team of architects with dreaming up an expanded "Grand Paris" that would raise the quality of life in the banlieues, bring Paris into compliance with the carbon-emission limits of the Kyoto Protocol, and make the French capital a world-class city. The Metropolis of Grand Paris was officially signed into existence in January 2016, following the 2015 terrorist attacks. Slated for completion in 2030, the Grand Paris Express, already under construction, is the new metropolis's circulatory system. It will be the largest public-transportation system in Europe, with 200 kilometers of new tracks for automated trains running every two to three minutes between 68 architect-designed stations. The stations will be decorated with works commissioned from leading contemporary artists and surrounded by new housing, green space, university campuses, and multipurpose office and leisure complexes. In 2017, French President Emmanuel Macron said that the lack of access to public transportation was the equivalent of putting people in the Paris banlieues "under house arrest." The Grand Paris Express is supposed to set them free.
Another project that is supposed to improve their lives is the 2024 Paris Olympic Games. Much of the infrastructure for the games will be built in the town of Saint Denis, in the department of Seine-Saint-Denis. When I visited the future site of the 2024 Olympic village in August, the scale of the changes in store was evident. Less so was how those changes would help the residents whose homes and small businesses are being razed. Paris authorities promise that the Games will bring new housing, jobs, and a glittering train station on the Grand Paris Express. Many residents, who haven't been given any choice in the matter and whose plight has been ignored for decades, remain skeptical.
The iconic Paris of today is the result of a radical makeover of the French capital following the cholera epidemic that swept into the city in 1832, killing 19,000 people in six months. Then, as now, rich Parisians fled to their country homes. The poor were left to die in streets that ran filthy with raw sewage. Rumors circulated that the disease was a plot against the people, who, as Victor Hugo immortalized in Les Misérables, revolted, throwing up barricades to cut off troops from rebellious neighborhoods. In response, Napoleon III tasked Baron Haussmann with making Paris into a modern, epidemic- and revolt-proof capital. Congested poor neighborhoods were torn down to make way for broad avenues that allowed both air and troops to move freely throughout the city. A new underground sewer system was created. The poor were pushed out onto the city's margins. Nearly 170 years after their expulsion, the Metropolis of Grand Paris is supposed to bring them back into the city's enveloping fold.
From the vantage point of an American in the Metropolis of Grand Paris—I live in the banlieue town of Pantin, in Seine-Saint-Denis—I can hardly believe the chaos unfolding in the United States. France is far from perfect, and far from equal, but I feel lucky to live in a place where both politicians and the citizens holding them to account are using the devastating pandemic to make the radical changes necessary to survive the upheavals to come.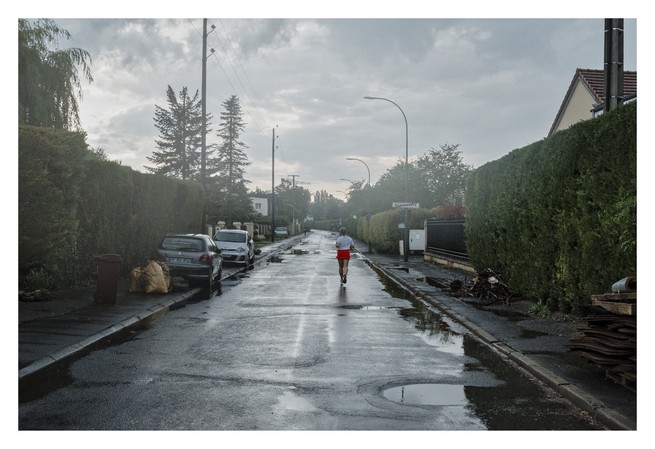 ---
* This article previously mislabeled a photo of French White Lives Matter protesters as supporters of Black Lives Matter. The photo has been removed.
** This article previously misstated that mortality in Seine-Saint-Denis and Paris from March 1 to April 19 was 134 times and 99 times higher, respectively, than the same period last year. In fact, mortality in these areas was 134 percent and 99 percent higher, respectively.