A Paranoid Rant Says a Lot About Where Trumpism Is Headed
A bizarre video posted by Michael Caputo may be a sign of things to come.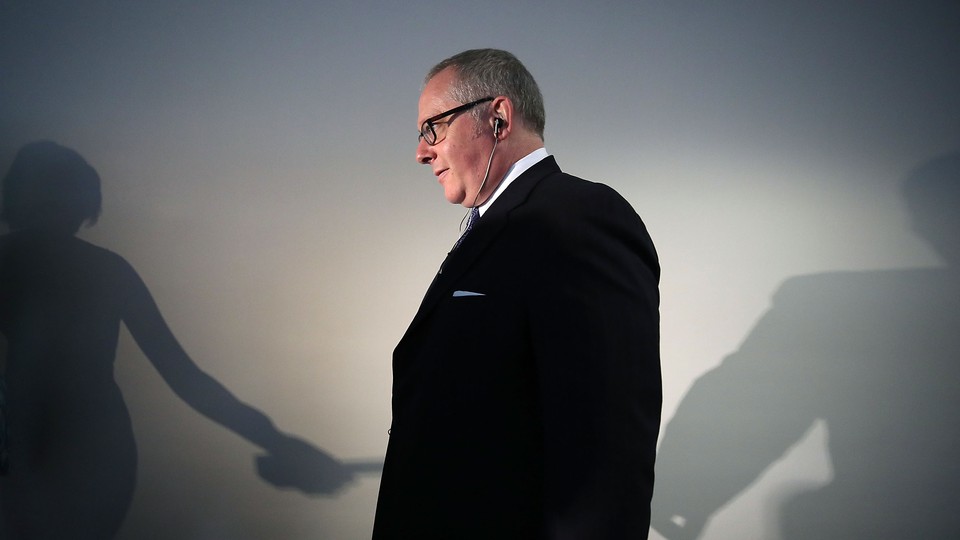 No matter how often he's asked, Donald Trump can't articulate what his second term as president would look like. He doesn't need to, because Americans can see for themselves. It looks like Michael Caputo.
Caputo is the top spokesperson at the Department of Health and Human Services, which is a job in which you're supposed to shape the news, not make it. But Caputo has had a busy few days. On Friday, Politico broke the news that Caputo had been interfering with scientific reports about COVID-19 from the Centers for Disease Control and Prevention. Then on Sunday, Caputo posted a bizarre, paranoid video on Facebook claiming he might be assassinated by seditious forces.
This is a microcosm of what a second Trump term will probably look like: no clear legislative agenda, but unqualified political hacks occupying top offices in the executive branch, from which they kneecap the efficient functioning of the federal government and spread misinformation and conspiracy theories.
Caputo is a type familiar to close political observers—an operator who is dogged and skilled enough to end up distantly attached to lots of politicians you've heard of, but who never quite has what it takes to make it to the big leagues and land a serious administration job, because of temperament, talent, and tainted associations.
During the Reagan administration, he worked for Oliver North, the Iran-Contra figure who got out of three felony convictions thanks to a procedural error by Congress. He was also a protégé of the convicted felon and Trump pal Roger Stone. After a peripheral role in George H. W. Bush's 1992 campaign, Caputo headed to Russia, where he allegedly worked to buff Vladimir Putin's reputation.
Back stateside in the 2000s, Caputo had a lien filed against him by the IRS for more than $50,000 in back taxes. In 2010, Stone recommended that Caputo work for New York Republican Carl Paladino's gubernatorial campaign, which at the time looked like a humorous sideshow but now looks more like a harbinger. "This is a campaign of junkyard dogs, not pedigreed poodles," Caputo told The New York Times. "Carl knows the background of everyone who works for him. He knows that each of us comes to the campaign with warts. And he has his own warts. We don't hide anything."
Caputo then spent time as a conservative radio host before signing on to work for Trump in 2016. (He'd previously done some work for Trump in the private sector.) He resigned after celebrating the ouster of the campaign manager Corey Lewandowski. He later resurfaced as a subject of the House Intelligence Committee's investigation into Russian interference in the 2016 election, and was interviewed by Special Counsel Robert Mueller's team.
In other words: Caputo wasn't the sort of guy that many administrations would want anywhere near them, much less in a public-facing role, much less in the midst of a lethal pandemic. Yet in April 2020, the Trump administration hired Caputo to be the head of public affairs at the Department of Health and Human Services. Politico reported at the time that Caputo's appointment was ordered by the White House as a rebuke to Secretary Alex Azar, whom the West Wing viewed as insufficiently loyal to Trump amid the coronavirus maelstrom.
Caputo became the story pretty much immediately, as CNN's KFile dug up tweets in which he'd made offensive and racist comments and spread misinformation, including about COVID-19, but the administration apparently decided that having a loyalist in place was worth the PR hit, and soon attention moved on to more grievous problems in the government's pandemic response.
As Friday's Politico report showed, having Caputo in place is paying off for Trump. Dan Diamond reported that Caputo had been trying to water down or block the CDC's "Morbidity and Mortality Weekly Report," a crucial communication that a former official described to the Times as the "holiest of the holy." Caputo also reportedly tried to intimidate authors of the reports.
Apparently angry about the revelation, Caputo posted a video, later deleted, to Facebook on Sunday accusing scientists of "sedition" and of forming a "resistance unit" at the CDC. "There are scientists who work for this government who do not want America to get well, not until after Joe Biden is president," he claimed. "If you carry guns, buy ammunition, ladies and gentlemen, because it's going to be hard to get."
"You understand that they're going to have to kill me, and unfortunately, I think that's where this is going," Caputo also said. Perhaps self-evidently, he added that his "mental health has definitely failed."
Caputo's appointment and continued employment can be viewed in two ways. One is that qualified people won't work in the Trump administration, which means the executive branch is required to hire people who wouldn't get another glance most of the time. The second is that the administration is intentionally hiring hacks, and is uninterested in the government actually working well. These are not really different interpretations, but intertwined ones.
At the start of Trump's term, many potential appointees ruled themselves out of service, unwilling to work for the new president. Some were conservatives who had fundamental policy agreements with Trump but worried about his judgment and character. Others decided to take jobs and hope they could make a Trump government run better. Every two-term administration sees a great deal of turnover after four years, because top jobs are exhausting, but the Trump administration has already seen incredible turnover. Not only that, but many departing aides have openly criticized the president. These are not mere policy disagreements or judgment-call gripes. Some have described Trump as a threat to national security.
That means if Trump wins reelection in November, the outcome is likely to be a proliferation of Michael Caputos, at all levels of the executive branch. More of the remaining professionals holding political appointments within the administration will leave. Most new ones will know better than to sign up this time. Many of those who remain may be either third-rate, willing to compromise their beliefs to get ahead, or both.
The government will be filled with shameless, wild-eyed partisans like Caputo; or with figures like Louis DeJoy, who won appointment as postmaster general after making massive campaign contributions, and whose actions seem (at best) to be hobbling the Postal Service or (at worst) designed to reelect his patron Trump; or Chad Wolf, who is probably illegally serving as the acting secretary of homeland security; or John Ratcliffe, the director of national intelligence, who is dishonest and statutorily unqualified for his post; or Anthony Tata, a bigoted philanderer who was appointed to a top Pentagon post when it became clear that the GOP-led Senate would not confirm him.
A second Trump term will also see the growing influence of the QAnon conspiracy theory. Some of its followers will be in Congress, regardless of the outcome of the election. But others will start to infiltrate the bureaucracy, too. Caputo doesn't specifically cite QAnon, but his warnings about George Soros and shadowy forces of sedition mesh neatly with the theory, as do comments from people such as Tata. As President Trump has shown, cleverly winking at QAnon without ever specifically espousing it is easy.
QAnon adherents assert that a shadowy cabal has taken hold in the government, and is working to undermine it from within. In this cosmology, Donald Trump is doing battle with this seditious cell. If Trump wins a second term, however, the claim will start to resemble reality. A nefarious cell really will be working within the government to undermine it. It's just that the saboteurs will be the president's own appointees.