Bill Barr's Stinging Attack on Bill Barr
It's impossible to square the attorney general's latest speech with his own record in office.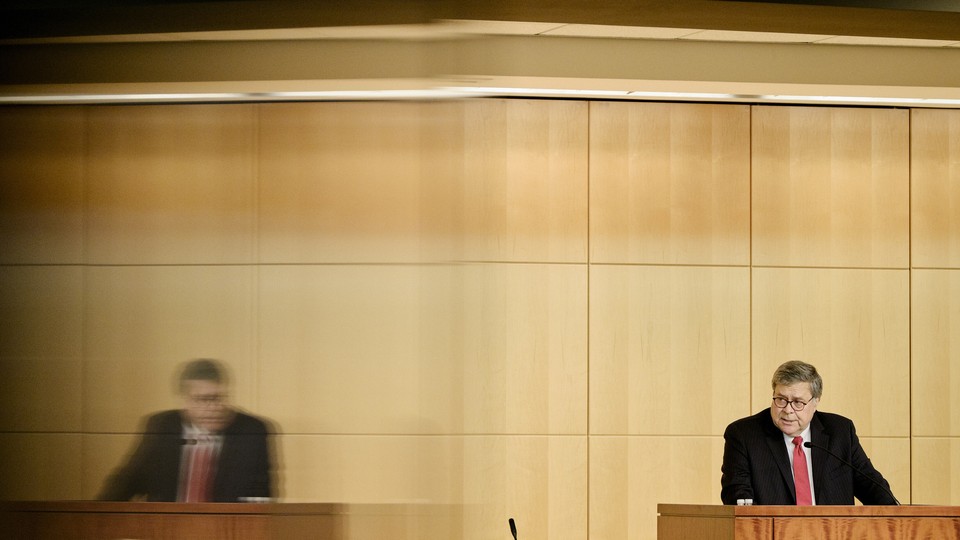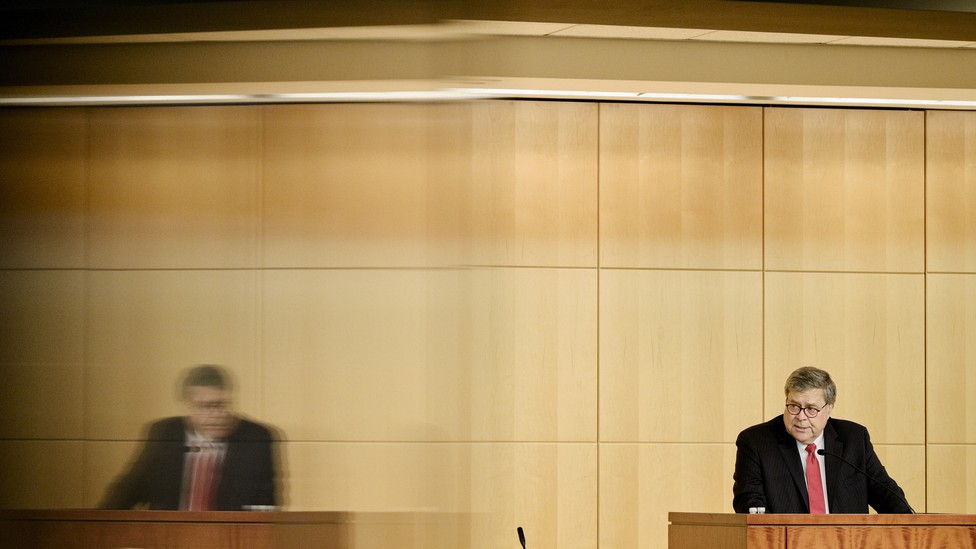 In an administration that tends toward incoherence and lunacy, Bill Barr's great strength is the ability to sound levelheaded. The attorney general is calm, cogent, and logical—and, in contrast to many of his Cabinet colleagues, clearly well studied and qualified for his role.
Barr's sober demeanor allows him to make a lot of arguments that sound reasonable and persuasive when delivered, as he demonstrated in a speech to Hillsdale College on Wednesday. The problem comes when you start trying to reconcile what he says with the Justice Department's actions. It's almost as if there are two Bill Barrs, arguing with each other. If you take what Bill Barr says when he's posing as a wise legal theorist seriously, you should be very worried about what Bill Barr is actually doing as attorney general.
For example, although there have been accusations that Trump has improperly intervened in the Justice Department, Wise Legal Theorist Bill Barr contends that nothing is amiss, because in a democracy, the people should have ultimate control over the legal system:
The most basic check on prosecutorial power is politics. It is counter-intuitive to say that, as we rightly strive to maintain an apolitical system of criminal justice. But political accountability—politics—is what ultimately ensures our system does its work fairly and with proper recognition of the many interests and values at stake. Government power completely divorced from politics is tyranny.
The Justice Department, he adds, "is an agency within the Executive Branch of a democratic republic—a form of government where the power of the state is ultimately reposed in the people acting through their elected president and elected representatives." (Barr later adds, "Letting the most junior members set the agenda might be a good philosophy for a Montessori preschool, but it's no way to run a federal agency." Referring to your employees as preschoolers might be good red meat in a speech to a conservative audience, but it's no way to run a federal agency.)
All reasonable stuff on its face. But Attorney General Bill Barr seems to disagree. After all, he assigned U.S. Attorney John Durham to conduct an extensive review of Obama administration officials involved in investigations into Russian interference in the 2016 election, including "unmaskings" related to Michael Flynn, whose prosecution for lying to FBI agents he is seeking to drop. Weren't those just the actions of democratically accountable executive-branch officials exercising their lawful authority?
Wise Legal Theorist Barr argues that the officials of the Department of Justice are accountable, in part, because "the elected Congress can summon them to explain their decisions to the people's representatives and to the public." But under Attorney General Barr, the Justice Department has repeatedly stonewalled Congress. The attorney general himself long refused to testify to the House, and the Justice Department has supported Trump's attempts to argue that allegations of misconduct against him can be pursued neither by the justice system nor via congressional investigation.
Wise Legal Theorist Bill Barr fulminates against:
taking vague statutory language and then applying it to a criminal target in a novel way that is, at a minimum, hardly the clear consequence of the statutory text.This is inherently unfair because criminal prosecutions are backward-looking. We charge people with crimes based on past conduct. If it was unknown or even unclear that the conduct was illegal when the person engaged in it, that raises real questions about whether it is fair to prosecute the person criminally for it.
The result of this, he says, is "prosecutors bringing ill-conceived charges against prominent political figures."
Quite right. Has Attorney General Bill Barr heard this critique? He is the person who reportedly told prosecutors to consider charging violent protesters with sedition—that is, plotting to overthrow the United States government. That's a rarely used charge, and is practically unheard of in the case of mere violent protests. Now there is a movement that is seeking to provoke a civil war, the "boogaloo." Federal prosecutors have charged several boogaloo adherents with violent acts over the summer, but Barr himself has been more focused on the left-wing "antifa," a loose group that, whatever its dangers, does not have seem to have any intention of toppling the government.
Barr is also the person who has reportedly asked prosecutors to look into criminal charges against Seattle Mayor Jenny Durkan for allowing protesters to establish a police-free zone in one section of the city over the summer, in what would almost certainly be a novel application of civil-rights laws. (Barr denies this.) And he's the person who has rushed a decision to bring antitrust charges against Google over the objections of career lawyers. As Wise Legal Theorist Bill Barr would be quick to tell us, this is Attorney General Bill Barr's prerogative, but it hardly exemplifies the careful, meticulous application of legal theories that he called for in the speech.
Wise Legal Theorist Bill Barr warns that bringing charges against prominent figures in this way creates a "criminalization of politics" in which the legal system is used to punish behavior that is merely "questionable," and not illegal. This is an important point. There's all sorts of behavior that is unsavory and perhaps even corrupt in a colloquial sense, but not illegal, and it's a matter for the political system, not the criminal-justice system, to deal with.
This seems almost like a rebuke to Attorney General Bill Barr, who blasted Democrats for using the (political) process of impeachment to go after Trump's attempt to extort Ukraine into assisting his reelection effort, accusing them of taking the president conducting the business of his office, and misconstruing it as misconduct. Yet Barr was also eagerly accepting information from Trump's lawyer Rudy Giuliani about the business dealings of Joe Biden's son Hunter in Ukraine—dealings that indeed seem questionable, but about which there remains no proof of criminality.
If Barr is so worried about the criminalization of politics, he can find the chief culprit in the White House. His boss won office on a platform of locking up his opponent, complaining that no charges had ever been brought against her—and then repeatedly pressured Barr's predecessor to investigate her and find some pretense, any pretense, to prosecute her.
Much of what Barr said in his Hillsdale speech makes a great deal of sense in the abstract. Of course it's good for ultimate responsibility to rest not with career bureaucrats who are largely unaccountable to the public, but with political appointees accountable to the president, Congress, and finally voters. Of course it's dangerous for people to be charged under novel legal theories, applied retroactively. Of course politics should not be criminalized. So why doesn't he take his own advice?
"The Justice Department is not a praetorian guard that watches over society impervious to the ebbs and flows of politics," Barr said in his Hillsdale speech. Instead, with Barr at the helm, the Justice Department is a praetorian guard that faithfully serves its president, highly attuned to the ebbs and flows of politics.