The Emotionally Challenging Next Phase of the Pandemic
The end of summer is a bitter reminder: America's coronavirus ordeal won't end when 2020 does.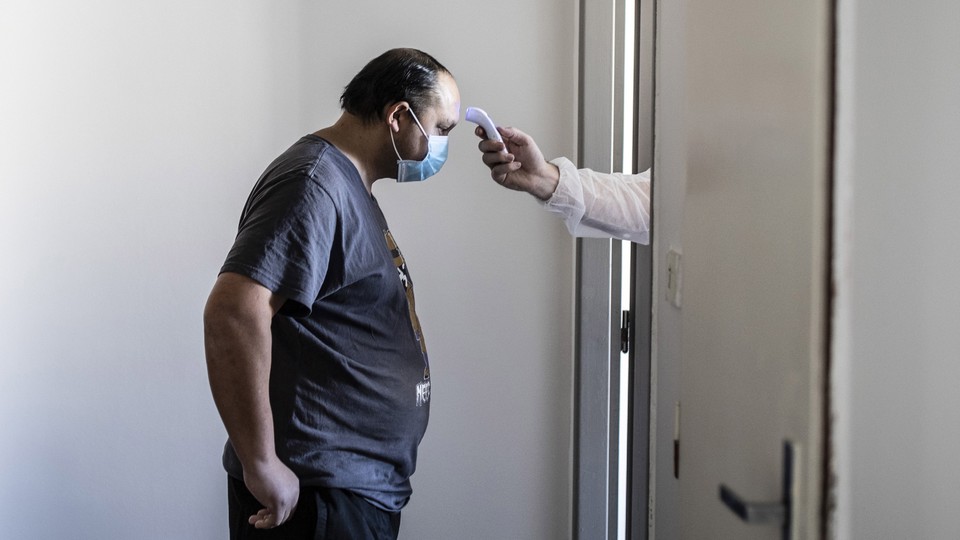 A weary friend of mine—another working mom—recently texted to say she couldn't decide which aspect of daily life during the coronavirus pandemic was worse: "the insanity or the monotony." Either way, the misery will not end when 2020 does. The new year will inherit many of the same problems that have become so grindingly familiar in 2020.
The Centers for Disease Control and Prevention got some Americans' hopes up with its recent instruction that states should be ready to distribute a coronavirus vaccine in the next couple of months. President Donald Trump is desperate to convince the public that a vaccine to COVID-19 will arrive by a politically convenient deadline: "maybe even before November 1," he said Friday, or "some time in the month of October."
But Trump's Operation Warp Speed is an election ploy, not a guarantee of scientific progress. Drug companies that are competing to develop vaccines are banding together to resist political pressure to take shortcuts in safety testing. On NPR Thursday, Moncef Slaoui, the chief scientific adviser to Operation Warp Speed, said that an effective vaccine by the end of next month is "extremely unlikely" and that population-wide distribution of a vaccine could take until the middle of next year.
In other words, the American coronavirus crisis will end—just not soon. "With a combination of public-health measures with a vaccine that's reasonably good," the infectious-diseases expert Anthony Fauci told me in a recent online interview, "by the time we get around through 2021, we can start having some form of normality. Maybe not exactly the way it was, but certainly different than what we're doing right now." Fauci's prediction is based on the best-case scenario in which, "as we get into 2021, we should start seeing a substantial number of [vaccine] doses available."
This timetable comes as difficult news. Summer is ending. Americans were told that this season, the season of outdoors and open windows, would create the best conditions to manage COVID-19. The nights are now shorter, the mornings darker. In the northern states, the long summer nights are yielding to the approaching chill. Windows in much of the country will soon be closed for months, outdoor dining and events will be harder to enjoy, and a regular flu season will begin. For many families, the Thanksgiving and December holidays may be as much fun as spring break was in March—that is, not at all. And still, over the past week, an average of nearly 1,000 Americans a day died of COVID-19, and more than 40,000 new cases a day were reported.
When the rapidly spreading coronavirus first closed classrooms and workplaces earlier this year, Americans might have assumed that the shutdowns might go on for a few weeks. In late March, I argued that the United States might need 18 months to end the crisis—but still never imagined quite how incoherent and ineffective the Trump administration's response to the virus would be. We were realistic, closing schools for the rest of the school year, offices until summer. Then as those dates approached, as late summer came, often last-minute decisions were made to mostly continue the distance until the middle or the end of the fall semester. Many offices are now closed until January or later. We've been psychologically kicking the can down the road. The whole point of each incremental delay was that the pandemic might change for the better—by Memorial Day, or July Fourth, or Labor Day, or Thanksgiving. The changes aren't happening fast enough.
Americans frustrated with Trump's mishandling of the pandemic have trained their eyes on the November election, but even if Joe Biden wins, the status quo is essentially locked in until at least early next year, if not later. Trump owns the winter. If he loses the election, he may lose any lingering interest he had in fighting the pandemic—and go out of his way to make Biden's task more difficult. If Trump wins, he'll take it as validation of his approach to the crisis.
Chin up, the security planner tells herself. Fortunately, Americans—as individuals, institutions, states and groups of states, cities, corporations—haven't been completely paralyzed by the White House's failures. On our own initiative, we are taking steps that buy ourselves a certain amount of freedom: testing and tracing; developing better treatments; practicing smarter social distancing; masking; working from home; protecting vulnerable groups; masking; limiting contact intensity; minimizing contact numbers; masking; practicing better hygiene; promoting healthy buildings; being quiet in indoor spaces; and masking.
These practices have been adopted to varying degrees, just not widely enough to keep the coronavirus from ricocheting around the country. Trump helped encourage a culture war around masking. Fortunately, he lost. Today, more than 75 percent of Americans—including in red states such as Mississippi and South Carolina—are living under statewide masking policies, and 74 percent of Americans favor a mandatory national one. Biden has embraced such a policy. If Trump had done so months ago, efforts to reopen the economy would be much further along.
Instead, get your head around it: Rules and regulations controlling our movement and masking could well be in place for another year. The dilemmas facing retailers, airlines, and many other private-sector companies, such as how strict to be with customers who don't wear masks, are not passing problems that time will solve. Whether a crisis lasts a few weeks or 18 months inevitably affects your own personal risk calculations. Some normal activities, including seeing family in a faraway state, making new friends, or going to the gym, are easy to put off for a few months, but avoiding them forever carries a cost. The bad habits that you might have formed in the spring—smoking or drinking as a form of stress relief—no longer look like short-term vices.
Everyone will need coping strategies. On my morning runs, I've been playing Luther Vandross, hoping a sultry groove might distract me from the discomfort of wearing a mask and break through the numbness of pandemic life.
Eventually, the weather will warm again, and Americans will learn to go to work and school together again. Still, the U.S. has no excuse for being ravaged by a virus that more focus and discipline could have defeated. Unlike Asian and European countries now resuming a normal life with modest precautions, Americans squandered our first opportunity to beat the virus in early 2020. The calendar shows the consequence: We'll pay for our mistake well into the new year.