Teachers Know Schools Aren't Safe to Reopen
No wonder our union is considering a strike.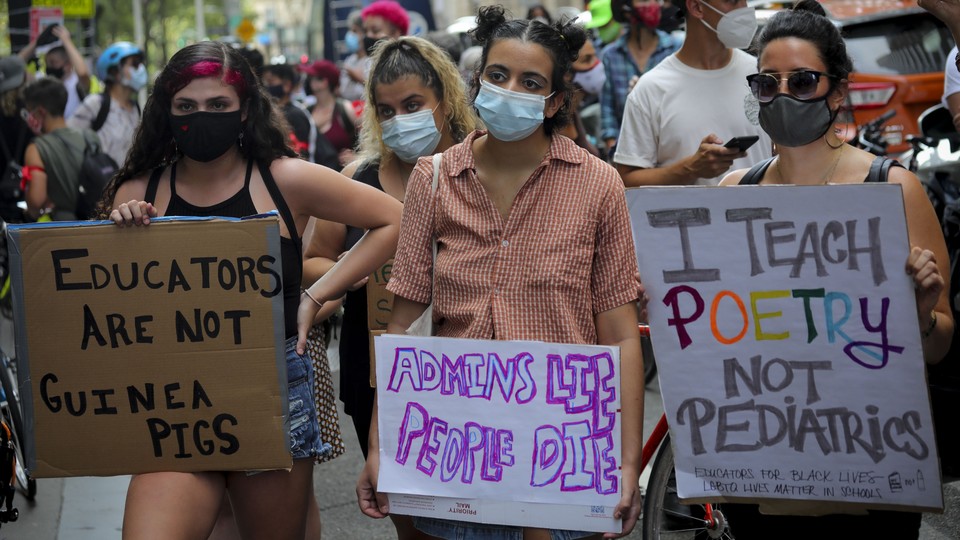 We are high-school teachers in Brooklyn, and we love what we do. We want nothing more than to go back into the classroom and teach our students. However, we have little confidence in New York City's strategy for reopening during the pandemic. Officials have given families and teachers vague assurances and clichéd promises, but few concrete plans and steps. Schools are not yet safe enough for us—or the students—to return.
The department of education says that schools will have adequate ventilation, more nurses, and sufficient custodial staff to maintain elaborate hygiene theatrics. Officials claim that they have purchased enough "electrostatic disinfectors" and personal protective equipment for every school. And yet the budget is in such crisis, due to shortfalls in tax revenue and potential cuts, that 22,000 city workers and 9,000 teachers may face layoffs as soon as October 1. The department promises accountability and transparency, but will not even disclose how many educators became ill in the spring. It's Schrödinger's reopening: The city both can afford to do it all and can't afford what we had before.
Teachers are in an exceedingly difficult position if unsafe buildings reopen. No wonder the union is considering a strike, an extraordinary action that would have detrimental consequences for teachers in the city. The Taylor Law, passed in 1967 after a Transit Workers Union strike that shut down New York City, imposes penalties on public-sector workers and unions who strike. For each day a worker is out, two days of pay are deducted. The city would issue large financial penalties to the union, which members would eventually pay, and the union's leadership would face possible imprisonment.
We can lose a couple weeks' pay without falling into bankruptcy. But that isn't true for many of our fellow teachers, three-quarters of whom are women. In 2019, the median rent takes up 65 percent of a first-year teacher's salary and 42.5 percent of the average teacher's salary.
But the alternative to striking might be worse. Teachers in the city are already familiar with the health costs of the coronavirus. Several of our colleagues got sick in the spring. Some of our students did too. One reported having a temperature of 104 degrees. The family of another student got so sick that she was forced to be a full-time caretaker, for both of her parents and her younger sibling. Several had parents, grandparents, aunts, and uncles die from the virus.
New York City teachers have heard the horror stories from states with schools that have opened before they were ready. The city's case rate may be low now, but to presume that COVID-19 can't resurge here, when a "second wave" has already begun in Europe, is reckless beyond belief. Who will be hit the hardest? The families who have disproportionately shouldered the suffering of the pandemic already.
Teachers, more than anyone else, know that students need to socialize and that they do best when they can receive individualized support. But the city's blended learning plan—where students attend in-person classes one to three days a week—falls far short of being the "best academic year NYC has ever had," as Mayor Bill de Blasio promised in a tweet. Even in the best-case scenario, in which schools open and no one gets sick, most teachers will have to wing it. The city has provided little preparation or training for how to safely teach in person, or for the remote-learning portion of the week, which will consume a minimum of 40 percent of each child's school experience. And the worst-case scenario? Few officials seem willing to honestly reckon with that.
We can't speak for all teachers, but we know what would make us comfortable to go back. Slow down and give teachers and families real, detailed, concrete plans and protocols, with measures for transparency about results and accountability for failures. The teachers union recently released its safety plan, developed with the input of health experts. It calls for mandatory testing for students and teachers and includes numerous specific items that would make an individual school safe to inhabit again, including proper ventilation, a nurse at the school, and ample protective equipment. Until the education department has come up with a comparable plan or adopts the union's, school buildings need to stay closed.
Teachers can start remote instruction right away, and do it well if the city provides the resources and training we need. Once a school building meets the standards, students should return slowly. Mark Treyger, the chair of the city council's education committee and a former educator, shared a smart plan for a phased reopening: Start by sending back to school full-time the youngest children and those most in need of in-person support, using additional space to allow for proper social distancing, and keep high schools closed until the city knows it can keep transmission low. Public Advocate Jumaane Williams crafted a similarly phased proposal that was lauded across social media.
We know that parents want to be able to send their children to school for any amount of time, for many reasons, including financial constraints. Public schools have been society's social safety net for decades now. About three-quarters of parents in the city initially "opted" for some in-person learning in a recent survey, yet the numbers are misleading. Those who didn't fill out the survey were automatically enrolled in blended learning, while two-thirds of families who did fill out the survey opted into all-remote learning. Further, the education department asked parents to respond before they could even see the plans for each school. They also gave them the choice to opt into remote-only learning at any point, but they can only opt into blended learning quarterly.
Regardless of the numbers, we know firsthand the concerns of parents. Remote learning is extremely difficult for families, especially those of young students, who need peer socialization and structure the most, not to mention constant supervision. One of us—David—considered sending his 6-year-old to his school's blended program, even though he would have been in school only two days a week. Then, over the course of about an hour at the playground, he watched the soon-to-be first-grader sprint to hug his friend; ignore multiple reminders to pick his mask up off the ground; blow raspberries at another child; and take not one, but two passes through another child's vomit. Making sure that children comply with the rules will be hard enough without the extra stress of unsafe ventilation and unclear protocols.
Some have claimed that teachers are abdicating their duty. Mayor de Blasio recently compared us to health-care workers and first responders who "found a way" to work when the crisis began in March. Our collective memory seems to omit the lawsuits by and protests from those same workers, when they too were denied the safety precautions they needed to face this pandemic.
Ultimately, public pressure forced the mayor and Governor Andrew Cuomo to close the schools in the spring, likely leading to a less lethal outbreak. A prolonged fight by the largest local teachers union in the country against the largest school system in the country should be avoided if possible, but the responses of the mayor and the schools chancellor to families' and teachers' legitimate concerns over the past few months do not suggest they share this belief.
Can we afford to strike? We're not sure that we can afford not to.