Bail Out Parents
A child allowance is the Easy button for pandemic solutions.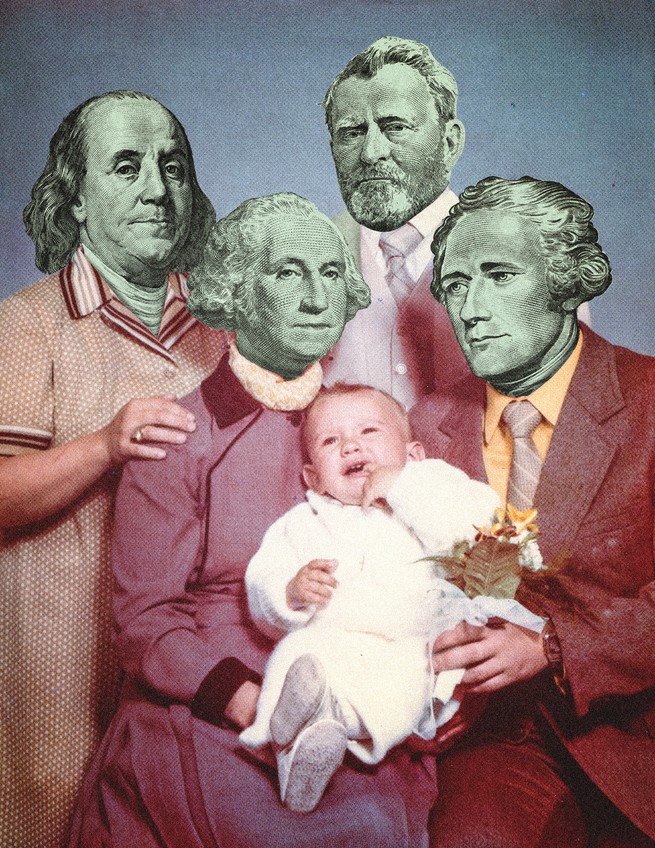 If parenting were an industry, America's moms and dads would all be filing for bankruptcy. First came the closures of schools and child-care programs in the spring, followed by many summer camps and pools never opening, and now a fall during which huge swaths of the country will have all-virtual schooling. Many parents are completely depleted—mentally and financially. Typically, politicians of both parties revel in rhetoric about families being the bedrock of society. Well, if businesses get a Paycheck Protection Program, families deserve a Parent Protection Program. That starts with the United States adopting a long-overdue child allowance.
Bailouts are a recognition that certain sectors are so vital to the American economy that the government has a compelling interest in keeping them afloat. This is why, in the CARES Act, airlines got $50 billion and hospitals $150 billion. The centerpiece of that bill, of course, was the $660 billion Paycheck Protection Program, which offered largely forgivable loans to businesses. This had the effect of keeping many workers—including parents—on payroll, although the nation still suffers from brutal unemployment and the economic recovery appears to be flagging.
Parents, taken collectively, are an underrecognized yet vital economic interest. According to the Brookings Institution, 41.2 million workers, a third of the entire workforce, have a child under age 18. Nearly 34 million have a child under age 14 who is likely to require some kind of supervision during virtual schooling, a task that disproportionately falls on mothers' shoulders. COVID-19, unsurprisingly and infuriatingly, is already driving women out of the workforce. According to a recent Census Bureau report, "Around one in five (18.2%) of working-age adults said the reason they were not working was because COVID-19 disrupted their childcare arrangements," with women three times as likely as men to report this barrier.
Of course, parents' benefits to society go far beyond their external labor, and stay-at-home parents are also vital. Families with children are the elemental unit of a society, the reproductive cell; without healthy families, the entire enterprise unravels. And that is happening now, on a mass scale: Parents are suffering, and no relief is in sight. Researchers at the University of Oregon have warned that with the expiration of enhanced unemployment benefits, "vast numbers" of families with young children—who bear the highest child-rearing costs—may "end up having power and water turned off, running out of funds to purchase food, diapers, and other necessities, and struggling to pay for childcare or health care."
On top of this, many parents of older children are now being forced to pay for care and learning support. According to the Urban Institute, parents who cannot work remotely (which is most of them) on average need to find nearly triple the hours of care they used to require. The institute's report notes that since the most recent government data "suggest that families with only school-age children who regularly used paid care spent on average 11 percent of their income for such care, a doubling or tripling of costs would clearly be prohibitive." Places such as Durham, North Carolina, and Howard County, Maryland, are offering facilitated virtual learning in some of their school buildings, with rates running from $560 to $1,300 a month. Even parents who are choosing to "pod" with other families stand to incur significant costs from materials, tutors, and other resources.
This is where a child allowance comes in. Child allowances (also known as child benefits) are nothing more than monthly per-child cash transfers from the government to guardians. The logic is simple, and the policy made sense long before anyone had heard of COVID-19: Children are expensive to raise, society needs healthy children and families, and, therefore, families—especially low-income families, who are more likely to experience instability and the attendant ills of child poverty, during a pandemic or not—deserve financial support. Child allowances are incredibly common internationally; the list of countries with allowances includes nearly the entire European Union, Canada, Australia, Argentina, and Japan. They are also incredibly effective, helping keep child-poverty rates low and contributing to everything from better health to higher test scores.
(And no, parents don't squander the money: As Vox reported last year, one researcher "found that Kindergeld, the delightfully named German child benefit program, leads families to spend more on food but not to drink more alcohol.")
A child allowance is the Easy button for a pandemic parent bailout because the mechanism already exists in the form of the American Family Act (AFA), a piece of legislation introduced, but stalled, in Congress. A recent report published by the Century Foundation notes that the AFA "would raise the value of the Child Tax Credit to $3,600 per year for young children and $3,000 for older children, make the credit fully refundable, and distribute it monthly—thus establishing a child allowance. A one-year version of the AFA was included in the HEROES Act—the most recent COVID-related legislation to pass the House of Representatives." While the report argues that ideally the U.S. would enact a more robust allowance separate from the tax code, like Canada's child benefit, adopting the AFA permanently would slash child poverty by 42 percent, bumping 4.1 million children above the poverty line in one swoop.
Child allowances are not some liberal lark. Senator Mitt Romney of Utah, a Republican, has co-sponsored a more modest version of a child allowance, and the right-leaning analyst Lyman Stone wrote last year that "it's time for conservatives to take stock of the evidence on [child allowances] and decide if we are really willing to support families." Bizarrely, however, in the middle of a pandemic that is causing massive unemployment, wage cuts, and familial stress, the idea has gotten little attention. Although the one-year AFA is in the HEROES Act, a child allowance has not been a prominent talking point and is nowhere to be found in either major party's platform (though perhaps that might change, as the newly minted vice-presidential nominee Kamala Harris is a co-sponsor of the AFA).
Nor are child allowances budget busters. The AFA would cost $105 billion a year, less than one-sixth the cost of the Paycheck Protection Program. That's without taking into account the benefits: A National Academy of Sciences report found that child poverty may cost the U.S. $800 billion to $1.1 trillion annually due to "reduction in adult productivity, increased costs of crime, and increased health expenditures associated with children growing up in poor families."
While passing the AFA via COVID-19 relief negotiations—or, at worst, in the early days of a Biden administration—is an obvious and necessary step, it won't be enough on its own. You only get so far with $3,000 a child, and drowning parents need more than just cash. One need is for Congress to rescue the underfunded, crumbling child-care industry so working parents have care options moving forward. Another is time. For parents who are eschewing outside care due to lack of access or concern over health risks, enhancements to existing emergency-paid-leave policies would do a world of good.
Parents have no K Street lobbyists with bottomless war chests, but they do have an awful lot of voting power. If Congress can find a way to dedicate relief funding to airlines and hospitals and oil companies, surely American politicians can appropriate targeted funds as a lifeline to struggling parents. If they can't, then it may be time for parents to finally organize into a cohesive bloc, and put leaders into office who will do right by America's families.