The Shooting of Jacob Blake Is a Wake-Up Call
The national conversation may have moved on from police violence, but the shootings themselves continue.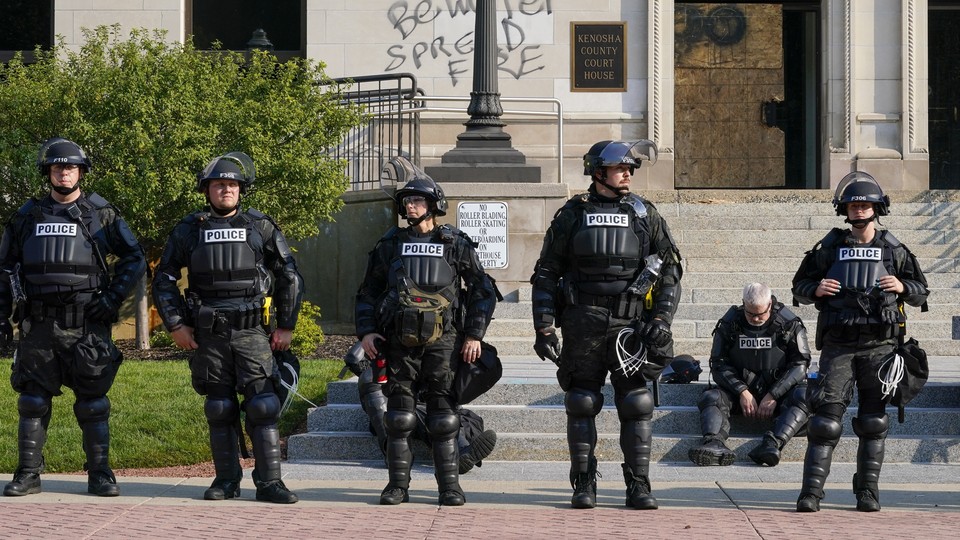 The shooting of Jacob Blake on Sunday in Kenosha, Wisconsin, is at once freshly horrifying and achingly familiar, in the way that only a police shooting in the United States in 2020 can be.
The Kenosha shooting has the dubious distinction of being the first high-profile shooting of a Black man by police since massive Black Lives Matter protests erupted earlier this summer, bringing with them enormous—but potentially ephemeral—shifts in public opinion. So far, those protests have not brought serious changes in how American policing works, which means that for every pious declaration that Breonna Taylor and George Floyd must not have died in vain, there's certain to be another Jacob Blake.
Yet none of this saps what happened in Kenosha of its unique horror. In a short video of the incident recorded by a witness, Blake walks around an SUV as police follow him with guns drawn, apparently yelling at him to stop. Blake opens the driver's-side door. An officer grabs his shirt, then fires several times into his back—at least seven shots are audible in the recording. Bystanders scream and jump in horror.
A great deal remains unclear about the incident. Blake, fortunately, survived the shooting, though he is in serious condition in a Milwaukee hospital. Police in Kenosha, which sits between Milwaukee and Chicago, were reportedly called to a domestic disturbance at about 5 p.m. Bystanders told the Milwaukee Journal Sentinel that Blake was attempting to break up a fight between two women. They also said that police tased Blake before shooting him. The veteran civil-rights attorney Benjamin Crump said that Blake's three sons were in the car at the time.
Was Blake involved in the original disturbance? What was his connection to the women? What happened before the video starts? When and why was he tased? What did officers say to him? Why was he going to the car? Why did officers shoot? Was there a gun in the car?
None of this is fully known, but regardless of what preceded the shooting, and even if Blake ignored a police command to stop, it's nearly impossible to imagine any way that his shooting was justified. (Morally, at least. Vanishingly few police are prosecuted or convicted for acts of violence.) Wisconsin, and Kenosha in particular, has a history of police violence, as does the United States. Governor Tony Evers, a Democrat, said in a statement:
Tonight, Jacob Blake was shot in the back multiple times, in broad daylight … While we do not have all of the details yet, what we know for certain is that he is not the first Black man or person to have been shot or injured or mercilessly killed at the hands of individuals in law enforcement in our state or our country.
Protests broke out in Kenosha shortly after Blake was shot. Police clashed with demonstrators, and fired tear gas to disperse them. The city declared a curfew until this morning, citing damage. That's unlikely to be the end of the matter, and it's easy to imagine protests spreading to other cities.
Anyone following the news for the past six months, and the past six years, has seen a numbing succession of these stories: An unarmed Black person, usually a man or boy, is shot by police. There's a good chance he has his back turned when multiple shots are fired. The incident is caught on video. There are demonstrations demanding reforms. Then some days or weeks later, in another city, the whole thing plays out again.
The long-standing problem of police violence burst back into the center of public debate in the United States almost exactly six years ago, when Officer Darren Wilson shot Michael Brown in Ferguson, Missouri, in August 2014. Yet despite the grim procession of cases that followed, the problem faded from the spotlight, overshadowed by the chaos of the Trump administration. Then, earlier this year, it reemerged, following the deaths of Taylor and Floyd, as well as the lynching by civilians of Ahmaud Arbery.
This happened despite—or maybe because of—the coronavirus pandemic. Video of a Minneapolis police officer nonchalantly killing George Floyd by placing a knee on his neck for nearly nine minutes offered a vivid and undeniable illustration of how law enforcement treats Black men. Americans largely stuck in their homes provided a captive audience.
The result was an explosion of support for Black Lives Matter—particularly in one segment of the population. Black citizens didn't need any epiphany; they were well aware of the issue. But white Americans seemed to suddenly recognize the problem. There were protests in the streets of American cities, in huge metropolises and remote villages. The demonstrations were not only unprecedentedly large but also unusually diverse.
Opinion polls captured surging support for Black Lives Matter, as well as increased belief that racial discrimination is a major problem in the U.S. and that police are more likely to use violence against Black people. Outrage crossed partisan lines, but it also produced a backlash against President Donald Trump. Even though racist sentiments have always been central to Trump's political identity, white voters who had been his most resilient backers panned the president's handling of the protests and of race.
Since then, however, change has stalled. Demonstrations have continued in some places, especially in Louisville, Kentucky, where Taylor was shot, and in Portland, Oregon, where the White House worked to provoke violent clashes with protesters for political gain. But street protests are hard to sustain over time, and political progress has proved challenging.
New federal legislation on police violence stalled out amid disagreements between House Democrats, who wanted a more sweeping law, and Senate Republicans, who favored narrower fixes. President Trump hyped an executive order, but it was narrow as well. A few state and local policy and legal changes have been enacted, but nothing matches the scale of the problem. In Minneapolis, where Floyd was killed, the city council voted by a wide margin in June to abolish the police department and start anew. But leaders never established what they meant or how it would work, and by this month, they had quietly delayed the plan.
Meanwhile, national attention drifted away. Police violence was a topic at last week's Democratic National Convention, during which Floyd's brothers spoke and led a moment of silence, though whether this is sincere focus from the party or lip service depends on the beholder. Polling shows that white support for Black Lives Matter has started to drop since the height of the summer protests, although it remains above pre-June levels.
The way the media cover events such as George Floyd's death and the protests that followed, and the way the white public consumes them, creates the impression that they are individual episodes—occurring within a context, to be sure, but ultimately with discrete start and end dates. In this conception, America had a reckoning over racial justice earlier this summer, and then it moved on.
Blake's shooting shows how that view falls short, though it also offers a chance to correct it. Even with attention moving on, and opinion polling reverting toward the mean, appalling incidents of police violence continue. Achieving racial justice, or even moving closer to it, requires a movement, not a moment.