The Military Doesn't Want to Get Involved
Political partisans are trying to benefit from the armed forces' popularity. But America's most trusted institution got that way by staying out of civilian affairs.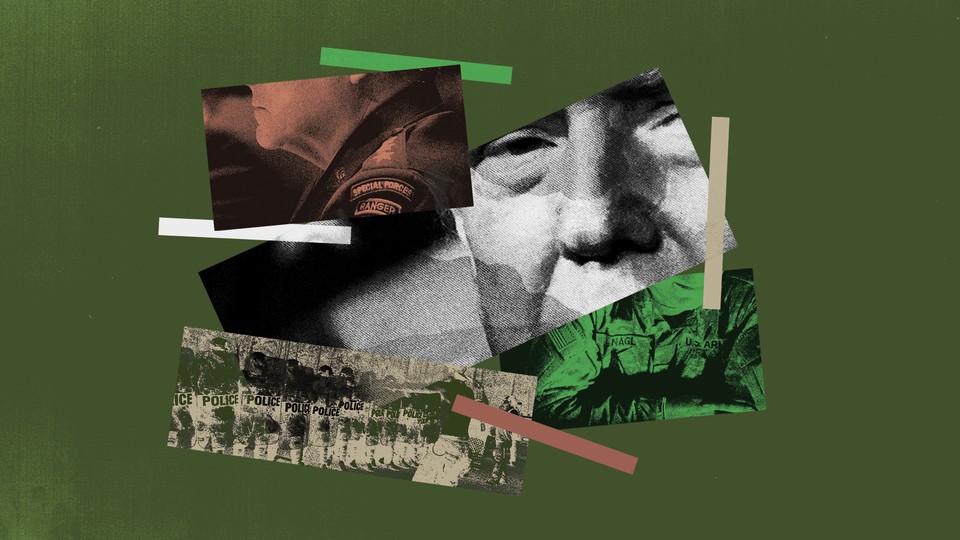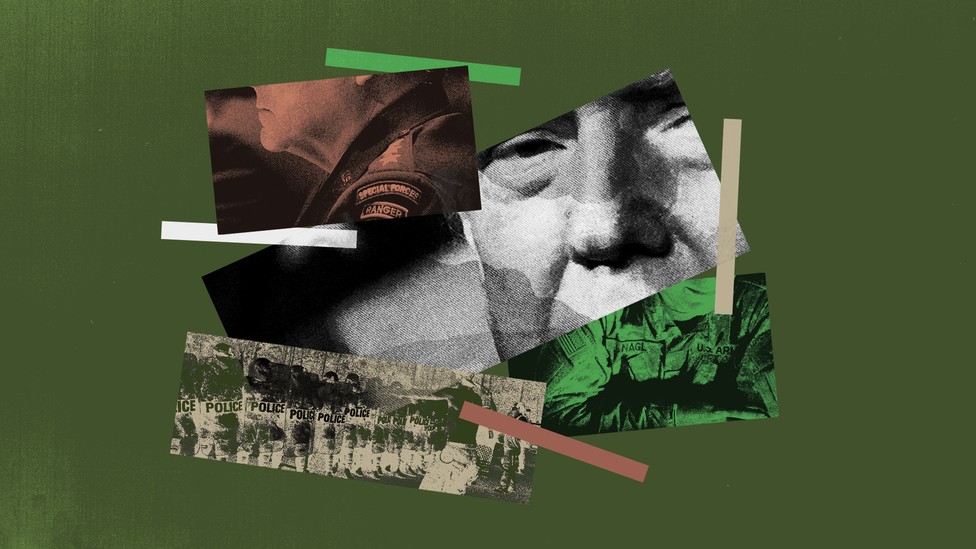 In this summer of crisis and political uncertainty, an unsettling number of people in civilian life are trying to get the U.S. military on their side. First, President Donald Trump brought along General Mark Milley, the chairman of the Joint Chiefs of Staff—dressed in combat fatigues no less—on a march from the White House to a photo op on the other side of Lafayette Square in June. Milley quickly and unequivocally repented. In his apology, the general said that, for members of the U.S. armed forces, staying out of politics "may be the most important thing each and every one of us does every single day."
But pressure is building against that norm. As part of Tuesday's proceedings for the Republican National Convention, Trump performed a naturalization ceremony in a video clip that also featured Marine guards and a uniformed aide. Two videos in last week's virtual Democratic National Convention featured uniformed current or former service members playing unmistakably political roles.
Far from insisting upon military neutrality in domestic affairs, some of Trump's critics are even appealing to the armed forces for help. In an open letter published earlier this month in Defense One, John Nagl and Paul Yingling, two retired Army lieutenant colonels, called upon Milley to issue orders removing Trump if he refuses to accept the outcome of the election.
All of these developments are dangerous. As the defense analyst and former Army officer Jim Golby and I have argued, the call to arms by Nagl and Yingling was both incendiary and impractical. Incendiary because, under the Constitution and federal statute, the country has processes for removing a president from office. And impractical because the chairman is the president's senior military adviser, but commands no operational forces (only 1,500 military personnel in Pentagon staff jobs).
For more than two decades, the U.S. military has been the most trusted institution in American life. In a Gallup poll earlier this year, 72 percent of Americans said they have a great deal of confidence in the armed forces.
What military leaders understand—and those advocating for our military to use its popularity to wade into politics do not—is that once the military consents to become a political actor, the public will consider it one. At that point, its standing will drop to that of elected officials, journalists, and the Supreme Court. A 2012 study by Golby, Kyle Dropp, and Peter Feaver for the Center for a New American Security found that political endorsements by retired military figures don't particularly increase public support for the cause or politician in question, but they do diminish the respect the public has for the military as an institution.
Military leaders' concern isn't for their own approval ratings; it is for the effect that such a drop in stature will have on recruiting, on cohesion in the ranks among service members of different political views, and on the relationship between military experts and the elected officials whom they advise while serving on policy councils.
That hasn't stopped political partisans from trying to draft off the military's popularity. One video at the Democratic convention showed a retired marine in military uniform endorsing Joe Biden at a veterans' event. Convention organizers unquestionably knew that the clip violated military norms, because it included a disclaimer that the appearance of individuals in uniform didn't constitute a Defense Department endorsement of Biden.
Another clip, included in the state-by-state roll call, showed two uniformed soldiers standing behind representatives of American Samoa's delegation. Although the video was intended to pay tribute to the distinguished history of military service by the territory's residents, it clearly violated Department of Defense restrictions on political activity in uniform. The same policy also extends to veterans.
The Department of Defense issued a statement reiterating its "longstanding and well-defined policy regarding political campaigns and elections to avoid the perception of DoD sponsorship, approval or endorsement of any political candidate, campaign or cause … Examples of prohibited political activities include campaigning for a candidate, soliciting contributions, marching in a partisan parade and wearing the uniform to a partisan event."
Every violation sets a bad precedent, but the temptation to involve the military in politics remains strong. Wading into the debate spawned by Nagl and Yingling's piece, the military sociologist Thomas Crosbie outlined six circumstances in which he advocated the military intervening in a disputed election, and lamented, "It seems unlikely that military leaders will ever feel empowered to take on that role."
Let's hope they never do. The professionalism that restrains the military from becoming a party to our domestic disputes is a central component of why the public loves them.
If politicians succeed in manipulating the military for partisan purposes, the American public's trust in the military will wane. The military should resist all such efforts. The discipline that keeps our military out of domestic politics is not only essential to the affection most Americans feel for U.S. troops, but also essential to their effectiveness as a fighting force.