Privatizing Airports Is a No-Brainer
Cities should sell their airports to close gaping budget holes.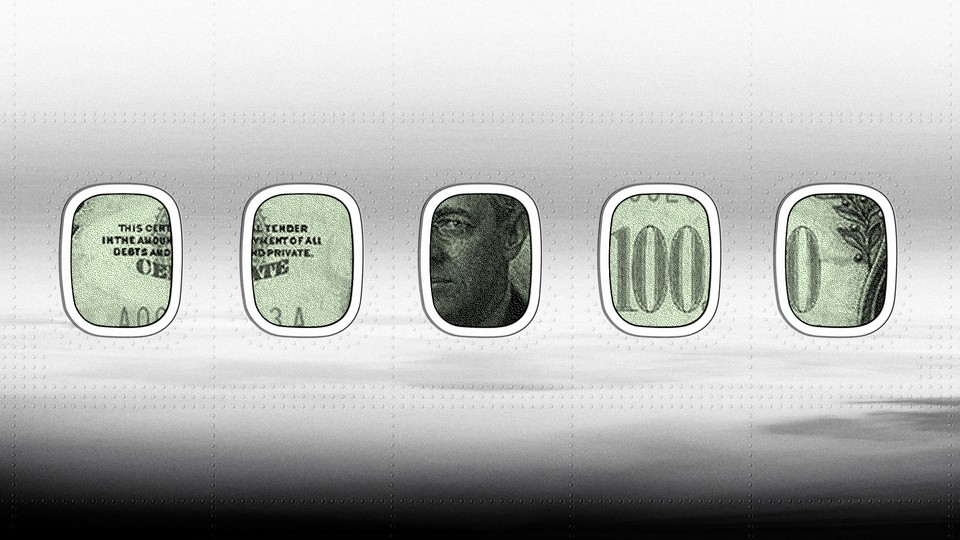 America's airports may be mostly empty now, but they're full of hidden potential—if local governments sell them. Yes, sell LAX and LEX and PHX and JAX. Put OKC and OAK on the block with DFW and MDW and more. U.S. cities spent billions building these airports, and although hardly anyone knows it, they're worth billions more on the open market.
That's money American cities need. This year, revenues have cascaded out of city coffers because of the economic crisis caused by the pandemic. Leaders are scrambling to respond. El Paso shut down its streetcars. Chattanooga backed out of buying a new fire truck. New York City is eyeing 22,000 public-employee layoffs after a long lockdown left the city $9 billion in the hole. Detroit, Dallas, Los Angeles, and many more have already furloughed workers and pared back the paychecks of those who remain on the job. In May, the mayor of Vicksburg, Mississippi, floated the idea of citywide bankruptcy.
Selling airfields is hardly a panacea, but some would fetch enough to allow cities to shore up their shaken balance sheets and, in certain cases, address some of the big issues they've been kicking down the road—decaying bridges, polluted rivers, crumbling school buildings. And the buyers are waiting, even during the pandemic.
"If any U.S. city wanted to do a deal for its airport, there'd be a line of investors down the block tomorrow," says DJ Gribbin, an infrastructure consultant who was the architect of the Trump administration's 2018 plan to repair America's aging roads, bridges, tunnels, and, also, airports. "There are literally hundreds of billions of dollars sloshing around investment markets wanting to invest in U.S. infrastructure today," Gribbin added.
Airports operate almost as two different businesses. On the aviation side, airports are like a nonprofit that's supported by the airlines. By law, whatever it costs an airport to keep planes and passengers moving in and out all year long must be offset, exactly, by fees paid by the airlines. If an airport spends $100 million on aviation, the airlines pay the airport $100 million.
The non-aviation side of the business—the part that's like a shopping mall with airplanes parked outside—can make a profit from rent paid by shoe shiners and coffee shops, or from parking fees and the like. Back in the good flying times of 2017, for instance, Dallas/Fort Worth International Airport (DFW) brought in $841 million in revenue from various rents and fees and reported $69 million in operating income (that's profit, basically).
But the cities of Dallas and Fort Worth, which spent at least $8 billion in today's money to turn a massive patch of prairie scrub into one of the world's biggest airports, didn't get one nickel of that. No city owner would have. The Federal Aviation Administration (FAA) does not allow local governments to use any money from non-aviation profits for anything other than reinvestment in the airports themselves. A city can't build a baseball diamond with the profits of its airport. It can just build more airport.
If privatization seems extreme or perhaps unsafe, consider that, under FAA rules, U.S. cities, counties, and other public entities can't actually sell off the runways, terminals, and land that make up their "commercial service airports," the kind that most of us use to catch a flight. What they can sell are long-term leases to let private companies operate everything at an airport. And the outside operators would still be beholden to the FAA and the Transportation Security Administration and various regulations applied to every U.S. airport. You won't be able to smoke on a flight out of Las Vegas just because McCarran International goes private.
So why don't governments jump at the chance? Local governments do get tax revenue from airports, which they can use for whatever purpose they wish. That's often not a huge sum, though. In 2017, when DFW reported $841 million in revenue, the city of Dallas—which owns 64 percent of DFW to Fort Worth's 36 percent—got just $7.1 million from taxes generated at the airport. That money would barely have covered the city's $6.9 million outlay for municipal-court administrative services that same year. Incidentally, privatization agreements can easily be structured to deliver municipalities money post-sale, in the form of revenue or profit sharing with private operators. A privatized DFW sharing just 2 percent of revenue in 2017 would have netted the city of Dallas both its $7.1 million in taxes and $10.7 million in revenue sharing.
Governments also hold on to airports because they see them as economic-development tools that provide indirect boosts to their bottom line—assets that attract businesses and tourists, for instance. That's certainly an argument in favor of building an airport. Once an airport is built, however, those indirect benefits will continue no matter who's in charge of daily operations.
Globally, airport privatization has been going on since 1987, when Margaret Thatcher put London's Heathrow on the block. Today, more than 100 major airports around the world are privately run. In 2018, three-quarters of all passenger traffic in Europe and 66 percent of all passenger traffic in Latin America and the Caribbean passed through privately run airports, according to Airports Council International.
In the United States, privatization was legalized for a limited number of airports in 1997, and in 2018, Congress opened privatization to any U.S. airport. But only one major passenger airport— San Juan's Luis Muñoz Marín International—has been privatized, and a few other airports have privatized certain terminals (including, recently, the newly reconstructed Terminal B at New York's LaGuardia). Terminal-specific operational leases are fine as far as they go, but they don't come with the massive, up-front paydays that are part of a full airport lease.
The rest of the world knows what the U.S. doesn't: that privatization pays. A lot. "It would, candidly, surprise most people in local governments in the U.S. to find out what their assets are worth," says Tim Bath, a managing director at PJ Solomon, a financial advisory firm in New York and Houston that works with operators and investors on airport-privatization deals around the world.
Big, public pension funds are among those ready and eager to invest. They want to put their money into public infrastructure such as airports and toll roads because those assets pay out steady returns over decades. "The level of appetite for U.S. airports and other infrastructure is as significant as it was prior to COVID-19, and the amount of investable capital hasn't gone anywhere," Bath told me.
So how much coin are we talking about? John Schmidt, an attorney with Mayer Brown in Chicago, who represented the city of Chicago in its 2008 attempt to privatize Midway Airport, told me that private buyers abroad have cut up-front checks to an airport's public owner that are worth 17 times the airport's operating cash flow. Sometimes more.
Let's quickly do that math for Las Vegas's McCarran International. In 2018, McCarran had $300 million in "net cash provided by operating activities." So 300 x 17 = 5,100. That means McCarran could well generate an up-front payday of $5.1 billion for Clark County. That's almost five times the amount of money the county spends in a typical year. And Clark County is facing down a $1 billion deficit because of the economic collapse created by the COVID-19 crisis.
Apply similar calculations to the various types of airports around America, and you could see the following up-front payments, according to multiple infrastructure experts:
Millions of dollars for very small airports, such as Vicksburg Municipal;
Hundreds of millions for small international airports, such as the 20-gate Palm Springs International;
$1 billion to $3 billion for midsize airports, such as St. Louis Lambert International; and
$5 billion up into the tens of billions, perhaps even $20 billion, for the biggest U.S. airports, such as DFW.
Think about what that money could do. With hundreds of millions of dollars, Palm Springs could patch this year's $40 million budget gap and still have gobs of money left over. With its share of $10 billion, the city of Fort Worth could give its citizens a four-year property-tax holiday and still pay for everything in its $1.8 billion budget. With $1 billion, the city of St. Louis could literally change the landscape in many mostly African American neighborhoods of North St. Louis that are now dotted with abandoned buildings and vacant lots.
That's exactly what Adolphus Pruitt, the president of the NAACP's St. Louis chapter, wants to happen. In June, the NAACP and the city's carpenters' union got a first-of-its-kind airport-privatization referendum on St. Louis's November election ballot after the mayor, Lyda Krewson, abruptly ended a two-year privatization process there last December. (Krewson declined to comment for this story.) The petition Pruitt helped push through calls for privatizing St. Louis Lambert International in a sale that would net St. Louis no less than $1 billion in up-front cash. "Privatizing the airport," Pruitt says, may be the only way for the city "to tear down all those abandoned buildings and remediate the environmental issues involved with all those vacant lots in North St. Louis. We couldn't afford to fix those things before the pandemic, and we certainly can't afford to fix them now. But I'm willing to leverage the airport to get this done."
To begin privatization, municipalities simply alert the FAA and fill out some paperwork. Then the federal government will send them up to $750,000 to defer some initial costs. The municipalities must hire lawyers and accountants, and set up meetings with private operators, financiers, and the airlines—who effectively have veto power over privatization deals under federal law—before the framework of a deal can take shape. That part is not so easy. "These are really complex issues that take a lot of highly detailed negotiating over months if not years," says Steve Sisneros, who heads real-estate operations for Southwest Airlines.
Contracts can run on for 300 pages or more. Line items can include the exact percentage of airport employees who must be unionized, as well as pay and staffing minimums charted out over decades. Local politicians have so far been hesitant to tackle that level of complexity, because it also means dismantling their own, already established, internal airport authorities. They're also wary of accusations from public-interest groups that airport privatization equates to giving away the local crown jewels.
"There's no magic money in privatization," says Donald Cohen, the executive director of In the Public Interest, a group that opposes most privatization of public assets in the U.S. "These big, lump-sum payments are going to be paid back by taxpayers or users through higher passenger facility charges, parking, or whatever the airlines pay."
Private airport operators definitely want to generate a lot of money from parking and coffee shops and everything else fliers pay for. But they face the same federal caps on passenger fees as do public owners of airports, and airlines can negotiate fixed fees over time. So the operators' profitability relies on getting more people to move through their airports, and giving them more ways to spend money while they're there—by, say, wooing high-quality restaurants and shops.
The one American example of privatization is a success story. In 2013, a private operator took on a 40-year lease of San Juan's Luis Muñoz Marín International. Prior to the deal, the airport was dank, dark, debt-ridden, and infamous for terminal ceilings that leaked during rainstorms. Even so, Asur, a Mexico City–based airport operator, and its financial backers paid the public owner, the Puerto Rico Ports Authority, $615 million in up-front cash. That helped the troubled Ports Authority pay off much of the $800 million debt it was carrying at the time. Asur also agreed to give the Ports Authority a share in revenue, up to 10 percent, during the term of the lease.
After taking over, Asur spent $1.4 billion—part of which came from tapping the same passenger fees that publicly owned airports can use for expansion—to upgrade all aspects of the airport, reopened two older terminals (one is a hub for JetBlue), and added 118,000 square feet of glowing retail space, according to a spokesperson for Asur. Passenger traffic has surged: 3.5 million more people passed through the airport in 2019 than did in the year before it was privatized.
What happened in San Juan is not atypical for privately run airports globally, and experts like John Schmidt say many more operators and the investors who back them are ready to try duplicating that success at other U.S. airports. "There is a lot of money out there for cities who need it right now," Schmidt said, "and that can both help airlines and make better airports."
So what are we waiting for?