We Flattened the Curve. Our Kids Belong in School.
Communities that worked hard to beat the coronavirus should reap the benefits of doing so.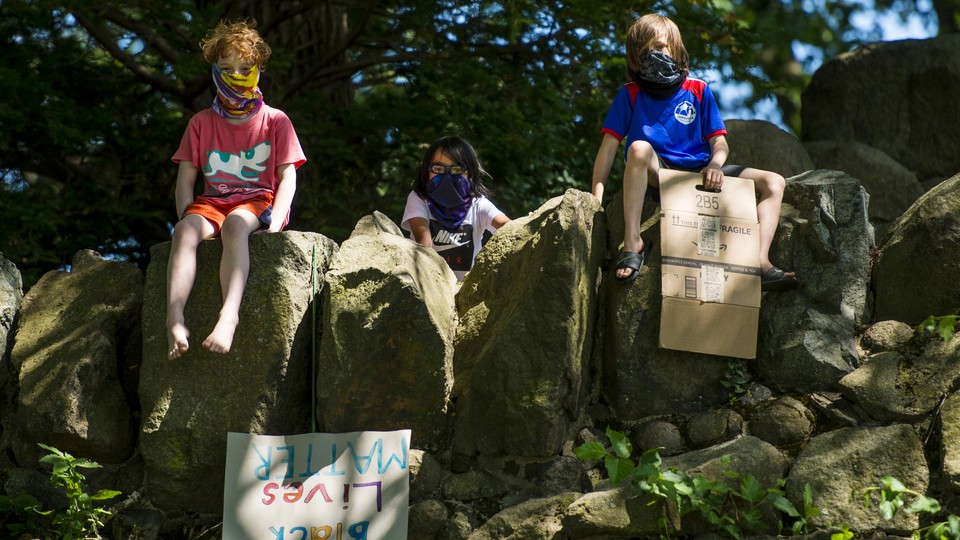 Because the coronavirus is still spreading rapidly in much of the country, not every school district can bring children and teachers back safely and equitably this fall. But among those that can is Somerville, Massachusetts—the city of about 80,000 just northwest of Boston where my family and I live. After a biotech conference in late February spread the coronavirus in the Boston area, public officials in Somerville reacted quickly. The city shut down bars and required masks before most other communities did. Residents stayed home. Playgrounds closed. "Avoid playdates," urged Mayor Joe Curtatone, a progressive who prides himself on making data-driven decisions about the problems that test the city and its residents. We knew our children felt lonely and confused, and still we buckled down.
As the parent of two young children, and as a pediatrician and a child psychiatrist, I saw every day what isolation does to kids. As the surge in infections, hospitalizations, and deaths hit the Boston area this spring, families such as mine, in Somerville and around the state, did our part to save lives by slowing the spread of COVID-19. But after bringing coronavirus transmission down to relatively manageable levels, many communities, including mine, are not yet reopening schools, no matter how essential in-person education is to children's well-being and no matter what the numbers show. A popular yard sign in Somerville reads, in part, Science is real! That principle should apply not just when shutting everything down, but also when deciding that—at least for the most vulnerable children—life can go on.
By July, data from the state public-health department showed that Massachusetts had achieved the vaunted goal of flattening the curve. As of this week, the test-positivity rate in Massachusetts hovered around 2 percent—a sign that testing has been adequate to detect new infections (by comparison, Texas is at about 24 percent). Cases have fallen enough that leaders in the Massachusetts chapter of the American Academy of Pediatrics, the infectious-disease department at Massachusetts General Hospital, and the Harvard Global Health Institute have argued that, subject to reasonable precautions, schools in my state can reopen, starting with the classrooms serving the most vulnerable learners.
Even so, our school system—after originally proposing a hybrid of distance learning and in-person classes—declared that classes would start fully remote, including for kids with disabilities, English learners, and the very youngest children. Other Massachusetts districts swiftly followed suit. These moves raise urgent questions: Why do communities trust health experts when they urge the public to wear masks and stay home, but not when they call for sending children back to school? Why did everyone do so much work in April and May if our youngest citizens, whose vulnerability to threats other than the coronavirus is so great, can't reap the benefits in the fall?
When the surge in hospitalizations arrived in the Boston area in April, the health-care system mobilized. To clear beds, the hospital where I work shunted children to other pediatric hospitals. Our pediatric ICU became an adult ICU; our pediatric floors were repurposed for adults stricken with COVID-19. Pediatric nurses and residents bravely performed their duties in the face of uncertainty and exhaustion.
I was relieved to be able to see patients remotely, though I felt guilty for being able to do so. For weeks, my family, like most in Somerville, remained at home. My children began to fray. Afraid to be alone, afraid to fall asleep, they were fragile and demanding. We were not alone. By early May, I was physically back in the hospital, where I saw socially isolated children in true crisis. Children with disabilities who depend on specialized schools for services came to the emergency room with aggressive behaviors too dangerous to be managed at home. Other children showed escalating symptoms of anxiety and depression. Suddenly, pediatricians and child psychiatrists were noting many more eating disorders. I saw very young children who were having suicidal thoughts and adolescents who had acted on such impulses and nearly succeeded. In explaining what was happening, parents and kids alike invoked feelings of loneliness and separation. "Being at home went okay for a while," the parent of a previously healthy middle-school student told me, "but she really started to lose it in May."
Children, of course, are not the only ones who have suffered under stay-at-home orders. In their own ways, grandparents and other elders, small-business owners and their employees, and caregivers are all under strain. Many essential workers and their families, disproportionately people of color, live in areas hit viciously by the virus. Even people without visible signs of emotional distress have undergone latent suffering that may not surface for years.
But we persevered, understanding that this suffering was necessary and would help us in the future. Somerville was in even better shape than our state as a whole. The city had been a leader in COVID-19 crisis management, prioritizing free testing and contact tracing, and delaying reopening parameters weeks longer than everyone else. The payoff was a healthier, safer environment for school reopening. When the state issued school guidance in July, our mayor declared early that he would bring children back only with more stringent precautions, including six-foot distancing instead of three. These were solid, evidence-driven decisions that, at least for me, inspired confidence. I was surprised two weeks later when, in virtual school-committee meetings and town halls, online letters and Facebook groups, almost all Somerville teachers and many parents disagreed. Nothing was worth the risk. Children could not safely return to school.
America's continuing national catastrophe surely colors the decisions local authorities are making. The discussions between teachers' unions and school committees in New England have been occurring as schools and camps inappropriately reopened in regions of the country with uncontrolled spread, where science was ignored and the curve was never flattened. Leaders there had no business bringing children back. They did it anyway. Egregiously bad plans—at residential camps in Missouri and Georgia, at schools in Indiana—had predictably bad outcomes. Meanwhile, in states such as mine, with controlled spread and a broad acceptance of public-health measures, many parents, teachers, and other members of the public surveyed the headlines and decided that, for children, staying home was still safer.
"One death is too many," one distressed teacher said at a school-committee meeting. I won't argue with that. But physicians are trained to weigh the risks and benefits not just of treatment but also of nontreatment. To focus only on the downside of reopening is to ignore the significant risks of staying closed: mental illness, hunger, physical inactivity, undetected child abuse, the trauma that results from witnessing violence. Is one death from suicide too many? From head trauma caused by an abusive caregiver? From an accident that befalls an under-supervised preschooler?
In general, the risks of serious COVID-19–related illness for children appear to be very small—lower, in fact, than more familiar risks. I know my own children face a far greater chance of harm when I strap them into their car seats or bring them near a pool. We still drive. We still swim. The other concern is that young children without symptoms may spread the coronavirus to adults. But in places where testing capacity is strong and the overall rate of transmission is low—as it is in Somerville, according to the state health department—the risk of an infectious child being present in any given school is quite small, and communities can move forward.
When schools stay closed, the wrong things reopen. Most of Massachusetts, excluding Somerville, entered the third phase of its reopening in mid-July. While the debate raged on about how likely schoolchildren are to transmit the coronavirus, customers returned to casinos, gyms, and indoor restaurant tables. The trend in COVID-19 hospitalizations reversed its downward direction and began ticking upward about two weeks after. The resurgence of new cases, now partly subsided, was sad and predictable.
It was also deeply unfair. Adults should grow up and postpone their pleasures so that children can have things they need—structure, community, friends, food security, social and emotional enrichment, health and safety monitoring, and, yes, education. A steadfast refusal to reopen schools doesn't mean that society will take no risks at all; it just means that the desires of adults, such as gym and casino patrons, will take precedence over the well-being of children.