Pro Baseball Is Courting Disaster
Financially motivated wishful thinking has collided with reality.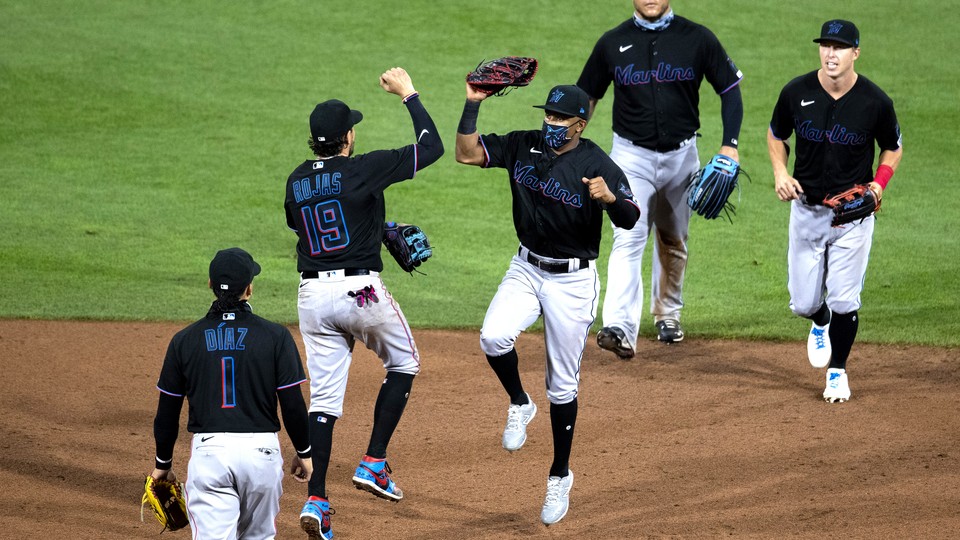 Back in March, I wrote that the NBA should cancel the rest of its season because trying to play sports while under siege by a global pandemic seemed, frankly, ridiculous. There were too many variables, and so much was still unknown about the virus.
It turns out I was worrying about the wrong league. Pro baseball's season is already in serious trouble even though it started play only on July 23. And with the NFL and college football facing some of the same hurdles as Major League Baseball, the NBA's success is especially striking.
The NBA resumed its season July 30, weeks after bringing 22 teams into an elaborately planned, tightly monitored isolation zone at the Walt Disney World Resort in Orlando, Florida. So far, pro basketball's "bubble" has worked. No players have tested positive since July 13.
Major League Baseball—without a bubble—couldn't make it two full weeks without a major coronavirus outbreak. Six teams have been sidelined because of the outbreak, and as of yesterday more than 20 games had been postponed. On Saturday, MLB Commissioner Rob Manfred strongly rebuked players while reiterating his commitment to finishing the season.
"We are playing," Manfred told ESPN. "The players need to be better, but I am not a quitter in general, and there is no reason to quit now. We have had to be fluid, but it is manageable."
It's manageable if you're willing to accept that COVID-19 outbreaks will become as routine in sports as a ground ball to third. It's manageable if you don't mind that athletes—not just highly paid professionals but also, in the case of college football, amateurs working for free—will be risking their health primarily to feed the billion-dollar economies they've created. And, of course, to entertain.
The coronavirus crisis now developing in pro baseball is what happens when financially motivated wishful thinking is stamped out by unavoidable reality. The odds of MLB being able to have a season free of COVID-19 were minuscule, especially since the players are on the road traveling. Even when they're home, they are tasked with behaving wisely and avoiding situations that will make them vulnerable to contracting the virus. It also didn't help that the players, owners, and Manfred all seemed to dismiss the idea of playing inside a bubble pretty quickly, because it seemed inconvenient.
What would be far more inconvenient, and embarrassing, is if the season had to be canceled because baseball's approach failed spectacularly. So far, 21 members of the Florida Marlins organization—18 of whom are players—have tested positive for the coronavirus. Six players from the Cardinals had positive tests.
The Marlins, according to an MLB internal investigation, were supposedly lax in following safety protocols and exercising common sense. While visiting Atlanta for an away game, the players reportedly went out to enjoy the Atlanta nightlife. Even though Major League Baseball's operations manual discourages players from going to bars and large gatherings, some of the Marlins apparently decided to do so anyway.
While the players do bear some responsibility, they are operating within a framework that is bound to fail. What's happening in Major League Baseball is just a microcosm of what's happening across America. This country's response to the coronavirus has been disastrous because of poor, incompetent leadership at the national and state levels. More than 4.6 million Americans have become infected with the coronavirus. Basic safety precautions have been manipulated into a political issue. What hope does sports have in trying to coexist with this pandemic?
The NBA's example certainly has fooled people in some other sports into thinking that coexistence is easy. But the NBA's success has to do with exhaustive preparation, extraordinary leadership from Commissioner Adam Silver, and a lot of luck. The NBA reportedly spent $150 million to develop its bubble. While that won't make the projected loss of $1 billion in revenue related to ticket sales sting any less, pro basketball has proved that there is an effective way to play sports in this pandemic if you're committed to safety.
Creating a plan for a restart was likely simpler for the NBA because, when Silver suspended the season in March, the playoffs were only about a month away. The league didn't have to manage a full season's worth of games. Selling players on staying inside a bubble at Walt Disney World for a few months was easier than if they had to be away from home for more of the year. Aside from one player who visited a strip club, ostensibly to pick up lemon-pepper chicken wings from its kitchen, and another who went rogue to collect from a delivery service, the NBA hasn't had any major hiccups. The bubble strategy also has worked for the WNBA, the NHL, and the National Women's Soccer League, which held a month-long tournament and didn't report a positive test. Meanwhile, the NHL set up bubbles in Toronto and Edmonton.
But trying to operate a sports league outside a bubble adds much more uncertainty, and it seems a given that any league that operates without a bubble will have to deal with infected players at some point.
NFL players are reporting to training camp this week, meaning thousands of players will have to be kept healthy. Already, a number of players have been placed on the league's Reserve/COVID-19 list, which was created to identify the players who have tested positive for the coronavirus or been exposed to someone who has been infected. As of Sunday, 84 players were on that list. The Philadelphia Eagles announced on Sunday that head coach Doug Pederson had tested positive for the coronavirus, making him the second NFL head coach to have contracted it.
The paid professionals who navigate the complications of playing their sport during a pandemic at least share in the financial rewards. Far worse off are college football players—who lack the union protection and financial resources of their professional counterparts. These student athletes will be jeopardizing their health because so many schools have become completely dependent on the income these unpaid players generate.
The Washington Post recently obtained an audio recording of a conversation between Southeastern Conference leadership and players that revealed the players were told by one conference official that outbreaks and positive tests were inevitable. "We're going to have positive cases on every single team in the SEC," the unidentified official said. "That's a given. And we can't prevent it."
The SEC generated $721 million in revenue in its 2018–19 fiscal year, and football is by far its most lucrative sport. The conference and its member schools have an obvious reason to push through this pandemic to play football. No wonder the players are having a hard time trusting the conference's leadership to look out for their best interests. During the call, many of the players questioned the conference's safety protocols and pressed officials on their lack of answers.
However, college football players are beginning to connect the dots. Several football players from the Pac-12 Conference have threatened to opt out of the season unless certain inequities are addressed. They wrote a list of demands, which includes a variety of safety protocols and the distribution of 50 percent of sports revenue to college athletes. If they're going to risk their health and it's ultimately their labor that powers so much of the higher-education economy, why should the players be the only ones excluded from making money?
Regardless, the sports that choose to operate outside of a bubble will be jeopardizing human health and human lives. Resuming sports in this way isn't a calculated risk. It's a willful stubbornness that defies reality.
In early July, the Washington Nationals reliever Sean Doolittle told reporters, "Sports are like the reward of a functioning society." If that's the measuring stick, this country hasn't earned anything.