NBA Players Put America on Notice
They want to protect Black lives, and threatening an industry's money and the public's entertainment was the only option left.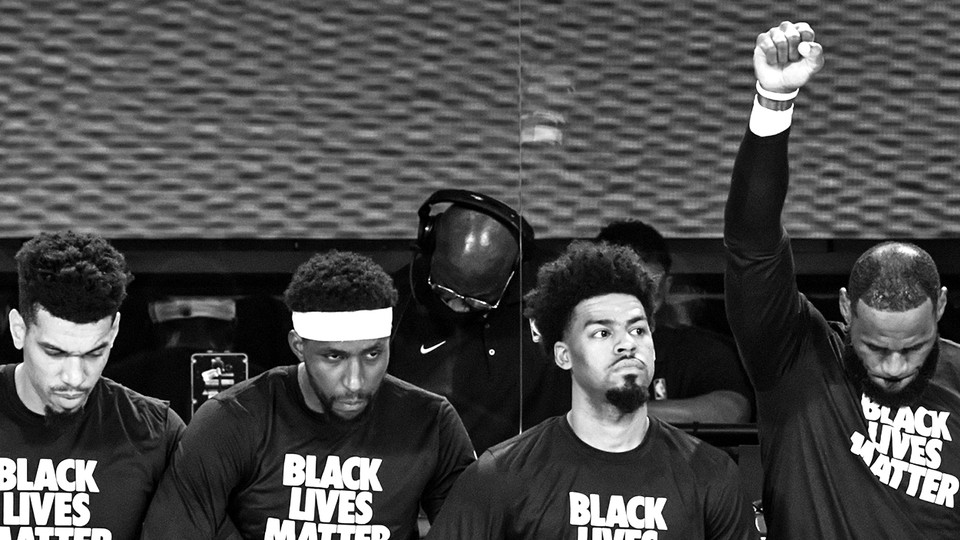 Updated at 2:28 p.m. ET on August 27, 2020.
Back in June, before the NBA began playing in its Florida bubble, the Brooklyn Nets star Kyrie Irving was passionately opposed to continuing the season. The death of George Floyd under the knee of a Minneapolis police officer the previous month had prompted a national upheaval over racial injustice. On a conference call with more than 80 players, The Athletic reported, Irving said he didn't feel right playing professional basketball under the circumstances, and he believed that sports would only be a distraction from pursuing equality.
Some other players criticized him for being too extreme, but Irving, a six-time All Star and the NBA players' association's vice president, turned out to be right. Last night, the entire slate of NBA playoff games was postponed after the players refused to take the court in protest over the treatment of Jacob Blake, a 29-year-old Black man who was shot seven times in the back Sunday by a Kenosha, Wisconsin, police officer. The NBA players' action began with the Milwaukee Bucks, whose home arena is about 40 miles north of Kenosha. The game was then shelved when the Orlando Magic refused to accept a win by forfeit; other scheduled games were quickly postponed, too.
The possibility loomed that the last NBA game of the season had already been played. At an intense meeting last night, the Los Angeles Lakers and Clippers reportedly voted against playing. Without the NBA's biggest star, the Lakers' LeBron James, the season might not have been able to continue. But the players decided today to continue the season, and games will likely return this weekend.
On social media and cable news, some fans and commentators heaped scorn upon the players for walking out in the first place, depicting them as selfish athletes who were only throwing a tantrum for the sake of virtue signaling. "The NBA players are very fortunate that they have the financial position where they're able to take a night off from work without … consequences to themselves financially," the White House senior adviser Jared Kushner declared this morning on CNBC.
Kushner played right into the narrative that athletes, because of their social and economic status, are a privileged class with no right to complain. It's an ironic stance for Kushner, who grew up wealthy and gained political power because his father-in-law is the president. But the idea of telling Black athletes—or any prominent Black person—to be grateful is almost as old as racism itself.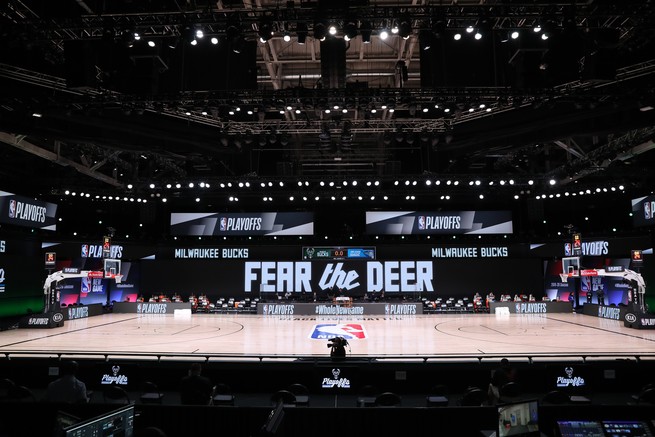 What critics like Kushner ignore is that the NBA is a predominantly Black league, and that just because its Black players are professional athletes, that doesn't protect them from police violence and harassment.
For instance, the Houston Rockets guard Thabo Sefolosha had his leg broken by New York City police during an encounter outside a nightclub in 2015. Sefolosha later won a $4 million settlement from the city.
In 2018, Milwaukee police confronted the Bucks' small forward Sterling Brown in a Walgreens parking lot. Officers used a Taser on him, handcuffed him, shoved him to the ground, and pulled a gun on him. Brown filed a federal civil-rights lawsuit accusing Milwaukee's police department of unlawful arrest and excessive force. He refused a $400,000 settlement. "I want more than just money," he wrote recently in The Players' Tribune. "I want cops to show respect and to be held accountable when they step out of line, especially in the neighborhoods they are supposed to serve and protect every day. If they kill a man, I want them to receive the same punishment that another guy on the street would." Brown also lamented that until the release of body-camera footage supporting his account, "most people assumed I was just another Black man who got aggressive with the police."
The players are all too aware of the terror Black people have experienced at the hands of the police. They also know that because of their tremendous wealth and visibility, they are in an ideal position to speak for Black men and women who don't have the same advantages. Kushner may not understand the responsibility that NBA players feel for their community, but other athletes clearly did.
The impromptu strike touched off an unprecedented show of solidarity across the world of sports. The WNBA opted to postpone all of its games, too. Major League Soccer postponed all but one match. In professional tennis, Naomi Osaka announced on Twitter that she was pulling out of her semifinal match at the Western & Southern Open in New York today. In Major League Baseball, the Milwaukee Brewers postponed their game against the Cincinnati Reds. The Seattle Mariners and San Diego Padres also didn't play. And several MLB players—including the Chicago Cubs right fielder Jason Heyward, and the St. Louis Cardinals' Dexter Fowler and Jack Flaherty—decided individually to bow out of games.
This was a historic act. Black athletes—and some allies of other races—sent the message that America doesn't get to enjoy their talents if it can't respect Black people as human beings.
In hindsight, the strike was almost inevitable, because many inside the NBA bubble in Orlando were growing more and more outraged over what was happening to Black men outside it. The day after Blake was shot by police, the Bucks point guard George Hill was so visibly frustrated that he refused to answer a single question about the Bucks going ahead 3–1 in their series against the Magic. Coming to Orlando "just took all the focal points off what the issues are," Hill told reporters.
Late Tuesday night, after his team beat the Dallas Mavericks by 43 points, the Los Angeles Clippers coach Doc Rivers, who is Black, wasn't thinking about what had happened on the court. With his eyes full of tears, Rivers declared, "It's amazing why we keep loving this country, and this country does not love us back."
Hill, Rivers, and others were mentally exhausted, and their mood these past few days could easily describe how much of Black America feels right now. Players truly believed that they could use their time in the NBA's bubble to continue to raise awareness about racial injustice. They have worn uniforms with racial-justice slogans and T-shirts that say Black Lives Matter played on courts bearing the same message, and often steered interviews away from basketball to talk about issues such as voter suppression and police violence.
But after seeing Blake critically injured in front of his three children, something broke inside these players. Making matters worse, two of the people protesting police violence in Kenosha were shot and killed, apparently by a vigilante. (A 17-year-old suspect is now in custody.) Rather than blaming the shooter for the deaths, the Kenosha police chief, Daniel Miskinis, insisted yesterday that the protesters had created the problem by breaking curfew. The entire situation apparently enraged James, who tweeted, "WE DEMAND CHANGE. SICK OF IT."
Despite the potential financial risks, the players were right to explore whether they could grab America's attention by withholding their services. Had the NBA players opted to carry out a long-term strike, just imagine what that might have looked like: They play in cities that depend on the revenue they generate. Perhaps upon feeling the financial strain, officials in those cities might have been more motivated to reimagine their police force. Perhaps NBA owners might have been so bothered by losing money that they would have used their power and connections to put pressure on the right people to change the status quo. An extended strike also would have put pressure on NFL players to act. Pro football is by far the most popular sport in America. Nearly 70 percent of its players are Black. If Black NFL players followed the NBA players' lead, a big chunk of the sports economy would be made contingent on racial progress.
At the very least, this week's historic disruption shows that Black players should leverage their talent to promote change at every possible opportunity. They've tried to sweet-talk America into caring about racial injustice, but the litany continues. After George Floyd, a Jacob Blake was only a matter of time. After Blake, someone else is likely to come next. When a country doesn't respect Black lives, it can't expect Black athletes to hold back their anger.