Trump Shows How Little He Cares for His Most Fervent Defenders
I was a mail carrier in Kentucky. Rural America needs the United States Postal Service, and yet the president's administration keeps attacking it.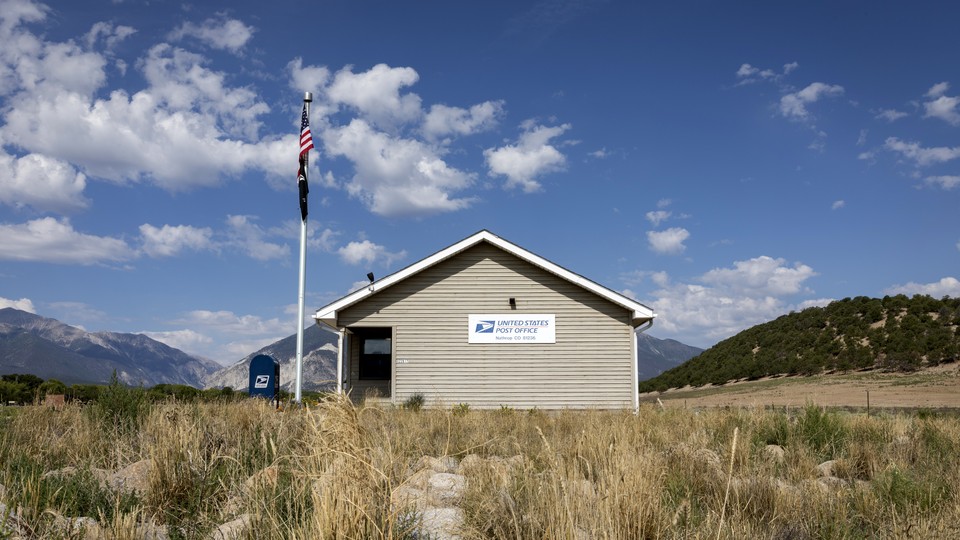 When I worked as a rural mail carrier in the hills of southeastern Kentucky in the early 2000s, my route snaked along the most mountainous parts of the county. I forded creeks and climbed steep dirt roads. Sometimes I'd have to drive for five miles to get to the next house. I delivered everything, including cages full of baby chickens and new sets of tires. I saw the joy that a parcel of books, clothing, or music brought to people. For so many on my route, the United States Postal Service was a lifeline, the way they got their medicine, checks, and much more.
Now Americans all over the country are reporting delays in sending and receiving mail, as Louis DeJoy, the new postmaster general, cuts back on overtime and decommissions mail-sorting machines and collection boxes. During Senate hearings with DeJoy yesterday, Rand Paul, Kentucky's senator, declared that people living "20 miles down a dirt road" shouldn't get service more than twice a week, and pushed for fewer postal jobs. He should say that to the people I know whose lives and livelihoods depend on the mail.
In Tennessee, folks tell me that their prescriptions are up to two weeks late. One woman in the coalfields of Virginia told me that her son's Social Security check was more than three weeks late. Rural Wisconsinites have been fighting the delays. In Montana, the governor got involved to stop the USPS from removing collection boxes.
At least 21 states have threatened to file federal lawsuits to stop DeJoy, a Donald Trump mega-donor, from changing mail procedures. Recently, DeJoy, who has said that decommissioning machines is a "normal process," indicated that he would delay any changes until after the election. In his testimony before the Senate yesterday, DeJoy said he believed in the efficiency of mail-in voting and was committed to adopting procedures that "advance election mail, in some cases ahead of first-class mail." These are small victories. However, I can't stop thinking about the broader implications of DeJoy's actions, as well as Trump's recent threats of withholding additional funding from the USPS. Trump has made no secret of his disdain for cities and, in particular, the urban poor, who are disproportionately people of color. He embraces rural areas, where some of his most fervent defenders live. But time and time again, he and his administration show that they don't care about the people who live here.
I saw the best and worst of people along my mail route. Some of my customers left me treats on their porch—tomatoes plucked from their garden, still warm from the sun. On the hottest days, one lady watched for me to come so she could give me an ice-cold glass of Kool-Aid. More than once, people along the route banded together to push me out of a ditch I had slid into because of icy winter roads. The job wasn't always idyllic. Young pranksters posed a dead copperhead in a mailbox. They hid—badly—behind a clutch of beech trees so they could hear me let loose a string of expletives when I opened the lid. Once, to sign a registered letter, a drunken man came out onto his porch clad in absolutely nothing except a pair of red cowboy boots. Guns were pulled on me twice: once by a man under mental duress and another time because I snuck into a cornfield for a restroom break, not realizing that it was also a pot patch.
The customers I got to know best were older and lived on the most remote sections of the route. Once a month, I stopped at one woman's house to write out payments for her bills on the money orders that all carriers had with them. Palsy had rendered her own handwriting unreadable. "I don't trust banks," she often said. A retired coal miner, struggling with black-lung disease, waited at the mailbox for his prescriptions. And many people who had worked hard their entire life couldn't go to the grocery store until their Social Security checks arrived in the mail.
Republican critiques of the post office are nothing new.  They've lobbied to defund and privatize it for decades now, demanding that it be profitable even though it is not a business, but a government service—its existence authorized by Article I of the Constitution. In 2006, George W. Bush and the Republican-led Congress landed a devastating blow to the USPS when they pushed through the Postal Accountability and Enhancement Act, which required the agency to pre-fund retiree benefits.
However, never before has the USPS been under such blatant attack. President Trump, who called the Postal Service a "joke," has even admitted his ulterior motives: He wants to slow the mail not only by withholding additional funding but also by encouraging Americans to not trust mail carriers with their ballots. In an interview with Fox Business, he admitted that he was not giving in to Democrats' demands for further USPS funding in the latest COVID-19 relief bill, because withholding it would help him suppress mail-in voting. "Now, if we don't make a deal, that means they don't get the money," he said. "That means they can't have universal mail-in voting; they just can't have it." He has long made the unproven claim that mail-in voting leads to widespread voter fraud, which many of his supporters echo.
A study by the American Academy of Political and Social Science found that more than 63 percent of voters in small towns and nonmetropolitan areas supported Trump in the 2016 presidential election, and that his largest vote shares came from the most rural areas. Yet the large majority of his economic and tax policies have benefited wealthy people and their communities instead of those living with higher poverty levels in less populated areas.
Trump's budget for 2021 alone is a testament to the way he feels about small towns and rural areas, where people of all demographics live (the notion that only poor, straight  white people live in these areas is wrong). He has targeted housing programs and community-improvement plans pivotal to revitalizing the area. The budget includes cuts to crop, livestock, and conservation programs—all of which would greatly affect the rural economy—as well as slashes to support for rural transportation and infrastructure and to funding that would expand broadband access. Trump's war on the environment directly ravages rural areas, where the largest swaths of natural land and wild waterways still exist. He has also reduced funding for flood-prevention programs despite the widespread increase of flooding in rural areas, which contain most of America's farmland. Much to my dismay, this seems to have changed few minds in the region.
This past Sunday, I drove my old mail route. All these years later, I still remembered every curve, every rise and fall. It's changed very little in the past couple of decades, except for a few more houses and a couple of places where the road has been widened. The drive was beautiful, with glimpses of the dark-green waters of the Laurel River, kudzu that crept down the cliffs and overtook the shoulders of the road, and wide meadows bobbing with black-eyed Susans. Brick houses sat side by side with trailers, most of the homes surrounded by meticulously mowed yards with swing sets, inflatable swimming pools, and gardens bursting with tomatoes and beans. In many of the yards, I also saw flags or signs proclaiming devotion to Trump, and not one in support of his opponent.