How Trump Closed Down the Schools
The president is demanding that classes resume this fall—but his own failures are forcing districts to shut their doors.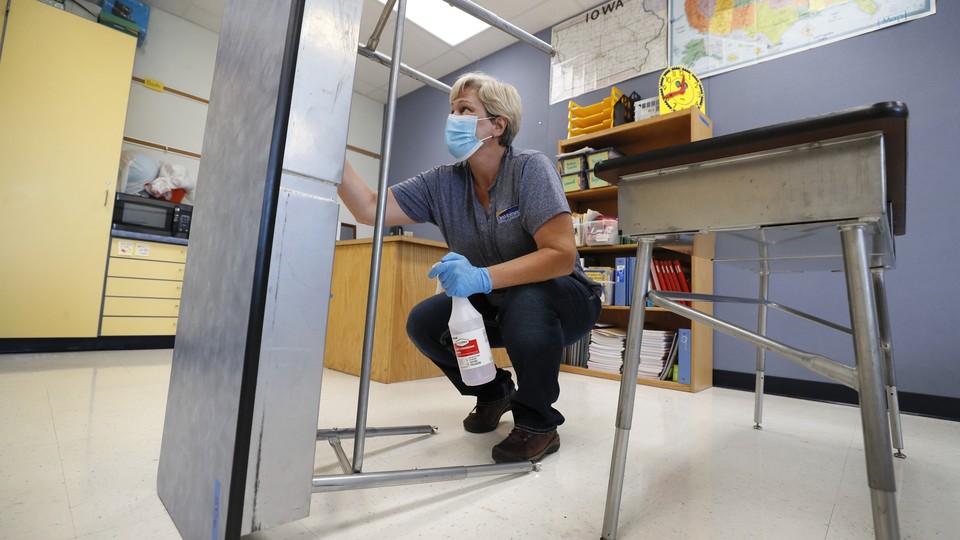 This article was updated on July 17 at 2:45pm.
Few things have captured Donald Trump's fickle attention for long during the pandemic, but for the past 10 days, the president has been highly focused on one issue. He has insisted on the need for America's schools to reopen in August with students in classrooms five days a week, hoping that this might revive the economy, and with it his reelection chances in November. It ought to be an easy sell, because polling shows that parents want their children in class and teachers want to be there too. But there's a catch: They want to know it's safe, and the federal government's failure to manage the pandemic means many districts don't think it is.
"His defiance of science has made it impossible to do what he wanted to do," Randi Weingarten, the head of the American Federation of Teachers, told me. "The irony is his incompetence and his arrogance and his refusal to listen to experts and his downplaying of the virus have made it impossible to do what he thought he needed to run for reelection."
After months of mishandling the coronavirus, from initial indifference to hasty declarations of victory, Trump has now tried to bully schools into reopening. He has denounced guidelines established by his own Centers for Disease Control and Prevention as overly strict, and sought to take funding away from districts. But it isn't working. New York City, the nation's largest school district, will reopen classrooms only on a limited basis. The Los Angeles Unified School District, the nation's second-largest district, announced together with the San Diego Unified School District that they would not reopen classrooms at the start of the school year.
"There's a consensus even across political divides: The best place for students to learn is in school," Austin Beutner, the superintendent of the Los Angeles Unified School District, told me. But, he said, given the rate of community spread in the L.A. area, "it's not practical, it's not safe, and it's not appropriate for the health of all in the school community to be at school."
The country's inability to reopen schools is the yardstick by which to measure all of the accumulated failures of the American response to COVID-19. Instead of uniting Americans behind the project of reopening schools, restoring the most important service that has not returned since the start of the pandemic, the Trump administration has politicized the debate. It is asking districts to solve problems—testing, tracing, community spread—that every other level of government has thus far failed to solve, but not providing funding to do so. In fact, Trump is threatening to cut funding to school districts that do not reopen.
"Trump and [Secretary of Education Betsy] DeVos threatening to withhold money—it's insane. It's mind-boggling," Arne Duncan, who served as secretary of education in the Obama administration, told me. (Duncan is a managing partner at Emerson Collective, the majority owner of The Atlantic.) "I truly believe in my heart that he doesn't care whether kids or teachers or parents live or die. There's no body count high enough that would make him pay attention to science."
On Thursday, White House Press Secretary Kayleigh McEnany told reporters, "The science should not stand in the way of this," blithely insisting that science supported reopening. She pointed out that most other Western countries have reopened schools, but ignored the fact that most other Western countries have also brought the pandemic under control better than the U.S. has.
As long as the country continues to experience community spread and high infection rates, it's hard for school systems to create conditions for safe reopening—not only for students and teachers, but for custodians, bus drivers, and family members of all those people. "If the virus is exploding in the community, there is no way you're going to be able to do school in person," says Tom Frieden, who led the CDC from 2009 to 2017.
The best data suggest that children are less likely to be infected with COVID-19, less likely to become seriously ill, and less likely to transmit the disease than adults, although much is still unknown. Yet a resurgence in the coronavirus in Israel has been tentatively linked to spread of the disease in schools after they reopened in May. After initially offering a strong endorsement of students returning to classrooms, the American Academy of Pediatrics last week issued a more equivocal statement. "We should leave it to health experts to tell us when the time is best to open up school buildings, and listen to educators and administrators to shape how we do it," the group said in a joint statement with the American Federation of Teachers, the National Education Association, and the School Superintendents Association. The World Health Organization has suggested that schools remain closed as long as the rate of community transmission is above 5 percent.
For the Los Angeles Unified School District to open safely, Beutner told me, three things need to happen. The schools need to institute new procedures, from social distancing to regular cleaning; they need regular and prompt testing for students, teachers, and staff; and they need reliable contract tracing. The first of these is something LAUSD can do on its own. But the other two are well outside the mandate and expertise of school systems. It's unreasonable to expect a school-district superintendent to solve a testing-and-tracing problem that has stymied public-health experts at every level of government.
"When all the challenges society faces land at schools—schools shouldn't be having to solve the problem of testing and tracing," Beutner said. "We may need to, because other parts of government are not."
In fact, one reason reopening schools is so important is that schools have already been handed many of the broader challenges facing society. They don't merely educate students. They also serve as de facto daycare, allowing parents to work. They are already part of the public-health system: Schools screen for abuse, require regular vaccinations, and more. They serve as a huge food pantry for food-insecure children. (LAUSD has gone further since closing in the spring, giving 45 million meals to children and adults.)
Regardless of who is providing services like testing and tracing, performing them takes money, and the federal government has yet to offer it. While the numbers are large in absolute terms, they're dwarfed by the overall size of federal relief efforts as well as the cost of not reopening.
"You could justify the cost by looking at the impact the virus is having on the economy as a whole. Or you could justify the cost by saying, 'It's an investment we need to make in children to make sure they're in the best possible learning environment,'" Beutner said. "Either one gets to the same place, which is: Yeah, pony up. If we can test the Dodgers and the Giants to go back and play baseball, why are we not testing teachers and kids to get back in school?"
Many big public-school systems are already strapped for cash, and local and state governments are facing a huge budget crunch. That means the tab is likely to fall on the federal government. But Washington has offered a response that is at worst antagonistic and at best conflicted. After the CDC issued reopening guidelines, Trump denounced them and called for them to be watered down. DeVos emphasized that these were merely guidelines, not recommendations, creating the weird situation of the federal government telling school districts to disregard the federal government.
The result is confusion and a lack of credibility. "I don't see a lot of people who are looking to Washington, rightly or wrongly, for guidance about their particular situation," Margaret Spellings, secretary of education under President George W. Bush, told me. That may not be bad, she said: Decisions about reopening are going to depend in large part on understanding conditions in specific communities.
But money will still be a problem, and Trump and DeVos have threatened to cut federal funding to schools that don't reopen with full-time, in-classroom instruction. In practical terms, the threat is limited: Federal dollars to local districts are a small portion of budgets, and can't be retroactively pulled. Yet at a time when districts are pleading for more money, the threat makes no sense. Congressional Republicans are considering more aid to schools as part of a pending stimulus package, but would offer it as an incentive to reopen—placing the cart before the horse. The president has tried to bluff and threaten his way through the pandemic, and is now applying that approach to reopening schools. But because viruses don't respond to threats, school districts are bearing the brunt.
"What's so infuriating to me is that we as a country have lacked the will, we've lacked the discipline, to do the right thing so that schools can open," Duncan said. "Nobody wants to make the decision not to come back physically. It's heartbreaking. We're giving them no choice."
Nonetheless, Trump and his allies have construed school-district decisions as ploys to undermine him. On Sean Hannity's TV program this week, Republican Senator John Kennedy of Louisiana charged that some opponents of full reopening are acting in bad faith.
"They are using our kids as political pawns," Kennedy said. "To them I say, unashamedly, they can kiss my ass. That's wrong to do that to the kids of America."
Seventy-one percent of parents in an Axios/Ipsos poll this week said sending their child back to school is a moderate or high risk. More than half said they were very or extremely concerned about it, and another quarter were somewhat concerned. Spellings told me parents who don't want to send their kids back to school and teachers who are reluctant to head back into the classroom are as eager for school to be back in normal form as anyone else.
"Teachers and students want to get together and work and learn," she said. "There's this, this idea that, you know, people don't want to go back to work or they don't want to do this. They are, of course, concerned about their safety, as we all are. But they want to do their jobs."
The fact that so many of them will be unable do those jobs in a classroom this fall shows how disastrously wrong the U.S. handling of the pandemic has gone.