We Can't End AIDS Without Fighting Racism
As America continues its long-overdue reckoning with racism and systemic injustice, we must address the devastating impact of the disease on the Black community.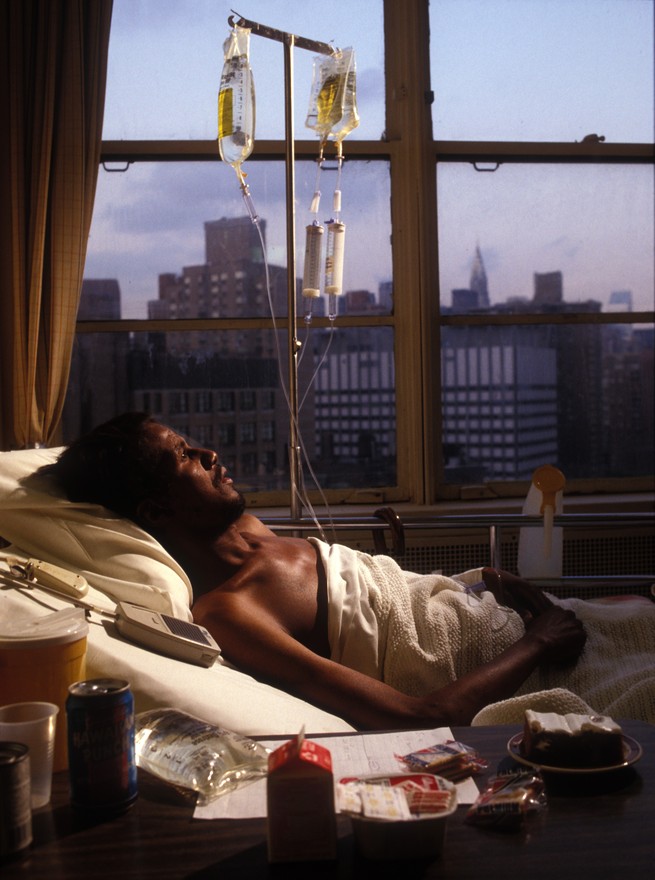 The color of your skin should not determine the quality of your health. But in the United States, the HIV/AIDS epidemic is exacerbated by racism, bias, and discrimination. As America continues its long-overdue reckoning with racism and systemic injustice, we must address the devastating impact of the disease on the Black community. An end to the AIDS epidemic can only be achieved through dignity, respect, love, and compassion for all.
The 2020 International AIDS Conference—the world's premier event to showcase advances, highlight challenges, and galvanize collaboration against AIDS—was scheduled to return on July 6 to San Francisco and Oakland, California, where it was held 30 years ago at the height of the epidemic. COVID-19 has forced the conference to go virtual, but it remains a key part of the effort to end AIDS.
Over the past three decades, America has made impressive strides toward that goal. U.S. government initiatives have mobilized resources and attention, from the Ryan White CARE Act of 1990 to last year's Ending the HIV Epidemic plan for reducing transmission by 90 percent by 2030. Preventative-treatment breakthroughs such as PrEP and supervised injection sites have reduced the likelihood of transmission. Innovations such as oral swabs have made testing easier, more effective, and more accessible. Antiretroviral treatments continue to improve, so that HIV infection is no longer a death sentence, but a manageable condition.
As a result of these efforts and sustained public activism, HIV-related deaths in the United States have plummeted by more than 80 percent since 1995.
But even as we celebrate these achievements, inequities stand out in black and white.
While Black Americans make up just 13 percent of the population, they represented 42 percent of new HIV diagnoses in 2018. If you're a gay or bisexual Black man in the United States, you have a 50 percent lifetime chance of being diagnosed with HIV, compared with just 9 percent for gay or bisexual white men. In the American South—home to the fastest-growing rates of HIV infection in the U.S.— gay and bisexual Black men account for 60 percent of new diagnoses. Black trans women are more vulnerable still: As of last year, an estimated 44 percent of all Black trans women were living with HIV. Worst of all, Black people living with HIV/AIDS are seven times more likely than white people to die from the virus.
These disparities are not random. Rather, they reflect centuries of discrimination. Persistent structural inequities in economic opportunity, education, and housing disproportionately expose Black families to serious health risks, including HIV/AIDS. And a lack of representation, combined with a painful history of racism in medicine, has undermined the Black community's trust in health-care systems and made people less likely to seek care. The same disparities have become glaringly apparent as the world battles the coronavirus pandemic; Black Americans are dying at more than two times the rate of white Americans, and the death rate rises to sixfold in pandemic hot spots.
I started the Elton John AIDS Foundation in 1992 because I believe that everyone deserves the right to a healthy life, no matter who you love, who you are, or where you're from. Today, I'm proud that it supports organizations that serve and uplift marginalized communities.
Some of our most inspiring partners are in my adopted hometown of Atlanta, home to 37,000 people living with HIV—more than 70 percent of whom are Black. These partners include Thrive SS, a self-help support network for gay Black men living with HIV/AIDS, and Positive Impact Health Centers, which offer HIV preventive care and treatment, as well as services for those struggling with mental health and substance abuse. To ensure continued HIV care and treatment during the pandemic, my foundation has helped organizations transition from face-to-face to virtual appointments and provided personal protective equipment for staff members and the people they serve, as well as at-home delivery of lifesaving treatments and HIV self-testing kits. This tackles the immediate needs, but not the long-lasting stigma.
When I visited Atlanta's Grady Health System Ponce De Leon Center in 2018, I met a man named Andrew Williams. He had come to Grady a few years prior with a host of debilitating conditions that had put him in a wheelchair and made his life difficult. At 31, Andrew was suffering from diabetes, high blood pressure, and kidney disease—all undiagnosed. When he tested positive for HIV as well, he feared the worst. But thanks to the care he received at Grady, within two months the virus was undetectable in his body. Andrew said he wanted to use his new lease on life to help others like him know that they too were going to be okay.
Stories like Andrew's give me hope. We can achieve an AIDS-free generation in America—but only if we design a system of care that embraces Black people and marginalized communities, and tackles structural racism head-on. Organizations such as Grady, Thrive SS, and Positive Impact are doing that work every day, but they can't do it alone. They need federal, state, and local governments behind them, and they need our communities to recognize the truth: that in America today, racism and bigotry drive HIV/AIDS.
Scientists, activists, and decision makers are virtually coming together at the International AIDS Conference to share good news about how we can defeat AIDS medically. Policy makers and the public must also come together and commit to defeating the inherent bias that means AIDS is still a death sentence for some. Only then can we end the AIDS epidemic once and for all.