Trump's Attempt at an Un-Trumpian Image
Desperate times call for desperate measures.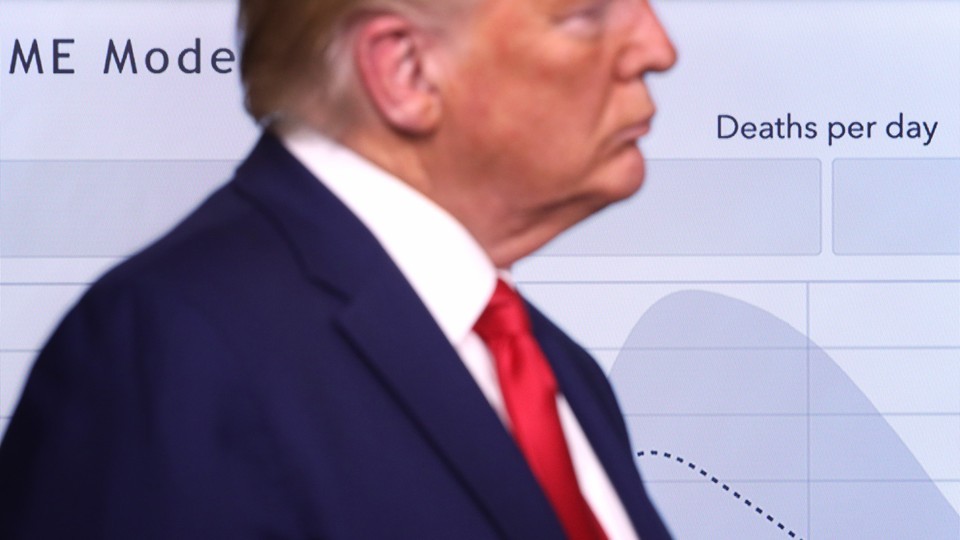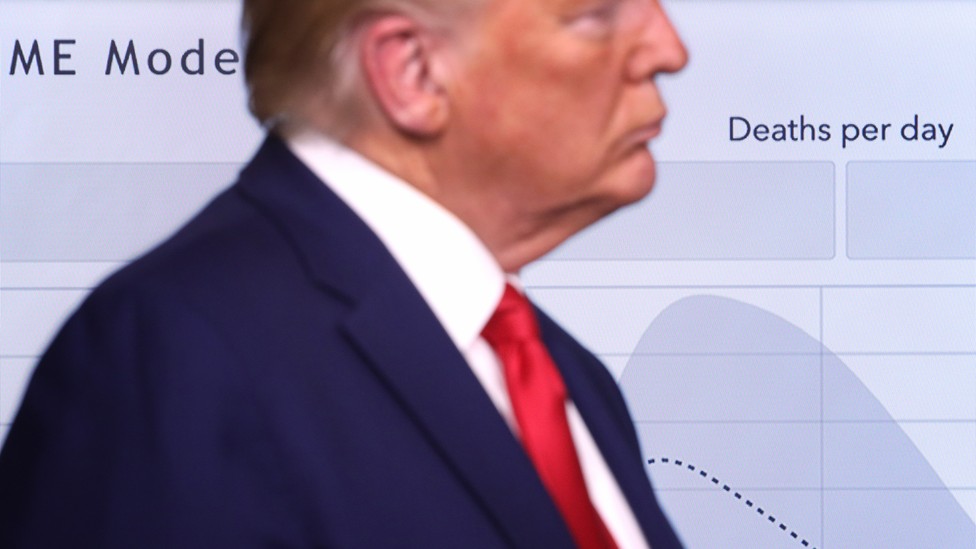 "I'm being nice today," President Donald Trump said last Friday, at a ceremony to award the Presidential Medal of Freedom to the former congressman and Olympic athlete Jim Ryun. And Trump has been nice—nice is a very relative term in this case—at least since last week, when he unexpectedly revived the fabled tradition of regular White House briefings on the coronavirus pandemic.
You probably remember those briefings from back in the day, exactly 37 years ago (quickly fact-checks), I mean, a few months ago. Recall the early sun-dappled sessions in the White House Rose Garden: The briefings were full of hope and promises, presenting the country with a vision of coast-to-coast drive-through testing sites offering real-time results; of one-stop Google web pages that would do everything for the pandemic-curious but swab their sinuses and call an Uber to the emergency room; of big corporations and big government standing arm in arm to stare down the virus and stop it in its tracks, all forming an irresistible phalanx of tech, science, capital, and fleet-footed bureaucracy. None of these promises came true, but the memory still glows pleasantly.
[ Derek Thompson: Hygiene Theater Is a Huge Waste of Time ]
Everything was downhill from there, as the world knows. The news got worse, and the regular briefings were moved inside, to the claustrophobic oubliette known as the White House press briefing room. Reporters grew nasty; the president got nastier. The briefings touched bottom in late April. Evidently jazzed by an Oval Office conversation with a scientist from the Department of Homeland Security, the president took the podium and contemplated the possible effects of light and disinfectant on the virus. With the world watching in horror, he allowed his mind to drift into nightmare, which he seemed to mistake for a thought experiment.
"Supposing you brought the light into the body, which you can do either through the skin or some other way," he mused. "I see the disinfectant where it knocks it out in a minute, one minute. And is there a way we can do something like that by injection inside or almost a cleaning?"
The mental image of the president wielding a colonoscopy tube ensured that the briefings would never be the same.
But now the administration has brought them back, with the president appearing solo and for the most part well scripted, and no scientific or other advisers in sight, a strategic move forced by necessity. As his poll numbers search for their own bottom, and his Democratic opponent watches from a distance as they sink, Trump has been attempting to fashion an un-Trumpian image: soft-spoken, reasonable, realistic, open to argument … nice. Desperate times call for desperate measures.
[ Read: Don't Count Trump Out ]
The new era of briefings began with a series of concessions that would have been unthinkable earlier in the month. It's almost as if someone handed the president his own folder labeled Things Trump Will Never Say and forced him to recite them anyway. The pandemic, he said, "will probably, unfortunately, get worse before it gets better." This was "something I don't like saying about things," he added, which isn't true at all: The president takes undeniable relish in limning the disasters that await the country should it be swinish enough not to reelect him. No one thinks of Donald "American Carnage" Trump as President Pollyanna. What he means is he dislikes speaking negatively on matters that he is personally involved in, and predicting bad news about the virus implicates him in the bad news. This was a first.
At one briefing last week he showed a chart of "different statistics and different rates of success and, I guess you could say also, things that we can do better on." Until that moment in the Trump presidency, the category of "things we can do better on" did not exist; ontologically, such things were akin to heffalumps and jackalopes. He acknowledged that the $600 in supplemental unemployment insurance enacted earlier this year "worked out well" even though "I was against that original decision"—an admission that veered close to saying he'd once committed an error in judgment. After threatening earlier in the month to cut off federal aid to schools that failed to provide in-class teaching this fall, he conceded that school districts "may need to delay reopening," depending on the local advance of the virus. He even seemed to second-guess his dearest indulgence. Asked by one interviewer whether he ever regretted his tweeting, he replied, "Often. Too often."
Most unexpected, the president has taken to carrying around a mask in his coat pocket. "Whether you like the mask or not," he advised, "they have an impact." He even suggested that his own vacillation on the topic of masks has been a result, as his detractors say, of following the science.
"Now, we have experts that have said, in the recent past, that masks aren't necessarily good to wear," he said in one briefing. "But now they've changed their mind. If they change their mind, that's good enough for me. So I wear it when appropriate." At certain moments these days, he removes his mask from his pocket and waves it around like a little flag at an Independence Day parade—not as good as actually wearing it, but … progress.
It would be a stretch to describe the president's most recent performance at the briefings and other appearances as "crisp," and these signs of normality would, in any other public official, be, well, normal. The trademark garrulity isn't going anywhere; as always, he can work the same dubious assertion ("the greatest economy we've ever had") three or four times into a single answer. He still speaks obvious untruths ("I think the poll numbers are very good") and engages in bizarre punditry ("When you look at Florida, as an example, you have thousands of boat out on—boats out in the ocean, out in the Intracoastal. You look at other states where, likewise, you have thousands of boats, and they're all waving the Trump sign"). The Trump campaign must delight in knowing the yacht-owning Intracoastal Waterway vote is a lock.
The facade has deteriorated as the days have worn on. Tuesday's briefing found the president defending his retweet of a disreputable doctor touting the effectiveness of hydroxychloroquine in treating COVID-19. He then mused on the mystery of the popularity of his advisers Anthony Fauci and Deborah Birx, which is high, relative to his own, which is not. "They're highly thought of, but nobody likes me," he said. "It can only be my personality."
Well, that and a few other things. The careening train of Trump's thought at Tuesday's briefing did not take him into the land of sunlight injections and bleach enemas, but for anyone susceptible to false hope, it was a reminder of the obvious. Let us acknowledge this eruption of normality in the president and even, if we dare, be reassured by it, knowing, as we do, that it will never last.