Why Tribes Should Have the Power to Enforce Strict Coronavirus Policies
Nonmembers who flout tribal stay-at-home orders could pose an existential threat to tribal communities.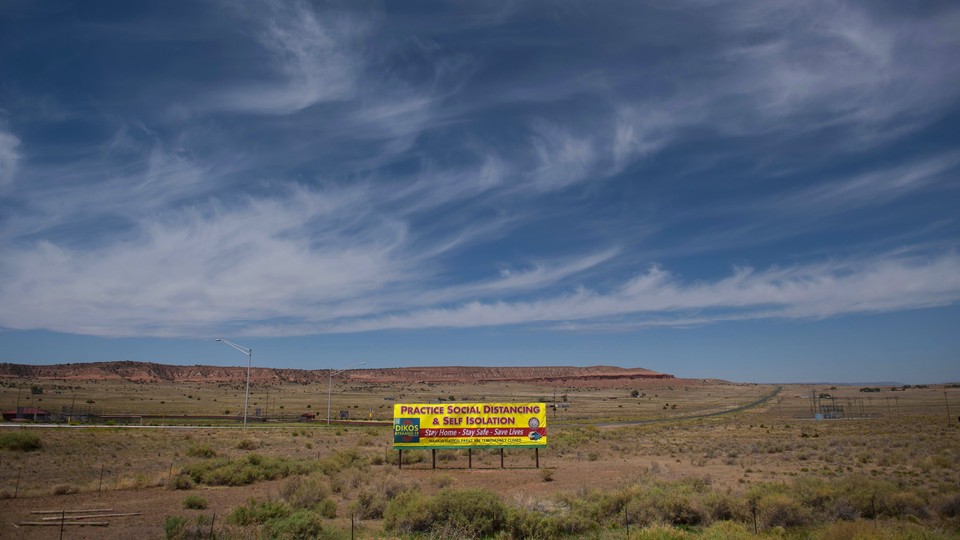 American Indians face a grave ordeal in the COVID-19 pandemic. With awful poverty, dire rates of preexisting health conditions, and an already-broken rural health-care system, the death rates on reservations are sure to be higher than just about anywhere else in the country. One additional factor is making fighting the pandemic even harder for tribes: the legal complexities that govern American Indian reservations.
To fight this pandemic, governments around the world have needed to impose—and enforce—restrictions on people's freedom to move and gather. But many Indian Country residents are not members of a tribe, and some scorn tribal regulatory authority. This creates a legal ambiguity that a federal court—perhaps the Supreme Court—will need to resolve: Can the tribes even, say, issue a citation to nonmembers violating curfew?
As I argued in a recent article published in the Stanford Law Review Online, this is not merely a theoretical question. The risk that people will oppose the public-health dictates of a tribe grows greater when state and local officials reject tribal authority. For example, in Northern California, nonmembers egged on by a county official reopened a sit-down diner on the Yurok Tribe's reservation, defying the tribal government's order to keep all businesses closed. In New Mexico, Cibola and McKinley County law-enforcement officials insisted that the Navajo Nation could not enforce its curfew on nonmembers. In South Dakota, the governor demanded that the Cheyenne River Sioux Tribe and the Oglala Sioux Tribe either undo or relax their plans to blockade reservation roads to restrict people's movement, leading to federal litigation. Of course, allowing nonmembers to flout a tribe's stay-at-home order defeats the purpose of the stay-at-home order.
Tribes' legal authority over nonmembers is both very simple and incredibly complex. Tribes don't operate under the federal Constitution; instead, each has its own laws. Congress has the authority under the Constitution—primarily the Indian-commerce clause—to enact laws to modify tribes' powers. But historically, Congress has not done this often, leaving intact tribal autonomy over tribe members.
When it comes to tribal powers over nonmembers, the Supreme Court has stepped in. In 1981, the Court decided in Montana v. United States that tribes normally cannot regulate nonmembers. However, the Court did say there were two exceptions, usually called the Montana exceptions: (1) tribes can regulate nonmembers when nonmembers affirmatively consent; and (2) tribes can regulate nonmembers when their conduct "imperils the political integrity of Indian tribes."
The first Montana exception, as a practical matter, swallows the general rule. For the most part, nonmembers consent. Nearly 1 million nonmembers are employees of tribes or their enterprises, and many others reside with tribal-member relatives in tribal public housing. If tribes want nonmember consent, they can make it a condition of employment or residency. Nonmember-owned businesses on reservations use their own bargaining power to negotiate with the tribe on whether tribal law applies to them.
However, when nonmembers do not consent and then disobey tribal regulations, tribes usually have little recourse, as the second Montana exception's imperilment standard is almost impossible to meet. For instance, tribal-member victims of vehicular or train accidents caused by nonmembers cannot sue in tribal court. The Supreme Court's signal to nonmembers is that if the tribe is not outright destroyed by their conduct, then the tribe cannot regulate that conduct.
As a result, nonmembers who defy tribal laws in the 21st century are more like outlaws of the Old West, perpetrating terrible acts and expecting to get away with it. The nonmembers challenging tribal jurisdiction over them in the most recent Supreme Court cases on this issue allegedly committed acts of racial discrimination in lending, perpetrated child molestation at a retail store, and dumped 22 million tons of radioactive and toxic waste on Indian lands. The lender prevailed. The retail store likely would have won, but Justice Antonin Scalia died while the case was pending. The remaining eight justices split, leaving a tie. Under the Supreme Court's rule, the lower-court decision is affirmed without opinion, meaning the tribe prevailed. The dumping case is still pending, awaiting a recommendation from the solicitor general. These actors allegedly committed serious offenses against tribes and Indian people but tend to be viewed favorably by the Court.
But a pandemic is different.
The 1918 influenza pandemic devastated American Indian communities. In Arizona, Colorado, Mississippi, New Mexico, and Utah, 4 to 6 percent of American Indians died. Some Native villages in Alaska were completely abandoned. Nearly 3,400 Navajo people died. Nationwide, 2 percent of American Indians died of the flu.
Public-health experts have long warned that a pandemic could be more disastrous for American Indians than for the American population overall. Indian people have higher rates of serious chronic illness and large elderly populations. Tribal and federal services on most reservations are perpetually underfunded. Much of Indian Country is rural and geographically isolated.
The result of this is a plain and disturbing conclusion: Nonmembers who flout tribal stay-at-home orders could pose an existential threat to tribal communities. According to the Montana decision, that should mean tribes have the power to enforce their public-health measures on nonmembers, but no one knows whether a federal court would agree. The Supreme Court has never reviewed a case in which nonmember conduct could have such far-reaching implications for a tribe's health and safety. In the analysis of the Supreme Court, would dozens of dead Indians be sufficient to imperil a tribe? Hundreds? Thousands? Unfortunately, that's the very real question the tribes are now facing.