The Tragedy of Herman Cain
The entrepreneur turned politician embodied some of America's best traits—and some of its worst.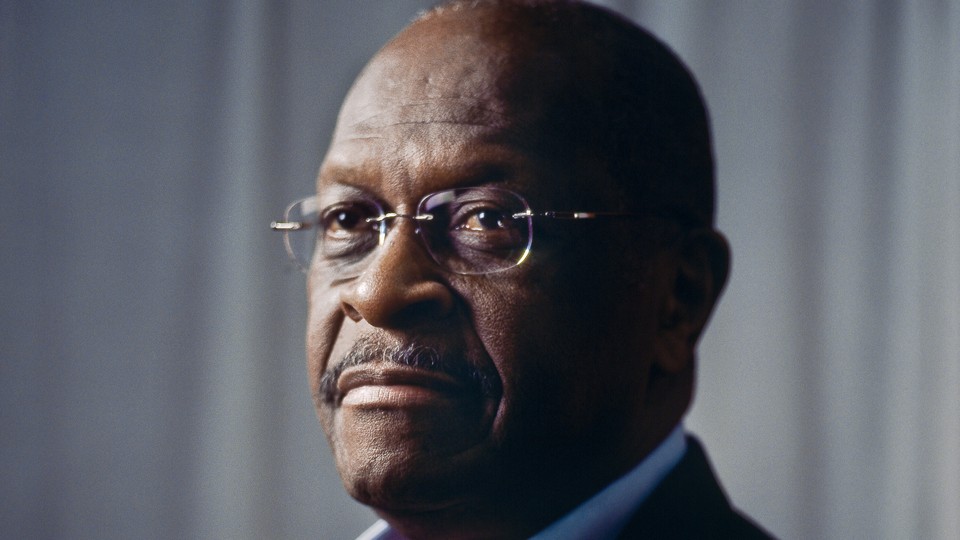 Most Americans never took Herman Cain very seriously. He made that easy: He quoted Pokémon: The Movie 2000 in campaign speeches. He said goofy things ("Aw, shucky ducky!") before it was "modern-day presidential." His signature policy idea, the "9-9-9" plan, sounded more like a takeout special than a tax overhaul.
By the time he died today at 74, from COVID-19, he was remembered, if at all, by that last phrase. Yet although Cain's 2012 presidential platform didn't deserve serious consideration, his life traced a tragic arc. In his ascent, Cain embodied some of the greatest things about U.S. society; in his later years, and in his death, he exemplified some of America's bleaker aspects.
Cain worked his way up from a threadbare childhood to great wealth, becoming a successful restaurant executive. He served his country, first as a civilian Navy mathematician and later as chairman of the Federal Reserve Bank of Kansas City. (He was also, it was later alleged, sexually harassing women during his rise.) Then he embarked on a presidential campaign and punditry career that catered to some of the basest, know-nothing instincts in politics, and may even have cost him his life.
He was raised poor—"a son of the segregated South," in his words—in Memphis, Tennessee, and Atlanta. His father sometimes worked three jobs, though he was able to improve his finances while serving as chauffeur to the CEO of Coca-Cola, whom he persuaded to pay him in Coke stock. Herman was a gifted student and attended Morehouse College on scholarship, only to lose the funding when his grades slipped. He worked jobs on the side to pay his tuition, graduated with a degree in mathematics, and went to work as a ballistics analyst for the U.S. Navy, then later worked in the food business.
In 1982, nearing 40, he was a vice president at Pillsbury, but felt stuck. So he joined the management-training program at Burger King, a Pillsbury subsidiary, which began with a stint flipping patties (a marked contrast with President Donald Trump, who enjoys fast food but would never be caught dead producing it). That was a short-time gig; Cain shot up through the ranks at Burger King, and in 1986 was dispatched to lead Godfather's Pizza, a failing Omaha, Nebraska–based subsidiary of Pillsbury. When the turnaround was slower than the parent company wanted, Cain cobbled together an ownership group to buy Godfather's.
Cain was an energetic leader, and not one who took himself too seriously. An indelible clip shows Cain, clad in a white choir robe and in fine singing fettle, belting a parody of John Lennon's "Imagine" at an Omaha banquet: "Imagine there's no pizza … I couldn't if I tried." Cain also served on the boards of the Federal Reserve Bank of Kansas City and its Omaha branch, winning praise.
His politics emerged slowly. He became a Republican, he later said, after overhearing a Black man say, "Black Republicans? There's no such thing." Cain promptly registered with the GOP. The attraction was mutual. With his bootstrap backstory and his insistence on color blindness despite his own Black heritage ("It's not about color," he said. "It's going to be about the content of your ideas."), Cain appealed to a Republican Party focused on individualism and opposed to affirmative action and other race-based policies.
Cain won more conservative fans in 1994, when he tore into President Bill Clinton and his health-care proposal at a nationally televised town hall, saying he'd have to lay off workers if it passed. The law sank; Cain's political fortunes rose. In 1996, he left Godfather's to lead the National Restaurant Association, a powerful and traditionally conservative lobbying organization in Washington.
Throughout the 2000s, Cain dabbled in politics, both as an activist and sometimes candidate, but his break came with the Tea Party in the early years of Barack Obama's presidency. Racial resentment was at the center of much of the Tea Party movement, and Cain—a successful, wealthy conservative who was Black and rejected claims of racism from his compatriots—became both a popular leader and a useful fig leaf.
In 2011, Cain decided to run for president, fulfilling a dream he'd floated as early as 1996. The Republican field was large and fractious, and although Mitt Romney was the early favorite, a series of alternative candidates rose in the polls: first Michele Bachmann, then Rick Perry; later came Newt Gingrich and Rick Santorum. Squarely in the middle, Cain rose in the polls, cresting atop the race with more than a quarter of the vote in RealClearPolitics' average, in November 2011.
Cain's campaign had no business doing as well as it did. A number of parts of the campaign presaged the Trump campaign in 2012. The staff was small and composed of eager but inexperienced young aides and random, grizzled hangers-on. The campaign seemed to have no real theory on the race, sending the candidate to unimportant states, wasting time and money better spent on crucial ones. Policy was treated mostly as messaging, and the candidate didn't really bother to learn most of it (though unlike Trump, he had the capacity to do so if he'd tried). Like Trump, Cain's campaign would be struck by a devastating accusation of sexual misconduct, though unlike Trump, Cain's did not survive it.
Like Trump, Cain was also a transfixing presence on the campaign stump—unpredictable, wild, jokey, completely atypical for a presidential contender. Unlike Trump, however, he did not build his appeal entirely on cruelty. "I believe he's a decent man," Cain said of Barack Obama. "But he's a terrible leader." He was warm and funny in person, too. It's worth reading this affectionate though sometimes critical Twitter thread from Ellen Carmichael, who at 23 served as Cain's spokesperson, and try to imagine even the most die-hard Trump supporter saying anything like this about him.
But rising to the top in politics required Cain to sacrifice some of the things that had made him admirable and successful. For one, it damaged his reputation; the public would never have known about the sexual harassment if he hadn't run for president. His commitment to color blindness turned into a willingness to overlook the overt racism often directed at Obama. He made horrifyingly bigoted remarks about Muslims and immigrants on the trail. And his famous 9-9-9 tax plan—which proposed a flat 9 percent tax each on income, businesses, and sales—was a perfect example of someone who ought to have known better pursuing a politically advantageous but foolish idea.
The phrase was catchy, but the plan would have gutted the federal Treasury, while jacking up taxes on the poorest Americans—in effect, making it much harder for someone like him to complete the same Horatio Alger journey. The proposal had been formulated not by an economist but by an accountant in Cleveland. Former colleagues of Cain's at the Kansas City Fed puzzled over how the thoughtful, careful leader they had known had become the cheerleader for a joke of a proposal.
After Cain left the race, quoting the Pokémon flick, he returned to a presence in conservative media. Four years later, as Trump rose using some of the same tricks that Cain had, Cain became a reliably sycophantic supporter. Trump considered him for a seat on the Federal Reserve board in 2019—drawing puzzlement from those who knew only Cain's political career, and not his previous service—but backed down when the harassment allegations resurfaced.
In June, Trump decided to hold a rally in Tulsa, Oklahoma, over the objections of common sense and practically every public-health expert in the country, who warned that the event would spread the coronavirus. Some prominent Republicans attended out of a sense of defiance, including Cain, who was photographed—like most attendees—without a mask. Nine days later, he was hospitalized with COVID-19. Today, he died at a hospital in the Atlanta area.
It's impossible to say whether Cain contracted the virus at the rally or elsewhere, and aides said he'd been traveling often, but the risk he took in attending the rally seems to exemplify the change in Cain after his entry into politics. Cain was not a stupid man, nor ignorant of science; he was a trained mathematician, after all. But by 2020, Cain—a man who'd joined the Republican Party out of a sense of contrarianism—was ready to risk his life to show his lockstep conformity with party dogma. At one time, Cain seemed like a model of how an individual can live the American dream. Today, he seems like a cautionary tale about how an individual can be destroyed by American politics.