The Terrifying Next Phase of the Coronavirus Recession
The U.S. prioritized the economy over public health—and got the worst of both worlds.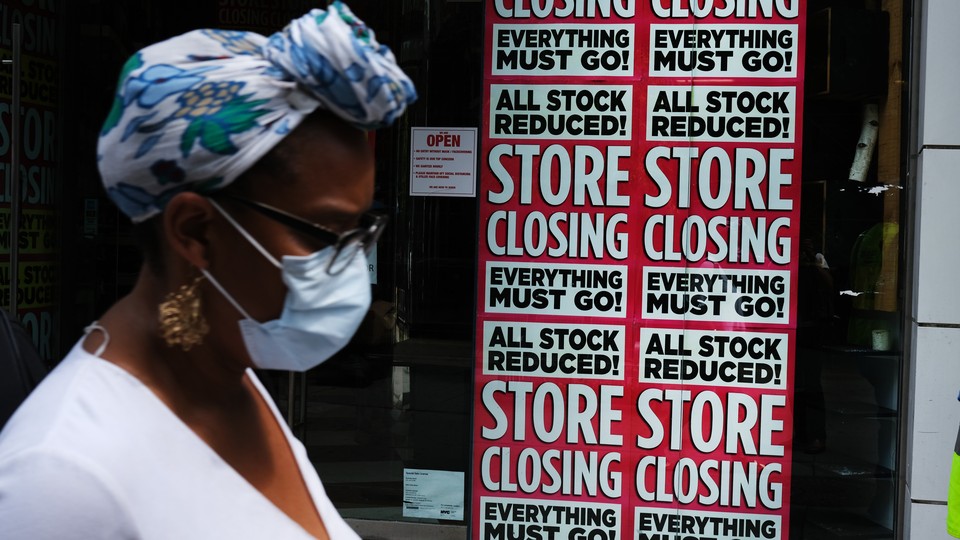 Failed businesses and lost loved ones, empty theme parks and socially distanced funerals, a struggling economy and an unmitigated public-health disaster: This is the worst-of-both-worlds equilibrium the United States finds itself in.
Since the beginning of the coronavirus pandemic, President Donald Trump has railed against shutdowns and shelter-in-place orders, tweeting in all caps that "we cannot let the cure be worse than the problem itself" and pushing for employees to get back to work and businesses to get back to business. But the country has failed to get the virus under control, through masks, contact tracing, mass testing, or any of the other strategies other countries have tried and found successful. That has kneecapped the nascent recovery, and raised the possibility that the unemployment rate, which eased in May and June after nearly reaching 15 percent in April, could spike again later this year.
The economy seized in unprecedented terms this spring as states and cities mandated lockdowns. Hundreds of thousands of businesses closed, and millions of workers were furloughed or laid off. But instead of setting up a national viral-control strategy during this time, as other rich countries did, the United States did close to nothing. Congress underfunded disease research and contact-tracing efforts. No federal agency coordinated the procurement of personal protective equipment. Months into the pandemic, health professionals were still reusing masks for days at a time. The Trump administration punted responsibility for public-health management to the states, each tipping into a budgetary crisis. After a springtime peak, caseloads declined only modestly. Outbreaks seeded across the country. States reopened, and counts exploded again.
Now the economy is traveling sideways, as business failures mount and the virus continues to maim and kill. New applications for unemployment insurance, for instance, are leveling off at more than 1 million a week—more than double the highest rate reached during the Great Recession, a sign that more job losses are becoming permanent. After rising when the government sent stimulus checks and expanded unemployment-insurance payments, consumer spending is falling again, down 10 percent from where it was a year ago. Homebase, a provider of human-resources software, says that the rebound has hit a "plateau," in terms of hours worked, share of employees working, and number of businesses open.
The next, terrifying phase of the coronavirus recession is here: a damaged economy, a virus spreading faster than it was in March. The disease itself continues to take a bloody, direct toll on workers, with more than 60,000 Americans testing positive a day and tens of thousands suffering from extended illness. The statistical value of American lives already lost to the disease is something like $675 billion. The current phase of the pandemic is also taking an enormous secondary toll. States with unmitigated outbreaks have been forced to go back into lockdown, or to pause their reopening, killing weakened businesses and roiling the labor market. Where the virus spreads, the economy stops.
That is not just due to government edicts, either. Some consumers have rushed back to bars and restaurants, and resumed shopping and traveling. Young people, who tend to get less sick from the coronavirus than the elderly, appear to be driving today's pandemic. But millions more are making it clear that they will not risk their life or the life of others in their community to go out. Avoidance of the virus, more so than shutdown orders, seems to be affecting consumer behavior. Places without official lockdowns have seen similar financial collapses to those with them, and a study by University of Chicago economists showed that decreases in economic activity are closely tied to "fears of infection" and are "highly influenced by the number of COVID deaths reported" in a given county.
In other ways, the spread of COVID-19 is keeping Americans from going back to work. The perception of public transit as unsafe, for example, makes it expensive and tough for commuters to get to their jobs. Schools and day-care centers are struggling to figure out how to reopen safely, meaning millions of parents are facing a fall juggling work and child care. This is a disaster. "The lingering uncertainty about whether in-person education will resume isn't the result of malfeasance, but utter nonfeasance," the former Department of Homeland Security official Juliette Kayyem has argued in The Atlantic. "Four months of stay-at-home orders have proved that, if schools are unavailable, a city cannot work, a community cannot function, a nation cannot safeguard itself."
International comparisons are enlightening. Countries that successfully countered the virus seem to have enjoyed better financial recoveries; countries that did not shut down saw major hits to their economy anyway. In Sweden, authorities declined to enact strict public-health measures as the virus took hold. It has seen significantly higher case counts and more deaths than its neighbors, such as Norway, and its economy tanked. Or consider South Korea. With aggressive contact tracing and mass testing, it kept many of its commercial and educational facilities open as it quashed the pandemic. (The country has tallied just 288 deaths from COVID-19, compared with roughly 135,000 in the United States.) The unemployment rate there is 4.2 percent, and the economy is expected to contract just a small amount this year, due in part to falling exports.
In New Zealand, Prime Minister Jacinda Ardern did a "little dance" to celebrate the country's reopening one full month ago. In Taiwan, thousands of fans cheered from the stands at a baseball game last week, unafraid of disease. In France, one of the hardest-hit countries in Europe, families are back to going on vacation, eating in cafés, and visiting loved ones in hospitals. In the United States, outbreaks are shutting everything down yet again.
The United States can still contain the spread of COVID-19 and save lives, epidemiologists argue. The country can still flatten the curve and lower the death toll. Simple, low-cost measures like requiring masks in public would preserve as much as 5 percent of GDP, economists have estimated, as well as preventing thousands from getting sick. The supposed trade-off between public health and the economy doesn't exist. And right now, the country is choosing not to save either.