The Black Lives Matter Movement Is Being Written Into the Streetscape
By rechristening streets and spaces for Black Lives Matter, communities are working to capture the momentum of the movement in a concrete way.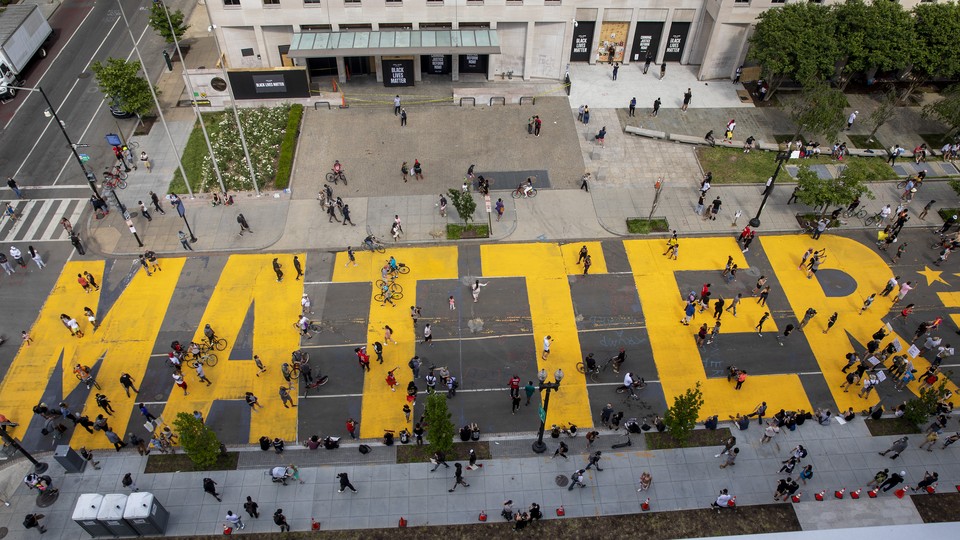 In the weeks following George Floyd's death, activists and city officials have painted dozens of American streets, walls, and public spaces with three words: black lives matter. In June, New York City Mayor Bill de Blasio proposed co-naming a prominent street in every borough for the movement. One recent stop: Fifth Avenue, directly in front of Trump Tower. Joining activists and city workers in painting the pavement, de Blasio said, "Black lives matter in our city, and Black lives matter in the United States of America. Let's show Donald Trump what he does not understand."
Last month, D.C. Mayor Muriel Bowser was the first to rechristen a public space using the slogan: Two blocks across from the White House became Black Lives Matter Plaza, not long after the U.S. Park Police had violently teargassed peaceful protesters in nearby Lafayette Square. "There was a dispute this week about whose street this is," Bowser's chief of staff tweeted when the plaza's bold yellow letters were unveiled. Bowser, like de Blasio, was claiming the space, not just for the city, but for Floyd.
Visiting these sites has become a kind of pilgrimage for families. But some activists have criticized renaming streets as an empty gesture. In response to the creation of Black Lives Matter Plaza, the D.C. chapter of BLM tweeted, "This is a performative distraction from real policy changes." Renaming the space was meaningless, they argued, because it did nothing to materially address the conditions that activists were protesting.
I've spent the past four years researching street names and what they reflect about communities. I understand that merely changing a street's name might be seen as "performative," another show without substance. But performative can also refer to words that, as the philosopher J. L. Austin theorized, don't just speak but act. (Try arguing that the words I do, said before your beloved and a judge, don't actually do anything.) Here, the naming is the doing. And although changing street names alone cannot alter societal norms, it captures the momentum of the BLM movement in a concrete way.
Cities often rededicate streets to reflect changing values. But the rise of streets named for BLM has been swift compared with other efforts to rename spaces in honor of Black people. One of the most striking examples is the growing number of Martin Luther King Jr. Streets—perhaps the original Black Lives Matter Plazas—that have sprung up over the past half century. Today, more than 900 streets are named after King across America. And although many communities have welcomed the creation of BLM spaces, nothing demonstrates the real impact and importance of renaming public spaces more vividly than the fierce, persistent resistance to MLK streets.
In 2003, Irene Dobson, a retired kindergarten teacher living in Zephyrhills, Florida, asked the city council to rename a central street after MLK. It was close to the 40th anniversary of King's "I Have a Dream" speech, and she thought the town, which was founded as a retirement community for Union Army veterans, should honor him.
Dobson, who is African American, lived in a part of town called Otis Moody—named after the only local real-estate developer who would sell property to Black people in the 1950s. Her son had been one of the first to enroll in integrated schools. ("I raised eight children and none of those children are named 'Scared!'" her mother used to tell her.) The city council agreed to Dobson's proposal, and signs for the new street began to go up.
But, as the historian Dylan Gottlieb has chronicled, residents fought to recall the decision. Some argued that having an MLK Street was bad for business. Others groused about the cost of changing identification and letterheads, even after the city council offered to send affected residents $50 to defray the costs. One resident grumbled that he did "not want the fifty bucks … I want my street name to stay Sixth Avenue." Few were as honest as the Zephyrhills old-timer who said, "If I wanted to live in an integrated neighborhood I would have … I don't think I'm being unreasonable wanting to live among whites." The city council reneged, and Sixth Avenue remained Sixth Avenue.
Zephyrhills is far from alone in rejecting King's name. Residents in San Diego and Portland once also opposed King streets, in racist shows of anger. Many Martin Luther King Streets that remain are located in Black neighborhoods, and some cities have hidden theirs away, far from city centers. In Eatonton, Georgia, for example, activists pushing for a new MLK Street in 1990 argued that, given King's message of integration, his name should be placed on an integrated street. Instead, it was placed in a Black neighborhood lined with houses, as one resident put it, "fairly decent by black standards." In Chattanooga, Tennessee, a developer argued against naming West Ninth Street after King, saying that it "is no longer a solid black street … It is no longer a residential street or rundown business street. It is a top class business street that can play a great part in the future of Chattanooga."
And although many MLK streets are thriving, Black people, too, have noticed the declining states of others—we all know the Chris Rock joke: If you find yourself on MLK Boulevard, run! Derek Alderman, a geographer who has written extensively on King streets, told me, "It's ironic that we attached the name of one of the most famous civil-rights leaders of our time to the streets that speak to the very need to continue the civil-rights movement."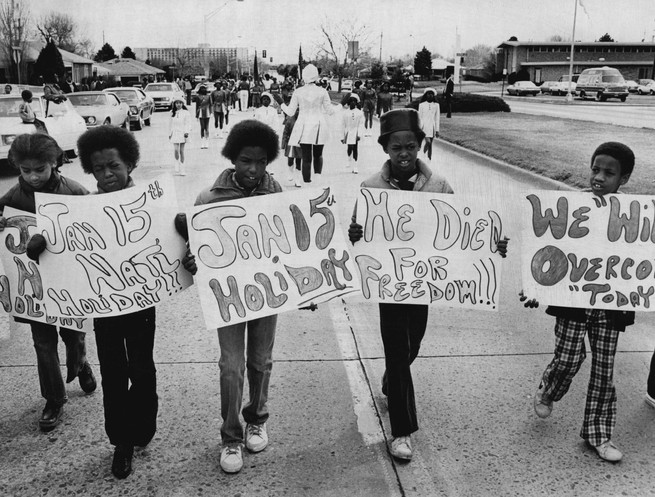 But the new Black Lives Matter streets are different, shouting the name of the movement in giant letters painted on the pavement itself. And, although Atlanta took eight years to honor King, its native son, with a street dedication, the BLM streets sprung up just days after Floyd's death. And in locating these BLM spaces in central, racially mixed areas, cities are at least trying to show that racism is not a Black issue, but everyone's issue; that Black pride is American pride.
Renaming streets during times of social upheaval is hardly a new phenomenon. After the French Revolution, Parisians had a problem. France was new, but Paris was very old, reeking of the monarchy. As the scholar Priscilla Parkhurst Ferguson has written, the people decided that if Paris had to look the same, then at least it could sound different. Revolutionaries set out to rename the streets in a way that made sense to them. "Is it not natural," one priest wrote, "to go from Place de la Revolution to the rue de la Constitution and on to the rue du Bonheur?"
Many revolutionaries have long been concerned with changing not only their government's leadership, but also the cities in which they live. Physical spaces should reflect current values and ideals, not remind citizens of the past they have rejected. As Henri Lefebvre, a French Marxist theorist, has said, "A revolution that does not produce a new space has not reached its full potential; indeed it has failed in that it has not changed life itself, but has merely changed ideological superstructures." The main street of Vukovar, Croatia, for example, has changed names six times in the past century—once with each new regime. Viewed through that lens, the speedy arrival of Black Lives Matter Plaza seems inevitable.
But there's more to it than that. Historians such as Pierre Nora have argued that the world's history is accelerating so quickly that we now use monuments, archives, and street names to record our memories. This year, watching monuments fall and newly named spaces emerge, I finally understand what this looks like in practice. Many people worry with good reason that the momentum of the Black Lives Matter movement will peter out, and that our attention will lurch toward a new existential crisis. Street names are one way to pin down the present and preserve it for future generations.
Today, communities across the country are debating whose history to preserve, and how. Even organizers at the center of the BLM movement disagree on the new names. Activists in Birmingham, Alabama, for example, rejected efforts to create a Black Lives Matter Boulevard on 16th Street North, where four girls were murdered in a white-supremacist bombing in 1963, an attack King called "one of the most vicious and tragic crimes ever perpetrated against humanity." "The thought that our sacred grounds might be altered without any input from community members, activists, organizers, or elders—was traumatic," they wrote. "To be clear—16th Street North is already the home of Black Lives Matter." A similar lack of community input was one reason Black voters supported the recall of a new MLK street name in Kansas City, Missouri, last year.
Yet for all the disagreement, street names are hardly permanent. Activists in D.C. have already painted defund the police next to black lives matter, physically demonstrating that street names are part of a continuous conversation about what communities believe. The Warriors for Christ—deemed a hate group by the Southern Poverty Law Center—have sued Mayor Bowser on the grounds that the new name violates their First Amendment rights by requiring them to "kneel before the altar of Black Lives Matter cult." More recently, two people were charged with a hate crime for vandalizing a mural in Martinez, California, less than an hour after it was finished. "This is not happening in my town," one shouted while rolling thick black paint over the yellow B.
As with King streets, these new BLM spaces remind us not only of the progress that our country has made, but also of the work that lies ahead. In Zephyrhills, Dobson's push to rename a street after MLK failed, but she did help exact one key compromise: Opponents agreed to keep commemorative MLK signs along Sixth Avenue. It wasn't quite a revolution, but it was a spark.