I Can't Keep Doing This. Please Open the Schools.
The idea that I might have to continue to work while facilitating another subpar semester of virtual learning is almost too much to bear.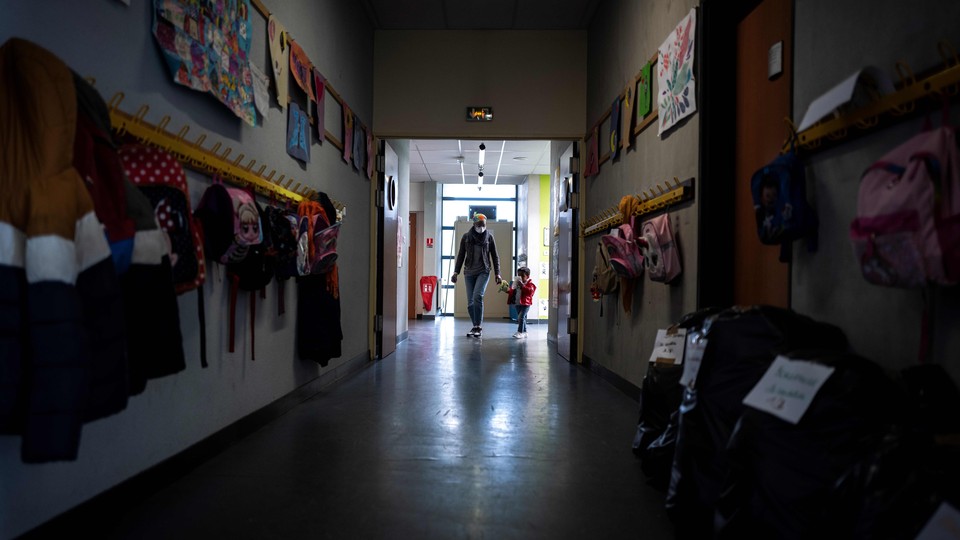 Updated at 12:17 p.m. ET on July 27, 2020.
"I can't keep doing this." I hear that over and over from my friends with kids. Holding a job, parenting, and teaching all at once during the pandemic is a juggling act that no one was prepared to undertake, and it has brought working parents to the breaking point.
Many of us are now riddled with anxiety over whether we'll send our kids back to school, even part-time, or keep them home. The idea that I might have to continue to work while facilitating another subpar semester of virtual learning is almost too much to bear. Even though COVID-19 cases have spiked where I live in Texas, I want to send my children back to school in the fall. I don't want to have to repeat the spring, for my kids' sake and my own. Schools simply need to find a way to make reopening safe.
I spent the first couple weeks of stay-at-home orders thinking: This will be tricky, but I've got it. After all, I homeschooled all four of my kids when they were younger, while I was working part-time. But I quickly discovered that overseeing virtual learning while working full-time is really nothing like homeschooling.
For one thing, I found it difficult to establish a routine. As a self-employed writer, my workload constantly changed, and my children's schedules shifted too. Our district struggled for several weeks to streamline the school day. And don't get me started about the technological problems. With four children in two different schools and at least 10 different teachers, my kids and I often had to access multiple online portals just to tackle a few subjects. Before the school came up with a better plan, my eldest son's middle-school teachers contacted me or him daily on different portals, all with different usernames and passwords. One day, perhaps because of a glitch on the school's end, my son's math teacher texted me the same message more than a dozen times while I was working.
The amount of effort required to accomplish just a few minutes of school discouraged learning. And the assignments were not nearly as comprehensive as we were used to; they barely brushed over new concepts. I know this because the teachers told us so. They did the best they could and so did we, but the whole situation was infuriating. And, unlike homeschooling, where parents can come up with hands-on learning techniques and trips, we were constantly tied to a screen.
My work life was equally scattered. I woke up early, got in a few hours on the computer, then turned to my kids' schooling. Purchasing groceries, cooking dinner, cleaning our home, or anything else happened catch-as-catch-can. Exhausted, I would have slept well every night, if I weren't wondering how I was going to get it all done again the next day.
My family finally found some semblance of a routine about a month before school ended. We limped to the finish line and celebrated with ice cream. But I don't want to do it again.
That said, I'm fully aware of how blessed I am: I have work. My job is flexible; in fact, I chose it because it was so conducive to parenting multiple children. I often wondered aloud what I would have done during the school year if I also had little kids old enough to be mobile—even destructive—but too young to be entertained by a television or an iPad (i.e., an electronic babysitter).
Other families I know struggled because they didn't have computers, or they had to constantly fight their child's lack of interest or inability to learn online. I found virtual school to be difficult for my youngest child, who is 6. Young children learn best through play, which online learning cannot begin to mimic.
The mother of a child in my son's kindergarten class works full time, in 10-hour shifts, and when quarantine began, had to put her child in a day care so she could continue working. She and her son left the house at 6 a.m., got home around 6 p.m., ate dinner, then tried to do all of the schoolwork. They fell asleep drained, only to do it all again the next day. That's no life for her or her child.
A few weeks ago, the county where I live emailed prospective parents their tentative reopening plan: Administrators wrote that because "face-to-face, in-person instruction with a teacher provides the best environment for the development of the whole child, including meeting the needs of the student's social, emotional, and intellectual development," in-person learning would resume with enhanced safety measures. However, parents who are uneasy about their child returning can choose online learning. I thought it was a good plan—better than the ones I've seen proposed by other school districts across the country.
I've been researching the risk of COVID-19 infection or death to children under 18, and it appears to be small. I'm also sympathetic to the risks to teachers.* Scott Atlas, the former chief of neuroradiology at Stanford University Medical Center, said in a recent interview, "There is virtually zero risk for children getting something serious or dying from this disease." The Centers for Disease Control and Prevention recently issued a statement about the importance of schools reopening.
Sending my children to school in person—as long as the students and teachers are following protocols, practicing social distancing, and wearing masks—seemed like the healthiest option for me, and my kids' educational growth, social well-being, and mental and emotional health, so I was all set on that option. But, in keeping with how tumultuous the times are, my district just revoked that plan because of the spike in cases, and said that the first six weeks of school will be virtual. This can't be the best decision. I know how this will go. This six weeks will be followed by another six weeks, and another. This is unsustainable. Let's open schools safely and cautiously, but open them nevertheless.
---
* An earlier version of this article mischaracterized a statement by the American Academy of Pediatrics.