Americans Need to Know the Hard Truth About Union Monuments in the West
During the Civil War, Union soldiers in the West weren't fighting to end slavery, but to annihilate and remove Native Americans.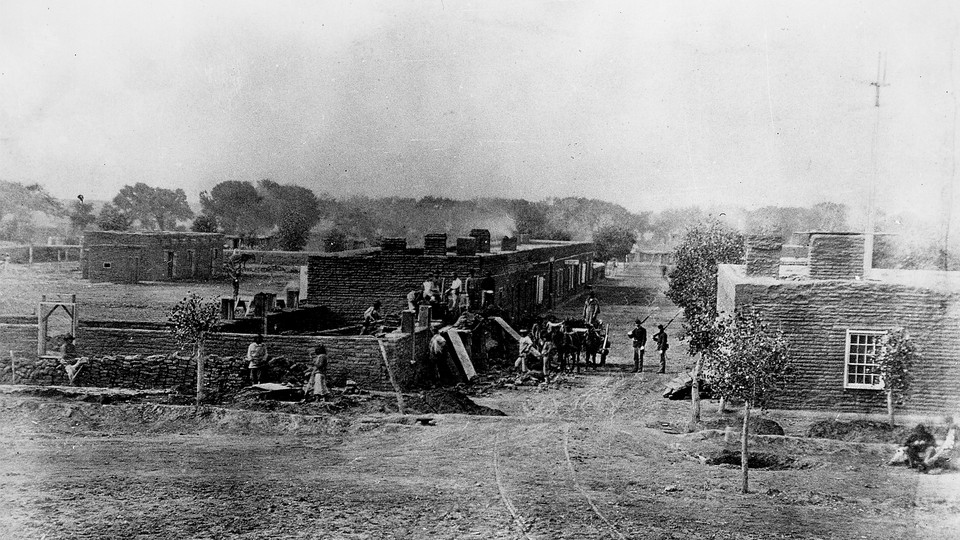 Three weeks ago, a sculpture of a Union soldier who had fought in the Civil War stood on a pedestal before the state Capitol building in Denver, gazing out toward the Rocky Mountains. Across the street, Christopher "Kit" Carson—a frontiersman and scout—kept his balance on a rearing horse, the centerpiece of a fountain dedicated to Colorado's pioneers. Four hundred miles to the south, another Carson monument stood in front of the Santiago E. Campos United States Courthouse in Santa Fe: a sandstone obelisk that lauded his career with an inscription reading "Pioneer, Pathfinder, Soldier." One block away, another large obelisk towered over Santa Fe Plaza. A granite and marble monument to Union soldiers who fought in New Mexico, the obelisk's four sides commemorated these soldiers' battles with Confederates and Native peoples, who were originally described on the monument as "savage Indians" (an Indigenous protester chiseled off the word savage in the 1970s).
Today, these sites look strikingly different. The Union soldier in Denver is gone, pulled down by protesters demonstrating against police brutality and racial inequality. Carson had a less violent end, carted off by the city in anticipation of another protest. Santa Fe's two obelisks are now covered in plywood to cover up tags labeling them as racist memorials of genocide and the theft of Indigenous lands.
Those responsible for pulling down and tagging these monuments have not been identified, so we cannot know their motives, but some Americans might see these removals as part of a "slippery slope" that monument advocates warn against. After all, as Colorado's governor, Jared Polis, put it, these statues are of "Union heroes of the Civil War who fought and lost their lives to end slavery." But while many Union soldiers did fight for emancipation in the East, Union soldiers in the West fought for Native annihilation and removal. For this reason, these monuments in Denver and Santa Fe deserve to be examined with the same scrutiny as Confederate statues.
In the fall of 1861, young white men of fighting age, most of them gold miners, began to volunteer for the Union Army in Colorado. They were called into action because an almost 3,000-man force was on its way to New Mexico from neighboring Confederate Texas, intent upon taking that territory and then California, whose gold mines and Pacific ports it coveted. Colorado's soldiers were needed to march south into New Mexico, to defend that territory from the Texans.
More than 600 men enlisted in the 1st Colorado Infantry and trained outside Denver, while several "independent" companies left for New Mexico in January 1862, joining a diverse fighting force of more than 3,000 Army regulars, Hispano New Mexican volunteers, and Ute and Pueblo scouts. One of the larger regiments in this army, the 1st New Mexico Volunteers, was commanded by Carson, who had enlisted at the outset of the war. In February 1862, the Army of New Mexico clashed with Confederates at the Battle of Valverde and lost.
The Confederates took Albuquerque and Santa Fe before meeting the 1st Colorado Infantry and Army regulars at Apache Canyon and Glorieta Pass. At Glorieta, the commander of Union forces sent a contingent of Colorado troops to get behind the Confederate line and destroy the wagon train. Their success in this endeavor, led by a minister from Denver named John Chivington, meant that the Confederates' conquest of the West was over. They could not hope to survive in the high deserts of the Southwest with no supplies.
After the Texans retreated to San Antonio in the summer of 1862, some Colorado troops stayed in New Mexico for a few months. Many of these were reorganized and sent east to fight Confederate guerrillas; others served as a "home guard" along the Front Range of the Rocky Mountains, to defend white communities against Plains Indian raids. The 3rd Colorado Cavalry, organized specifically to fight Native peoples, moved south in November 1864 and launched an unprovoked attack on a nearby Cheyenne and Arapaho camp. The soldiers killed as many as 230 Native people, many of them women, children, and the elderly, burned down their lodges, and then mutilated the dead bodies. When they returned to Denver several weeks later, the soldiers marched through the streets, displaying the scalps and other body parts they had taken from Sand Creek as trophies. The city's residents cheered them on. The mastermind behind the Sand Creek Massacre was John Chivington, the Union Army's hero at the Battle of Glorieta Pass.
Meanwhile, in New Mexico, the Union Army broke off into mobile units, and redeployed against Apache and Navajo communities. These Native peoples had been resisting the U.S. Army's attempts to build forts and travel through their territories since the 1840s. When the Civil War came to New Mexico, they siphoned off horses, cattle, and weapons from Union and Confederate camps. In September 1862, the new commander of the Department of New Mexico, James Henry Carleton, declared war on these new enemies and tapped Carson to lead the campaigns.
"All Indian men of that tribe are to be killed whenever and wherever you can find them," Carleton instructed Carson in a letter, before sending him to fight Mescalero Apaches in the fall of 1862. Women and children would be taken prisoner. Carson was not to engage in any peace talks, only violence. "We believe if we kill some of their men in fair open war," Carleton told him, "they will be apt to remember that it will be better for them to remain at peace than to be at war." Carleton planned to send the survivors to live on reservations guarded by Union Army soldiers, and force them into full-time farming and Christianity.
Carson followed orders. After a successful campaign against the Mescaleros, he rode across the Navajo homeland in the summer and fall of 1863 with 400 troops, burning crops and hogans (Navajo homes), and taking as many sheep as he could find. The point of this "hard war" strategy was to starve the Navajo out, forcing them to surrender to the Union. It worked perfectly; in January 1864, Carson led the first 270 Navajo prisoners out of their homeland and toward the Rio Grande.
This was the first of many forced removals, collectively known as the Long Walk. Over two years, the Union Army forced as many as 10,000 Navajo people to travel 300 miles, from what is now Arizona to Bosque Redondo, a "reservation" on the Pecos River in central New Mexico. Bosque Redondo, overseen by Union soldiers posted at nearby Fort Sumner, was a disaster from the start. Poor water, spoiled rations, a lack of wood, and a series of insect infestations that destroyed corn crops resulted in mass malnutrition and rampant disease. The Navajo began to call the reservation "Hwéeldi," Land of Suffering. By 1868—when they were able to negotiate a return to their homeland—more than 2,000 Navajo had died either on the Long Walk or at Bosque Redondo.
The Long Walk was a pivotal moment in Navajo history, a traumatic period that marks all that came before and after for their people. Since 1868, Navajo peoples have continued to struggle with the federal government over land rights and resources. These fights have been exacerbated by the Trump administration's determination to open Native lands to extractive industry, and by the coronavirus pandemic. In May, the Navajo Nation had the highest per capita infection rate in the U.S., and continues to be a major hot spot. As in the 1860s, the Navajo story today is one of suffering and survival. This is one of the stories that should be told in plazas and in front of capitol buildings across the West, rather than the myths embodied by laudatory sculptures of soldiers and frontiersmen.
Most Americans are not taught the history of the Union Army in the West, and its campaigns against Native peoples. They do not know that a plaque on the Civil War monument in front of Denver's capitol, erected in 1909, lists the Sand Creek Massacre as a Union victory understood by the soldiers—as the historian Ari Kelman explains in his book A Misplaced Massacre—as a proud moment in their service.
Most Americans do not know that the obelisk in Santa Fe Plaza, dedicated in 1868, lists the Union Army's battles against "savage Indians" as part of its service to the Union, or that Kit Carson was among the vanguard of white supremacy in New Mexico. It is hard for many people to wrap their minds around the fact that Union Army soldiers fought to wrest Native lands away from multiple tribes, as part of the Union cause to create a free, white West.
The monuments in Denver and Santa Fe glorify the settler colonialism enacted by Union troops. That is why activist groups such as the Three Sisters Collective in New Mexico and the American Indian Movement in Colorado have been calling for their removal for decades. For them, Union soldiers and Kit Carson represent racism and oppression in the same way that Confederates embody these values for Black Americans. In this transformative moment in American life, the combined efforts of Indigenous activists and Black Lives Matter demonstrators have finally brought them down.
Communities are in the midst of deciding how these monument sites should look going forward.  In Colorado, Governor Polis and the mayor of Denver have created committees to reassess the names of places and landmarks that honor controversial historical figures, but these measures do not include the evaluation of monuments. As of July 7, Polis's position on these sites—that he will repair the Civil War monument to Colorado soldiers  and arrest those responsible for bringing the sculpture down—does not seem to have changed. His decision ignores the state's Civil War history and dismisses many Colorado residents' demands.
In Santa Fe, local politicians have chosen a different and more direct path. The mayor has called for the creation of a "Truth and Reconciliation Commission" to discuss the removal of the monuments and what should replace them; Indigenous representatives should have a voice in those decisions. In the meantime, city officials have invited residents to contribute artworks that will be affixed to the plaza obelisk, reimagining it as an inclusive space for the entire community to enjoy. This engagement with monument removal holds the most hope for a future in which public spaces are open to everyone and reflect the richness of diverse communities, while also acknowledging and reckoning with the dark history of the American West.