How Our Indian Country Flattened the Curve
This is my first pandemic, but not my tribe's.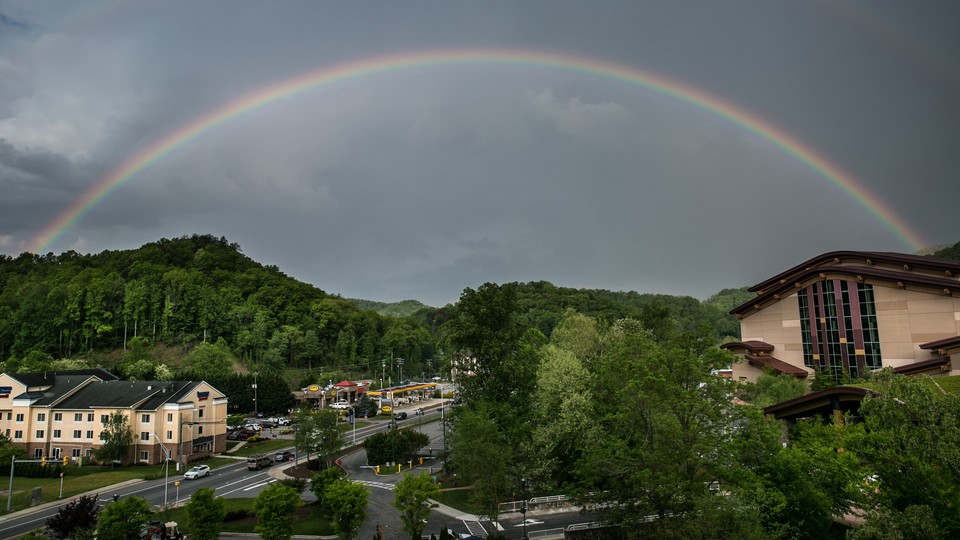 The Eastern Band of Cherokee Indians has for centuries practiced the Booger Dance to ward off illnesses and other malevolent forces. As night descends, men selected as "boogers," or evil entities, appear in tattered clothing and absurd masks made from gourds, wood, or hornets' nests. They mimic outsiders (typically Euro-Americans) and exaggerate lewd behavior as they dance. I was taught growing up that the dance stemmed from the tribe's experiences with devastating sickness such as smallpox, which Europeans brought to American soil. The ceremony is a reminder that we must always work to keep our home and people safe.
I am an enrolled member of the EBCI and a lifelong resident of our ancestral lands. This is my first pandemic, but not my tribe's. COVID-19 is merely our sovereign nation's latest test of resilience. We are one of the largest federally recognized tribes on the East Coast, with more than 16,000 enrolled members. We are also a community that depends heavily on tourism. While some of our counterparts in Indian Country are facing crisis-level death tolls, the EBCI has ensured that our health-care facilities meet crucial needs, that community members receive essential services, and that our economy is stabilized during the shutdown. We have managed, in fact, to handle the pandemic more effectively than many other areas in North Carolina.
Cradled by Great Smoky Mountains National Park, the Qualla Boundary—our land—comprises 56,000 acres in western North Carolina, across five counties. Not unlike other American Indian nations, the EBCI has rates of diabetes, heart disease, hypertension, and substance abuse far exceeding the national averages for other subgroups. Knowing that these factors would put the EBCI at extreme risk for the coronavirus, tribal health officials began discussing the potential impact on the Qualla Boundary with Principal Chief Richard Sneed very early—before January 20, when the United States reported its first case of COVID-19.
After comparing COVID-19 response models from Europe and Asia, tribal health officials identified South Korea's model of mass testing, contact tracing, and isolation of cases as the most effective and adaptable for our situation. They argued that those best practices, in addition to public education and quarantine, would be essential for keeping the tribe safe.
Tribal leaders did not wait for state and federal guidelines. In March, North Carolina was not encouraging mass testing, especially of asymptomatic residents, because the state—and regional communities—did not yet have the infrastructure to support such expansive measures. By contrast, beginning on March 15, the tribe funded and implemented mass COVID-19 testing for EBCI members and residents of the Qualla Boundary. The chief executive director of the Cherokee Indian Hospital, Casey Cooper, arranged a partnership between the tribe and a regional health nonprofit to help locate and purchase personal protective equipment, assist with data collection and analysis, and institute testing protocols. Around the same time, the hospital-nonprofit team built groups of contact tracers made up of accountants, social workers, nurses, and others.
The tribe also moved quickly to shut down the Qualla Boundary. "In early conversations with the chief, I told him, 'You're going to see stay-at-home orders from other states. I am going to recommend that you shut this government down. I'm talking everything,'" Vickie Bradley, the EBCI's secretary of health and human services, told me in an interview. When Chief Sneed called for data to back up the recommendation, Bradley was ready. "I had conviction. Casey [Cooper] had conviction. Everything was based on data," she told me. In response, Chief Sneed issued, on March 13, a state of emergency and then, eight days later, an addendum shutting down businesses. He also made the decision to close our borders, by instituting road closures to all vehicles but those providing crucial services.
With businesses closed, concerns over the economic stability of the tribe became the main topic of conversation among tribal members and those in the region who have come to rely on the EBCI's employment and businesses. The EBCI sent tribal employees home but continued to pay them, and they paid essential workers—police officers, nurses, emergency management, and others—double-time. Fortunately, several years of strategic budgeting had built a cash reserve that allowed Harrah's Cherokee Casino Resort, the economic driving force for the tribe and, in truth, the region, to stay closed for more than two months.
As COVID-19 cases started to rise in North Carolina in the past few months, the EBCI again took action. Although nonessential tribal government employees returned to work on June 22, those who come in close contact with children or elders were required to produce negative tests prior to reporting to job sites. The chief mandated face coverings across the boundary effective June 26. And the EBCI implemented a strict protocol for prisoner detention, which involves paying other counties to hold prisoners who tested negative so that our facilities have the space to safely isolate prisoners with COVID-19.
Although providing a direct, apples-to-apples comparison can be difficult given that the EBCI has a small population spread out over several counties, the tribe's statistics do show remarkable success thanks to the tribe taking action and members following protocols. As of July 13, the EBCI reported a test-positivity rate for active infections ranging from 2 to 4 percent. North Carolina's ranges from 8 to 10 percent. As of July 24, the EBCI had reported just three deaths and 112 positive test results over the course of the pandemic. (And 19 were from individuals who are not residents of the Qualla Boundary but were tested through the Cherokee Indian Hospital Authority system.) By contrast, on that same date our counterparts in Indian Country, the Mississippi Band of Choctaw—a tribal nation that serves a health-care user population of approximately 2,000 to 2,500 fewer people than ours—were reporting 73 deaths and 1,013 total cases.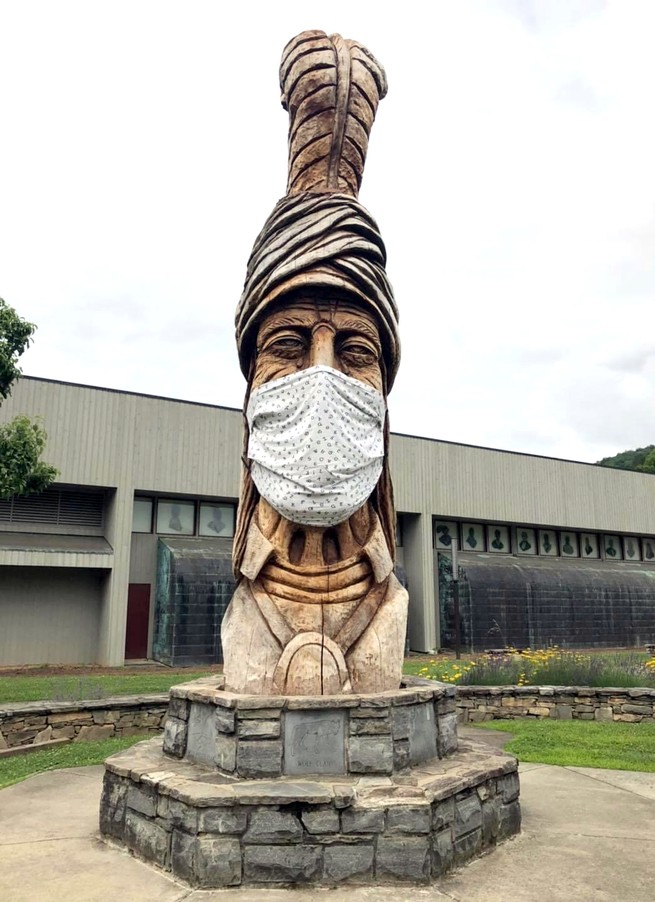 Because we kept the virus under control, we've been able to safely open our businesses once again, something that many states are struggling with now. Our tourism season is in full swing, including the phased reopening of our gaming facilities on May 28. Bradley suggests that Harrah's Cherokee Casino is a model for how large businesses should be responding. "They required everyone to wear a mask, social distancing is monitored, and they have over 300 sanitizing stations," Bradley told me. Many big-box stores in the area have not taken these protocols. As a result of these precautions, Harrah's Cherokee Casino is currently reporting only a 10 to 15 percent loss in gaming revenue versus the previous year, better than the originally projected loss of 25 to 30 percent. With the number of COVID-19 cases rising in North Carolina and in neighboring states, the chief and casino management continue to monitor the trends and haven't ruled out another closure if necessary.
We have fully embraced our collective dedication to the boundary. As I drive around, I am amused by the painted bear statues that now all exhibit handmade cloth masks. Even the 22-foot-tall wooden statue of Sequoyah (the father of the Cherokee syllabary) outside the Museum of the Cherokee Indian sports an enormous cloth mask, made by a local shop, Sew Tsalagi.
While the EBCI has exercised sovereignty to ensure the safety of not only our people, but our neighbors as well, our progressive actions are not always recognized, and some people seem woefully misinformed about them. Recently, I walked into a store in a neighboring town and overheard conversations by non-Cherokees (not wearing masks or social distancing) stating, "The Reservation is eaten up with cases. That's why they're having to test everybody." This isn't the first time the tribe has been the focus of fear. We have been dealing with misconceptions for hundreds of years. But I had to smile because I know what we've done to curb the outbreak in our community, and I'm proud to wear a mask—to, in some modern way, participate in a new kind of Booger Dance.