China Has Squandered Its First Great Opportunity
The world has experienced a six-month geopolitical vacuum, and China has filled it poorly.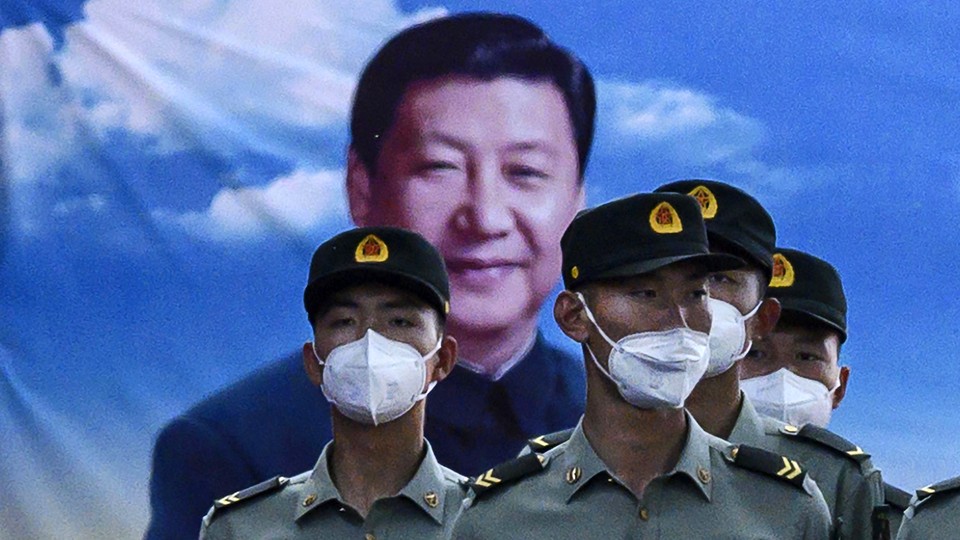 Foreign-policy observers have long debated: What if Beijing were handed a golden opportunity to strut on the world stage, absent a more powerful United States? Would it seize the opportunity, acting for the good of all and convincing the globe of its peaceful intentions? Or would it pursue a cramped vision of national interest? The world has inadvertently run that very experiment since January.
The combination of China's early coronavirus recovery, the catastrophic health and economic situation in the United States, an administration whose "America First" instincts have turned the country inward, and a mostly every-country-for-itself response to the global pandemic has put China in the geopolitical driver's seat. So far, Beijing has squandered the opportunity in dramatic fashion.
The news of Chinese diplomats burning documents in Houston represents just the latest, most dramatic development in Washington's quickly deteriorating relationship with Beijing. The United States is not the only country with worsening ties. In the first half of 2020, Beijing has been ecumenical in its assertiveness: Britain, Japan, Australia, India, Canada, and others have been on the receiving end of China's so-called wolf-warrior diplomacy
The list of what China has done to raise doubts and suspicions is long. Last month, Beijing pursued a deadly border standoff with India, crossing the Line of Actual Control and killing some 20 Indian soldiers. It passed a national-security law that effectively ended Hong Kong's political freedom, violating internationally agreed-upon commitments. When the Australian government expressed mild support for an international inquiry into COVID-19's origins, China barred and taxed key agricultural imports. Tokyo says that armed Chinese coast-guard vessels have sailed near the Senkaku Islands every day since April, and Beijing warned its citizens against travel to Canada, citing "frequent violent actions" purportedly carried out by law enforcement. Taiwanese Foreign Minister Joseph Wu recently reported an "unprecedented" number of sea and air exercises near the island, and the Chinese air force this month conducted live-fire drills in the South China Sea. No perceived transgression seems too small to elicit a hostile Chinese response: When the Dutch renamed its representative office in Taiwan—from the Netherlands Trade and Investment Office to the Netherlands Office Taipei—China threatened to stop sending medical supplies and to boycott Dutch goods.
If this is what Chinese global leadership looks like, many governments are quickly concluding, count us out.
They are not just worrying and complaining, but acting—and risking Beijing's further wrath. Britain has offered a path to citizenship for nearly 3 million Hong Kong residents and suspended its extradition treaty. London reversed itself on Huawei's role in building the British 5G network by barring the Chinese company entirely. After the border skirmish, India—one of the most important markets for Chinese tech companies—banned 59 Chinese apps, including TikTok and WeChat. Calls in New Delhi are rising to deny China key infrastructure contracts and even to boycott Chinese products. Japan established a $2.2 billion fund to help manufacturers shift production out of China, and Prime Minister Shinzo Abe faces diminishing resistance to his efforts at strengthening Japan's military posture. Australian Prime Minister Scott Morrison, saying that his region is now facing the "most consequential strategic realignment since the Second World War," announced nearly $190 billion in defense spending over the next decade, focused on high-tech programs that can counter Chinese capabilities. The Trump administration has been busy not just closing consulates but announcing its formal opposition to Beijing's claims in the South China Sea, rescinding Hong Kong's special economic status, and sanctioning Chinese companies over human-rights abuses in Xinjiang.
[ Read: Chinese AI Is Creating an Axis of Autocracy ]
Former Indian National Security Adviser Shivshankar Menon wrote this month that "it is hard to think of a time since the Cultural Revolution when China's international prestige and reputation have been lower." That's a remarkable statement, given the advantages Beijing possessed just a few months ago. Machiavelli said that it's better to be feared than loved. He didn't say hated.
Understanding why the Chinese Communist Party is acting in such a seemingly self-defeating fashion is now a top question on foreign-policy minds. But perhaps there's no single right answer. Early this year, as the virus spread from China around the world, leaders clearly worried about the threat to their international standing and sought to recast the narrative. Information operations and threats against those who might blame Beijing followed. In other cases, China has prioritized facts on the ground over fickle sentiment. The world might react with horror at Chinese actions in Hong Kong, for instance, but Beijing assumes that emotions will cool and that it will retain control—an approach reminiscent of Russia's single-mindedness on Crimea a few years ago. Yet other instances seem better explained by hubris: The time has come, Chinese propagandists argue, for the world to accommodate itself to China's power rather than the reverse.
[ Shadi Hamid: China Is Avoiding Blame by Trolling the World ]
Together, these varying motives suggest that the cliché—offered as recently as last week by Attorney General William Barr—that Beijing thinks in decades and centuries, whereas the West can't focus beyond the next quarter, is often wrong. Its leaders can be just as daft as anyone else.
The United States, however, should take small comfort in that realization. The underlying dynamics remain: China is pulling out of recession faster than North America and Europe, its military grows stronger each year, and countries in economic doldrums may exit the pandemic more reliant on Chinese capital and markets rather than less so. Chinese leaders believe that the future is theirs, as they pass fractious and declining democracies like the United States on the way up.
[ Read: Why China wants Trump to win ]
America has been lucky that Beijing hasn't acted with more deftness this time around. The world has experienced a six-month geopolitical vacuum, and China has filled it poorly. What happens next may have less to do with Chinese than American policy. An active, revitalized United States can once again compete effectively with China and resume its role as a global leader. If it does, the past six months could look more like an aberration than a prologue.