The Workplace Powers That Employees Need
The pandemic exposed hazardous conditions, and workers should have a say in fixing them.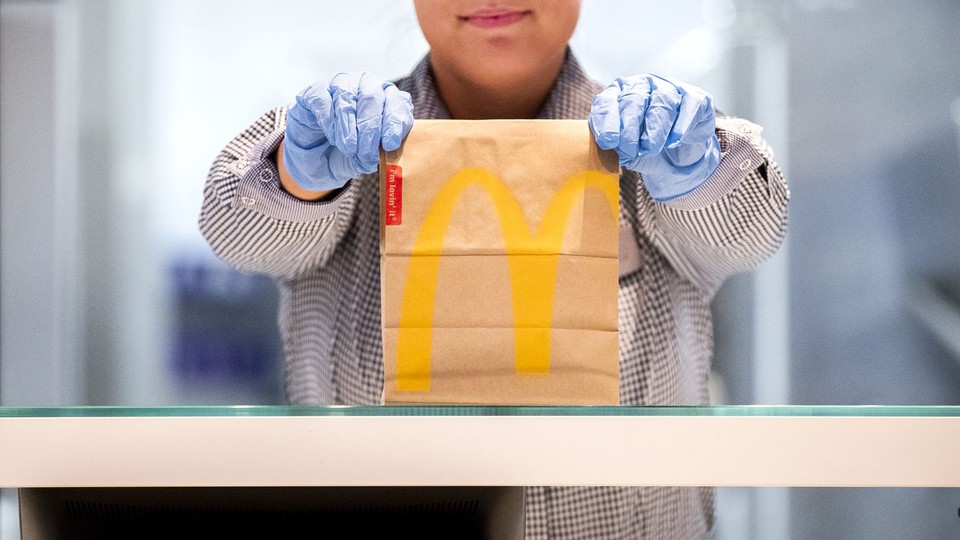 A few weeks ago, Angely Lambert was serving customers at a McDonald's on a bustling commercial strip in Oakland, California, when she started to feel ill on the job. Her sharp headache and dull body aches bothered her enough that she asked if she could go home, she told me, but a manager insisted that she finish her shift.
With the coronavirus pandemic raging in the Bay Area, the restaurant had put up barriers between its cashiers and its customers and passed out protective gear. But sick workers at the Telegraph Avenue McDonald's were never told to self-quarantine, a group of employees have asserted in a lawsuit and in interviews with journalists. According to these workers, the company did not inform them that they might have been infected. They say that staff received little training on how to control the spread of the respiratory virus and that enforcement of social distancing was scant. The most baroque allegation in the suit: that workers were told to fashion protective gear out of doggie diapers.
Lambert later found out that she did have COVID-19, as did nearly a dozen of her co-workers and at least six of their family members. Everyone working in the restaurant was exposed. Still, making just $14 an hour in one of the highest-cost regions in the United States, with family here and in Honduras to support, Lambert kept working. "My colleagues and I were scared, but we couldn't stay at home," she told me.
Frightened, angry, essential: This is American labor during the coronavirus pandemic. Decades of economic trends and legal shifts have tilted the balance of power in the employer-employee relationship toward corporations and away from workers. This means that, months into the pandemic, millions of low-wage workers are still facing an impossible choice: their lives or their livelihood. But it need not be this way. And as businesses reopen, workers such as Lambert need more say in how.
At the moment, they have very little. For millions, the choice is to quit into the worst job market in 90 years or continue working under potentially dangerous conditions. As a general point, lower-income, less educated workers in the United States make far less than their counterparts in other wealthy countries do, depriving them of a financial cushion that might allow them to quit. They are much less likely to be represented by a union to help them argue for higher wages, better benefits, and a safer workplace. And they are more likely to get sick and die at work.
"Economic issues are life-and-death issues," says Sharon Block, the executive director of the Labor and Worklife Program at Harvard Law School. "What COVID has done is illustrate the life-or-death nature of those economic issues in a very accelerated time frame." Indeed, the country's health crisis is at least in part a worker-safety crisis: 1,500 employees of the Metropolitan Transit Authority in New York City have fallen sick, along with nearly 5,000 meatpackers, 700 employees of a major Detroit health system, hundreds and hundreds of farmworkers, and many fast-food employees.
The federal government has done little to protect these or any other workers. Congress passed some temporary paid sick leave and is discussing protecting companies from virus-related lawsuits. The Occupational Safety and Health Administration has declined to give employers clear rules to follow, let alone make them mandatory and enforce them. Some states and cities and many private businesses have acted with more urgency.
In an interview, David Tovar, the McDonald's vice president for U.S. communications and government relations, noted that the restaurant in question is under the management of its franchise owner, but said that McDonald's was following the situation closely. He also stressed the changes the company had made to its business operations to ensure customer and employee safety. It has "taken weeks of evolution," he said, understanding government ordinances, consulting with health experts, and working with suppliers and restaurant operators. "We're in a situation where we're operating in a very safe and efficient way for our customers and our crew."
Still, for many workers, the situation remains worrisome. Terrified for their safety and frustrated with management, Lambert and her co-workers went on strike. A few of the franchise's employees are suing its owner, and the location has become a flash point for the health, economic, and racial-justice crises gripping the Bay Area; the labor-backed Fight for $15 has also become involved. ("The allegations raised in this lawsuit do not represent the high standards set for and reality of our restaurant operations," Michael Smith, the location's owner and operator, said in an emailed statement.) Across the country, essential workers who pack boxes, stock grocery shelves, and deliver groceries are walking off the job too, demanding hazard pay and safer conditions.
But given the shortcomings of American labor law and labor institutions, these workers are shouting into a void. "We don't have the right legal structures to channel that activity into, and so with a really dramatic increase in the number of strikes and walkouts in the past few years, we're still not seeing an increase in union activity," Block told me. "That activity has to have channels to amplify it and make it effective."
Workers have a voice, and the government needs to let them use it, giving employees such as Lambert more of a say in creating and maintaining a safe workplace. Clean Slate for Worker Power, an advocacy group led by Block and Benjamin Sachs of Harvard Law School, is pushing for new rules to require open businesses to have a worker-elected "safety steward," who would make sure a given workplace is complying with local and federal laws. They also propose that the government set up commissions to negotiate workplace-safety standards, business sector by business sector rather than one burger joint or nursing home at a time, and to help workers organize online. Because demanding safe conditions should not be a firing offense, the government could also pass just-cause dismissal statutes to protect workers from retaliation by their employers.
New polling from the liberal research and advocacy group Data for Progress shows that these kinds of policies are popular, even among conservatives: Two in three Republicans agree that workers "deserve a formal voice in setting workplace health and safety rules," along with three in four Democrats. The results also show strong, broad-based support for requiring businesses to let workers elect a safety representative and for giving workers more ways to voice concerns about safety.
Such proposals might not gain traction in this Congress, but they could be effective at the state and local level, Sachs told me. "Who knows what will be possible at the federal level starting in January," he said. "But we don't have to wait."
More broadly, of course, American workers need systemic changes to help reduce income inequality, expand the middle class, and promote workplace safety; an expansion of labor law to cover all workers, even those who are informally employed or of undocumented status; legal changes to promote collective bargaining and sectoral bargaining; and policies to protect the rights of workers to organize.
For now, in the midst of the pandemic, workers are negotiating for better conditions alone. "We demand justice, with everything that has happened to us," Lambert told me. "We not only demand justice for ourselves, but better conditions for all the other workers in fast-food restaurants that are suffering the same as we are."