Trump's 3-Point Plan to Win in 2020
He will attack the independence and integrity of the legal system, try to benefit from foreign help, and benefit from voting obstacles.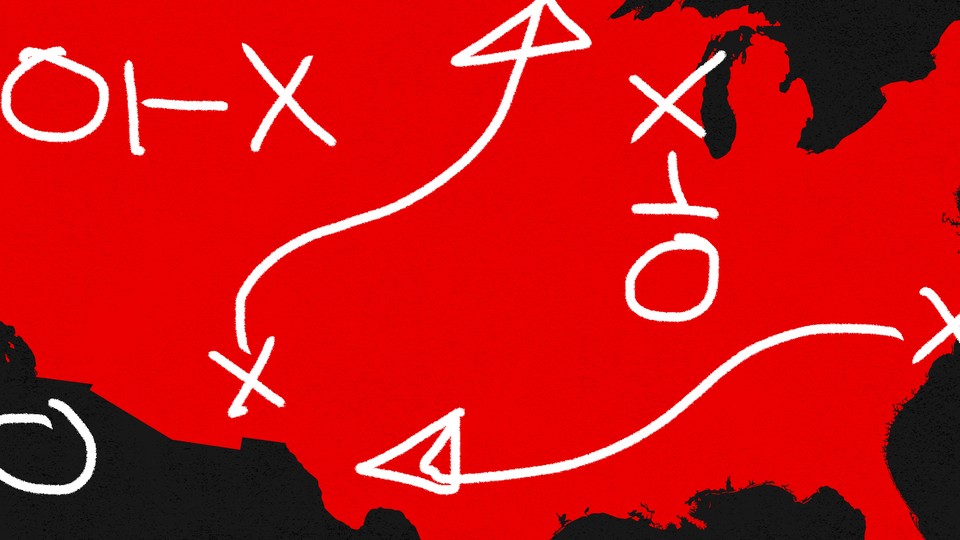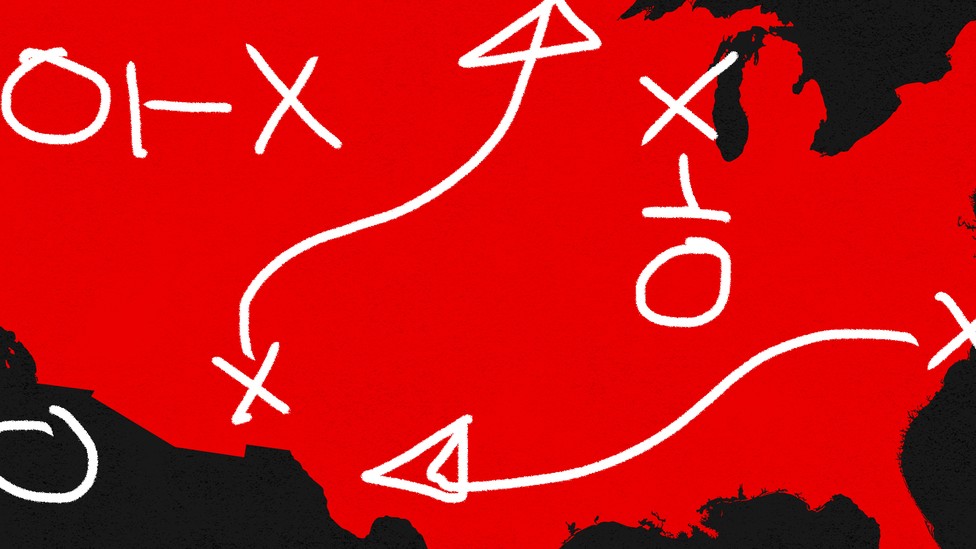 The polls for Donald Trump are grim. But if voter preference decided U.S. elections, Hillary Clinton would have won the presidency by almost 3 million ballots. Presidential elections can be gamed—and late yesterday night, events came together to reveal how the Trump administration hopes to game 2020.
Attorney General William Barr announced the "resignation" of the U.S. attorney for the Southern District of New York. Geoffrey Berman had prosecuted Trump associates and brought to light much Trump wrongdoing, including important elements of the quid-pro-quo scheme with the Ukrainian state that got Trump impeached in 2019.
That same Friday, BuzzFeed won a freedom-of-information lawsuit to obtain redacted portions of Special Counsel Robert Mueller's report. Mueller's report had concluded: "Beginning in June 2016, former Campaign member Roger Stone forecast to senior Campaign officials that WikiLeaks would release information damaging to candidate Clinton." But the details supporting that charge were suppressed. Now we have them, and it looks as though Trump personally directed his campaign chair Paul Manafort to keep in touch with Stone for advance details of WikiLeaks.
Finally, also yesterday, The Washington Post reported that fewer than 200 polling places will be open for the Kentucky primary on June 23, rather than the usual 3,700. Kentucky's vote-by-mail system is breaking down under the weight of requests for advance ballots. The impending chaos will bear especially heavily on Kentucky's African American voters. Voters in Louisville—a 20 percent black county—will all have to vote at one polling station, the city's convention center, likely to face crushingly long lines. The primary is not a formality: Kentucky Democrats face a contentious Senate choice. Louisville is the city where police killed Breonna Taylor. Anger about that shooting has propelled the rise of a competitor to Amy McGrath, the candidate favored by national Democrats. If McGrath, who is white, defeats State Representative Charles Booker, who is black, in a primary marred by obstacles to black voting, that could well splinter Kentucky Democrats, demobilize the state's black vote in November, and assure the easy reelection of Senate Majority Leader Mitch McConnell.
These three developments suggest the three components of the Trump endgame for 2020:
1) Attack the independence and integrity of the legal system;
2) benefit from foreign help and trust that by the time the help is proved, it will be stale news of scant interest to anybody; and
3) benefit from voting obstacles, particularly those that will impede black voting, and super-particularly those that will wedge apart the Democratic coalition on racial lines. (The Trump administration is not directly to blame for the coming mess in Kentucky—states manage elections—but it clearly relishes such situations.)
The Trump campaign is crude in its methods. It's oafish to claim, as Barr did, that somebody "resigned" without getting the resignation first. Trump has used more subtle means in the past. He apparently regarded the U.S. attorney in Washington, D.C., Jessie Liu, as insufficiently obedient to his demands for a prosecution of former FBI Acting Director Andrew McCabe. Trump got rid of her by announcing her promotion to a big job at the Treasury Department. Once Liu resigned her U.S. attorney post, Trump then withdrew her nomination to the Treasury job. (Admittedly, that trick can be used only so many times before its targets get wise.) Liu was replaced by Tim Shea, a close adviser to Barr.
Still, oafs can get the job done. Barr has made it his personal mission to protect Trump cronies on the wrong side of the law—and to thwart officials investigating those cronies.
Roger Stone: Stone was convicted on charges of obstruction of an official investigation, false statements, and witness tampering. He was proved to have repeatedly lied under oath. All four prosecutors in the case signed a memo recommending a sentence of seven to nine years, based squarely on federal sentencing guidelines. Then Trump erupted in a Twitter tirade against the recommendation, and Barr intervened to override his professionals and recommend a lesser sentence. In an interview with ABC, Barr complained that Trump's tweets got in the way of Barr doing "his job." Yet in the end, Stone was sentenced to only 40 months, less than half the original prosecution request.
Michael Flynn: Flynn pleaded guilty twice to lying to federal investigators. Again, Barr intervened in the case, this time via his ally the acting U.S. attorney for Washington, D.C., who had replaced the tricked-into-resigning Liu. Barr and Shea sought to withdraw the prosecution of Flynn altogether, despite his guilty pleas—a course so startling that the judge in the case sought outside guidance from another retired federal judge, John Gleeson. Gleeson, in a written report, blasted the Barr-Shea actions as a "gross abuse of prosecutorial power." He dismissed the justifications for the last-minute change of course as "obviously pretextual" to disguise the truth that the "decision to dismiss that is based solely on the fact that Flynn is a political ally of President Trump."
We don't know yet exactly what Trump scandal is sought to be concealed by the dismissal of Berman, the U.S. attorney for the Southern District of New York. In his memoir, John Bolton claims that Trump promised Turkish President Recep Tayyip Erdoğan that he would halt a Berman investigation of a state-owned Turkish bank. But really, Trump may be seeking to cover up any number of scandals. It could be any of them, or all of them, or some other, as-yet-undisclosed scandal altogether.
As the BuzzFeed discovery underscores, Trump largely got away with welcoming Russian aid in 2016. To what extent his campaign was in direct communication with Russians remains uncertain, but we do know of the June 16, 2016, meeting with Russian agents at Trump Tower in New York. We know too that Manafort shared proprietary campaign information with Russian business associates. (The sharing of information by Manafort was reported by Mueller. This revelation was originally redacted. It was unintentionally revealed by a poorly formatted court document.)
Meanwhile, in the District of Columbia, we can already smell the thick stink of scandal from Treasury Secretary Steven Mnuchin's attempt to conceal the recipients of aid paid from the emergency pandemic-relief fund—possibly including Trump's own companies. If Trump loses the election in November, he faces terrible legal exposure and financial trouble. Trump must win to survive, and in the face of low approval and high unemployment, he is unlikely to win if the vote is fair.
The impending chaos in Kentucky, following the chaos in Georgia earlier in June, shows the way to skew the vote. In Georgia, the lines were longest in heavily black areas near Atlanta. In an election suddenly dependent on mail-in voting, the once-obscure question of postage on absentee ballots suddenly matters a great deal. Military ballots can be mailed postage-free. Ballots are postage-free in 16 of the 50 states, especially heavily white states, including Idaho, Kansas, Minnesota, Oregon, and Washington. But Georgia and other southern states require voters to affix postage, which has historically discouraged take-up of the right to vote absentee. Of the 2020 swing states, only two—Arizona and Wisconsin—offer postage-free voting.
Trump in 2019 sought to extort election help from Ukraine. Bolton's new book confirms Trump's televised statements that he has sought election help from Chinese President Xi Jinping. It worked last time, at a manageable political price to Trump. Why wouldn't he try again?
In every respect, the Trump plan for 2020 is shaping up to be an election outside anything in modern American experience. Trump's only hope is to manipulate, distort, and suppress. He is acting now to realize that hope. Be warned, and be prepared.