The Night Trump Stopped Trying
Coming home from Tulsa, the intensely image-conscious president no longer looked like a winner.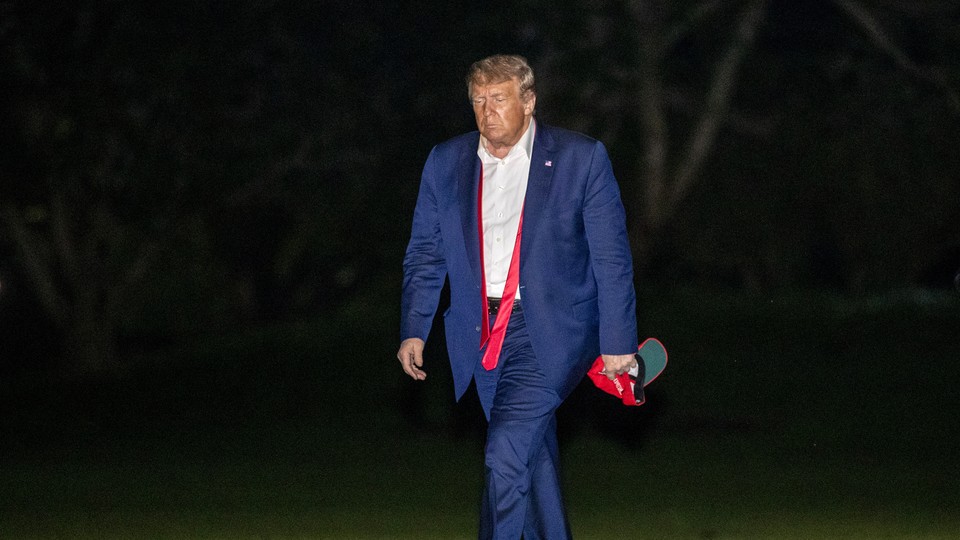 Five years ago this month, on June 16, 2015, Donald Trump delivered one of the indelible images of 21st-century politics when he slowly descended a gold escalator to a rally announcing his candidacy for the presidency.
On Saturday, he delivered another iconic image, but not the sort he wanted to produce. Returning to the White House after a flop of a rally in Tulsa, Oklahoma, Trump stepped off Marine One with his collar unbuttoned, his signature red tie undone and hanging loosely around his neck, and his MAGA hat crumpled in his hand. He waved listlessly to the cameras and gave a perfunctory thumbs-up.
The New York Times saw a "defeated expression on his face," and reported that he was furious about the meager crowd at his rally, as well as about a leak that six of his advance-team members had tested positive for the coronavirus. Who really knows what Trump was thinking in that moment? The president's own feelings are largely beside the point. As Trump, a consummate marketer, has always known, appearances matter—and right now Trump looks like a loser.
Even before the debacle in Tulsa, the week had been quietly miserable for the president. From his campaign to the coronavirus, from the economy to the courts, from polls to policy, Trump stumbled on every front. On June 13, he'd rescheduled the Tulsa rally for a day later out of deference to celebrations of Juneteenth, but only after taking a political beating for it. That concession was surprising because Trump hates backing down from anything, especially on matters of race.
Protests over police violence had eclipsed concern over the coronavirus for several weeks, but last week brought some renewed focus on the pandemic, which, despite Trump's best attempts to move past it, remains stubbornly present. The numbers of people testing positive are skyrocketing now in prospective November swing states, including Arizona, North Carolina, and even Texas. (The virus likely had some effect on the turnout at the rally in Tulsa too: Trump's base is still excited about him, but many supporters seemed rightfully wary about attending an event that required signing a waiver of liability for sickness.) On Thursday, the Labor Department announced that 1.5 million new unemployment claims had been filed in the preceding week, another sign that the rapid recovery Trump has heralded isn't coming.
The past week also dealt Trump several setbacks in court. On Monday morning, the Supreme Court—in a 6–3 decision written by Neil Gorsuch, a Trump appointee—ruled that the Civil Rights Act of 1964 protects LGBTQ people from employment discrimination. The Trump administration had argued that the law didn't apply to this population, and the government appeared to be caught off guard by the ruling. Three days later, the Court ruled that the president's cancellation of the Deferred Action for Childhood Arrivals program was invalid because he hadn't followed proper procedures.
Each of these decisions was a blow to the administration, because it went against the position staked out by the executive branch. The DACA case undermines Trump's promises to get tough on illegal immigration, though he went wobbly on Dreamers long ago. But the twin defeats have additional political ramifications, given that both are also major disappointments for conservatives.
The president has argued that his power to select Supreme Court justices is the ultimate reason why conservatives who are otherwise wary of him must support him. Trump can try to use these defeats to argue that giving him another term is essential, because new Supreme Court appointments seem likely in the next four years. But the losses may also undermine enthusiasm. Despite his two appointments to the Court already, he lost these two cases—and his own pick wrote the Civil Rights Act decision. "Do you get the impression the Supreme Court doesn't like me?" Trump whined on Twitter. It's not the cry of a winner.
On Saturday, Trump suffered another loss in a lower court, where a judge refused to block the release of former National Security Adviser John Bolton's damning memoir, saying that because the book had already shipped, "the damage is done."
No kidding. Bolton's memoir—which leaked on Wednesday—is full of horrifying news about Trump's handling of national security. Bolton writes of a Trump who makes every decision with an eye to his reelection campaign, for whom "obstruction of justice [was] a way of life," and who shrugged at Chinese concentration camps for Uighurs. In interviews, Bolton has said that Trump is unfit for office. Bolton, whose politics might appropriately be described as "severely conservative," has even vowed to vote against Trump in 2020.
The broad outlines of Bolton's indictment of Trump may not come as much surprise, though the details still shock. Trump's attacks on Bolton's character and résumé only look silly, given that he handpicked Bolton for the job. (Trump attacked Bolton's support for the war in Iraq, but told The Wall Street Journal he didn't ascertain Bolton's view—which was well known—until he was already on the job.)
It is also astonishing to see a former appointee attack a sitting president so viciously. That, too, is a sign of Trump's current weakness: When a president looks weak, it invites resistance and rebellion—which is one reason Trump has been so focused on the idea of weakness throughout his term. On Friday, Attorney General William Barr attempted to fire Geoffrey Berman, the U.S. Attorney for the Southern District of New York. Berman initially refused, stepping down a day later only after a fiery exchange with Barr. That's a sign that Berman has concluded he has more to gain by being the prosecutor who defied Trump and Barr than he does by being a faithful soldier in the MAGA army.
The sagging strength of the Trump White House is reflected in a string of polls that show Joe Biden ahead of Trump. No poll in RealClearPolitics's tracker in June shows Biden leading by less than 6 percent; some show the Democrat with a double-digit lead. Poor polling can be both a result of presidential listlessness and a cause of it: Trump is an inveterate poll reader, and went so far as to baselessly threaten a lawsuit against CNN for an unflattering survey.
Some aides have started to wonder whether the president even really wants a second term, the Times reports. The White House has barely begun planning what he would do in another four years, which doesn't necessarily reflect pessimism about his prospects—this administration is infamously disorganized—but may imperil them, because it offers voters nothing to support.
Though it's been clear for a couple of months that Trump is losing, that does not mean he will lose in November. The president's base remains energetic (though it may be shrinking slightly), and Republicans poll as more enthusiastic than Democrats. That Trump could win a majority of votes in November is almost unimaginable, but he has been pursuing a minoritarian strategy all along. A fun hobby anytime I see a doomsaying headline about the Trump 2020 campaign has been to see whether I can find a nearly identical headline from four years ago. Often, I can. I have also written so many articles about disastrous weeks in the Trump administration that I can scarcely keep track of them all, and the past week doesn't quite measure up (or down) to them.
Yet even if this week hasn't done so much material damage to Trump's prospects, it has badly hurt his image. The pictures of the rows of empty seats in Tulsa will linger. The image of Trump strolling off Marine One disheveled and doleful is much worse than the clip of him teetering down a ramp at West Point—the one he spent nearly 15 minutes in Tulsa trying to explain away. Once a candidate makes an unflattering impression on voters, the label—from John Kerry's floppiness to George H. W. Bush's wimp factor—becomes difficult to shake. How could a man so attentive to the power of appearance get so sloppy? Trump understands this dynamic as well as anyone: Once you look like a loser, there's a danger voters will treat you like one.