This Is Trump's Plague Now
The first coronavirus spike, in late April, can be blamed on the president's negligence. The second spike, in June, is his own doing.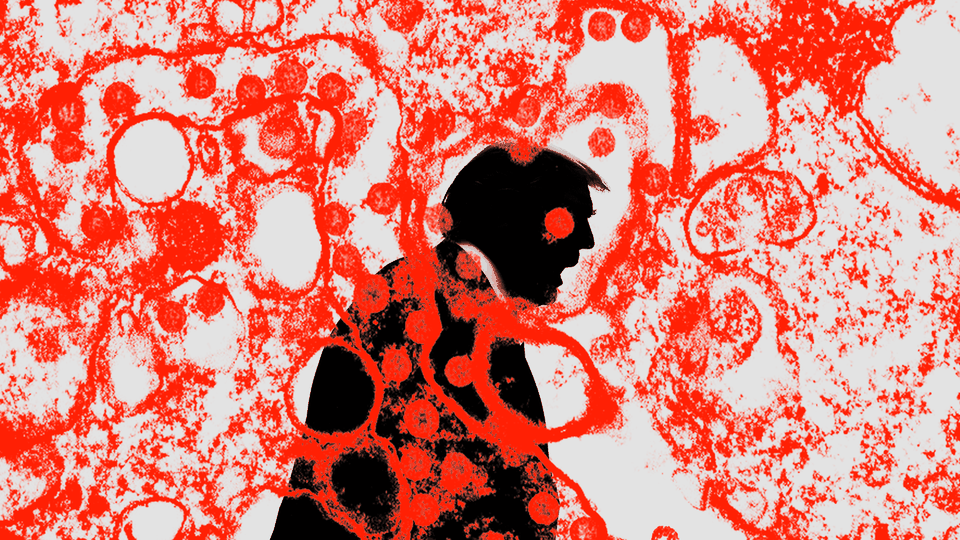 COVID-19 infections peaked on April 24, or so Americans assumed. State health authorities reported 36,738 new cases that day, a record. By mid-May, the United States had reduced that rate of infection by nearly half, to 17,618 on May 11. The accomplishment had come at a tremendous cost: the lockdown of much of the national economy, Great Depression levels of unemployment, the shift to online schooling for millions of children, families denied final visits to dying loved ones. Still, these sacrifices had delivered the desired result. Had that progress continued, the American people—and the American economy—could have likely foreseen a further decline in cases and perhaps a near end to the pandemic, even before a vaccine.
But that's not what happened. On June 24, the number of infections surpassed the April 24 peak. On June 25, the number surpassed that of June 24. On June 26, the country suffered almost 46,000 new infections—nearly 10,000 more in one day than on the worst day in April. All of the sacrifices of the past weeks have been thrown away.
The first coronavirus spike, in late April, can be blamed on President Donald Trump's negligence. The second spike, in June, is his own doing. This is Trump's plague now.
A Washington Post report on June 27 captures Trump's culpability with horrible aptness. The city of Tulsa, Oklahoma, has been enforcing social-distancing rules, and for good reason. From June 1 to June 15, new COVID-19 cases in the state jumped from 67 in a day to 186. In advance of Trump's rally in Tulsa on June 20, city employees affixed Do Not Sit Here Please stickers to every other seat in the stadium venue. Trump campaign workers were captured on video removing the stickers so that Trump could cram attendees closer together. On June 26, Oklahoma reported 396 new infections in a single day.
Trump's rally may not directly account for all those new cases. But Trump's elevation of the needs of his own ego over the well-being of even his strongest supporters is profoundly implicated in the virus's powerful June comeback.
Even before the viral peak on April 24, Trump urged the reopening of the U.S. economy. On April 16, Trump convened the nation's governors by conference call to press them to lift restrictions by May 1. The White House that day also released a set of highly permissive guidelines to inform the process, recommending a three-phased plan to begin after states had established a 14-day "downward trajectory of documented cases." But how steep a decline? Many decisions were left to the governors, at least ostensibly.
"You're going to call your own shots," Trump told the governors on the call. "You're going to be calling the shots. We'll be standing right alongside of you, and we're going to get our country open and get it working. People want to get working."
At the time, this show of deference to the governors looked like a political retreat by the president. Days earlier, Trump had declared that he alone had "total authority" to reopen the economy—and it would be "the biggest decision I've ever had to make." But the deference soon proved a sham. Trump was set on the widest and earliest possible opening, and he exerted the immense political power of his office to get his wish.
In mid-April, protesters—many of them openly brandishing weapons—assembled at the capitols of Democratic-governed states to demand immediate reopening. Trump tweeted his support. "LIBERATE MINNESOTA!" "LIBERATE MICHIGAN!" "LIBERATE VIRGINIA, and save your great 2nd Amendment. It is under siege!"
From mid- to late April, the trajectory of infections in states such as Georgia, Florida, and Texas was relatively flat, not down. Despite that, Trump cheered for governors to reopen fast and faster. On April 29, Trump declared that federal social-distancing guidelines would be "fading out." "I am very much in favor of what they're doing," Trump said in the Oval Office about the southern and western governors who were racing to reopen by May 1. The governors were responding to political pressures from local business owners, yes. But they were also obeying the president's wishes and yielding to pressure from right-wing media.
At first, Fox News hosts and guests had dismissed COVID-19 as a Democratic plot against the Trump economy. Just one example of many: On March 9, Sean Hannity said, "They're scaring the living hell out of people. And I see them again as like, 'Oh, okay, let's bludgeon Trump with this new hoax.'" Then, in mid-March, the network abruptly switched its editorial line. Hosts not only voiced concern, but adamantly denied that they had ever done otherwise. "This program has always taken the coronavirus seriously, and we've never called the virus a hoax," Hannity said on March 18.
But as Trump pressed for reopening, the Fox News line shifted again. Hosts and guests tumbled over one another to demand more reopenings, faster, bigger—and to pooh-pooh any continuing danger from coronavirus. "The virus just isn't nearly as deadly as we thought it was, all of us, including on this show. Everybody thought it was, but it turned out not to be," Tucker Carlson said on his program April 27.
On April 29, Florida Governor Ron DeSantis appeared on the Hannity program to tout his state's triumph over the virus. "We know who the vulnerable populations are. We know, if you look at the statistics for people under 50 who don't have chronic conditions, I mean, you have an extremely low chance of death from this virus and those situations. We know how to protect folks and social distance between those two groups, and so I think there's a lot of things we've learned over the last six weeks. So I think we can take a step forward here in May, continue to build on that, and get America back."
On May 3, Trump staged his notorious town hall in the Lincoln Memorial—a site usually forbidden to be used for partisan purposes, but accessed by Trump via a special exemption. Trump used the occasion to exhort governors to reopen even faster than the guidelines had laid out. "There's not too many states that I know of that are going up. Almost everybody is headed in the right direction," he said. "We're on the right side of it, but we want to keep it that way, but we also want to get back to work." He praised states that were moving quickly to reopen their economies—and singled out Virginia as a state that was moving too slowly.
By this time, Republican-led states had begun letting their stay-at-home orders lapse, starting with Georgia on April 23. Trump initially praised the Georgia plan, then criticized it—but ultimately approved it. Texas followed on May 1. Florida launched the first phase of its reopening on May 4.
Trump promised vaccines by the end of the year, and a surging economy by the third quarter of 2020. And if anything contradicted all this happy talk, the president had his answer ready. "The only reason the U.S. has reported one million cases of CoronaVirus is that our Testing is sooo much better than any other country in the World," Trump tweeted on April 29. "Other countries are way behind us in Testing, and therefore show far fewer cases!"
As Trump had hoped, good news began to arrive in the early part of May. Cases were trending down, as were deaths. On May 11, he tweeted: "Coronavirus numbers are looking MUCH better, going down almost everywhere. Big progress being made!" Trump ran another victory lap on May 17. "Doing REALLY well, medically, on solving the CoronaVirus situation (Plague!). It will happen!" That same day he added: "The number of Coronavirus cases is strongly trending downward throughout the United States, with few exceptions. Very good news, indeed!" That was fateful timing. The COVID-19 news from mid-May on would almost all be bad.
What went wrong? Early reopening could only have worked if stringent safety measures, including the use of face masks and social distancing, were incorporated. Yet the president sabotaged the reopening he himself had forced. Throughout his presidency, Trump has subordinated rational policy in order to provoke virulent culture wars. And the mask has become a rallying symbol for his supporters.
Trump never wears a mask in public, and he has mocked Joe Biden for wearing one. "I see Biden. It's like his whole face is covered. It's like he put a knapsack over his face. He probably likes it that way," Trump told The Wall Street Journal on May 21. The Journal's Michael C. Bender then followed up. He remarked that Trump often negatively commented on masks, especially when worn by White House reporters. "Do you view that as a protest of you? Do you feel like people wear masks to show their disapproval of you?" Trump allowed that it could be—then attacked the health hazards of masks—then expressed indifference whether his supporters wore them or not.
Rush Limbaugh mocked the mask as a "symbol of fear" on May 15. The former Fox anchor Brit Hume joined in. On May 27, a writer at the pro-Trump web publication The Federalist posted a piece headlined, "Mandatory Masks Aren't About Safety, They're About Social Control." The author, Molly McCann, warned: "If everyone is wearing a mask, it telegraphs a society-wide acceptance that the status quo has changed." That morning, a pro-Trump writer named Lee Smith tweeted a link to the article, amplifying McCann's paranoia. "Terrific @molmccann piece in @FDRLST — masks aren't about public health but social control. Image of Biden in black mask endorses culture of silence, slavery, and social death." Smith is a major figure in the pro-Trump media landscape. Formerly a Middle East correspondent for Bill Kristol's Weekly Standard—and still connected to the eminently mainstream Hudson Institute—he has plunged deep and thick into the pro-Trump cause. In the early morning of May 28, Smith's tweet got a retweet from Trump himself.
You might not imagine that there would be much room to escalate anti-mask rhetoric from "silence, slavery, and social death." You would be wrong. An Arizona city councilman derisively appropriated George Floyd's dying words, "I can't breathe," to mock mask-wearing. Sebastian Gorka, a former Trump adviser, found a way to go even further than that on his June 23 radio program.
Caller: I wanted to discuss what I call the Democrat Islamo-Maoist masks that their dictators demand.

Sebastian Gorka: You mean the COVID burqas, the COVID masks. … You know, there's something inhuman about it, isn't there? The idea that you cover the face. Not only does it dehumanize the individual in that interaction with another human being, but also it is, you're right, an act of submission.
Millions of citizens obeyed the cues from Trump, the right-wing media, and the medical crackpots who predominate Facebook. While the great majority of Americans approve of mask wearing in public, only 40 percent of Republicans do. On June 20, a short video showed up on Twitter of a middle-aged man in shorts trying to enter a Florida Walmart unmasked. When a masked store employee politely reminded the customer of store rules, the man shoved the employee so hard that the shover actually fell over from his own momentum. The customer got up and pushed the same employee again to force his way in. Perhaps the customer was carrying one of the fake "anti-mask exemption cards" now circulating on the internet and social media for printing at home.
As the United States nears the Fourth of July, the disease is reviving. Some Trump supporters want to blame the Black Lives Matter protests for the spike. But the states that mounted the largest protests have seen caseloads decline since George Floyd's death. Minnesota reported 645 new cases on May 26, then 493 on June 26. New York recorded 1,044, then 804 on the same dates. Washington, D.C.'s 109 cases on May 26 fell to 26 by June 26. Granted, not everybody who protested in those places lived in those places, so perhaps some demonstrators carried the virus to other states. But there's certainly no obvious link yet. Meanwhile, JPMorgan has found powerful connections between rising restaurant spending and, three weeks later, increasing COVID-19 infections.
The disease is spiking in places precisely where state governments hastened to reopen bars, casinos, restaurants, shopping malls, and other indoor places of entertainment. Phoenix, Houston, and other southern cities are suddenly reporting caseloads that look like New York City at its worst. Florida reported nearly 9,000 new infections on June 26, nearly equaling some of New York's worst days. Texas recorded almost 6,000 new cases that day. Arizona reported nearly 3,400 new cases on June 26 and now suffers more cases per capita than Brazil or any country in Europe.
In the face of this worsening crisis, Trump is not taking action; he's instead shifting the goalposts: Don't pay attention to the case rate, he now argues. Look at the death rate. Last week, he tweeted: "Coronavirus deaths are way down. Mortality rate is one of the lowest in the World. Our Economy is roaring back and will NOT be shut down. 'Embers' or flare ups will be put out, as necessary!" But deaths lag behind infections, and a rise in cases in late June warns of more deaths to come in late July. We're already well past the death toll of 100,000 that Trump predicted at his Lincoln Memorial town hall only eight weeks ago.
Trump's hopes for a third-quarter economic recovery are also blighted. Spending data suggest that the upward trajectory of May and early June has halted and reversed in the states that have opened. The slight uptick in employment in May now may prove abortive. For millions of American families, the hardest reckoning arrives on July 31, when the federal government stops supplementing state unemployment insurance benefits. Those who have kept their jobs face other hardships. Will schools reopen in September? It looks more and more doubtful.
At the onset, the pandemic was aggravated by Trump's negligence and indifference. He had dismantled the country's pandemic preparedness. He denied the disease for two months. He made one crucial mistake after another.
Even so, Trump could plausibly shift at least some blame for the arrival of the disease. The pandemic did originate outside of the U.S., China did cover up the disease, and the World Health Organization did enable China. Trump could also argue that even those countries with the best responses were hit hard for many weeks.
But what has happened in the U.S. in June, and what will happen in July, is entirely Trump's fault. The president's approach to the virus has been guided by his lifelong beliefs: It's just as real to say you have done a good job as to do a good job. Denying you failed is just as real as actually succeeding. This time, though, reality will not be blustered away. Tens of thousands are dead, and millions are out of work, all because Trump could not and would not do the job of disease control—a job that includes setting a positive example to those Americans who trust and follow his leadership.
Across the rest of the developed world, COVID-19 has been ebbing. As a result, borders are reopening and economies are reviving. Here in the U.S., however, Americans are suffering a new disease peak worse than the worst of April. How lethal will this new peak be? We will learn that the way we seem to learn everything in this era of Trump: the hard way.