The Reckoning Will Be Incomplete Without Black Women and Girls
The nationwide outcry against systemic racism almost always centers men and boys.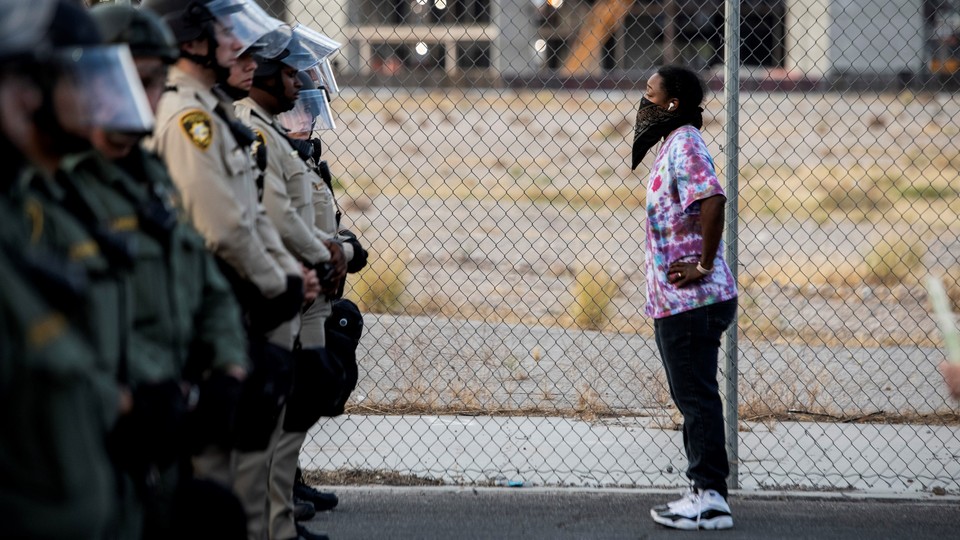 Updated at 10:32 a.m. ET on June 15, 2020.
On May 25, George Floyd died, calling for his mother and gasping for breath. Derek Chauvin, a white Minneapolis police officer, killed him, forcing his knee onto Floyd's neck until the man stopped moving, and for several minutes after that. The agonizing moments were captured on camera and shared with the world.
When black husbands, fathers, sons, and neighbors fall victim to law enforcement, often black wives, daughters, mothers, and girlfriends pick up the pieces. They must keep families together, manage the community's collective grief, and lead the resistance with little acknowledgment of their own mental and physical well-being or safety. Sometimes the weight is too much to bear.
Even though there is now a nationwide outcry against systemic racism and its by-products—the over-policing, incarceration, brutalization, and murder of black people—the discussion and activism almost always center men and boys. By minimizing the trials of black women and girls, the country will miss the full picture of devastation that the American police state imposes on African Americans.
The 17-year-old who filmed Floyd's killing on her phone presents one example of how black women and girls can be collateral damage. Darnella Frazier bore witness to Floyd's lynching and made sure that it would not be buried like so many before. Her act of bravery started an uprising. But witnessing Floyd's death has left the girl, who already suffers from social anxiety, emotionally scarred. While Frazier contributed more than any child should be asked to, not everyone believes the girl did enough. She has reported being harassed on social media by people who ask why she did not cry out or throw her young body between Floyd and four armed police officers.
Erica Garner was 23 years old when a New York City police officer placed her father, Eric Garner, in a chokehold and killed him. His dying words were, like Floyd's, "I can't breathe." His daughter became an outspoken advocate for police reform, a face of the Black Lives Matter movement. That is, until she died at age 27 of a heart attack brought on by asthma. Her family said in a Twitter statement at the time, "When you report this you remember she was human: mother, daughter, sister, aunt. Her heart was bigger than the world. It really, really was. She cared when most people wouldn't have. She was good. She only pursued right, no matter what. No one gave her justice."
Black women and girls' interactions with the criminal-justice system are not just ancillary. Their direct involvement with police begins early. Black girls are suspended from school at a rate six times higher than that of white girls. They are "the fastest growing segment of the juvenile justice system," according to an article in the Georgetown Journal on Poverty Law and Policy—1.2 times more likely to be detained and 20 percent more likely to be charged than their white counterparts.
Black girls are also treated with excessive force. A viral video filmed in 2015 showed a white policeman astride a small, 14-year-old, bikini-clad black girl in McKinney, Texas. He and other officers had responded to calls from white neighbors about a teen pool party. In 2016, another video showed a South Carolina school resource officer and sheriff's deputy slamming a teenage black girl backward from her chair for refusing to give up her cellphone. Both that girl and another black girl who came to her defense were arrested.
Black trans women experience disproportionate police harassment. According to a report on anti-transgender violence, more than a third of black trans women who interact with law enforcement are assumed by police to be sex workers, leading to harassment, abuse, and mistreatment.
Although the assumption that women are "the fairer sex" and, along with their children, to be protected endures, that belief and that protection have always been the privilege (as well as the burden) of middle-class white women. And not all children are deemed innocent and immature; certainly black ones are not. Since 1619, America has viewed black women and girls very differently from their white counterparts.
As I explained in my book The Sisters Are Alright: Changing the Broken Narrative of Black Women in America, these biases helped justify enslavement and exploitation in antebellum America. Slaveowners called black women "masculine" and "bestial" to justify hard manual labor, and "aggressive" and "lascivious" to rationalize rape and the breeding of new human property. They viewed black women and girls as devoid of human emotion to pardon separating them from their loved ones, and as natural servants to excuse ignoring their personal agency. White people called black women "ugly," "hard," and "valueless" to differentiate them from the fine white ladies of land-owning gentry. Black girls were rarely called children, simply young chattel that had not yet come into its complete usefulness. "Many of the earliest representations of black children demonstrated their exclusion from the social category of childhood," Crystal Lynn Webster wrote in The American Historian, adding that women such as Mary Prince and Harriet Jacobs, who documented the experience of bondswomen, "represented their enslavement through the violent losses of their childhood innocence and … sexual violations of girlhood in the world of slavery."
Those diminishing traits followed black women and girls out of slavery through Reconstruction, Jim Crow, and the civil-rights movement, and continue to ensure that they are not treated with value or regard—much less gingerly—today. In a 2013 Time article, the Cornell University professor Noliwe M. Rooks asked, "Why are Black women seen as more threatening, more masculine and less in need of help?" A 2017 study by the Georgetown Law Center on Poverty and Inequality found that adults, regardless of their race or education level, believe that black girls ages 5 to 19 are "less innocent and more adult-like than their white peers," and need less nurturing, protection, support, and comfort.
These perceptions of black girls and women, unsurprisingly, have led to their horrible treatment and death at the hands of law enforcement. Officers, serving a so-called no-knock search warrant at her apartment after midnight, shot Breonna Taylor eight times as she lay in her own bed, after exchanging gunfire with her boyfriend, who thought someone was breaking in.* Her death has provoked some outrage, but not at the level of Floyd's. Though the Black Lives Matter movement was founded by three black women—Patrisse Cullors, Opal Tometi, and Alicia Garza—police killings of black women and girls have failed to provoke much national emotion and outcry. Consider the names of so many women—Rekia Boyd, Atatiana Jefferson, Pamela Turner, Yvette Smith, Aiyana Stanley-Jones, and others—whose stories seemed to dissolve from public consciousness like paper in the rain.
The silence has been so overwhelming that the African American Policy Forum and the Center for Intersectionality and Social Policy Studies launched the #SayHerName campaign in 2014 to bring awareness to the names and stories of black women and girls who have been victimized by racist police violence, and to provide support to their families. The campaign webpage reads: "If our collective outrage around cases of police violence is meant to serve as a warning to the state that its agents cannot kill without consequence, our silence around the cases of Black women and girls sends the message that certain deaths do not merit repercussions."
The racist American criminal-justice system is wholly destructive to black lives without regard for gender, age, sexuality, or class. It wrecks families. It robs children of safety and education. It shortens lives. An uprising is long past due, but the revolution is incomplete. Black lives matter. Full stop. All black people deserve their humanity. All black people deserve protection. All black people deserve freedom. All black people deserve justice. And there can be no justice for black Americans unless women and girls are included in the reckoning.
---
* This article previously misrepresented the circumstances of the police killing of Breonna Taylor.