Shouting Into the Institutional Void
Demonstrators are hammering on a hollowed-out structure, and it very well may collapse.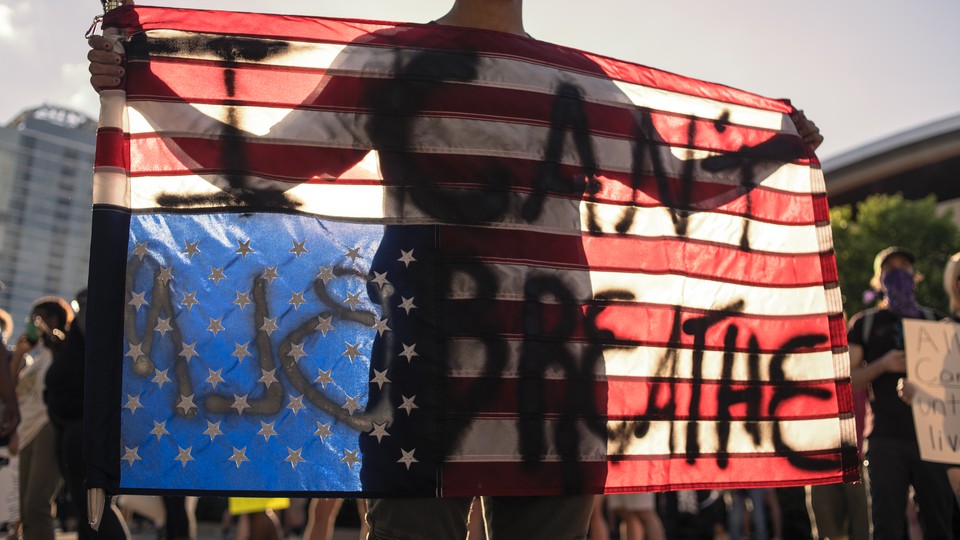 The urban unrest of the mid-to-late 1960s was more intense than the days and nights of protest since George Floyd was murdered by a Minneapolis policeman. More people died then, more buildings were gutted, more businesses were ransacked. But those years had one advantage over the present. America was coming apart at the seams, but it still had seams. The streets were filled with demonstrators raging against the "system," but there was still a system to tear down. Its institutions were basically intact. A few leaders, in and outside government, even exercised some moral authority.
In July 1967, immediately after the riots in Newark and Detroit, President Lyndon B. Johnson created a commission to study the causes and prevention of urban unrest. The Kerner Commission—named for its chairman, Governor Otto Kerner Jr. of Illinois—was an emblem of its moment. It didn't look the way it would today. Just two of the 11 members were black (Roy Wilkins, the leader of the NAACP, and Edward Brooke, a Republican senator from Massachusetts); only one was a woman. The commission was also bipartisan, including a couple of liberal Republicans, a conservative congressman from Ohio with a strong commitment to civil rights, and representatives from business and labor. It reflected a society that was deeply unjust but still in possession of the tools of self-correction.
The commission's report, written by the executive director, David Ginsburg, an establishment liberal lawyer of New Deal vintage, appeared at the end of February 1968. It became an instant million-copy best seller. Its language is bracing by the standards of any era: "What white Americans have never fully understood—but what the Negro can never forget—is that white society is deeply implicated in the ghetto. White institutions created it, white institutions maintain it, and white society condones it." The report called for far-reaching policy reforms in housing, employment, education, and policing, to stop the country from becoming "two societies, one black, one white—separate and unequal."
It was too much for Johnson, who resented not being credited for his efforts to achieve civil rights and eradicate poverty, and whose presidency had just been engulfed by the Tet Offensive in South Vietnam. He shelved the report. A few weeks later, on the evening of April 4, Martin Luther King Jr. was killed in Memphis. The next night, Johnson—who had just announced that he wouldn't run for reelection—spoke to a country whose cities were burning from coast to coast. "It is the fiber and the fabric of the republic that's being tested," he said. "If we are to have the America that we mean to have, all men of all races, all regions, all religions must stand their ground to deny violence its victory in this sorrowful time, and in all times to come. Last evening, after receiving the terrible news of Dr. King's death, my heart went out to his family and to his people, especially to the young Americans who I know must sometimes wonder if they are to be denied a fullness of life because of the color of their skin." To an aide, he was more blunt in assessing the uprising: "What did you expect? I don't know why we're surprised. When you put your foot on a man's neck and hold him down for 300 years, and then you let him up, what's he going to do? He's going to knock your block off."
King's murder and the riots it sparked propelled Congress to pass, by an overwhelming and bipartisan margin, the decade's last major piece of civil-rights legislation, the Civil Rights Act of 1968, which enforced fair standards in housing. Johnson signed it on April 11. It was too late. The very best reports, laws, and presidential speeches couldn't contain the anger in the streets. That year, 1968, was when reform was overwhelmed by radicalization on the left and reaction on the right. We still live in the aftermath. The language and ideas of the Kerner Report have haunted the years since—a reminder of a missed chance.
The difference between 1968 and 2020 is the difference between a society that failed to solve its biggest problem and a society that no longer has the means to try. A year before his death, King, still insisting on nonviolent resistance, called riots "the language of the unheard." The phrase implies that someone could be made to hear, and possibly answer. What's happening today doesn't feel the same. The protesters aren't speaking to leaders who might listen, or to a power structure that might yield, except perhaps the structure of white power, which is too vast and diffuse to respond. Congress isn't preparing a bill to address root causes; Congress no longer even tries to solve problems. No president, least of all this one, could assemble a commission of respected figures from different sectors and parties to study the problem of police brutality and produce a best-selling report with a consensus for fundamental change. A responsible establishment doesn't exist. Our president is one of the rioters.
After half a century of social dissolution, of polarization by class and race and region and politics, there are no functioning institutions or leaders to fail us with their inadequate response to the moment's urgency. Levers of influence no longer connect to sources of power. Democratic protections—the eyes of a free press, the impartiality of the law, elected officials acting out of conscience or self-interest—have lost public trust. The protesters are railing against a society that isn't cohesive enough to summon a response. They're hammering on a hollowed-out structure, and it very well may collapse.
If 2020 were at all like 1968, the president would go on national television and speak as the leader of all Americans to try to calm a rattled country in a tumultuous time. But the Trump administration hasn't answered the unrest like an embattled democracy trying to reestablish legitimacy. Its reflex is that of an autocracy—a display of strength that actually reveals weakness, emptiness. Trump's short walk from the White House to St. John's Episcopal Church had all the trappings of a strongman trying to show that he was still master of the country amid reports that he'd taken refuge in a bunker: the phalanx of armored guards surrounding him as he strutted out of the presidential palace; the tear gas and beatings that cleared his path of demonstrators and journalists; the presence of his daughter, who had come up with the idea, and his top general, wearing combat fatigues as if to signal that the army would defend the regime against the people, and his top justice official, who had given the order to raid the square.
William Barr has reacted to the killing of George Floyd like the head of a secret-police force rather than the attorney general of a democratic republic. His first act was not to order a federal investigation into the Minneapolis Police Department, but—as he's done before—to rush out ahead of the facts and try to control public opinion, by announcing that the violence following Floyd's death was the work of left-wing agitators. Streets of the nation's capital are now blocked by security forces from Barr's Department of Justice—many from the Federal Bureau of Prisons—wearing uniforms that make them impossible to identify, like paramilitary troops with unknown commanders.
The protests have to be understood in the context of this institutional void. They resemble the spontaneous mass cry of a people suffering under dictatorship more than the organized projection of public opinion aimed at an accountable government. They signify that democratic politics has stopped working. They are both utopian and desperate.
Some public figures—politicians, policy experts, civic leaders—have come forward with proposals for changing the mindset and tactics of the police. Terrence Floyd, the brother of the murdered man, urged protesters to educate themselves and vote. But the overwhelming message of the protests is simply "end racism," which would be a large step toward ending evil itself. The protesters are demanding an absolute, as if they've stopped expecting the state to produce anything that falls a little short. For white protesters—who are joining demonstrations on behalf of black freedom and equality in large numbers for the first time since Selma, Alabama, 55 years ago—this demand means ending an evil that lies within themselves. It would be another sign of a hollow democracy if the main energy in the afterglow of the protests goes into small-group sessions on white privilege rather than a hard push for police reform.
The immediate context of the protests helps explain their breadth and intensity: three years of the bigoted and cruel presidency of Donald Trump; three months of the worst pandemic in a century, with more than 100,000 Americans dead and 40 million unemployed. Trump's utter failure to protect Americans from COVID-19 and his indifference to suffering that fell most heavily on poor, black, and brown people, and to the economic ravages that followed—injustice on this scale burned like smothered coals in millions of homes and hearts during the months of quarantine. The easing of the lockdown and the video of a man's life being crushed out of him came at the same moment, and the anger received a tremendous burst of oxygen.
The fragility of social cohesion is clear in the collision between pandemic and protest. Barely a week ago, Americans were staying home to keep themselves and others alive and healthy. Family members and close friends hadn't seen one another in months; people were afraid to touch their grocery deliveries; the very sick were dying alone. In a country whose origin myths are of freedom and restlessness, broad support for the lockdown was an extraordinary achievement on the part of public-health experts and elected officials. According to the numbers, the approach was succeeding. Then came the killing of George Floyd, and the pandemic was pushed aside for the next crisis.
The coronavirus doesn't care if it's stopped trending on Twitter. Many demonstrators are wearing masks, but with thousands of people in close quarters, shouting, singing, tear-gassed, it's impossible not to worry that the curve, finally bent in New York and other cities, is about to spike upward. Public-health experts, caught between their science and their politics, are trying to talk around this harsh fact, and in doing so they're destroying their own hard-won authority. More than 1,000 have signed a letter that distinguishes the anti-lockdown protests of a month ago, which they denounced as selfish and irresponsible, from the much denser anti-racism protests, which they support on the grounds that racism itself is a threat to public health. (Lockdown opponents argued that unemployment threatened public health.) Tom Frieden, a former director of the Centers for Disease Control and Prevention, and a leading advocate for stay-at-home measures, tweeted on June 2: "The threat to Covid control from protesting outside is tiny compared to the threat to Covid control created when governments act in ways that lose community trust. People can protest peacefully AND work together to stop Covid. Violence harms public health."
To which a commenter replied: "This tweet makes me lose trust in our health authorities."
This is where we are. Trust is missing everywhere—between black Americans and police, between experts and ordinary people, between the government and the governed, between citizens of different identities and beliefs. There's an election coming in five months. It won't end racism or the pandemic, or repair our social bonds, or restore our democracy to health. But it could give us a chance to try, if we get that far.