The NFL Is Suddenly Worried About Black Lives
When the league had the opportunity to be on the right side of history, it chose the coward's path.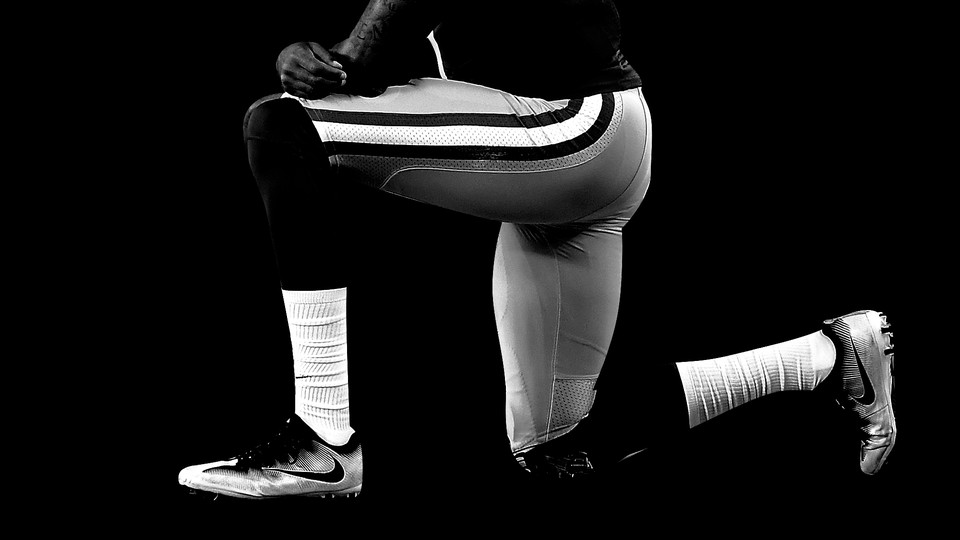 On Saturday, National Football League Commissioner Roger Goodell had the nerve to put out a statement extending condolences to the families of George Floyd, Breonna Taylor, and Ahmaud Arbery—three African Americans who were killed by people who claimed to be enforcing the law. The league, Goodell insisted, was "committed to continuing the important work to address these systemic issues together with our players, clubs and partners."
Maybe the NFL thought that Will Smith had popped up with a neuralyzer and wiped everyone's memory clean. If by "important work," the league was referring to how it blackballed Colin Kaepernick—who, while quarterback of the San Francisco 49ers in 2016, took a knee during the national anthem to bring attention to police brutality and racial injustice—then the NFL is correct to say it showed a commitment.
Back then, the NFL had the opportunity to use its platform to support Kaepernick's courageous stance against police brutality, but NFL owners opted instead to direct their energy toward ruining Kaepernick's career.
As unrest spreads across the nation, the NFL does not get to act as if it always stood with Kaepernick or the other players who followed his lead. Not when the league has shown itself to be a fake ally, an obstacle in the pursuit of social justice and equality, and a reflection of the racism that it says it stands against.
Yesterday, many NFL teams took part in #blackouttuesday—an activist-driven social-media protest that encouraged people to post black squares on their social-media platforms in observance of Floyd's murder and the need to confront racism and inequality. But when the league had the opportunity to be on the right side of history, it chose the coward's path. It stood idly by as Kaepernick's message was lazily characterized as anti-American and disrespectful toward veterans—or was co-opted by public-relations gestures intended to dilute it.
Never forget that when Goodell was first asked about Kaepernick's protest, the commissioner said, "I don't necessarily agree with what he's doing." The 49ers, who expressed support on Twitter and Facebook for the Black Lives Matter movement yesterday, essentially pushed Kaepernick out in 2017.
In the fall of that year, President Donald Trump insulted NFL players who participated in protests and demanded that they lose their jobs. "Get that son of a bitch off the field," he said. Whatever solidarity the NFL might have had with black people brutalized by police, the league abandoned the fight pretty quickly after Trump got involved. First, the Dallas Cowboys owner, Jerry Jones, threatened to bench any player who didn't stand for the anthem—much to the president's delight. Then Goodell sent a letter to team owners that declared, "The controversy over the Anthem is a barrier to having honest conversations and making real progress on the underlying issues."
Later, the league tried to tamp down dissent by providing $90 million to grassroots initiatives by the Players Coalition, a group of NFL players whom Kaepernick had inspired to advocate for social justice. But the NFL's interest in the subject seemed to be more about getting the players to stop kneeling, putting an end to Trump's attacks, and winning back those fans who supposedly were turned off by the protests.
That response to these recent injustices was hypocritical enough, but it's even worse considering how poor the league's own track record is. How could a 32-team league with only three black head coaches and two black general managers—despite 70 percent of the players being black—have any credibility when it comes to fighting racial inequality? The hypocrisy wasn't just limited to NFL teams. Yesterday, the New Orleans Saints quarterback Drew Brees posted a blank black square on his Instagram page, even though in 2016 he too equated Kaepernick's stance with disrespecting the American flag.
The NFL's selective amnesia is only emblematic of a larger problem in America. Whenever black folks speak candidly about the horrors of police brutality, the default reaction in the United States isn't to start disrupting and dismantling the system of prejudices that enables the abuse of black people, but to demand silence and, sometimes, outright obedience.
When Kaepernick took a knee, 12-year-old Tamir Rice had been fatally shot by a Cleveland police officer while playing with a toy pellet gun in a park near his home. Sandra Bland already had been found dead in her jail cell after being taken into police custody under suspicious circumstances for failing to signal a lane change. "There's people being murdered unjustly and not being held accountable," Kaepernick said in 2016. "People are being given paid leave for killing people. That's not right. That's not right by anyone's standards."
What happened to Kaepernick—from being ostracized by the league to seeing his cause suddenly appreciated—is no different from what happened to the former Olympians John Carlos and Tommie Smith or the former heavyweight champion Muhammad Ali. Carlos and Smith were sent home from the 1968 Olympics for raising their fists on the medal podium to bring awareness to the unfair treatment of black people in the United States. They were national pariahs when they returned home, and only years later, long after history proved them right, were they widely accepted as agents of social progress. The same applies to Ali, who was arrested and stripped of his boxing titles for standing against the Vietnam War. Over time, Ali became one of the most beloved athletes in sports history. But many of those who later praised Carlos, Smith, and Ali were absent when it really mattered.
Unfortunately, since Kaepernick was shooed away, there hasn't been sufficient progress with the issues he spoke out against. Derek Chauvin, who pressed his knee into Floyd's neck for nearly nine minutes before killing him, was eventually arrested and charged with third-degree murder and manslaughter, but the three other officers who were on the scene—all of whom stood by and did nothing as Floyd died on the pavement—have yet to be charged. All four were fired.
In Arbery's case, no arrests were made for months. He was shot to death in February by white vigilantes—one of whom was a former officer in Georgia's Glynn County Police Department as well as an investigator with the local district attorney's office. He and two other men have now been charged with murder. If a jarring video of Arbery's death hadn't been made public, they probably would have faced no consequences.
Taylor, a 26-year-old black health-care worker, was killed in her own apartment in Louisville, Kentucky, in March after a botched police raid. "Somebody kicked in the door and shot my girlfriend," her boyfriend told a dispatcher on a 911 call. The case is now under investigation by the FBI. So far, none of the officers involved has been fired or arrested.
The rage spreading across the country because of this gross injustice isn't because the system is broken. It's because the system is working just as it was intended.
"I don't think there's systemic racism," National Security Adviser Robert O'Brien told the CNN anchor Jake Tapper on Sunday. "I think 99.9 percent of our officers are great Americans—and many of them are African American, Hispanic, Asian. They work in the toughest neighborhoods. They've got the hardest jobs to do in this country, and I think they're amazing, great Americans, and they're my heroes. But you know what? There are some bad apples in there. There are some bad cops that are racists, and they don't have the right training and they need to be rooted out."
Thinking of these incidents as examples of rogue behavior is more comforting than acknowledging that this system was created to treat black people as worthless. Black people are three times as likely as white people to be killed by the police, according to Mapping Police Violence, an advocacy group dedicated to tracking killings by law-enforcement agencies in the United States.
America hasn't been able to grapple with the uncomfortable reality that police brutality is encoded in this country's DNA. In the 1700s, southern slave patrols terrorized black people in the name of keeping them in bondage. Those patrols eventually evolved into the police forces that enforced Jim Crow laws by using violence, intimidation, and harassment. And now, in the modern day, researchers have repeatedly shown how black people are punished harder for the same crimes that whites commit and targeted more frequently by law enforcement. From 2002 to 2013, New York City instituted the controversial stop-and-frisk program under the direction of former Mayor Michael Bloomberg. The program gave New York law enforcement unchecked authority to question anyone it thought might be a criminal. Not surprisingly, the policy became a weapon against black and brown people. In 2009 alone, black and brown people were nine times as likely to be stopped by the police as white people were.
Now, even amid nationwide protests against police violence, police officers still are unable to curb their reckless behavior. Six Atlanta police officers are now facing charges after breaking the car windows of two college students, pulling them from their vehicle, and using Tasers on them. Two of the officers involved were fired.
Such incidents are why black people are so endangered when a white person calls the police on them merely for existing. This is the modern-day version of checking freedom papers—that is, of forcing African Americans to prove they're doing nothing wrong. When white 911 callers summon the police because a black person is barbecuing, golfing, or objecting to an unleashed dog, they're admitting which purpose they believe the police really serve. And it has nothing to do with protecting public safety.
The recent wave of protests and acts of rebellion gives Americans yet another chance to listen to black people without them having to die to prove a point. Kaepernick's gesture of taking a knee is more powerful now than it was back in 2016. News coverage—not to mention numerous photos and videos on the internet—shows protesters kneeling in the streets because it's come to universally symbolize nonviolent resistance. Had the NFL continued to support Kaepernick all along, the league would be remembered in this moment as a true beacon of progress, rather than a bunch of shameless hypocrites.