The Looming Threat to Voting in Person
Amid a push for mail-in balloting, states still need a better strategy for safety at the polls.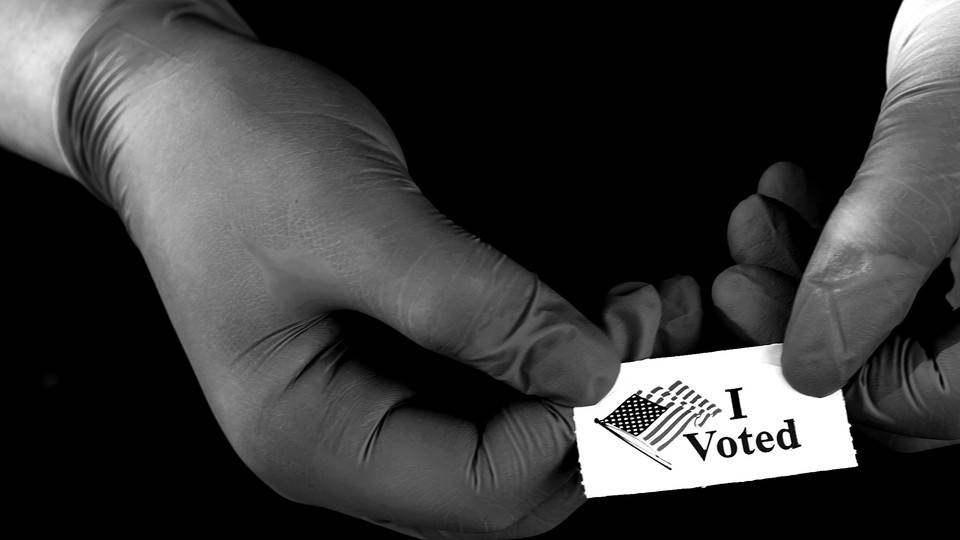 About the authors: Nathaniel Persily is a professor of law at Stanford Law School, where he is the co-director of the Stanford Cyber Policy Center and the Stanford-MIT Healthy Elections Project. Charles Stewart III is a professor of political science at the Massachusetts Institute of Technology, where he is the co-director of the Caltech/MIT Voting Technology Project, the founding director of the MIT Election Data and Science Lab, and the co-director of the Stanford-MIT Healthy Elections Project.
The daunting logistics of holding an election during a pandemic were on display in Kentucky on Tuesday, as voters in the state's primary made their way to just 170 polling places—down from 3,700 before the coronavirus arrived. Considering the logistical challenges of social distancing, record absentee-ballot requests, and uncertainties about whether officials could recruit sufficient poll workers, observers on the ground judged the election to be surprisingly well run. Even then, some voters in Lexington faced two-hour waits, and an afternoon traffic jam in Louisville prompted a judge to order the reopening of a polling place after hours.
Kentucky's experience was yet another reminder that the presidential election in November will be held under radically changed circumstances. As the pandemic has unfolded, an expansion of mail balloting has become the central focus of reformers, state lawmakers, and the litigants in voting-rights cases. But Americans will most likely still go to the polls on Election Day, and many of them will go to polling places that are unready to receive them.
The current trajectory in many states suggests that the demand for in-person voting will hugely outstrip the supply of poll workers and polling places. This imbalance erects barriers to voter participation and needlessly jeopardizes the health of poll workers and voters.
President Donald Trump's tweets opposing mail-in voting have helped open up a partisan divide on the issue at the national level. Most local election officials of both parties, however, recognize that greater use of the mail is necessary, despite the associated challenges. According to recent surveys, most voters agree. Every effort should be made to reduce the density of voters on Election Day and during early voting, and an expansion of mail balloting is essential to doing so.
Still, Americans desperately need safe polling places in November as well. Voter behavior is highly resistant to change. Many Americans have voted in person their entire adult lives, and some view it as an expression of civic pride and duty. Still others do not trust the postal system to deliver their ballot or have absorbed the criticism by Trump and others and, on principle, will not vote by mail. People with certain disabilities may vote more easily in person, as may those who need language assistance.
In a survey we recently conducted of registered voters in Pennsylvania, roughly half said they would vote in person in the fall. Even among primary voters who cast a mail ballot, 20 percent said they were likely to vote in person in the general election. Most of those who failed to vote in the primary but plan to vote in November said they will do so in person.
Especially for new or infrequent voters, certain aspects of absentee voting may seem strange. They may have difficulty navigating the websites to request a ballot. They might be surprised to learn that, when mailing back their ballot, they must sign the outside envelope so that election officials can verify their signature. In recent New Jersey elections, for example, as many as 10 percent of the ballots were not counted because they arrived late or had technical deficiencies. Mail-in voting procedures trip up some groups more than others. When we analyzed data from Florida, we found that African Americans, young people, and first-time voters were less likely to have their mail ballots counted because of lateness or noncompliance with these technical requirements.
Finally, Election Day polling places represent an indispensable fail-safe for voters who do not receive their mail ballots on time. During the primary season, jurisdictions with little experience in voting by mail have been overwhelmed by the number of mail ballots that need to be processed. In Wisconsin earlier this year, for example, more than 10,000 voters requested absentee ballots that they never received. A local federal judge thought that merited an extension of the deadline for casting them. But his decision was quickly overruled the day before the election by a narrow majority of the United States Supreme Court. This left voters literally out in the cold, as those who never received mail ballots now had to wait in long lines in places such as Milwaukee, which opened only five polling locations.
If past elections are any indicator, the number of general-election mail-ballot requests will likely double those seen in the primaries. Given the stresses on local election officials and the U.S. Postal Service, an even greater share of voters in November are likely to face bottlenecks and backlogs in responding to those requests. Moreover, the pandemic and the recession may cause a great many voters to change residences between now and then. A physical polling place may be the only guaranteed location for them to receive and vote with a ballot.
Meanwhile, the elements necessary to conduct safe in-person voting are all in short supply. A substantial portion of the national corps of poll workers—many of whom are senior citizens at elevated risk for the coronavirus—will not volunteer again in November. The city clerk of Anchorage, Alaska, recently testified that 95 percent of the poll workers who usually run their local elections declined to serve this year. The massive shortfall in poll workers for the Wisconsin primary provoked the state's governor to call in 2,400 members of the National Guard to help staff polling places. In Kentucky's recent primary, the National Guard provided support as well. But the civil unrest of the past month, and the role of the Guard in quelling protests, will probably chill similar efforts to mobilize it to staff polling places in the fall—at least in those states that worry about the appearance of the militarization of polling places.
Many of the usual polling locations, too, are taking themselves out of commission. Through our work with the Stanford-MIT Healthy Elections Project, some local election officials have told us that half of their polling places might be unavailable in the fall. A third of Americans vote in schools, but many such buildings—along with senior-living centers, firehouses, and other community facilities—are now being closed to outsiders. Other facilities that served as polling stations before the pandemic are unfit because they are too small to ensure social distancing. States are improvising—and when they raise COVID-19 concerns as the explanation for restricting access, the courts are not providing any relief. Before the Kentucky primary, voting-rights advocates sued the state over its plan to open only a single polling place per county. A federal court said doing so did not violate either the Constitution or the Voting Rights Act.
Finally, election officials need to procure a whole new set of products for this election. Poll workers, who might encounter thousands of voters on Election Day in normal times, now need personal protective equipment to ensure their safety. Voters, too, need masks, hand sanitizer, gloves, and single-use pens. To obtain enough supplies for November, state and local election officials need to place their orders soon, because they are competing with other sectors of the economy for the same supplies.
The shortages will be particularly acute in states that refuse to expand mail voting. Many states that temporarily loosened their requirements for absentee ballots during the primary season are poised to return to their pre-pandemic rules in November. By offering no-excuse absentee voting, Kentucky encouraged massive turnout in mail balloting that relieved pressure on the limited number of polling places. In an unprecedented move, Ohio conducted its primary entirely by mail. Neither of these states, though, currently plans to extend these emergency measures for the general election.
So what is to be done? First, states need more money. Congress appropriated $400 million in the original CARES Act for election assistance, but five times that will be necessary to buy the equipment, rent the facilities, and pay the personnel necessary to conduct voting properly during this pandemic.
Second, states need to conduct a massive outreach effort to recruit new poll workers and find new polling locations. Facebook recently announced a substantial effort to register voters and move them to mail balloting. The company should also help in the recruitment of poll workers by giving free advertising to local election officials for that purpose. Big-box retailers, such as Walmart and Costco, should make their facilities available for Election Day as well, given that they are uniquely situated to ensure social distancing for the vote. States should make Election Day a school holiday to ensure that those buildings will remain available for polling and to free up teachers to serve as poll workers. Indeed, all federal, state, and local employees should be given paid leave to serve as poll workers, and college students should be excused from class to do the same.
Third, voter education for November will be key. Political scientists have long known that the farther a voter must travel to a polling place, the less likely that person is to turn out. Even under the best circumstances, the number of polling places will drop substantially this year. That will discourage turnout. Some voters will show up to their previous polling places, learn they are no longer operating, and give up without searching for the appropriate ones. Polling-place consolidations often do not affect communities equally, and those deprived of nearby options will be less likely to vote.
Finally, election officials will need to do all they can to assure voters that casting a ballot in person will be safe. This includes adopting and publicizing sanitary protocols well before the election. Campaigns and election officials also must be careful about their messaging about voting by mail. Signaling that mail voting is the only safe way to vote will depress turnout, especially among those communities predisposed to polling-place voting.
The logistical challenges facing election officials seem overwhelming right now. But other countries, such as South Korea, which held its national election on April 15, have demonstrated that people can safely vote in person during a pandemic. That requires a concerted national commitment, and in the United States, time is running out.