Defund the Police
America needs to rethink its priorities for the whole criminal-justice system.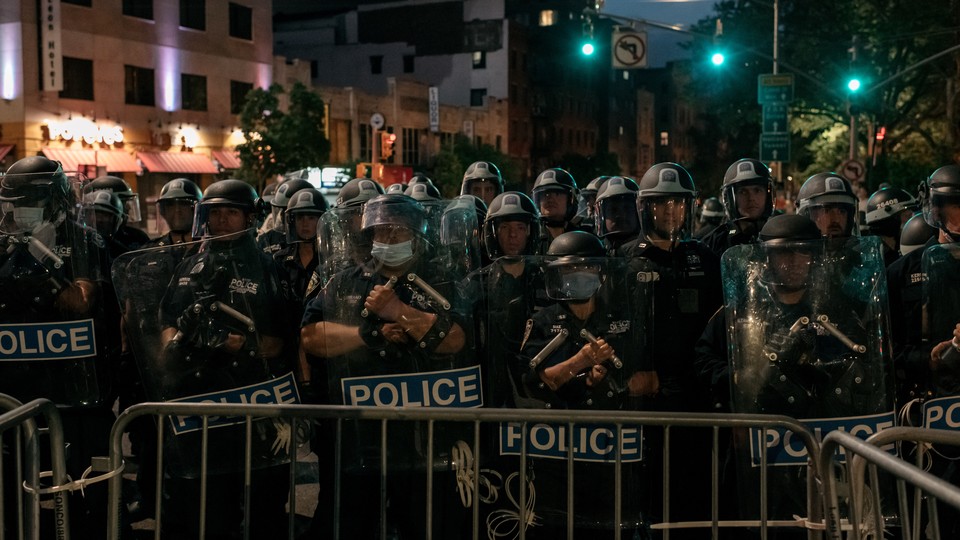 Annie Lowrey and Adam Harris will discuss the future of policing, live at 2 p.m. ET on June 11. Register for The Big Story EventCast here.
---
What are the police for? Why are we paying for this?
The death of George Floyd and the egregious, unprovoked acts of police violence at the peaceful protests following his death have raised these urgent questions. Police forces across America need root-to-stem changes—to their internal cultures, training and hiring practices, insurance, and governing regulations. Now a longtime demand from social-justice campaigners has become a rallying cry: Defund the police. This is in one sense a last-resort policy: If cops cannot stop killing people, and black people in particular, society needs fewer of them. But it is also and more urgently a statement of first principles: The country needs to shift financing away from surveillance and punishment, and toward fostering equitable, healthy, and safe communities.
As a general point, the United States has an extreme budget commitment to prisons, guns, warplanes, armored vehicles, detention facilities, courts, jails, drones, and patrols—to law and order, meted out discriminately. It has an equally extreme budget commitment to food support, aid for teenage parents, help for the homeless, child care for working families, safe housing, and so on. It feeds the former and starves the latter.
The distinctions are stark when comparing America with its peer nations. The U.S. spends 18.7 percent of its annual output on social programs, compared with 31.2 percent by France and 25.1 percent by Germany. It spends just 0.6 percent of its GDP on benefits for families with children, one-sixth of what Sweden spends and one-third the rich-country average. It spends far more on health care than these other countries, notably, but for a broken, patchy, and inequitable system, one that leaves people dying without care and bankrupts many of those who do get it.
Meanwhile, the U.S. spends twice what Europe does on the military. It spends more on domestic public-safety programs than virtually all of its peer nations, double what Singapore spends in GDP terms. It locks up millions, with an incarceration rate many times that of other NATO countries. If the state with the lowest incarceration rate, Massachusetts, were its own country, it would imprison more people than all but nine other nations, among them Turkmenistan.
Does this spending make the country safer than its peers? No. Violent crime has reduced markedly in the past few decades. But America's murder rate is still higher than the average among member countries of the Organization for Economic Cooperation and Development, and about four times the rate in Canada. The number of rapes, adjusted to the size of the population, is four times higher than it is in Denmark. Robberies are more than twice as common as they are in Poland. Gun violence is rampant; deaths and injuries from firearms among children are considered "a major clinical and public health crisis." And Americans absorb far, far more violence from police officers. As a Guardian investigation demonstrated, the police shot dead 55 people in 24 years in England and Wales. There were more fatal police shootings in the first 24 days of 2015 in the U.S.
A thin safety net, an expansive security state: This is the American way. At all levels of government, the country spends roughly double on police, prisons, and courts what it spends on food stamps, welfare, and income supplements. At the federal level, it spends twice as much on the Pentagon as on assistance programs, and eight times as much on defense as on education. The wars in Iraq and Afghanistan will ultimately cost something like $6 trillion and policing costs $100 billion a year. But proposals to end homelessness ($20 billion a year), create a universal prekindergarten program ($26 billion a year), reduce the racial wealth gap through baby bonds ($60 billion a year), and eliminate poverty among families with children ($70 billion a year) somehow never get financed. All told, taxpayers spend $31,286 a year on each incarcerated person, and $12,201 a year on every primary- and secondary-school student.
Looking at cities, the numbers are at least sometimes similarly skewed: Oakland spends 41 percent of its general-fund budget on policing, Minneapolis 36 percent, and Houston 35 percent. Cops and courts are not just a cost for local governments, though. Fines, fees, and forfeitures are a major source of revenue, encouraging violent overpolicing and harassment, especially of black neighborhoods and black individuals. In 80 cities and towns across the country, fines and forfeitures account for half of general-fund revenue, a practice particularly prevalent in Louisiana, Georgia, and Texas. A Department of Justice investigation found that in Ferguson, Missouri, the town used the police and the courts as a kind of fundraising office, plugging budget holes with ginned-up traffic tickets and housing-code violations and charges for missed court dates.
America badly needs to rethink its priorities for the whole criminal-justice system, with Floyd's death drawing urgent, national attention to the necessity for police reform. Activists, civil-rights organizations, academics, policy analysts, and politicians have drawn up a sprawling slate of policies that might help end police brutality, eliminate racist policing, improve trust between cops and the communities they work in, and lower crime levels.
A more radical option, one scrawled on cardboard signs and tagged on buildings and flooding social media, is to defund the cops. What might that mean in practice? Not just smaller budgets and fewer officers, though many activists advocate for that. It would mean ending mass incarceration, cash bail, fines-and-fees policing, the war on drugs, and police militarization, as well as getting cops out of schools. It would also mean funding housing-first programs, creating subsidized jobs for the formerly incarcerated, and expanding initiatives to have mental-health professionals and social workers respond to emergency calls.
More broadly, the demand to divest from policing doubles as a call to invest in safety, security, and racial justice. This week, cops in riot gear tear-gassed teenagers, Humvees patrolled near the White House, and military helicopters buzzed protesters. At the same time, health workers fought COVID-19 wearing reused masks. This is not serving. This is not protecting.