Governors Are Passing the Coronavirus Buck to Mayors
After blocking local efforts to halt the spread of the virus, state leaders are now handing off some authority—and responsibility.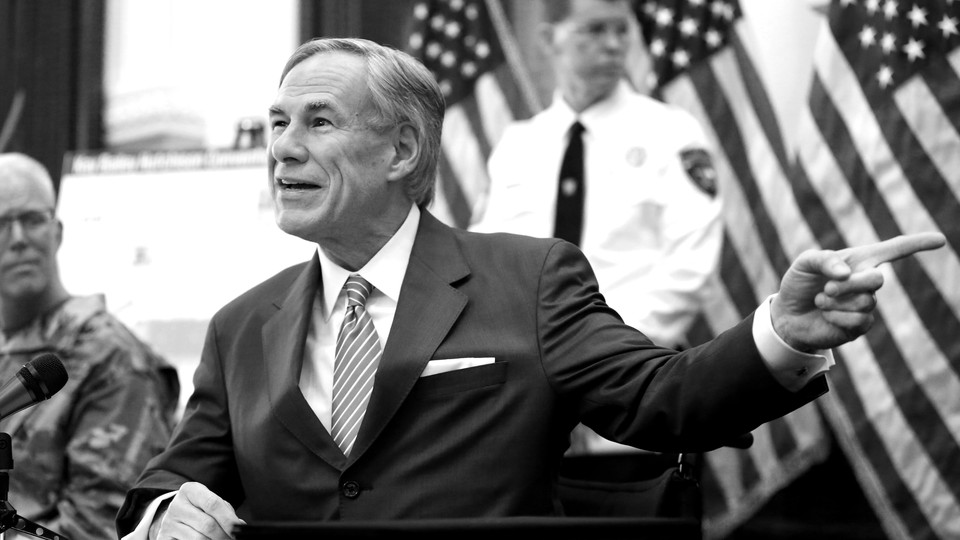 No one wants to catch the coronavirus. That goes just as much for policy makers, who don't want to have to handle it, as it does for ordinary citizens, who don't want to get sick from it.
As case counts soar in Arizona and Texas, governors in those states are loosening restrictions on what local leaders can do to fight COVID-19 that they'd earlier imposed. By now, that may be too little and too late to meaningfully stop viral spread, but it does shift the onus from state capitols to city and county officials.
In Arizona, Governor Doug Ducey announced yesterday that, in a reversal, local authorities would be allowed to mandate that people wear masks in public. On May 16, Ducey issued an order barring local governments from more stringent rules than what the state had ordered. In Texas, Governor Greg Abbott said he would not block Bexar County, home to San Antonio, from forcing employees and customers at businesses to wear masks.
These are the latest examples of elected officials seizing the buck, then thinking better of it and passing it along. In April, President Donald Trump asserted "total authority" over state pandemic plans. That claim was false as a matter of constitutional law, and Trump recognized soon that with the virus spreading quickly, it was politically unwise to take ownership of the response, too. He then told governors, "You are going to call your own shots." (This did not preclude Trump from tweeting demands to "LIBERATE" Democratic-led states, nor from green-lighting and then criticizing a reopening plan from Georgia Governor Brian Kemp, a Republican.)
Across the country, many state governments also asserted the authority to block local regulations on COVID-19. Unlike Trump's claim, this is constitutionally solid. As I have reported in the past, states have widespread authority to preempt local ordinances and regulations. In recent years, there have been many examples of conservative state governments flexing this power to block more liberal municipal governments from enacting progressive legislation, on issues such as fracking, plastic bags, bike lanes, and bathroom use. It's part of the polarized partisan landscape, as well as a divide between rural, conservative voters and urban, liberal ones.
That the same tensions over preemption would emerge on COVID-19 was perhaps inevitable. Local policy makers have long argued that cities have different needs—and so, for example, they should be allowed to enact stricter gun controls than rural areas. The same holds true for the disease, which has struck denser areas sooner. But as my colleague Russell Berman reports, governors like Ducey and Abbott blocked local authorities from imposing business closures, mask rules, and more, part of a broad approach by Republican elected officials, who worried that overly strict COVID-19 responses would stifle economies and produce a result worse than even the disease itself. Instead, they called for voluntary measures by the population.
As with many of the preemption cases in recent years, these moves turn away from the traditional conservative belief in local control, instead saying that citizens and businesses need consistency and predictability. "I will continue to believe that government closest to the people is best—except in a global pandemic," Ducey said last week. "We want to have clarity and consistency for our citizens."
It's impossible to know whether stricter local regulations in big cities might have changed the course of the pandemic in states like Texas and Arizona, but it's clear that voluntary compliance was insufficient. The two states now see case counts climbing at among the fastest rates in the nation. In both places, the counties with the biggest cities are the hot spots for the disease. As the numbers shot up in recent days, local officials pleaded with state government to free their hands.
What's interesting about the pushback on preemption in Texas is that it doesn't follow the standard partisan script. Earlier this week, the mayors of nine of the Lone Star State's biggest cities wrote to Abbott asking him to allow them to impose mask rules. Abbott is a Republican, and the mayors of several of the largest cities—Houston, Dallas, and Austin—are Democrats; the mayor of San Antonio, though independent, is a progressive. But rounding out the list is a line of Republican mayors who also pleaded for more leeway. (Most local officials have been quick to say they don't want to issue fines to shirkers, and simply hope to get better compliance than requests for voluntary mask wearing would produce.)
Abbott's office initially dismissed the call, saying that the local officials hadn't bothered to use other tools available to them. But when Bexar County announced its plans to mandate masks yesterday, Abbott was more conciliatory, saying that his order never prevented such a move. Meanwhile, Ducey was backing down slightly, giving local authorities the right to make mask rules, while continuing to block any business closures. These moves give mayors and county judges the power they sought, but it also allows governors to shift responsibility onto them.
The reversal on preemption is not uniform. In Nebraska, Governor Pete Ricketts, a Republican, said today that he would prevent local governments from receiving any federal coronavirus-relief funding if they imposed mask rules.
The bitter irony for local officials is that they now have the power to impose mask restrictions that may help to slow the spread of COVID-19—but that might have made a much bigger difference a few weeks ago. Now these cities are already in the midst of crisis. Having asked for more authority over the pandemic, local officials are now stuck with it at the worst possible time.