Trump Gave Police Permission to Be Brutal
The president didn't cause America's policing crisis, but he deliberately made it worse.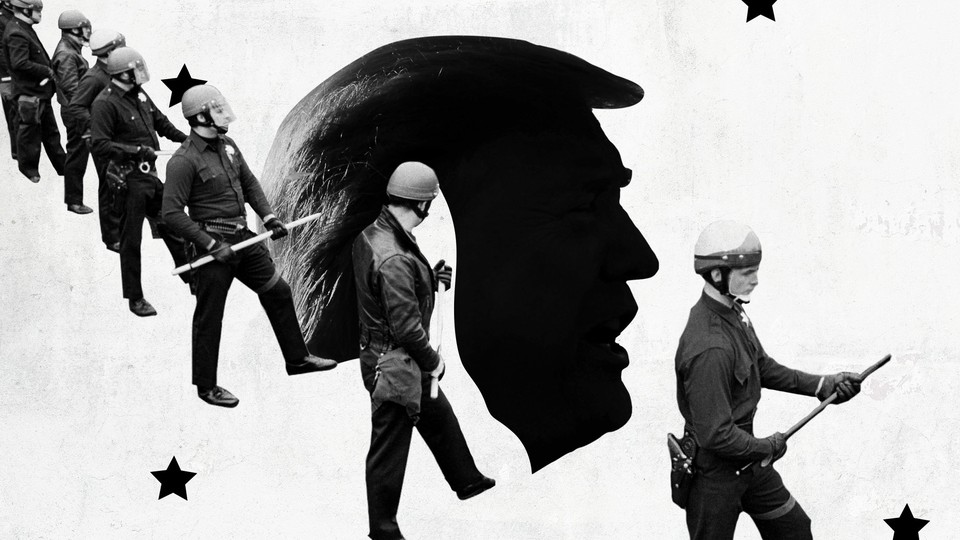 Editor's Note:
We've gathered dozens of the most important pieces from our archives on race and racism in America. Find the collection here.
When the Minneapolis police officer Derek Chauvin dug his knee into the back of George Floyd's neck for nine minutes while Floyd pleaded for help, he was merely following the president's advice.
"Please don't be too nice," Donald Trump told an audience of police officers on Long Island in 2017, in a speech largely focused on the MS-13 gang. The audience laughed. "When you see these thugs being thrown into the back of a paddy wagon, you just see them thrown in, rough. I said, 'Please don't be too nice.'"
Floyd's killing has sparked nationwide protests, despite the fact that the coronavirus outbreak, which has killed more than 100,000 Americans and left 40 million without work, is still killing about 1,000 people a day in the United States. Those Americans who were disproportionately dying from a plague came out in force to protest being murdered by their government. Trump, who ran as the "law and order" candidate, now presides over the very "American carnage" he vowed to end.
A different president might have tried to quell the unrest and unify the nation, but Trump is incapable of that. He cannot rally Americans around a common identity or interest, because his presidency is a rejection of the concept, an affirmation of the conviction that America's traditional social hierarchies are good and just. He is hardly the first president to embrace those hierarchies as unassailably virtuous, but he is the first in decades to do so openly. Law and order, for this president, simply means that he and his ideological allies are above the law, while others, such as Floyd, are merely subject to it. The chaos sweeping across the United States has many causes, but the one over which the president has the most control is the culture of lawlessness and impunity he has cultivated and embraced. When you attempt to impose "law and order" without justice, you get chaos.
The moral core of the protests is a simple demand: that police who abuse their authority be held accountable, that black Americans be able to live free lives without fearing that they will be cut short by a chance encounter with law enforcement. This demand clashes with the history of the United States, in which the ideal of equal justice coexists uneasily with the tacit understanding of many Americans that guarding the color line is one of law enforcement's obligations, a commitment that has existed from slavery to the beating of marchers on the Edmund Pettus Bridge. When Martin Luther King Jr. was assassinated in 1968, Ronald Reagan blamed the activist for his own murder, hissing that King's death was the kind of "great tragedy that began when we began compromising with law and order."
When a white dog-walker in Central Park threatened to call the police on a black bird-watcher and tell them that "an African American man is threatening my life," she was leveraging their mutual understanding that the police exist to protect white people from black people. This is why Chauvin and his fellow officers thought nothing of him being videotaped as he dug his knee into Floyd's neck, and why authorities in Georgia saw no crime in the stalking and killing of Ahmaud Arbery. Integrating police departments was meant to help align law enforcement with its stated ideals, but as in every other area of public policy, correcting centuries of tradition is an arduous task, even if one is sincerely committed to it.
The president, a man who once called for the execution of five black and Hispanic teenagers for a crime they did not commit, is not just skeptical of reform. He views the violent enforcement of the color line as an honorable calling, and one that police officers should embrace rather than reject. Decades after taking out a newspaper ad demanding that New York "Bring back the death penalty and bring back our police!" the president still refuses to acknowledge the innocence of the Central Park Five. If they were not guilty of the actual crime, they were guilty of being the kind of people he wanted the police to crack down on.
Trump has few ideological convictions as consistent as his belief in the redemptive power of state violence against religious and ethnic minorities. During the 2016 campaign, Trump regaled audiences with tales of apocryphal war crimes against Muslims by American service members, then he pardoned service members who engaged in actual war crimes. He vowed to disregard the constitutional rights of anyone suspected of being an undocumented immigrant, then he pardoned Joe Arpaio, an Arizona sheriff famous for violating those rights.
Remarks like those the president made on Long Island are often dismissed by the president's defenders as just an artifact of his brash personality. Hardly. The Trump administration has worked diligently to turn the president's affection for extralegal cruelty against religious and ethnic minorities into public policy, from the Trump-era toddler jails for migrants to his anti-Muslim travel ban. As with the prior examples, Trump's encouragement of police brutality is far more than bluster.
One of the first things Jeff Sessions did after being confirmed as Trump's attorney general was end the Justice Department's oversight of local police departments, declaring that such investigations "undermine the respect for police officers and create an impression that the entire department is not doing their work consistent with fidelity to law and fairness." This is akin to a doctor declaring that cancer can only kill you if you discover you have it, and then canceling your screening.
During the Obama administration, the civil-rights division of the Justice Department undertook an aggressive effort to root out unconstitutional policing practices, initiating more such investigations than any prior administration. The authority it relied on was authored by police reformers and tucked into the now-disfavored 1994 crime bill, drafted in part by the presumptive Democratic presidential nominee, Joe Biden. Its inclusion in the bill was a response to the beating of Rodney King and the riots that followed the acquittal of the officers who attacked him. In other words, in 2017, the Trump administration took a provision of the law passed to prevent police brutality and the unrest it sparks, crumpled it up, and threw it in the trash.
In Miami, Obama-era investigators found "egregiously long delays in concluding administrative investigations of officer-involved shootings." In Chicago, they found a widespread pattern of abuses hidden by "police officers' code of silence," which included lying and "affirmative efforts to conceal evidence." In Baltimore, which was rocked by riots following the death of Freddie Gray in police custody in 2015, investigators discovered "repeated violations of … constitutional and statutory rights, further eroding the community's trust in the police." In Ferguson, Missouri, an investigation following the protests and riots sparked by the killing of Michael Brown found that local police had set "maximizing revenue as the priority," not solving crime, leading to officers crushing the town's impoverished black residents with fines and fees designed to finance the local government. If the Trump administration had not abandoned any effort at police oversight, it might have discovered that Minnesota police had rendered dozens of suspects unconscious with the same knee restraint that killed Floyd.
Among the police forces investigated was the Suffolk County Police Department, the jurisdiction where Trump gave his speech extolling the virtues of police brutality. The department entered into a federal-supervision agreement in 2014 to take measures to avoid discriminating against Hispanic residents.
The Justice Department's probes were not criminal investigations. Their purpose was to curb police abuses and, by doing so, to improve local law-enforcement agencies' relationships with their communities and reduce crime. When a local community lives in fear of the police, its members will minimize their interactions with cops as much as possible, lest they end up like Floyd.
Despite violent-crime rates falling nationwide, solving murders in big cities in America is a coin toss, because the communities most likely to suffer from violent crime do not trust the police enough to seek their aid. When a casual encounter with law-enforcement officers can lead to your death, you are unlikely to seek or accept their protection. These investigations were no panacea for discrimination or police abuses, nor were they a guarantee against unrest. but they were a good-faith attempt to align policing with equal treatment under the law.
Ideally, overseeing police misconduct would be the job of local elected officials. But what appears to be a public-policy problem is also a problem of political power. Local leaders cower in fear of the power of police unions, whose political interests include not just securing higher wages and benefits or better equipment and overtime pay, but impunity for criminal behavior.
"Many of these unions have pushed collective bargaining agreements that make it all but impossible for departments to punish, much less fire, officers," as BuzzFeed News' Melissa Segura has written. "These agreements defang civilian review boards and police internal affairs departments, and they even prevent police chiefs from providing meaningful oversight, according to community activists and civil rights lawyers. Meanwhile, the unions have set up legal slush funds to defend officers sued for misconduct."
The approach of many police unions both reinforces the code of silence for police abuse and makes officers whose consciences are troubled less likely to intervene, because the social costs of speaking out are so much greater than the possibility that a corrupt officer will face justice for breaking the law.
"It's tough when somebody witnesses something and they want to speak up against it. You feel like if you do speak up, you'll end up looking like the bad guy. Now people don't want to talk to you," Michael Baysmore, a black former cop in Baltimore, told BuzzFeed News in 2016. "And if nothing even happens to the person you spoke up against, it's almost like, what's the point?"
The extent of police unions' power was illustrated this weekend, when New York City Mayor Bill de Blasio, elected as a police reformer, defended cops plowing through protesters with cars even as the local sergeants' union doxxed his daughter for participating in the protests.
The Obama administration's reform efforts, although ultimately aimed at improving policing, were seen by the police unions as a "war on cops," because they threatened the impunity to which their organizations aspired. By 2015, the ubiquity of cellphone cameras and their ability to document for white audiences the shocking regularity of lethal encounters between police and black Americans had led some police-union officials to reconsider their approach. But the rise of Donald Trump, and his unqualified embrace of both racial discrimination and official impunity for law enforcement, offered new political possibilities.
In 2016, the Fraternal Order of Police—the nation's largest police union, with more than 330,000 members—endorsed Trump, while many of its black members dissented. The goodwill and benign intentions of individual police officers cannot override the focus of their political organizations, which, with some notable exceptions, are intently focused on ensuring that their worst members are exempt from the law. "Between 1996 and 2015," Segura noted, "newly unionized law enforcement agencies saw a 27% uptick in misconduct complaints—a phenomenon the researchers tied largely to protections afforded by union contracts."
Police departments themselves are not monolithic—some actually rejected Sessions's offer to rescind federal-oversight agreements—and some law-enforcement organizations, those run by black officers in particular, have tried to rectify the profession's history of discrimination. But the political power of police unions, the impunity granted by police contracts, and the culture of silence enforced by both leave little room for dissent, with isolation and ignominy as a reward for those who do. The entrenched legal doctrine of qualified immunity ensures that the most egregious violations of the Constitution cannot be addressed in civil court. A system that so efficiently stifles accountability cannot be overcome by the good intentions of individual officers. It is a system that ensures, as a matter of design, that bad apples remain to spoil the batch. And that was before the president encouraged police to engage in brutality for its own sake.
The head of the police union in Minneapolis, Bob Kroll, decried the Obama administration's "handcuffing and oppression of the police" at a Trump rally in 2019. On Monday, Kroll released a letter complaining that the four police officers who had been fired over Floyd's death had been denied "due process." Floyd, who was being detained on suspicion of forgery, was to blame for his own death, because of his "violent criminal history." This is a worldview that is consonant with Trumpism, in that it imagines being democratically accountable to those you regard as beneath you as tyranny, and the unquestioned authority to impose your will on those people as freedom. But amidst the president's vocal encouragement of police brutality, his administration's conscious abdication of oversight, and the police unions' fanatical resistance to accountability, the condemnations of Floyd's killing from Trump and his allies ring hollow.
This agenda of impunity for police who break the law has merged flawlessly with President Trump's belief in impunity for himself and his allies. Both political philosophies envision a line drawn between those who are protected by the law and those who are subject to it. As Trump's second attorney general, William Barr, articulated with chilling clarity, communities that protest police abuses "might find themselves without the police protection they need." This principle does not apply to the president or other members of the ruling party in good standing—merely to Americans whose rights have historically been easily revocable, and occasionally to those who express solidarity with them.
Trump borrowed law and order from Richard Nixon, a president whose lawlessness Trump consciously imitates. Viewed with the clarity of history, Nixon's appeals to law and order were a euphemism for brutality against black Americans seeking equality. But in 1968, Nixon's law-and-order campaign was an effort at triangulation between the explicit white-supremacist cruelty of George Wallace and what Nixon framed as the permissiveness of liberal Democrats such as Hubert Humphrey.
As the historian Rick Perlstein recounts in Nixonland, when asked by a black reporter what law and order meant, Nixon replied, "To me law and order must be combined with justice. Now that's what I want for America. I want the kind of law and order that deserves respect." Reporters today do not bother asking Trump what law and order means, because everyone already understands that it simply means violence.
Trump has dispensed with any pretense of seeking justice, and the Trump-era Republican Party has closed every possible path for reforming the police. Federal oversight of police is oppression. Elected officials who seek police reform have "blood on their hands." The exercise of prosecutorial discretion by district attorneys is "anti-law enforcement" when it involves "seeking sentences that are pathetically lenient," in the words of Barr, who has meanwhile busied himself with bailing out the president's criminal associates. Those who challenge police abuses are not even allowed the dignity of protesting in silence. This is not the rule of law; it is the rule of might, and it is devoid of anything resembling justice.
After Floyd's death, Minneapolis erupted in protests, including riots that began last Wednesday night and lasted through the weekend. The protests spread across the country, and in some cases so did the violence. In an atmosphere of lawlessness, opportunists looking to harm others, cause destruction, vandalize, or steal will attach themselves to whatever legitimate cause they can find. Those acting out of rage or grief may do the same. But whether motivated by rage, greed, or outright malice, such criminal acts cannot discredit demands for police accountability, or justify police brutality. They cannot repeal the Constitution.
Many police departments across the country seem determined to escalate rather than prevent violence. Videos of protests have shown "police officers in recent nights using batons, tear gas, pepper spray and rubber bullets on protesters, bystanders and journalists, often without warning or seemingly unprovoked," as The New York Times reported. This was Barr's prophecy: an ungrateful public, protesting the unjust taking of human lives by law enforcement, punished for the foolish belief that their rights were inalienable. A First Amendment that guarantees the freedom to criticize the government only when you do not criticize the government is meaningless.
For a century, such riots in America have followed a familiar script—there is an incident of police brutality that goes unpunished, a protest, an escalation by police, and then a riot. These incidents are icebergs—the precipitating event and the destruction that follows are merely what can be seen above the surface. Underneath lie years of anger, abuse, and neglect. We do not know how the president's encouragement of such abuse has shaped policing in the cities now rocked by protests, because his Justice Department has willingly blinded itself to the answer.
There is no romance in the destruction. Riots are, for the communities in which they occur, desperate acts of self-immolation, with consequences that can last for decades. Yet the historical record shows that the authorities often avoid taking the grievances of such communities seriously until buildings start burning. Only then do those who previously dismissed nonviolent protests against police brutality, or participated in belittling or silencing them, begin to pay attention and ask what would move such people to violence.
Such riots are, in the long run, devastating for all involved. But a legal and political system that sees no crime in the murder of black Americans by police until things are set on fire leaves black Americans with two terrible options: acquiescing to a system in which your life does not matter, or engaging in acts of destruction and self-destruction that persuade authorities to treat the needless taking of a life by police officers as a crime worth investigating, let alone punishing.
To say that a grievance is justified is not to justify every action taken by the aggrieved. But as a nation, we bear particular responsibility for the violence committed by police. We do not pay civilian rioters and looters with taxpayer dollars and empower them with the authority to use lethal force to protect our rights and our persons, as we do with police officers. That authority is a power granted by the people, and if it is abused, it must be withdrawn.
Most of Trump's predecessors in the 20th century, including Nixon, who believed black people unfit for self-government, preoccupied themselves with preserving the credibility of an unequal justice system. By forswearing even that, by publicly reveling in the idea that state violence should be used to affirm America's traditional social hierarchies, by denying the very legitimacy of both private protest and social reform, the Trump administration has undermined respect for the law more than any radical left-wing professor or hotheaded activist. The president sees the law as a thing of mere violence, a matter of who has enough guns to enforce their will. You can make people fear the law at gunpoint, but you cannot make them respect it.
Just as his supporters mistake cruelty for honesty and bluster for courage, Trump has mistaken bloodlust for leadership. The bombast hides the fundamental truth that the president is a coward, so crippled by the fear of appearing weak that he screams for blood from the safety of his darkened White House, emerging only to gas peaceful protesters and clergymen in an attempt to look strong. He is incapable of understanding how further brutality fuels the unrest he has proved incompetent at confronting.
Donald Trump proclaimed himself the law-and-order candidate. This is what law and order without justice looks like: a nation without law, order, or justice.