The Rise of the Chaplains
Their grandparents may have gone to church. But today, many Americans turn elsewhere to meet their spiritual needs.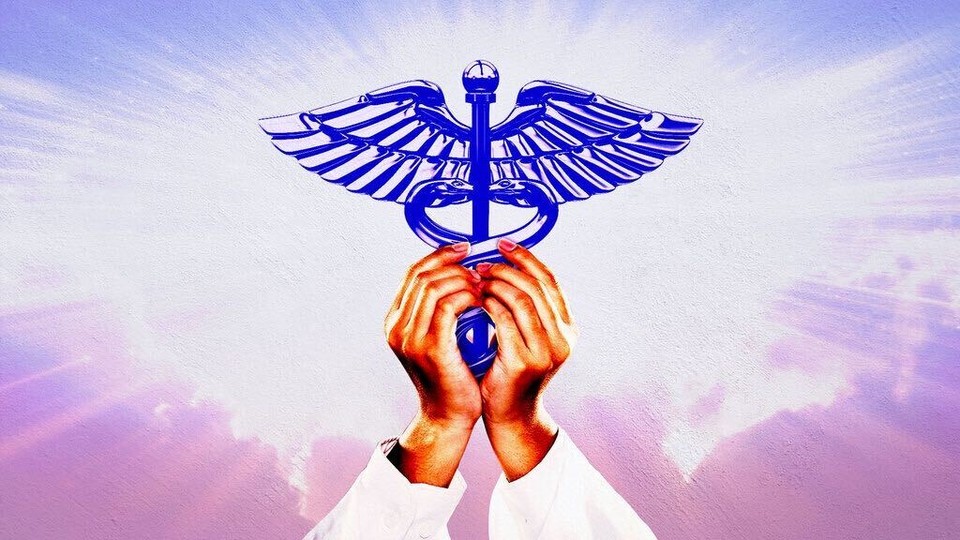 Updated at 4:48 p.m. ET on September 24, 2020.
The pandemic has thrown into sharp relief a shift in American religious life. Growing numbers of Americans, especially under the age of 30, are not religiously affiliated or involved with spiritual or religious organizations. They do not have local religious leaders to call in a crisis like their grandparents did. Instead, in moments of great need, many are turning to chaplains and spiritual-care providers.
Religious congregations have been slowly yet steadily declining over the past 20 years as the number of people engaging with chaplains and spiritual-care providers is on the rise. In a national survey conducted last year, 21 percent of Americans reported having contact with a chaplain in the previous two years, mostly through health-care organizations. Close to a quarter of theological schools have started degree programs for chaplains in the past two decades. And the number of people completing clinical training for chaplaincy positions is increasing.
In interviews I conducted with 65 chaplains across greater Boston, I discovered that the work they do around death is what most unifies them across sectors and distinguishes them from social workers and others they work alongside. It is not surprising, therefore, to read about chaplains running toward death rather than away from it in the midst of the COVID-19 crisis.
Allison Kestenbaum, a chaplaincy educator and a palliative-care chaplain at UC San Diego Health, cared for some of the first coronavirus evacuees.* Before the pandemic, one chaplain was visiting elders isolated at home through a pilot project at Hebrew SeniorLife in Boston. Now the chaplain is visiting with them by phone. Chaplains are sharing these and other ways to care for patients, family members and staff through the Chaplaincy Innovation Lab at Brandeis University, which I helped launch 18 months ago to bring chaplains, educators, and social scientists into a common conversation about spiritual care for the future.
At the doors of ICUs, in hospitals, and at nursing homes; with police, firefighters, and other first responders; and caring for the crews of the container ships that are keeping the global economy crawling along, you'll find chaplains, often working collaboratively with other staff.
Chaplains aren't a modern innovation; they have a long history in the United States. Since 1789, the Senate and the House of Representatives have had chaplains who offer public prayers at the beginning of each day of congressional business and provide pastoral care for members of Congress, their families, and other staff. Chaplains are required to be available in the military, federal prisons, and the Veterans Administration, and they work in most health-care organizations, including hospice settings. More recently, Fortune 500 companies such as Tyson Foods have started to engage chaplains, sometimes through employee assistance programs, and chaplains are present at most of the country's largest ports and airports, as well as with many professional sports teams.
In recent years, chaplains have worked with a growing number of social-service organizations; for instance, chaplains are deployed with every Red Cross Disaster Action Team. At some veterinary hospitals, chaplains care for pets and their humans during difficult times. And the Faith Matters Network, in Nashville, Tennessee, launched a program this year to train chaplains to work in social movements. They expected several dozen people to register and ended up training more than 100 chaplains, largely through Zoom.
There is no commonly agreed-upon definition of the role of chaplains. They are not licensed or institutionally regulated by the state, which means that anyone can call themselves a chaplain and seek work or volunteer opportunities. Most organizations require the candidates they hire to undergo specific training, however, including a master's degree in a relevant field, supervised clinical training, and the support or endorsement of the prospective chaplain's religious group.
Chaplains work with people from all religious backgrounds, or from none at all, offering a supportive presence, counseling, and the occasional ritual. In most settings, chaplains are guided by a code of ethics that prohibits proselytizing and requires them to serve everyone. There are no national counts of chaplains, but the field includes individuals from Catholic, Protestant, Jewish, Muslim, humanist, Hindu, and pagan backgrounds.
The actual duties of chaplains are determined by the sector and specific institution in which they are employed. While the roles and responsibilities of military chaplains are clearly defined, the work of chaplains in colleges and universities is more improvisational. The religious-studies scholar Winnifred Sullivan calls chaplains "secular priests," or "ministers without portfolios." Wherever they work, their service is driven by the needs of the people they serve.
Chaplains name death for individuals and organizations in our death-phobic society. They support the dying and their loved ones at the end of life. And they help us process and make sense of death in the immediate aftermath. The chaplains at the doors of ICU rooms are whispering prayers, connecting the ill to family members through FaceTime, and, when someone dies, supporting the next of kin by phone. Chaplains usually do this work quietly, around the margins. But with the pandemic, their work has moved to the center of the American religious experience.
---
* This piece originally misstated the identity of the patients cared for by Kestenbaum.