I Will Miss What I Wanted to Lose
I didn't fully appreciate what life on the road gave me until suddenly it was gone.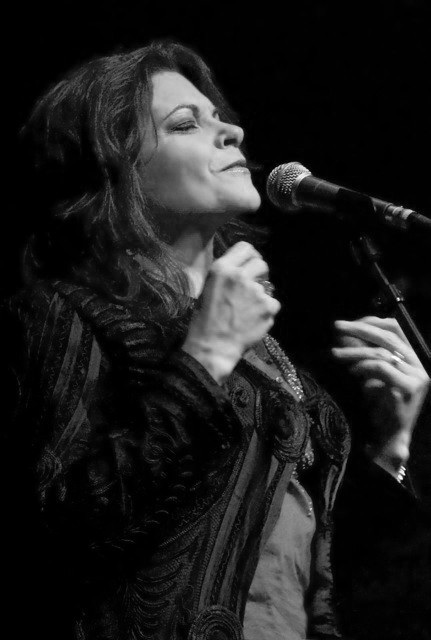 Near the end of my tour, in March, the coronavirus cases were rising back home in New York, and the emergency declarations kept coming, as we left California, as we left Colorado, as we got to Idaho. "I just want to go home," I told John, my husband and musical partner, over and over. On the day of our Boise show, the Idaho governor declared a state of emergency. John and I got on the phone with my agent and my manager to discuss the risk—physical and professional—of canceling. But it was too late. Refunding tickets at that point would have been a nightmare, and I felt a responsibility to the audience. Ten minutes before the show, I had the driver drop me at the stage door. I didn't go into the green room, didn't look in a mirror and fix my hair, didn't pace or make tea. I stood like a statue in the wings, then walked onstage, sang, walked off, got in the car, went back to the hotel, packed, and got the earliest flight back home the next day.
The Boise audience acted like they were at an end-of-the-world party. There were a lot of empty seats—the state of emergency had spooked people—but those who did show up were a little crazed, and really happy. Maybe they realized they weren't going back out in public for a while. Even though I had a nagging sense of foreboding, my heart opened to them, and theirs to me. I still remember certain faces in that crowd.
I've long had a complicated relationship with touring, and the pandemic has made it only more difficult. I always knew what life on the road was costing me. But I didn't fully appreciate what it gave me until suddenly it was gone.
This time last year, I was walking through an airport parking garage in Reno at midnight, pulling my bag behind me, following John and my tour manager, David, to a rental van, when I suddenly felt as if glue were pouring through the top of my head and working its way to my feet. I stopped and looked around at the rows of rental cars. "I don't want to do this anymore," I said, loud enough for them to hear me. They didn't even turn around. Touring musicians have a survivalist attitude.
Once, many years ago, I did a photo session with Annie Leibovitz on a beach on an island off the coast of Maine, in the dead of winter. It was 3 degrees below zero, and she had a team on hand as large as a film crew. There was one heater, powered by a generator, trained on me and no one else. Annie didn't wear gloves, because she had to shoot. Not a single person commented on the unbearable conditions, not that day, not the next, not ever, although when I saw Annie a few months later she did tell me that she couldn't bend her fingers for a week afterward.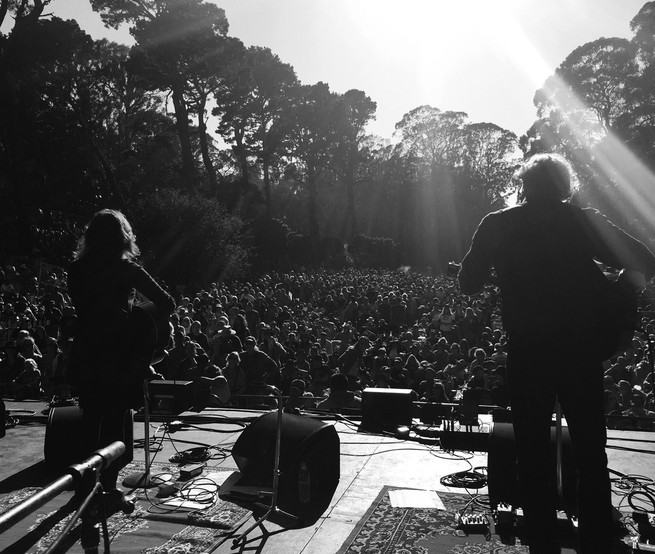 That's the essential attitude adopted by most touring musicians I know. Just show up and do it, and don't whine about the lack of sleep, the equipment problems, the long drives, the missed meals, the airports, the delayed flights, the sometimes-weird audiences, the stalkers, the reviews, the food, or the hotel. As Charlie Watts said, in the early days of being in the Rolling Stones, "I'm not paid for the show. I'm paid for the other 22 hours." (At least, I think Charlie Watts said that. The genesis of that aphorism is lost in the mists of rock-and-roll history.)
But in that parking garage, the veil lifted: How I was spending my time was how I was spending my life. I no longer wanted to find myself in an airport parking garage at midnight, exhausted and depressed, on the way to a hotel that looked exactly like the one I had just left. I had reached the point that when I got home and someone asked where I had been the week before, I couldn't remember. It was starting to scare me.
I've been touring, on and off, for 40 years. I didn't envision it, and it wasn't in my life plan, if I even had a life plan in my early 20s. All I knew was that I wanted to write—prose, songs, poetry, nonfiction, everything. I was a writer from the age of 9. In my late teens, I started writing songs, then recorded demos of those songs; then I got a record deal and made records, and then I found myself in a parking garage at midnight. It was part of the package. You didn't write songs just to play them in your living room.
I'm not addicted to the road, like many of my friends who are touring musicians. I don't want to be in motion all the time. I regret time spent away from my children. I never bought a tour bus; the implication of that level of commitment was too much for me, so there have been a lot of airports and a lot of 14-passenger vans. I seldom even rented buses because I was always doing strategic strikes, since I had kids and I wanted to make the parent-teacher meetings and the school plays and help with the homework. Three days out, four at home. One week out, three at home.
The past three years have been more intense, since my last child went away to college and I've been touring a lot more, but the reward—the connection with the audience—had outweighed the daily drill. They needed something from me, and giving it to them gave something back to me. I loved them. They knew it. I could bring songs to life in a way that connected them to their own feelings. I reveled in standing next to John or in the middle of the band. Downstage, under the lights, every single night I thought about how extraordinarily lucky I was. I sang to the back corners, I searched out pockets of need and joy and went to those places, I let the audience guide me, I played with their energy. I got inside the songs and found deeper layers and different meanings; I lived in between the notes.
But.
I'm not 25. The other 22 hours were brutal and rest evaded me. Sleep became the holy grail, grabbed in three-hour chunks. It was the first subject of every day, as the band and I met in the lobby, waiting for the car to the airport: "How much sleep did you get?" If someone got nine hours on a day off, I was inordinately jealous.
Lately, the road has been taking away more than just my sleep. Two years ago, I saw a cardiologist, and after a routine EKG, she sat down and looked at me for a long moment before she said, "You are going to have to evaluate the level of stress in your life and make some decisions."
I feel a little guilty about how much I love being quarantined in my house, with my husband and our son, Jake, who came home early from his study-abroad program. I'm examining every corner, wandering every room, pulling open every drawer, counting my pots and pans, writing.
A planetary reset seems to be taking place. And maybe that was inevitable. The lid on the bubbling pot was bound to blow, for reasons a musician shouldn't have to deconstruct. The economic, social, spiritual, political, and artistic bloating that had exceeded all rational tolerance or emotional understanding was not sustainable.
In the past few days I've begun to think about the future, my work, touring, what it means, what I will lose, and what I will gain. Touring is a high-risk business for disease transmission. Airports, airplanes, hotels, restaurants, backstage catering, dressing rooms, stage crews, drivers, meet and greets, equipment—every single moment and surface is risky.
During this reset, along with hundreds of other musicians, I've been making music videos on my phone and giving them to various outlets who ask, mostly for charity. The lack of connection with what I assume is an audience on the other side of the screen is unsettling. It has started to gnaw at me.
The truth is, I will miss what I wanted to lose. I will miss the end-of-the-world ebullience, the temporal beauty of live performance, like a monk's sand painting; swept away at the end of the night, but held in memory, jewel-like. I will miss seeing those faces as mirrors to myself, and making myself a mirror for them. I want to see the audience, and I want to be the audience.
I've seen so many transcendent performances. Years ago, I saw Lou Reed perform Magic and Loss, in sequence, at Radio City and was so moved that the concert sparked a hundred ideas for my own songwriting. I saw Bruce Springsteen at the Meadowlands and felt untethered to the Earth, in some realm of pure joy. I saw Lucinda Williams in a Christmas show at the Bowery Ballroom and was moved by her purity and singular poetry in a completely new way, even though we've been friends for 30 years.
On the stage, I've sung myself into a euphoric riddle of freedom and community that rhymed and had a backbeat.
That's irreplaceable.
I most earnestly hope that concert halls and festivals and clubs and arts centers and theaters of all kinds will be filled in the future, whether I am under the light or looking toward it, center stage or Row Q. I've realized, during this unfathomable world event, that I can tolerate a certain number of parking garages and identical hotels without undue stress on the blood supply to my heart. It turns out that when I'm performing, I have only half the available light; the audience has the other half.