The Public Is Astonishingly United
Pollsters have finally found an issue that transcends partisan divides, with the overwhelming majority of Americans siding against President Trump.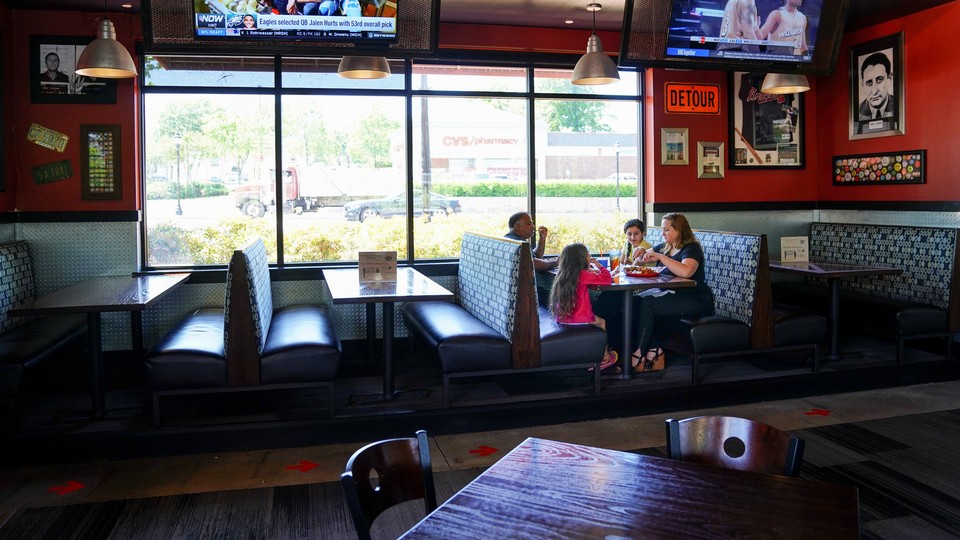 The complaint that Washington is out of step with Main Street has been circulating for roughly as long as each metonym has been in use. But it's seldom, if ever, been more true than at this moment in the coronavirus pandemic.
The most active debate in politics at the moment—in the White House, in state capitols, and in the press—is about whether and how much to reopen the economy. President Trump has been fitfully pushing for the country to get back to work, has boosted fringe state-level protests demanding that restrictions end, and yesterday took his first trip in weeks, visiting a mask-manufacturing plant in Arizona.
But even as the national political discourse has adopted reopening as the central debate, polls repeatedly show that Americans overwhelmingly back restrictions and do not support reopening most businesses. The consensus is especially notable in an era when nearly every poll question seems to serve as a referendum on Donald Trump, with his supporters lining up against his opponents. Here, despite Trump's pleas for reopening, Americans are remaining united—and not heeding him. What if government reopened the country, and no one came?
"I'm viewing our great citizens of this country to a certain extent and to a large extent as warriors," Trump said yesterday. "They're warriors. We can't keep our country closed. We have to open our country."
Apparently most Americans are not eager to think of themselves as warriors—or are simply wise soldiers, with strategy as their strength. A poll from The Washington Post and the University of Maryland released yesterday finds that eight in 10 Americans oppose reopening movie theaters and gyms; three-quarters don't support letting sit-down restaurants and nail salons reopen; and a third or less would allow barber shops, gun stores, and retail stores to operate. An NPR/PBS NewsHour/Marist poll last week found similar numbers: Nine in 10 Americans don't think sporting events should have crowds without more testing; 85 percent would keep schools closed, and 80 percent would keep dine-in restaurants shut. There is no significant difference in views between residents of states that have begun loosening restrictions and those that have not.
This uniformity is a sharp departure from the totalizing logic of the Trump era. In perhaps the most extreme example, a small majority of Republican respondents told YouGov last year that Trump was a better president than Abraham Lincoln. That result fit the general pattern, while these results do not.
It's not for lack of effort on Trump's part. The president has sought to politicize reopening the country, just as he has other issues. He has said that the cure—that is, pausing the economy—cannot be worse than the disease, voiced support for protesters in blue states demanding looser restrictions, and last week hosted a series of White House events devoted to reopening the country. (The president has, however, been inconsistent. In March, he endorsed social-distancing measures. In April, after publicly pushing for reopening and reportedly privately endorsing Georgia Governor Brian Kemp's plans, Trump publicly criticized Kemp.) Yet these polls suggest that voters aren't making the connection, and remain wary.
The result is all the more striking because views on Trump's handling of the crisis follow the usual pattern, remaining deeply split along partisan lines. The Post/University of Maryland poll found 56 percent disapproving and 44 percent approving of his response to the coronavirus. The approval numbers closely track Trump's overall job-approval rating, which has remained strikingly stable throughout his volatile presidency. In pandemic-related polls, Republicans approve of Trump's handling of the crisis much more highly than Democrats do. Democrats are more likely to identify themselves as worried about the virus than Republicans, and Republicans are more likely to approve of opening business than Democrats—in some cases significantly so. Yet even then, majorities of Republicans only support reopening retail shops and golf courses, the same sorts of businesses that most Americans overall want to open. The polling suggests that there's a sizable tranche of Americans who approve of Trump's handling of the pandemic but do not agree with his calls for a swift reopening.
There are lessons in this unusual public consensus.
First, despite predictions about the "death of expertise" in American life, people are heeding the experts on the coronavirus. Faced with a choice between Trump's Pollyannaish declarations of victory and Anthony Fauci's measured realism, which often stands in direct contradiction to the president, Americans are following Fauci and his colleagues. That doesn't mean that expertise is back in vogue; it may mean only that Americans are willing to hear experts out when they're terrified and disoriented. But for the time being, they are deferring to their knowledge.
Second, the polls should serve as a warning to governors and a rebuke to the press. The protests in state capitols have gained extensive attention, but—despite the vocal support of the president—the activists remain part of a fringe movement. Many were already protesting regularly, and although they have latched on to a new cause, they have not really gained new followers. Most Americans simply aren't clamoring for immediate reopening (as much as they might yearn for a time when it feels safe to do so). That means the political downside of maintaining restrictions is low—while the risk of death from loosening them is very real (and carries its own political ramifications).
Finally, even if restrictions are loosened, it's unclear that this would have the positive economic effect that Trump hopes for. It's not just that people support the restrictions; it's that they don't feel comfortable going out. In the Post poll, eight in 10 respondents said they would not feel comfortable dining in at a restaurant, and two-thirds wouldn't want to shop in a clothing store. Business owners in some places have also warned that operating at full staff but with severely reduced traffic won't allow them to make enough money to run. Just as you can lead a horse to water but can't make it drink, you can allow Americans to go to stores, but you can't make them shop.